Dom & Tom vs. BlueLabel | Best Digital Product Agency
It takes more than just software development chops to build great software: digital product agencies like us are strategy-focused companies that tackle everything for our clients.
Innovators often choose BlueLabel over Dom & Tom because we understand that designing and building growth-focused digital solutions requires a pulse on innovation, cutting-edge tech, development, and a strong grasp and expertise across multiple industries.
How BlueLabel Can Help You Go Further
While BlueLabel and Dom & Tom both promise to unlock digital possibilities for clients, BlueLabel's wide range of service offerings, innovation, and proven results stand out over Dom & Tom's capabilities. 
Primarily focused on more 'traditional' digital deliverables – from branding, web design & development, and analytics implementation and interpretation – many feel Dom & Tom lacks the expertise to collaborate with next-generation startups pioneering new innovative ideas and technologies. 
What makes our team able to work across so many industries with a flexible and adaptable nature? BlueLabel's foundation is our tailor-made, customized process to take your innovative idea from the design phase to the final rollout. 
We want our actions to speak louder than our words
Our proprietary innovation workshops ensure our experts and your team align on purpose, mission, ethical commitments, and success criteria during the Pre:Sprint phase. 
As we dive into the details together, hyper-focused work is the norm as our Design Sprint team incubates ideas, prototypes, and tests the final product with real customers. This ensures we're building a product that solves a core, burning need for early adopters.
You'll work closely with our marketing peer agencies and post-launch experts to support your new product over the long-term, armed with the right data and analytics to attract users and grow revenue. Ultimately, we believe a digital product's true journey only begins with its launch. 
Through the years, we have partnered with great companies all over the world

BlueLabel's strategic focus on today's most dynamic technologies brings a unique and innovative POV to the discovery and product strategy processes that other digital product agencies lack. 
BlueLabel has the right experts to execute around your product's needs
When it comes to creating a digital product, it's essential to have a holistic understanding of today's most up-to-date technologies with input from subject-matter experts who have hands-on experience and top-of-the-line design and development teams to optimize your mobile app design & development process. 

Design & development that helps Fortune 500's and Funded Startups grow
With an emphasis on innovation, BlueLabel has the expertise to create solutions that increase revenue and engagement. We've helped clients in big data, blockchain, crypto, AR/VR, and on-demand services (and many other ecosystems and verticals) hit and exceed targets, and deliver experiences their users love.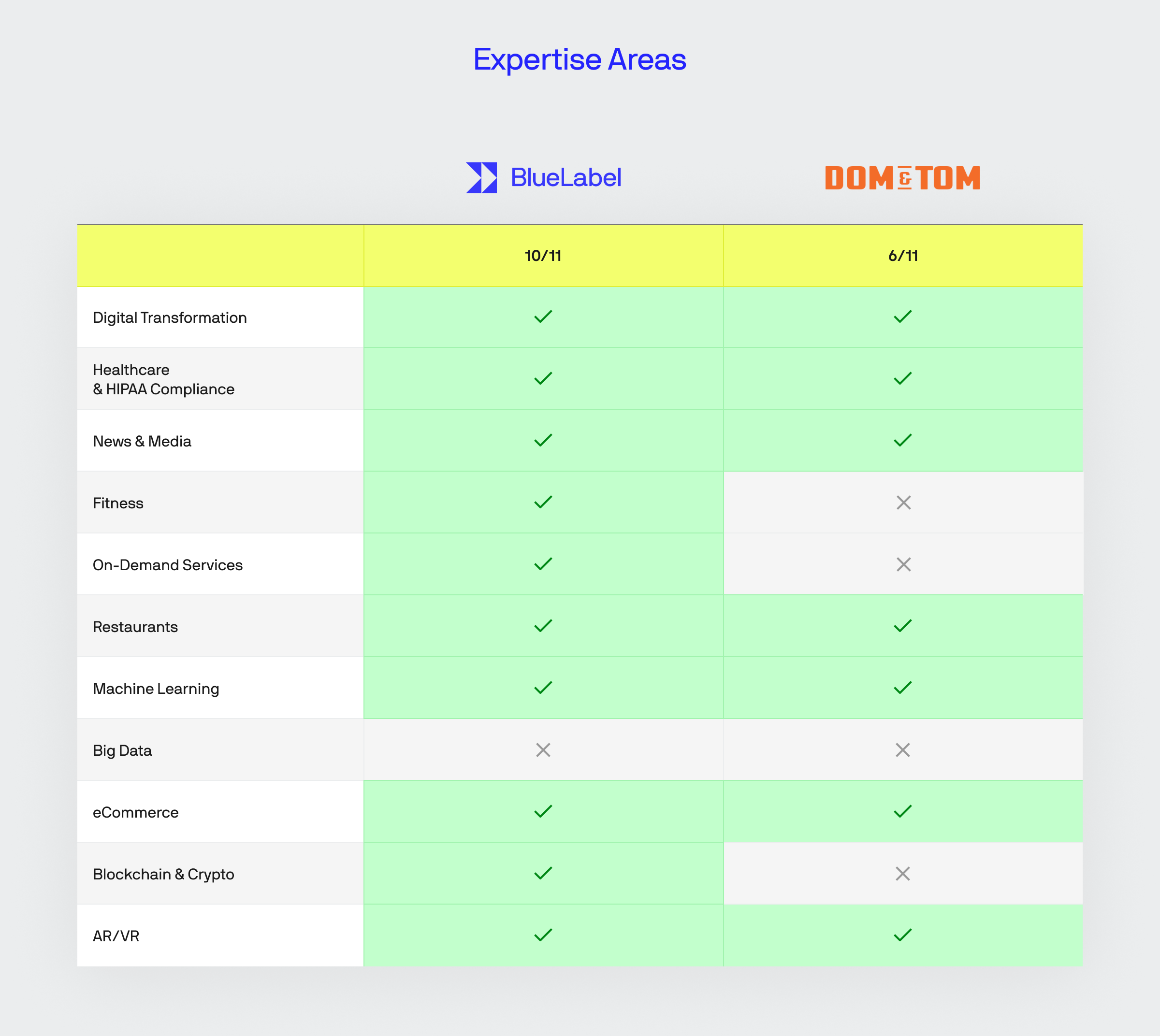 Technologies we're great at: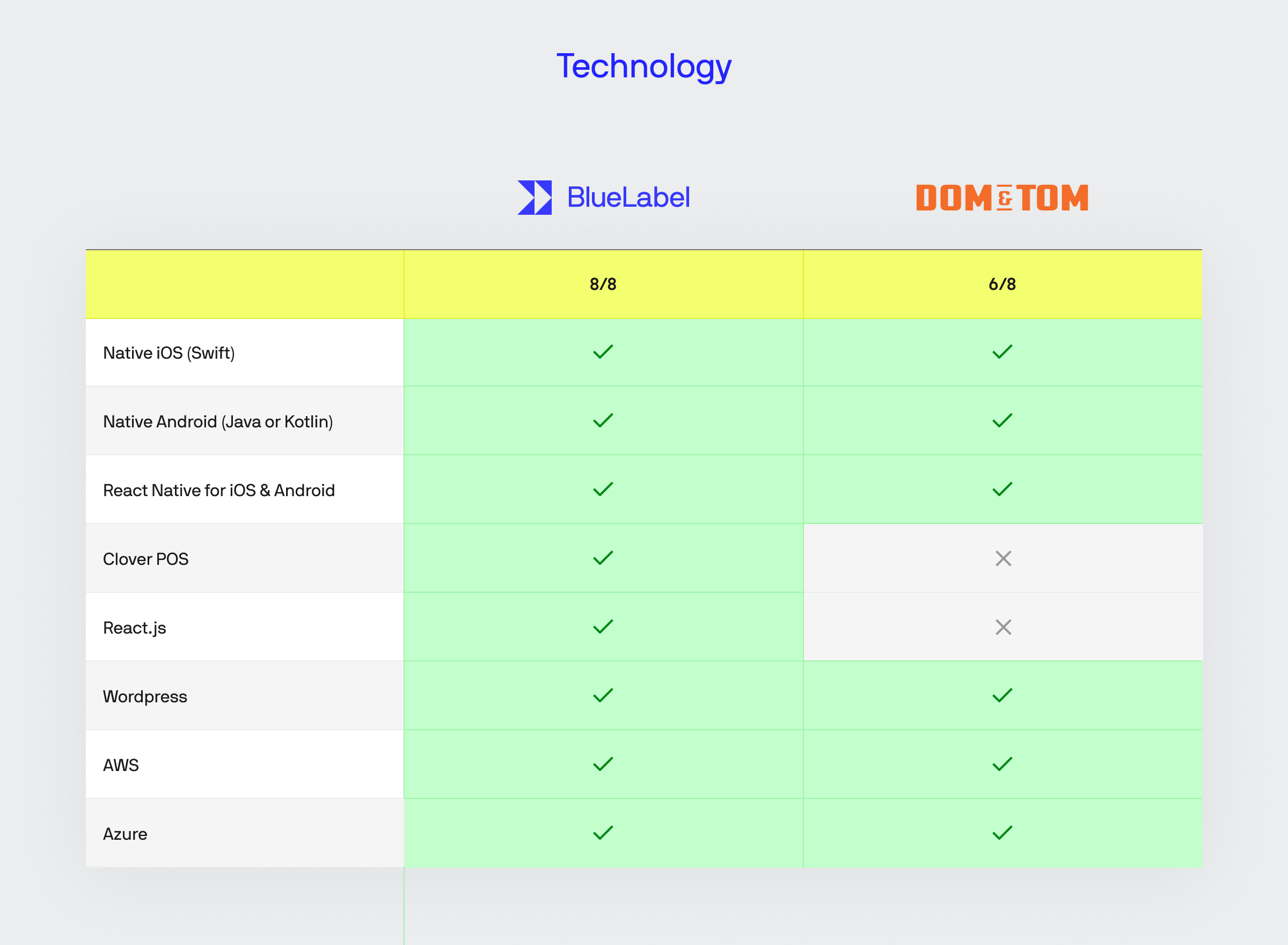 How we do it
Scalable and sustainable development requires user-centric design and the ability to turn some of the toughest business challenges into beloved products. 
While Dom & Tom advertises long-term partnerships from Fortune 1000 companies to next-generation startups, comments from some former clients suggest breakdowns during the workflow and communication processes that potentially reveal a less-than-business-goals-centric model. 
One regulatory consulting firm noted resource allocation struggles with Dom & Tom team members; they elaborated that the design firm would have to dramatically ramp up communication and project management efforts to meet the expectations of clients with critical deadlines. 
Another former client suggested that a greater time investment from Dom & Tom on larger corporate entities would allow for a firmer grasp of culture and expectations. Hinting at a design strategy that is more of a cut-and-run MVP-centric model – BlueLabel's approach considers analytics-driven decision-making strategies and an ethical innovation-focused approach.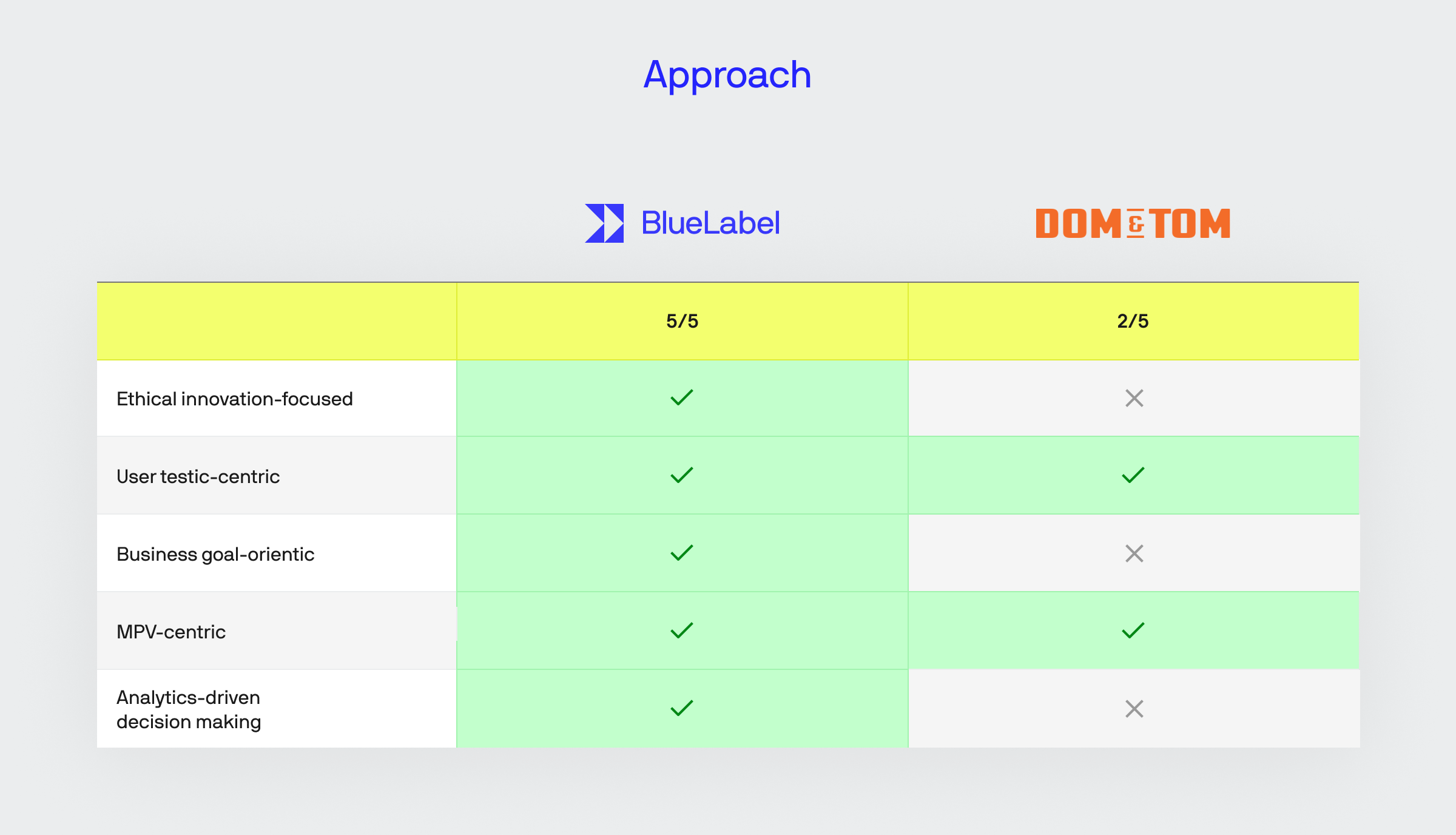 We're trusted by great companies and fast-growing startups to build products that truly transform businesses.
With roots in software development, finance, and project management, it's not surprising that Dom & Tom's processes can have a more rigid, 'one-size-fits-all' approach that can become inflexible when working with smaller startups that need a team that can help them innovate and break industry molds. 
Many of Dom & Tom's trusted digital partners are legacy corporations with robust, but often slow-moving infrastructures – BlueLabel's award-winning teams combine the best of both worlds.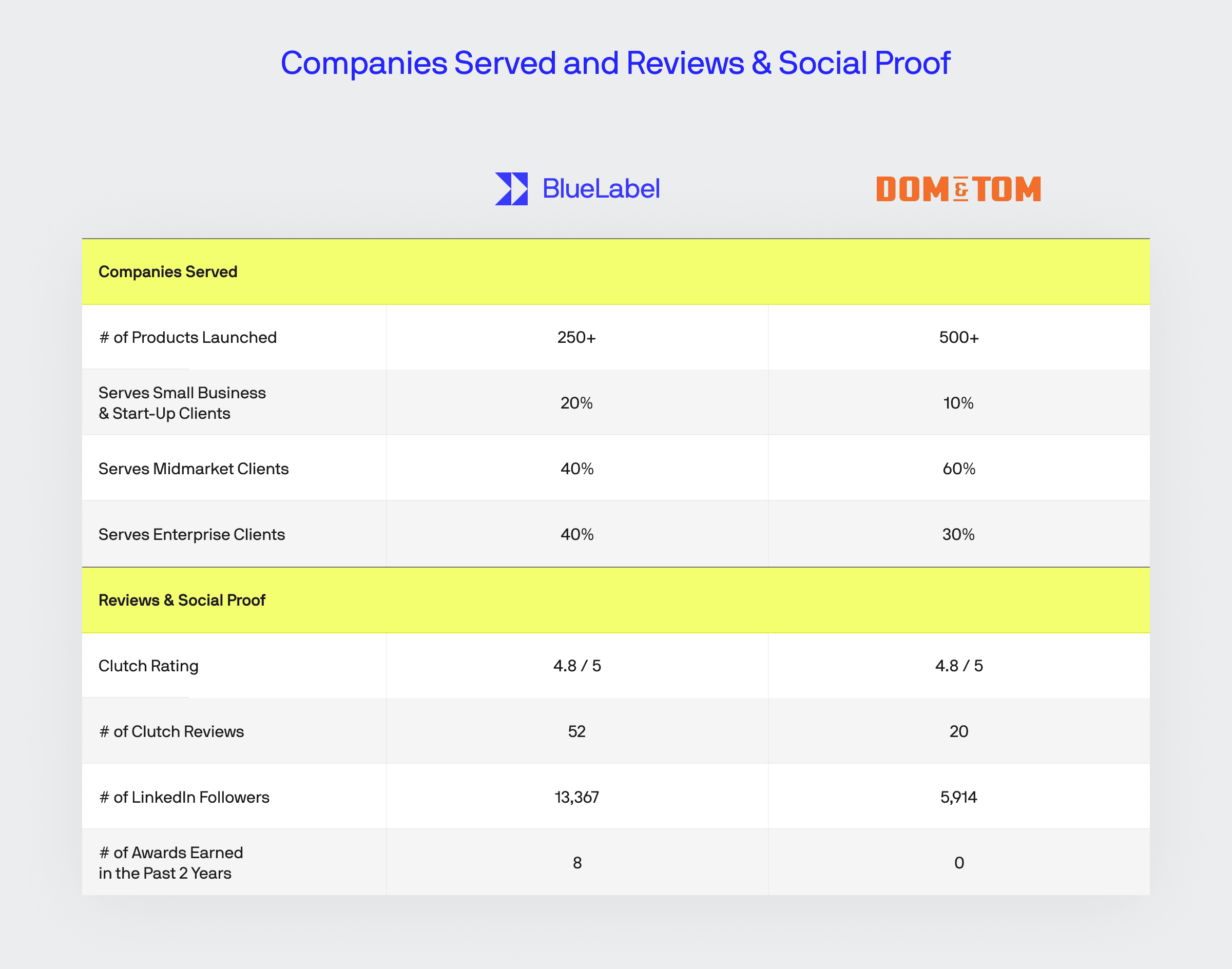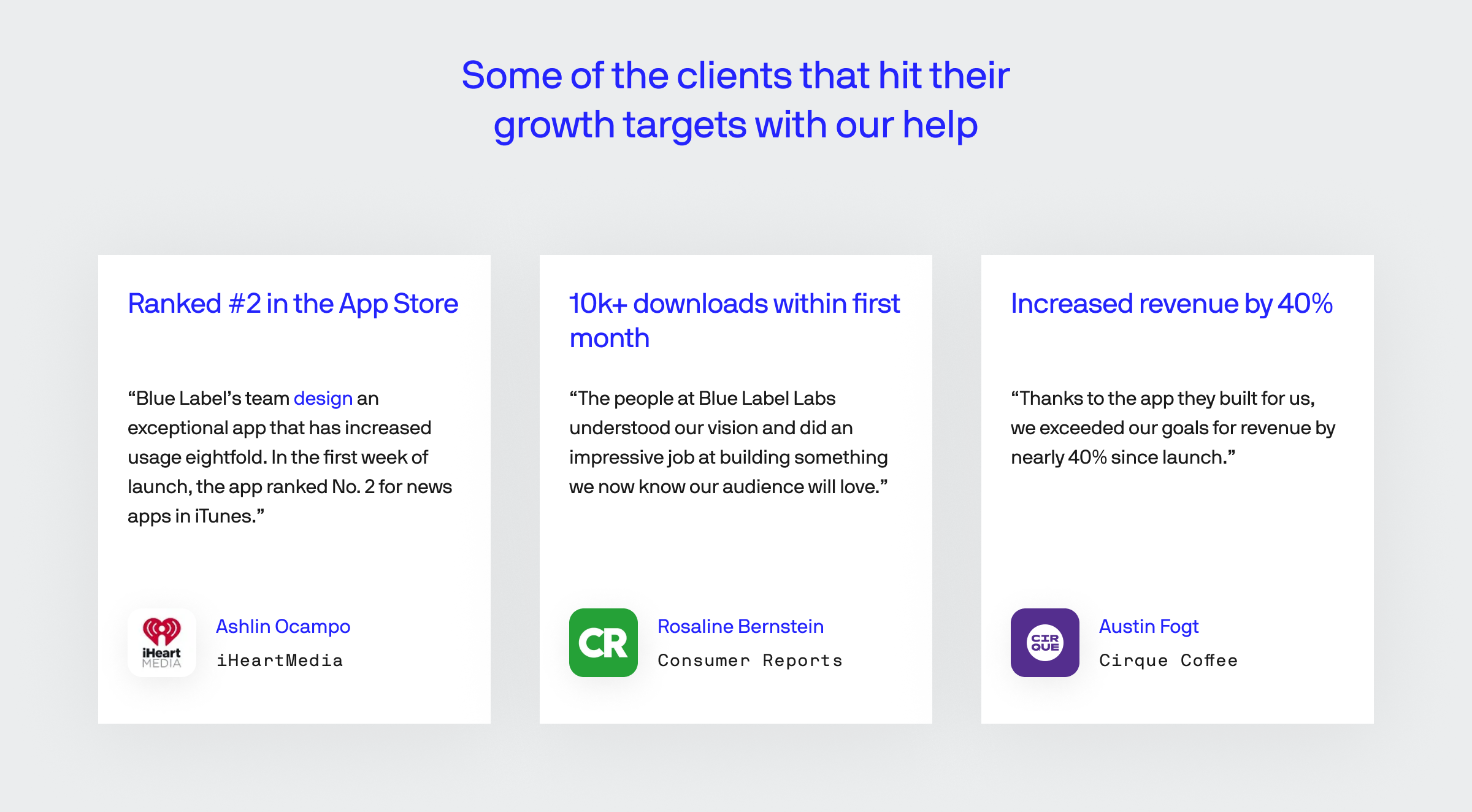 With team members who are eager to learn and challenge themselves, BlueLabel is just as comfortable when it serves enterprise clients as it does when it serves small businesses and start-up clients. Our leadership team members come from a wide range of backgrounds–both corporate and start-up.
Our collaborative approach doesn't ignore the 'how' for the 'why. From teaming up with Microsoft to integrate AI & VR technology, to working with Sidewalk Labs to optimize urban planning scenarios, our bottom line is ensuring we ask the right questions to bring up the best insights to maximize value. 
BlueLabel by the numbers:

While both companies were founded in 2009, in our close to 14 years of helping clients transform their businesses, BlueLabel's team has grown to include 125+ strategists, designers, and developers. 
We're a global crew with people working worldwide, though headquartered in New York City with satellite offices in Seattle and San Francisco. We love what we do, the business challenges we get to work on, and the people we work with – that's what makes us unique.
Our global team offers clients a pool of diverse POVs and broad expertise to draw from and foster communication and collaboration.
On the other hand, Dom & Tom's 68-strong-person team may have some limitations in terms of its teammates' breadth of experience.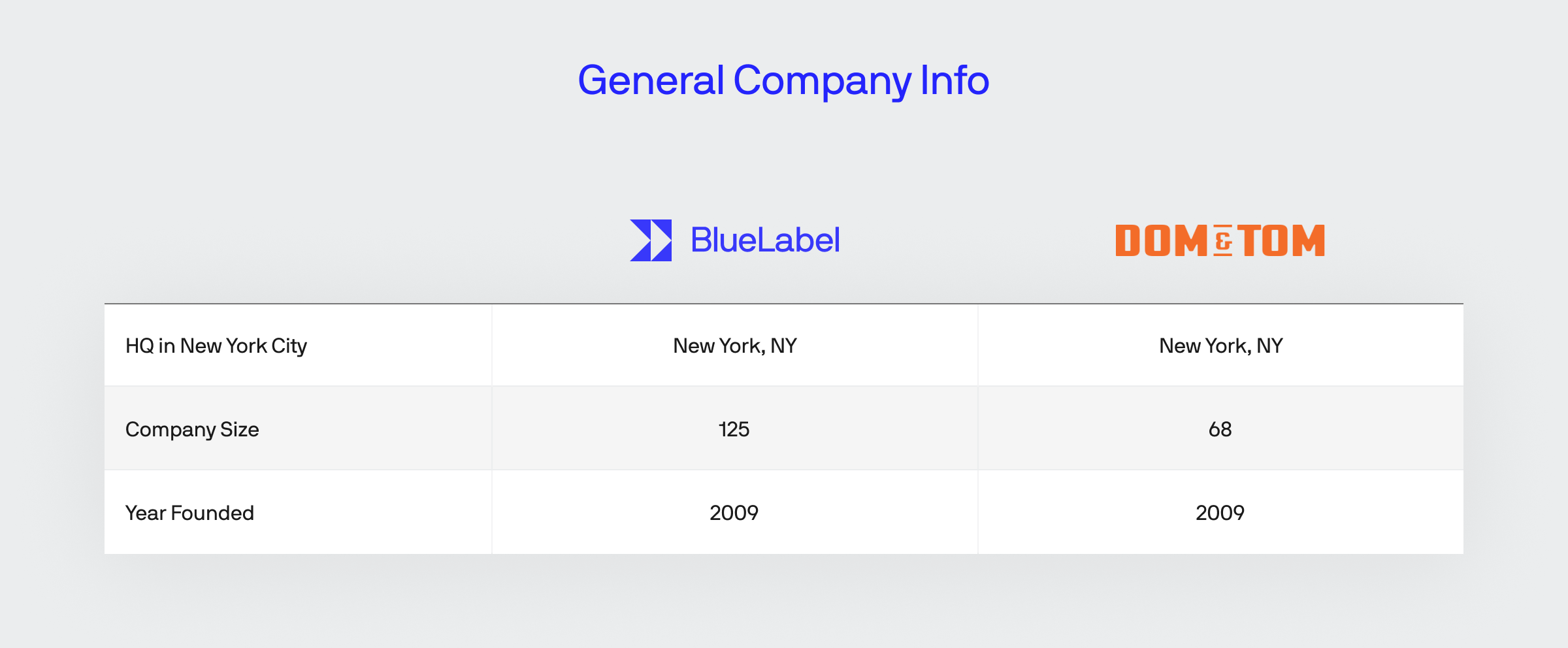 Many former BlueLabel clients herald our well-rounded nature and adaptability to quickly resolve issues, a testimony to diverse hiring practices that bring in disruptive thinkers, champions women in leadership roles (SVP, Technology Director, Operations, and Director of Innovation), and encourages a values & mission-driven company culture.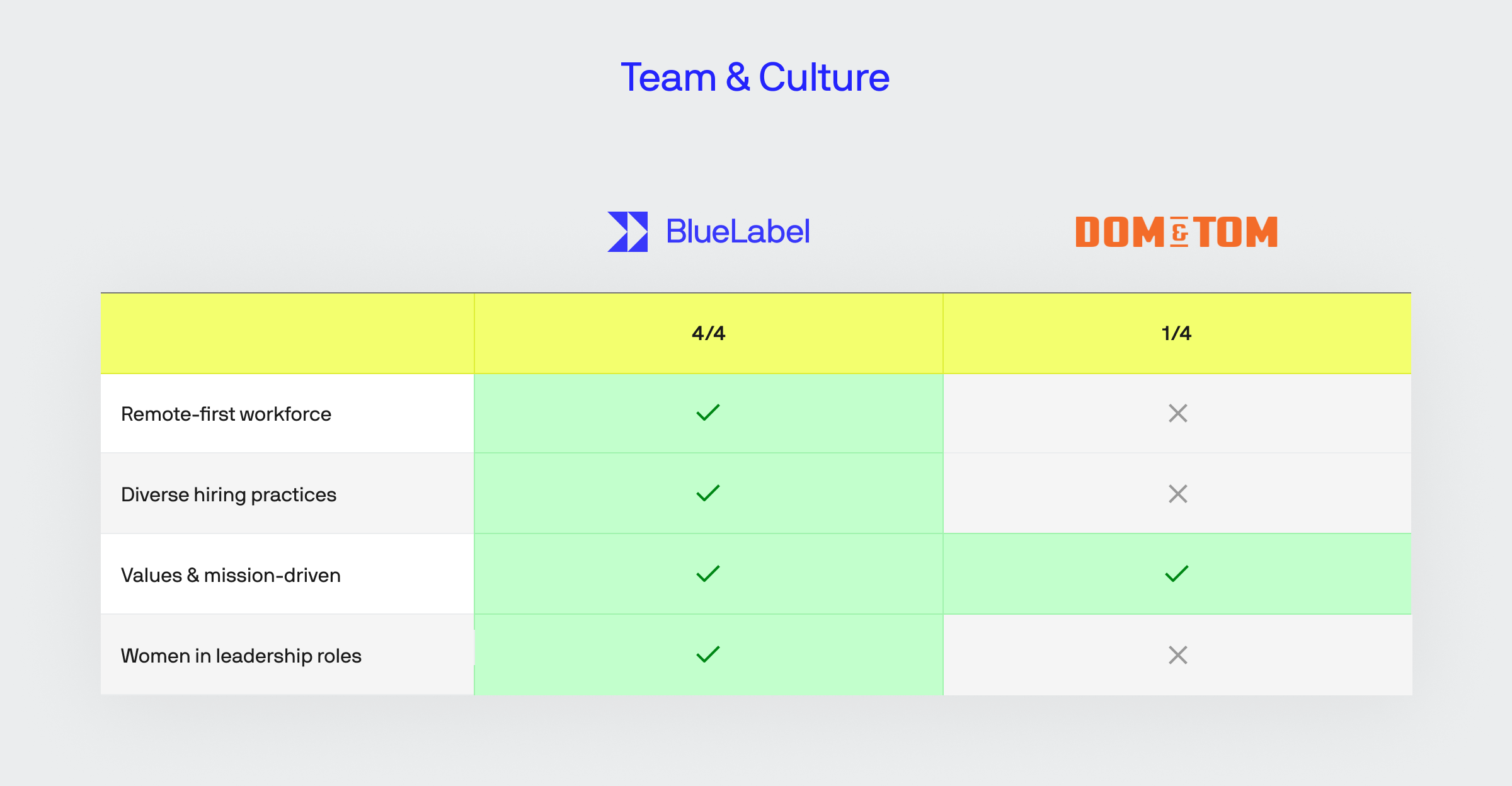 In contrast, Dom & Tom's leadership team has no women in core leadership roles, potentially suggesting a de-emphasis on a modern and dynamic corporate ethos that has been slow to adapt to changing culture, technology, and business norms.
Our Awards and Recognition.
At BlueLabel, our experience and proven track record ensure your digital product is in good hands. We work hard to understand your needs and goals, and we drive results.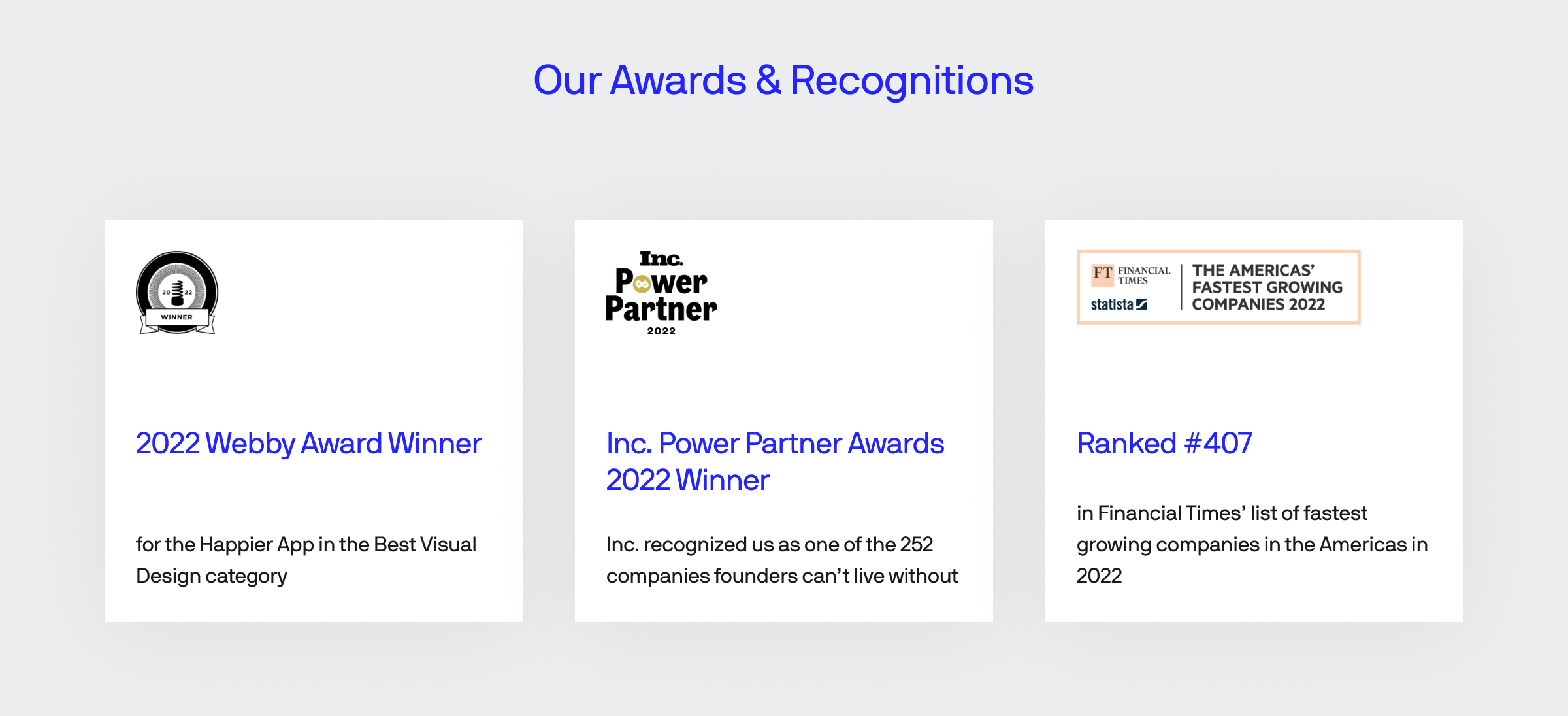 Let's talk
Like what you see? We're here to help, and we'd love to hear what you are working on.
Drop us a note here and we'll get back to you within 24 hours.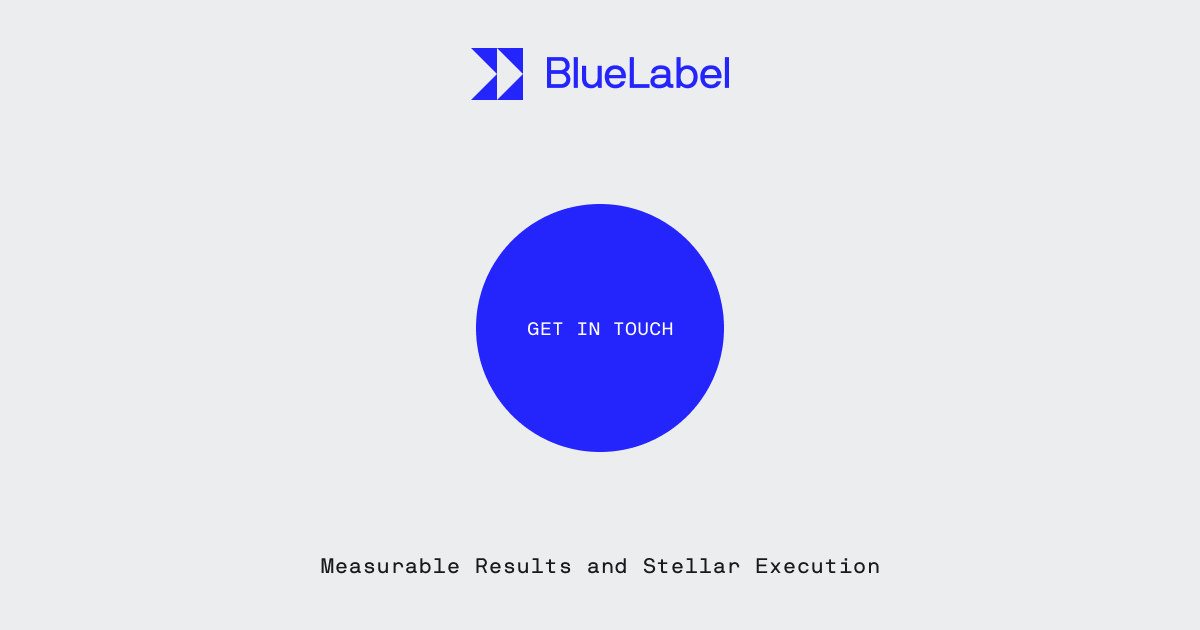 Get the latest from the Blue Label Labs' blog in your inbox
You might also like