Muses App Founder Interview: Shirley Yang
Blue Label Labs recently sat down with Shirley Yang, founder, and CEO of the Muses app. Yang partnered with Blue Label Labs to develop Muses, an app built to transform the field of influencer marketing. One month after her app, we caught up with Shirley and she shared with us some keys to success- Collaboration, Communication, and Teamwork.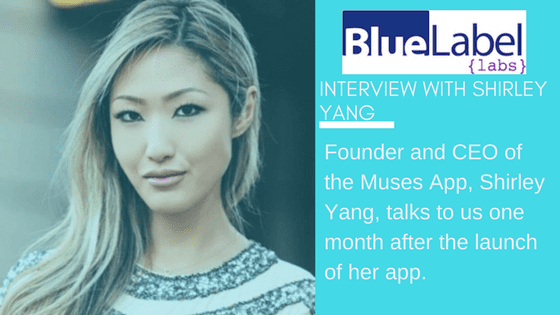 Blue Label Labs: How did the idea for Muses come about? 
Shirley Yang: The common denominator for any brand, influencer, or agency is growth. I have been in marketing and digital media all my life, and I saw an opportunity to make a new influencer platform. Most influencer platforms out there are tedious and antiquated when it comes to creating and seeking out campaigns. Muses changes all that – it's all about collaboration between influencers and brands. The Muses platform encourages our community of influencers and brands to create meaningful relationships and partnerships, not just business transactions.
Muses is the only Influencer app that is based on group concepts. With Muses, Influencers can ask other Influencers to partner and collaborate. Brands can also collaborate in the same way: if a beauty brand sees another beauty brand that they think they should cross audiences with, they can work together.
Once you had your idea for Muses, what did you do next? 
I first needed to decide what I wanted to build. I went with a native mobile app because social and mobile goes hand in hand. I formed my team in Chicago and got plugged into the startup hub there- it's so important to have a strong support network, you can't just do it by yourself. 
I found Blue Label Labs through the tech community and my network. After a few meetings with the Blue Label Labs team,  I really felt comfortable and confident that they were the right development partner to build Muses, and we established the relationship from there.  
What was the most important factor in picking the right development partner?
Communication was number one for me, and I enjoyed Blue Label Labs' hands-on and collaborative approach. I also felt that Blue Label Labs had the resources and the process to deliver a V1 app that wouldn't have to be fixed later on.
Do you have any advice for other entrepreneurs who want to develop an app-based business?
Narrow your idea down so that it is as sharp and as focused as possible. Form a strong team around you – good people on your team is so important. You are what your team is. 
Get the latest from the Blue Label Labs' blog in your inbox