Another week, another smorgasbord of tech and startup events to keep you happily networking away. Last week we had NY Tech Day here in NYC, which was a day-long exposition of all things tech in New York. Of all the weird, quirky and down right dumb products I came across at NY Tech Day, my personal favorite is the Hater app. Yes, now there's an app that allows you to share the things you hate. Let the hating begin!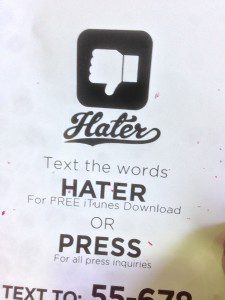 Now onto the event listings for this week. As always, if you'd like your event added to the calendar either email me or tweet at me!
Monday – April 29, 2013
Tuesday – April 30, 2013
Go Language New York – What's new in Go 1.1
6:00pm
Free
Tumblr, 35 East 21st Street, 10th Floor, New York, NY
Co-Founders Wanted of Brooklyn
6:30pm
$10
NYU Poly, 20 Jay Street, Suite 312, Brooklyn, NY
IOS Office Hours
7:00pm
Free
Collab, 304 Hudson Street, 6th Floor, New York, NY
App Developer Event: Discoverability
7:00pm
Free
Alley NYC, 500 7th Avenue, 17th Floor, New York, NY
Wednesday – May 1, 2013
Future of 21st Century Databases
6:30pm
Free
AppNexus, 28 West 23rd Street, New York, NY
Black Techies May Meetup
6:30pm
Free
Tumblr, 35 East 21st Street, New York, NY
May NY FinTech Meetup
6:30pm
$12.00
Dechert LLP, 1095 6th Avenue, New York, NY
Startup Pitch Night
6:30pm
$5
Legends, 6 W 33rd Street, New York, NY
#BetaTalk – Meet Code for America, NYC
6:30pm
Free
OpenPlans, 148 Lafeyette Street, Penthouse, New York, NY
Thursday – May 2, 2013
Stonebraker Liver 2013 – Navigating the Database Universe
6:00pm
Free
WeWork Lounge, 154 Grand Street, New York, NY
F# for Trading with Phil Trelford
6:30pm
Free
Microsoft NYC, 1290 6th Avenue, 6th Floor, New York, NY
Travel 2.0 Featuring Momondo
6:30pm
Free
The Hatchery, 1601 Broadway, New York, NY
Friday – May 3, 2013
DUMBO Tech Breakfast Meetup
8:30am
Free
DUMBO Kitchen, 108 Jay Street, Brooklyn, NY
Internet Media Labs: Network and Help Raise Funds for Breast Cancer
6:00pm
$25
The Lab NYC, 122 West 26th Street, 5th Floor, New York, NY
Get the latest from the Blue Label Labs' blog in your inbox.
More in
Development