Lean Design/ Design Sprints

The design sprint process was created at GV (formerly, Google Ventures). It is five day brainstorming session with a group of the Blue Label Labs team and client(s), with the end result being a built, functional designed prototype.
We create the prototypes in Invision for our clients. Blue Label Labs not only provides design sprint services for design and app development, but also for marketing/ PR, branding, business growth, raising funds and whatever our clients' need to move the needle forward for their product.
In 5 days, The Design Sprint Process Helps Teams:
Understand 
Ideate
Decide
During this session, the goals of the product are define, assumptions are validated and the product road is decided on before any development begins.
To reduce risk when bringing a product, service or a feature to the market.

The Process
Monday:  We create a map of the process and choose specific problems to solve.
Tuesday: We choose the best solutions, to solve the problems that were defined on Monday, and work individually to sketch out the details those.
Wednesday: The group powwows through a structured decision making process.
Thursday: We build the prototype for the product.
Friday: We test the prototype in one on one, customer interviews. Here we will see what solutions worked, and did not, and evaluate which ones to move forward with.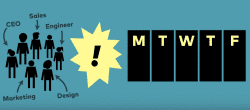 Benefits to Design Sprints
Design sprints encourage collaboration, teamwork, listening, understanding everyone's vision and break the traditional method of decision making via a committee.
Similar to a Discovery Assessments,  a design sprint helps avoid misunderstandings about the final deliverables. The ok is given throughout the entire five day process, so there are no surprises.
Another major plus is prototyping and sketching reduces the risk of failure.
Validating ideas with real users is key to a successful product.