Introducing the BlueLabel AI Toolbox: Unleash AI's Potential with the App Store Optimizer
We are excited to unveil a new initiative at BlueLabel, the BlueLabel AI Toolbox!
This initiative marks our foray into creating a series of AI-powered, open-source tools designed to demonstrate the transformative power and our proficiency in crafting innovative solutions around generative AI. 
Our focus of the toolbox is to spotlight the vast possibilities in the domain of app development and marketing, showcasing the myriad of ways AI can be leveraged to address diverse needs.
The first gem in our AI Toolbox is the App Store Optimizer.
This innovative tool is a testament to our commitment to advancing the applications of generative AI, offering a simple-to-use tool that generates compelling and engaging App Store metadata, seamlessly optimizing your app's presence on both the Apple App Store and Google Play Store. The tool is freely available to the public at App Store Optimizer.
A Glimpse into the AI Toolbox
The BlueLabel AI Toolbox is envisioned as a collection of pioneering tools, each serving as a beacon of our desire to bring the potential of generative AI to life.
Over the coming months, we will be rolling out a series of tools, each designed to underscore the boundless capabilities of AI in reshaping app development and marketing landscapes.
We aim to educate and inspire the community by offering these tools, fostering a deeper understanding and appreciation of AI's transformative potential.
We are also sharing the source code behind these AI-powered tools with the world through our BlueLabel AI Cookbook GitHub repo.
In this repo, you will find a collection of Jupyter notebooks that showcase how each tool we make available as part of our toolbox work.
How the App Store Optimizer Works
Users can easily input their app's name, category, a brief description, and a list of features as an input. It then generates an appropriate title, description and keyword fields based on that.

The tool provides an intuitive and user-friendly experience, yielding high-quality, relevant, and engaging metadata ready to elevate your app's visibility and appeal.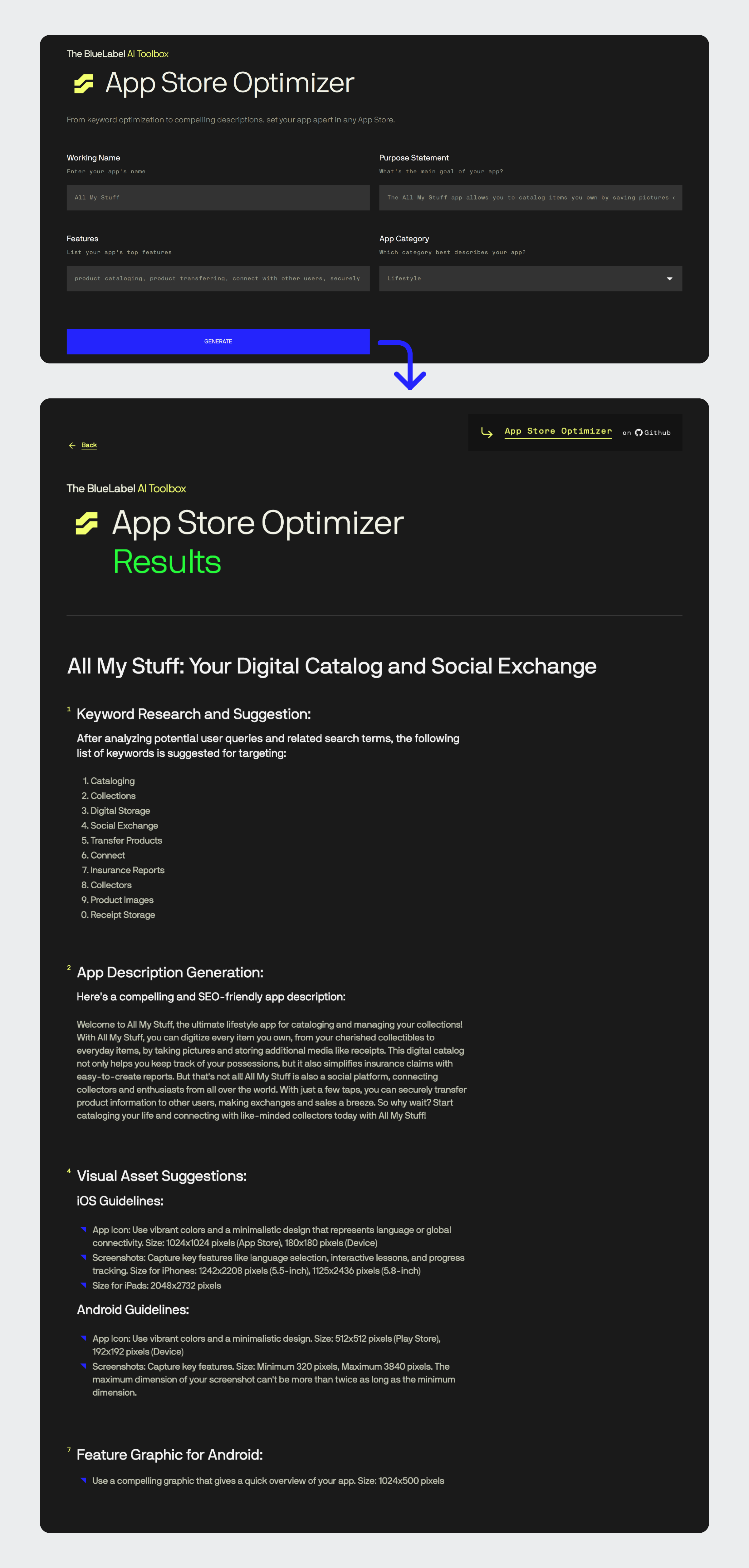 Features & Benefits
AI-Driven Excellence:

Generate top-notch, pertinent, and captivating metadata, enhancing your app's reach and user engagement. The description returned is formatted to fit the Apple App Store description requirements.

Optimized Visibility:

Crafted metadata includes keywords that align with best practices of App Store Optimization to ensure your app stands out, improving discoverability and user interaction in app stores.

Cost-Effective Innovation:

Achieve superior marketability of your app without additional expenses, making it an invaluable asset for developers and businesses.
Explore, Learn, and Grow with BlueLabel!
At BlueLabel, we are passionate about disseminating knowledge on the unlimited possibilities embedded in generative AI.
The launch of the App Store Optimizer is a step towards enlightening the tech community and cultivating a culture of learning and innovation in AI and software development.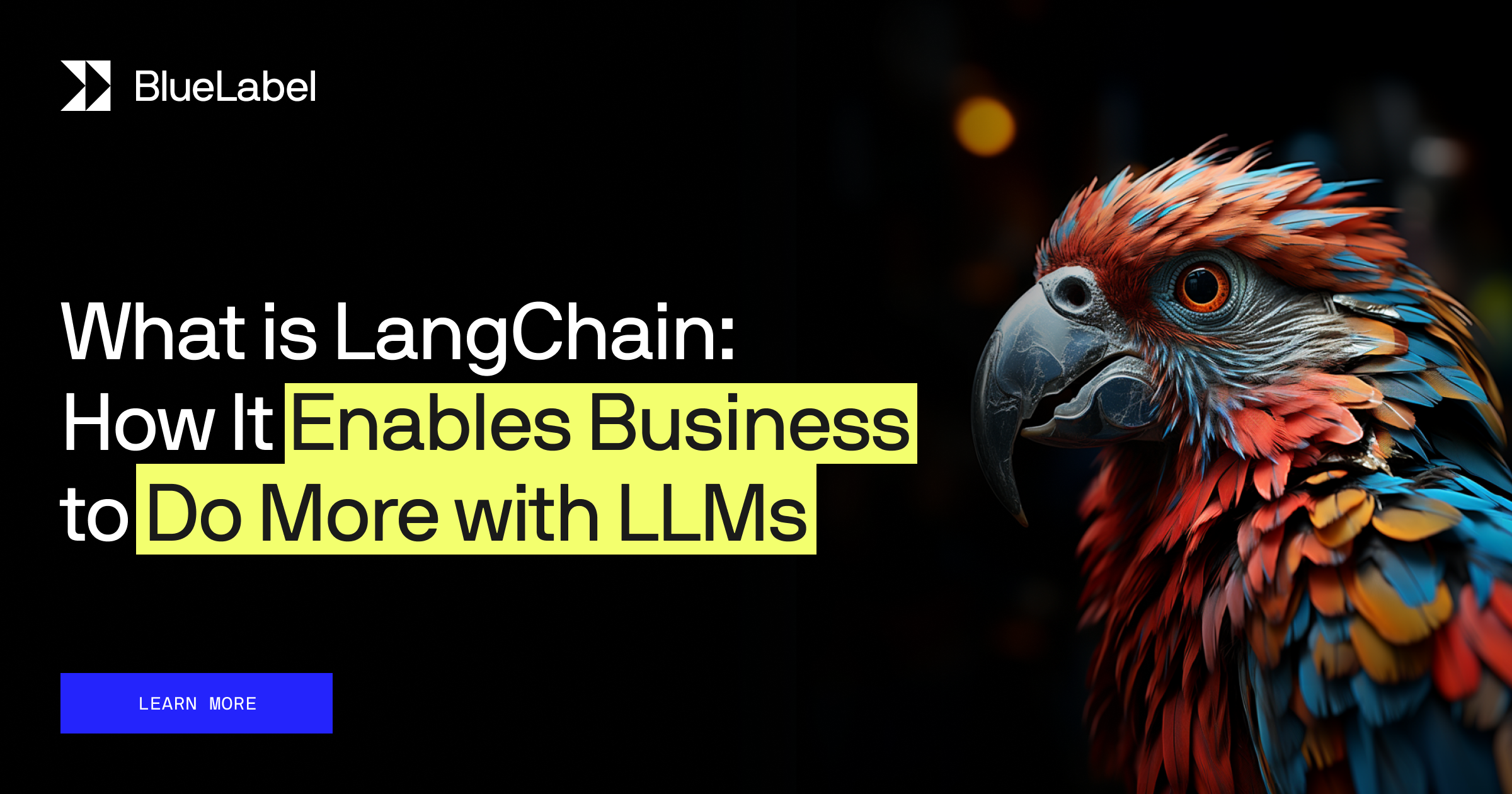 Learn more about LangChain by following this link.
We warmly invite all developers, businesses, tech aficionados, and curious minds to explore the App Store Optimizer. Discover the boundless opportunities of AI-driven app optimization and learn how intelligently generated metadata can be a game-changer in your app's journey!
The BlueLabel AI Toolbox is a beacon of our resolve to help businesses by providing a valuable tool that demonstrates the power of GenAI.
The App Store Optimizer is just the beginning; stay tuned for more tools, each a testament to our unwavering commitment to pushing the boundaries of technology and reshaping the future with BlueLabel!
Get the latest from the BlueLabel's blog in your inbox