Blue Label At 10: A Lookback at Our First Decade
It's hard to believe that Blue Label Labs just turned 10 years old. When Jordan and I first started Blue Label, we didn't really have much of a business plan or idea of what kind of company we were starting, all we knew was that we wanted to build apps and see where that took us. While we started out as a 2-man shop churning out apps of our own in 2011, Blue Label has grown and morphed into a full service digital agency that is over 60 people strong, working with clients across the globe to bring to market a wide variety of apps and digital products for our clients. However, throughout it all we've tried to make sure we invest in building our own products and to not lose the innovative spirit which we founded the company on. So with that in mind, let's hop aboard the nostalgia train and take trip to revisit some of Blue Label's own creations over the last decade.
2011: Genesis
The story of Blue Label begins in the heady days of 2011 with an idea for a travel app on a now long forgotten thing called the Windows Phone. The idea was simple: an app to store your frequent flyer numbers. That's it. Nothing else. No cloud storage and no fancy weather or flight status API integrations,  just frequent flyer numbers stored on the device. Like in a text file. Thus, was born TravelWallet. Hands down the best (and only) travel points organizer in the barren hinterlands of the Windows Phone Marketplace.
bahndr is born
By 2012, we realized that hitching Blue Label's horse (and home) to the success of Windows Phone was likely not a winning strategy. So we pinched our noses, bought some MacBooks, became iOS developers and created bahndr. Part social network, part meme farm, bahndr was not so much an app as it was a riddle wrapped in lore.  From a sentient robot (ie. the bahndr baht) trapped in its Twitter account, to typewriters and wooden Mallards, bahndr was a passion project than was sadly 10 years too early for its time.
Windows8Templates.com
Clearly, there was little chance bahndr was ever going to make us any money. So at the same time as building bahndr, we were inspired by the 4-hour work week to launch Windows 8 Templates. Think of keynotopia, but for Windows 8. Took about 2 weeks to go from idea to launch, and provided a nice little revenue stream for Blue Label in the early days. Windows8Templates is a great example of finding a small niche (ie. the ~30 people in the world who actually built an app for Windows 8) and exploiting it with a simple to produce product with very little marketing spend.
Appsters: Let's Write a Book!
Right as bahndr was born, Jordan and I used the lessons of bahndr, TravelWallet, and a few other client projects we had built, to roll into a book we wrote about app development, aptly named "Appsters". While many of the examples and technology we talked about in the book are a little long in the tooth, I think the core nuggets of wisdom in app business and digital product design are just as valid today as they were 10 years ago.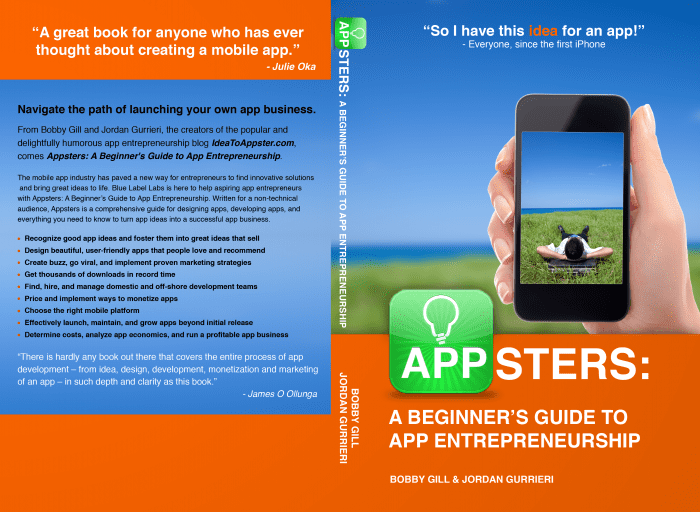 Dani's List
After Appsters launched, we basically took the innards of bahndr and, just like the good computer science students we were, abstracted it out into a generic backend-as-a-service platform (BLLCore) that we could rapidly build different types of apps with, kinda like Parse before there was Parse. So right on the heels of bahndr and Appsters, we used this new BLLCore platform and quickly released Dani's List in mid 2013. Dani's List was our unique take on creating a shareable to-do list app to discover and manage life experiences. It may look nothing like bahndr, but peel back the UI bits and you'll find bahndr hiding beneath.
Pig
Later on in 2013, we decided to go beyond vanilla mobile apps and take the plunge into game development with our release of Pig for iOS. Named after a dice game most of us have played at one point or another, Pig is a simple two person dice throwing game that is super simple to play and surprisingly addictive. Built in UIKit with Objective-C, I think it did a pretty decent job of capturing the essence of the game.
The Breakout Hit: Word Hack
In 2014, growing tired of the bubble bursting phenomena of that era, we wanted to create a puzzle game that was easy to pick up, challenging and fun. This led to the creation of Word Hack for iOS. Word Hack is by far our biggest mainstream hit, topping the puzzle category of the app store for almost a week. Think of Word Hack as the love child of Scrabble and Wheel of Fortune.
Let's Go To Space: Orbit Path
By the end of 2014, we had gotten pretty busy with client work and Blue Label grew beyond just Jordan and me. Up until this point, we were still a two man shop with Jordan on the front end manning the Objective-C, while I took care of the backend. However, the growth of our client service agency meant less time for us to work on internal Blue Label products. We didn't release our next game until 2016. We realized that there is only so much you can do in UIKit when it comes to games, and to build a really cool game meant building on something on a real gaming engine like Unity. With that in mind, we became Unity devs and released Orbit Path. Part puzzle, part space pinball, Orbit Path challenges you to navigate a probe through the cosmos using nothing but a little bit of momentum and gravity slingshots.
Since 2016, we've dabbled in a few other smaller endeavors, such as the MyCallSheets online service for organizing callsheets used in film production shoots. However, the truth is that as Blue Label has grown we spend most of our time focusing on building unique, game changing products for our clients, which unfortunately does come at the expense of not leaving much time for us to innovate on our own. While we've may have gone dark over the past couple of years, I'd expect that to change very soon. The lights have come back on at the Blue Label workshop and we're busily working on our next new thing.