Google Advertising ID And Mobile Apps
The mobile industry has been growing at a fast pace and this has inevitably shifted a significant chunk of advertising dollars to mobile apps.  Advertising is now for many app developers a viable method to make money from their apps, where ads are ideally relevant and do not compromise user experience.
Google has recently announced Advertising ID, an anonymous unique identifier to balance advertiser requirements to track and build anonymous user profiles with ever growing consumer privacy concerns.
The Advertising ID passes control back to the Android user, as it can be reset at any time by clicking Ads in Google Settings and also enables a global opt-out for all ad networks that build user profiles and offer interest-based advertising.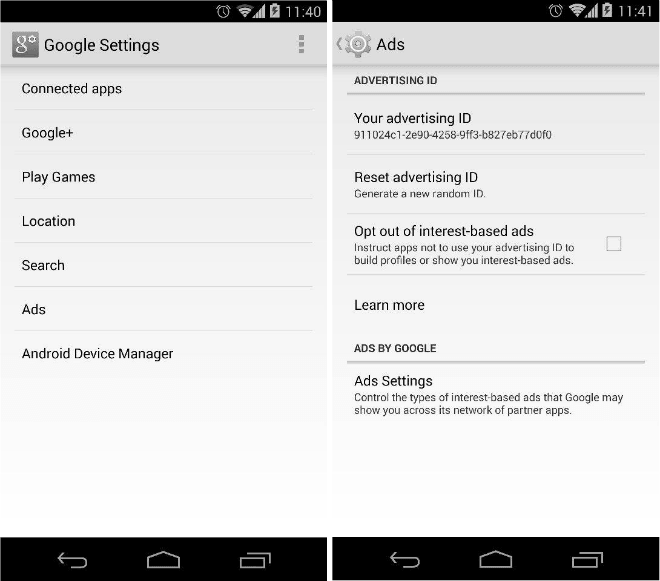 This resettable identifier, which should only be used for advertising and analytics, is similar to Apple's IDFA (Identifier For Advertising) that was introduced last year and is now being enforced on all iOS apps.
You could also draw an analogy between Advertising ID and the web cookie as both are used for similar tracking purposes, they are easily resettable and the user has the option to permanently opt-out.  The main difference is that the Advertising ID has a more global nature as at any given time it's the same across all apps on the same device, whereas each web cookie can only be accessed from the website that originally created it.
Why do advertisers need a unique identifier in the first place?
Ad networks have built over time sophisticated algorithms that aim to deliver the right ad to the right person, at the right place and time. Relevancy is critical for advertisers as they want to spend their budgets wisely and preserve their brand image by not annoying consumers. With this in mind, a unique identifier is used to track a specific user over time and collect as much anonymous information as possible to improve ads relevancy.
Unique identifiers are also needed for another reason – accurate affiliate attribution. App developers can earn money by cross-promoting other apps within their own app. They get paid when a user downloads and opens the promoted app. For this to happen, you to need to track the process from start to finish and anonymous unique identifiers are being used for this purpose as well.
Should you care?
Up until recently advertisers relied on persistent identifiers (such as your phone's IMEI), device fingerprinting or the more popular Android ID to build user profiles.  The Android user has barely any control on changing these identifiers (for Android ID you can reset to factory settings) and most importantly there is not an easy way to opt-out if you do not want to be anonymously tracked. Both Google's Advertising ID and Apple's IDFA have been introduced to address these two issues.
If you are an app developer, you should probably care since from August 1st, 2014 Google Play requires all updates and new apps uploaded to the Play Store to use the Advertising ID, if available on the device. Setup is quite straightforward and will come with an additional peace of mind as a widely-supported standard will prevent fragmentation and unnecessary code development.
If you are an Android user concerned about your privacy, the Advertiser ID is definitely a step in the right direction. It'll give you more control on your privacy with an easily accessible way to opt-out from all interest-based advertising across all the apps on your Android device.
Probably it's too early to judge the effectiveness of the standard but some questions that remain to be answered are how strict Google will be in enforcing this policy to advertisers and how will they encourage the standard's adoption in marketplaces other than the Play Store.
Get the latest from the Blue Label Labs' blog in your inbox