Introducing the App Analytics Architect: An AI Powered tool for Analytics Tracking and Planning
We're thrilled to announce the newest addition to the BlueLabel AI Toolbox: the App Analytics Architect. This innovative tool is not just a new product—it's a revolution in app analytics planning that is powered by Generative AI. 
Built using the expertise of Amplitude, the recognized leader in app analytics and best practices, the App Analytics Architect is designed to empower developers and marketers with an AI-enlightened approach to data-driven decision-making.
This tool harnesses the power of AI to generate a comprehensive analytics plan based on a few key pieces of information about your app. It takes the complex, often overwhelming task of sifting through data and transforms it into an insightful, actionable strategy that aligns with your app's goals and metrics.
How the App Analytics Architect Works
The App Analytics Architect is able to generate a complete blueprint for the implementation of a mobile or web app analytics package by collecting the following pieces of data about a user's app:
Category

Product Description

Product Features

North Star Metric (as defined by Amplitude)

Relevant KPIs

App audience segments

Analytics library (Used to generate source code examples)
Running this information and through a series of prompts that provide context, along with some few-shot training examples, the App Analytics Architect generates a complete analytics plan that can be handed over to developers for implementation, including the full source code they can use to enable them! 
Before this tool came into existence, the process of creating an analytics plan was a laborious and manual process that involved a lot of back-and-forth coordination between marketing and development teams to craft and implement. The App Analytics Architect is designed to simplify this process using the power of Generative AI.

Using Amplitude's best practices for analytics design as a foundational construct, the resulting output measures what's most important to the success of an app and provides the source code to make it happen.
Illustrative Example: the OpenTable App
Consider how the App Analytics Architect would serve the OpenTable app (OpenTable is a popular app used to book reservations at restaurants):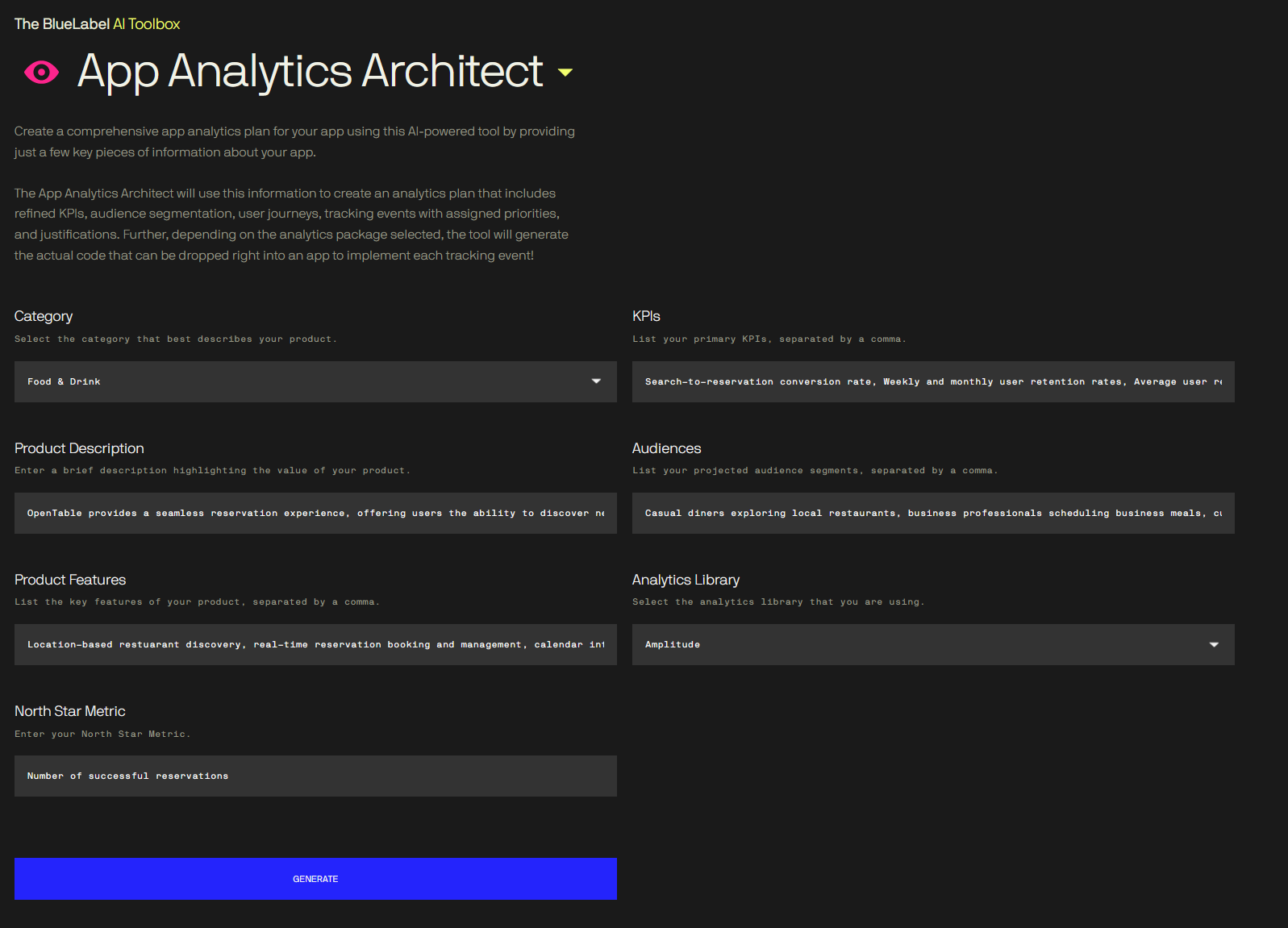 It might be tough to read on the screenshot but here are the inputs to the App Analytics Architect for the OpenTable app:
Category

: Food & Drink.

Product Description

: OpenTable provides a seamless reservation experience, offering users the ability to discover new dining spots, book tables, manage reservations, and enjoy dining rewards.
Product Features: Location-based restaurant discovery, Real-time reservation booking and management, Calendar integration for reservation reminders, In-app dining rewards program.

North Star Metric

: Number of successful reservations.
KPIs: Search-to-reservation conversion rate, Weekly and monthly user retention rates, Average user review score and volume of reviews.
Audiences: Casual diners exploring local restaurants, Business professionals scheduling business meals, Culinary aficionados in search of unique dining experiences.
Analytics Library: Amplitude.
With this data, the App Analytics Architect might generate as an output an analytics plan that looks like this: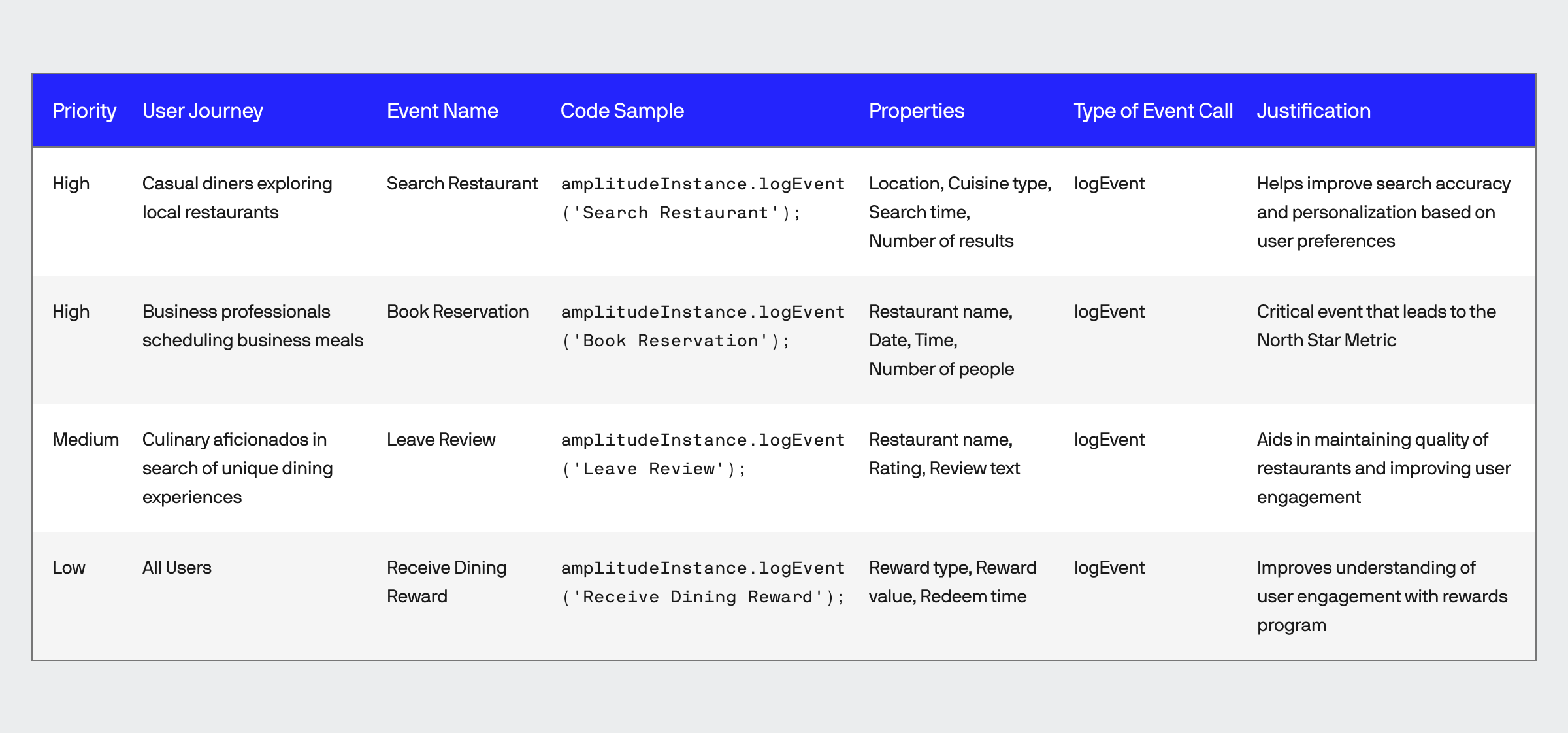 The Benefits of Using the App Analytics Architect
The App Analytics Architect stands out by offering:
AI-Driven Efficiency

: Reduce the time and effort typically required to develop an analytics plan.

Custom Code Generation

: For selected analytics packages, receive ready-to-implement code snippets.

Alignment with Best Practices

: Incorporate Amplitude's renowned analytics framework into your strategy.

Cross-Team Collaboration

: Bridge the gap between marketing and development with a unified approach.
The BlueLabel AI Toolbox: Helping Businesses Leverage the Power of AI

As the latest offering in the BlueLabel AI Toolbox, the App Analytics Architect represents our ongoing commitment to simplifying app development and marketing through the adoption of AI to enhance normally laborious human workflows. 
One of our core beliefs is that AI isn't a tool to replace the work of humans, but rather a productivity accelerator to help people do their jobs faster. 
This tool doesn't replace the work app marketers and growth strategists do today. Instead, it helps make their jobs easier by automating some of the more manual and time-consuming tasks to allow their brilliant minds to focus on what humans do best.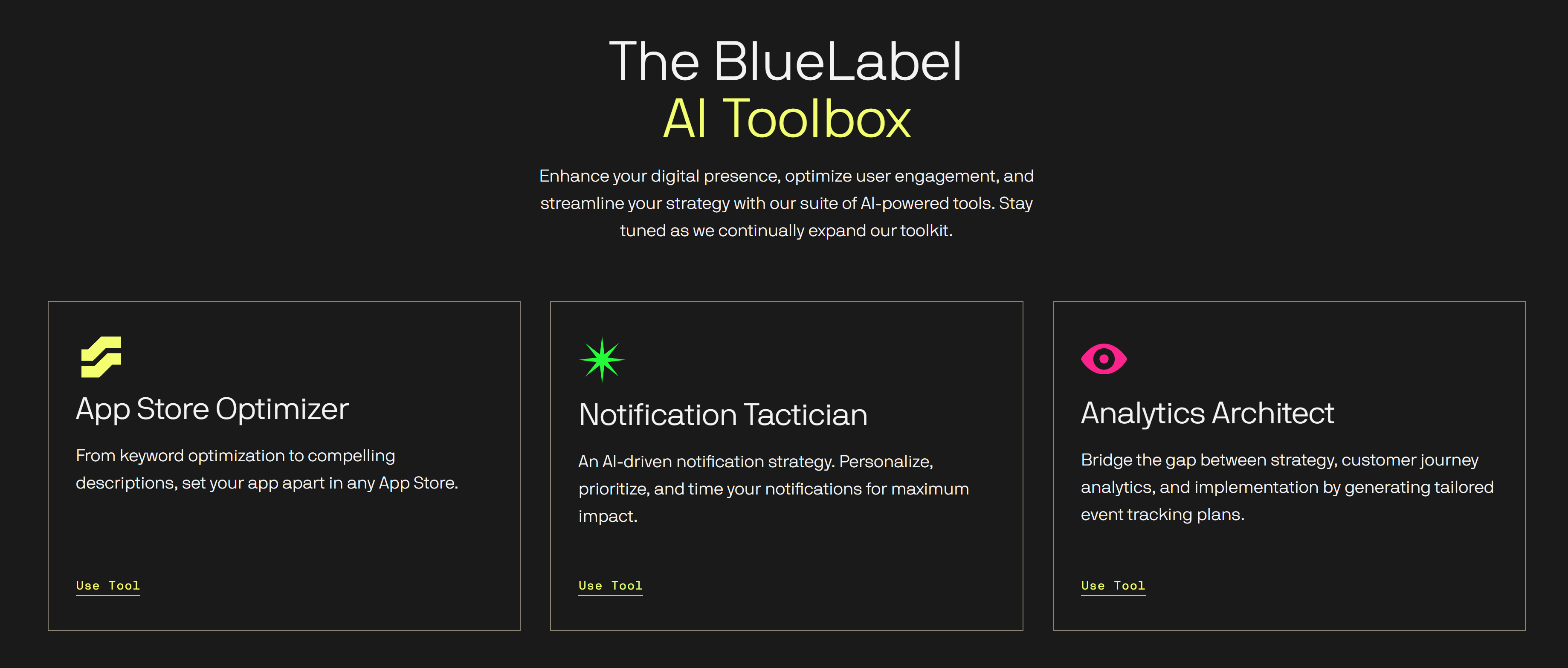 This tool complements the AI Toolbox's existing suite, including the App Store Metadata Generator and the Notification Tactician, allowing us to help empower the app development community. As always, the core LLM interaction that powers these tools is made available as open-source code in the BlueLabel AI Cookbook on Github.
Try It Out for Your Business Today
Ready to unlock the full potential of your app's data? Visit App Analytics Architect to get started. Simplify your analytics planning, make informed decisions faster, and let AI take your app to new heights.
Join us in celebrating the launch of the App Analysis Architect and see how BlueLabel continues to innovate at the intersection of AI and app development.
Stay tuned, because there is much more to come in the BlueLabel AI Toolbox.
Get the latest from the BlueLabel's blog in your inbox