Client
Delve by SIDEWALK LABS, a Google company
Services
UX Design
UI Design
Web Development
Plan and build

smarter
Building modern neighborhoods and cities is no small task, a problem that Delve tackles head-on. Through their powerful ML-driven generative design platform, urban developers are able to uncover a multitude of options based on a comprehensive set of user-defined parameters to uncover best possible building solutions for large-scale projects. Delve merges a variety of design, financial planning, and engineering tools to defragment the planning process and streamline delivery. With Delve, planners can create richly detailed designs in minutes, not months.
Say hello to
Delve
From the folks who brought you Pebble, Mesa, and more, Sidewalk Labs and BlueLabel teamed up to create the Delve platform. As a Google company, they demonstrate an active interest in building and living smarter through the products they think up. By cleverly harnessing the power of AI to bring unprecedented efficiency to the urban planning process, projects can save on precious time and costs.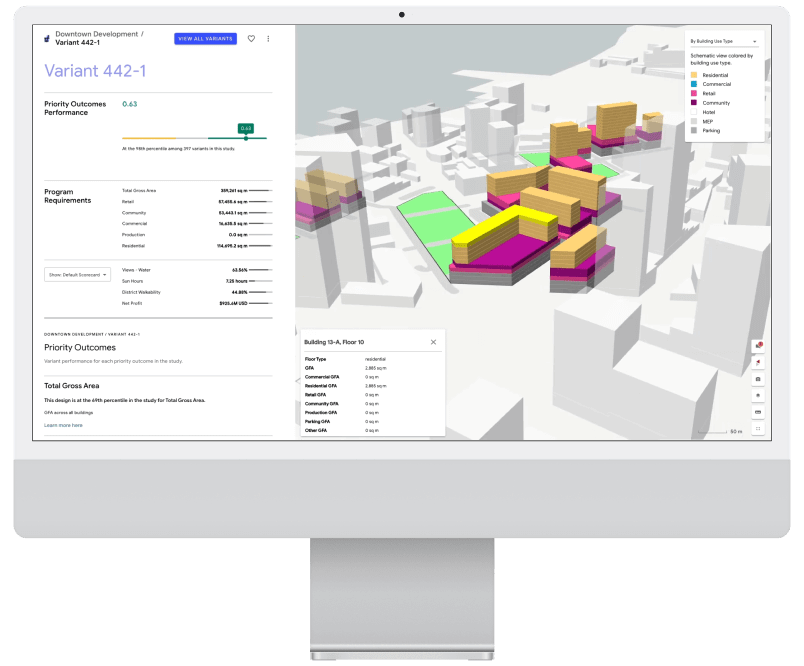 Delve brings a new level of generative design in urban planning that vastly increases visibility, equipping decision-makers with the data they need to make the best possible choices.
A better
solution for

urban planning
To maximize the impact this system would have for adopters, an optimal layout for intuitive interaction was a must. We worked with Sidewalk Labs to build and test an interface that would appeal to a diverse set of users. Our design incorporates the Delve aesthetic in a functional product that's accessible to a multitude of disciplines that include developers, architects, planners, financial professionals, and of course, the stakeholders vested in the project.
Delve offers a powerful set of tools for the many facets of urban development teams. From architecture to engineering, diverse teams who drive these projects are able to collaborate in one space, empowering teams by eliminating the fragmentation that's historically stifled these projects over the years. By also tying in financial planning, everything comes together in a cohesive solution that brings clarity which both accelerates projects and reduces risk.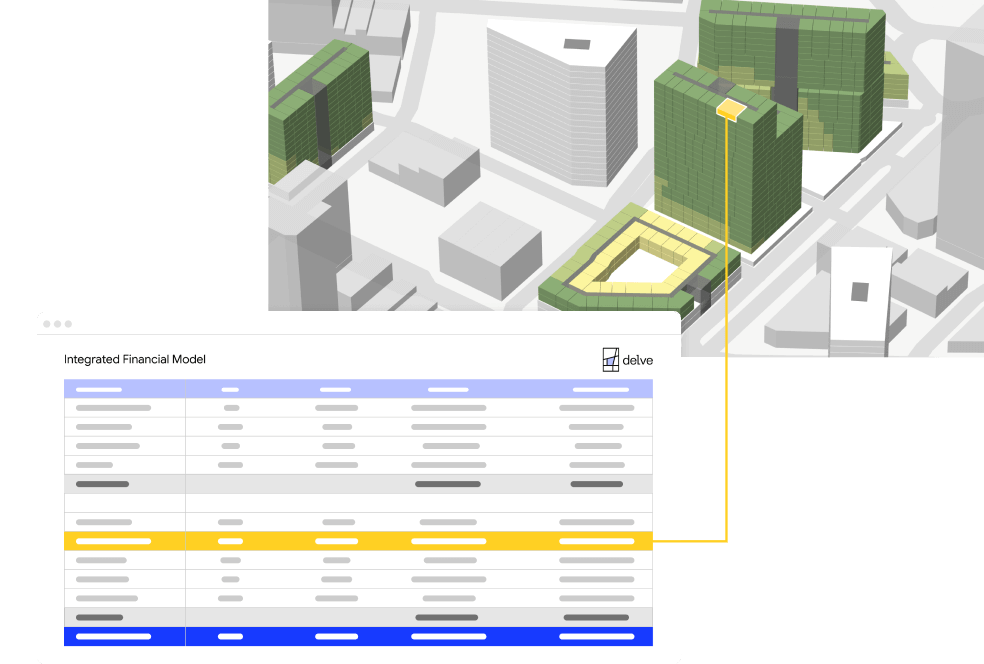 "We wanted to really stress-test our thoughts for Wembley Park. Delve delivered workable options respecting the rules of the game, and on targets that we set."
Delve
Digital Audio Service Product Manager
The
solutions
The platform would need to be able to pass a variety of different kinds of structured data from different teams in the web app which meant the interface would need to be exceptionally clean. We had to work their backend systems to be able to tailor output for different segments of the platform – for example, the "Ranked Options" reporting feature transposes user input to output that clearly identifies and ranks design options by how well each performs against selected metrics.
Each user discipline (i.e., finance, architecture, etc.) was tested to help us refine a set of tools for each that felt dynamic yet familiar. We wanted these often "tough to please" crowds to be able to see value from the moment they logged in which we were able to successfully achieve through our UI design.
By focusing on the flow of the UX, we're able to help users discover and ultimately take advantage of all the powerful features built into the Delve system.
01
Rank highest-performing designs
As every project has different characteristics that will maximize its value, users can quickly generate reports around generative designs to consider the best options.
02
Expansive customization
Users can expand or consolidate conditions at a site such as being able to allocate housing or open across an entire site or within a selected location.
03
Integrated
financials
No more back and forth with advisors to tweak spreadsheets and calculate output – it's all built in.
"What Delve has accomplished is more than we had imagined."
A prominent Japanese real estate developer.