Redesigning the Future of
Kung Fu Tea

's Mobile Ordering Process
Services
Design Sprint
Product Strategy
Product Design
Branding Extension
Product Development
Analytics Integration
Ongoing Production Support & Product Evolution
Igniting the Taste Buds of Kung Fu Tea Customers
Not many beverage chains have the luxury of calling themselves the "Starbucks" of their industry.
Luckily for Kung Fu Tea, they don't have that issue. Once BlueLabel helped them undergo a digital transformation that brought radical simplicity, endless customer options and lighting-fast ordering into an all-in-one mobile experience, Kung Fu Tea officially entered into a league of their own within the world of bubble tea.
Driving Simplicity for Kung Fu Tea Fans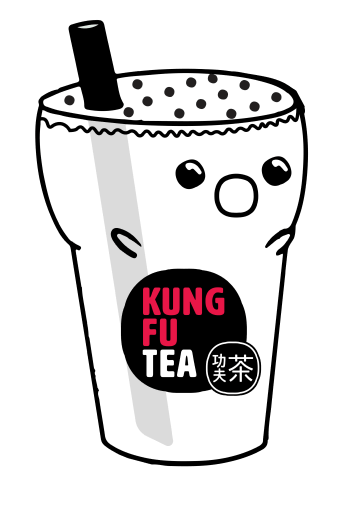 Kung Fu Tea, the largest bubble tea chain in the U.S. with over 350 locations, initially discovered and met with BlueLabel when a critical source of revenue wasn't generating the level of results they thought it was capable of: their mobile app.
At the start of these conversations, we learned they were using white-labeled software for their mobile experience, and as a result, it was confusing to customers, too clunky, and to be frank, was resulting in Kung Fu Tea leaving a ton of money on the table due to customers' inability to quickly and efficiently order their favorite bubble tea while on-the-go.
Kung Fu Tea was in need of a major redesign of their mobile experience, and BlueLabel was poised to drive the initiative of taking them through an evolution that would result in a frictionless, yet gamified ordering platform for bubble tea fans nationwide while also increasing revenue.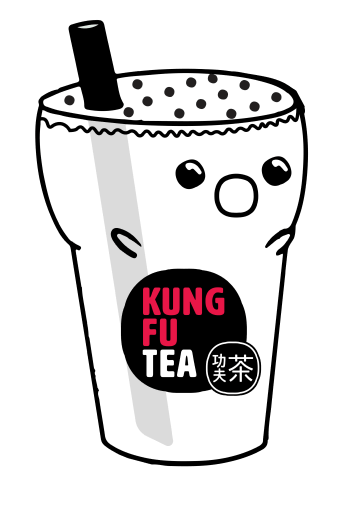 Challenges
Bubble Tea Connoisseurs Were in Need of a Hero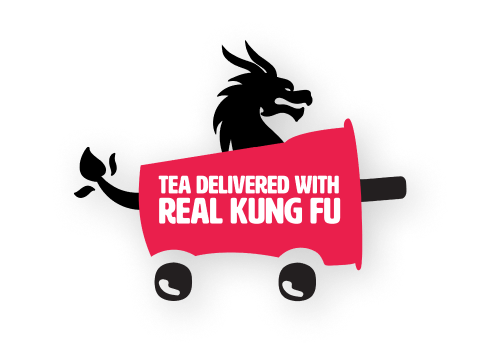 The mobile world that Kung Fu Tea operated in prior to collaborating with BlueLabel looked drastically different than if you downloaded the latest version of the app and placed an order today.
Kung Fu Tea's mobile business previously ran off a white-labeled solution that didn't provide much customization and prevented the beverage chain from giving customers the most seamless ordering experience possible. Simply put, it was apparent to Kung Fu Tea's tech-savvy customer base that their app was designed several years ago.
Hover the mouse on the images to see the final designs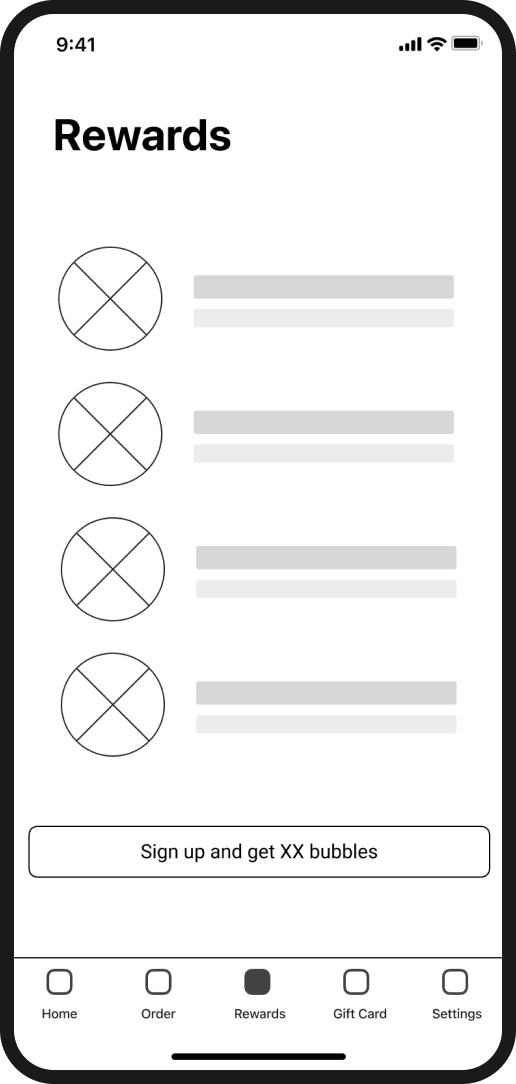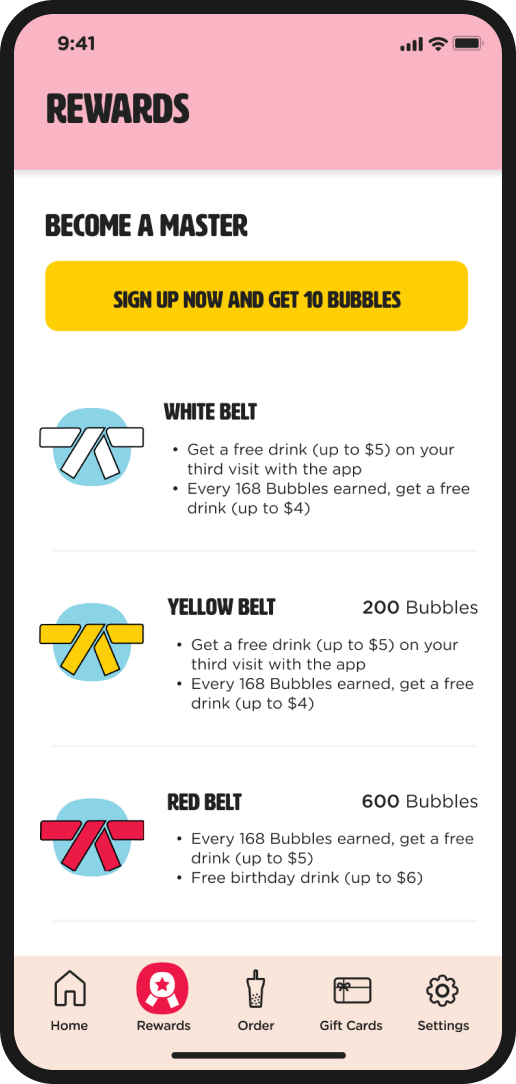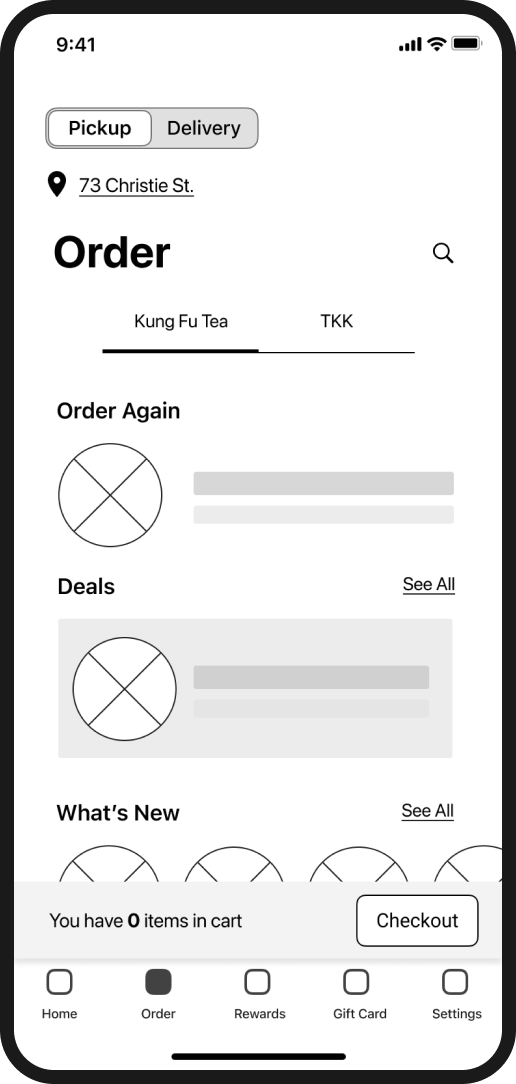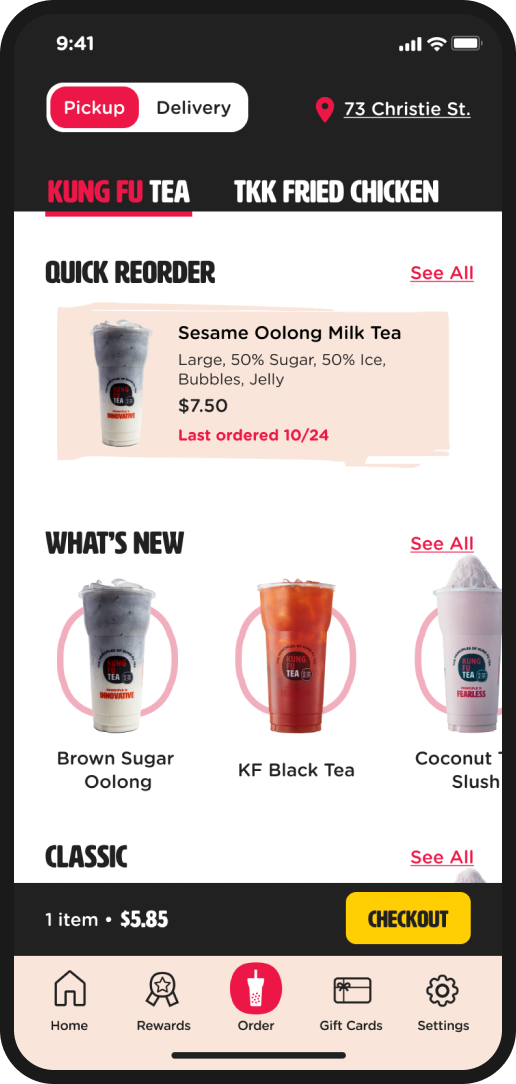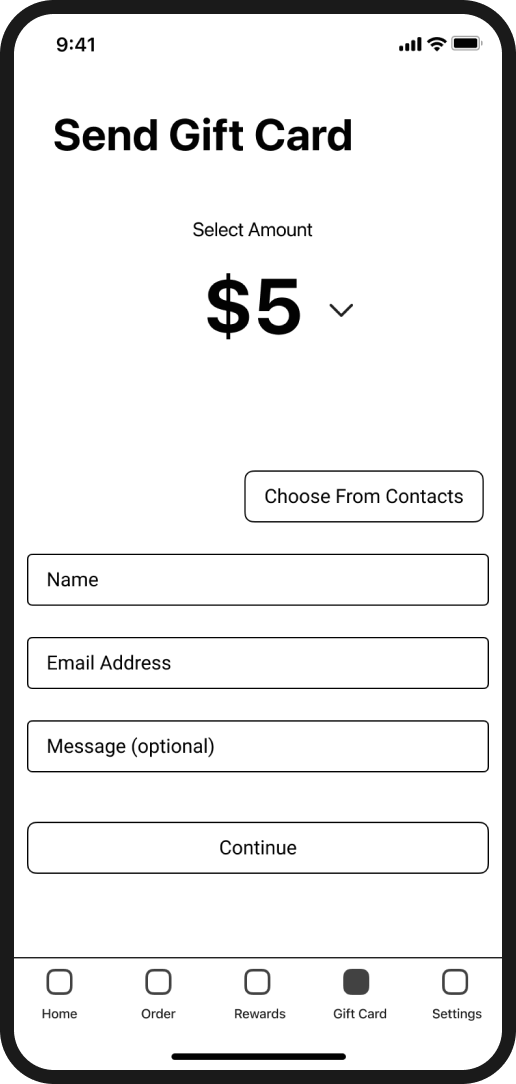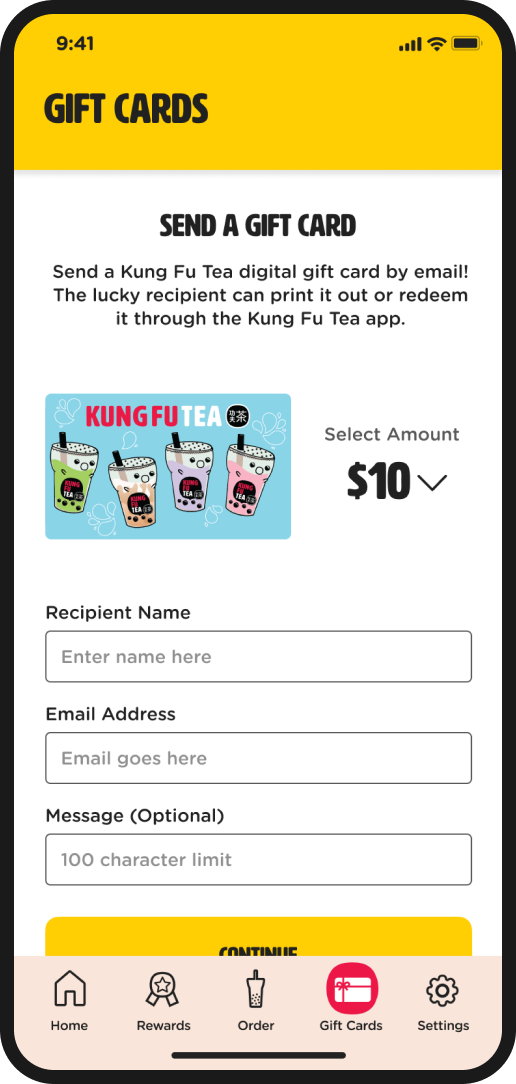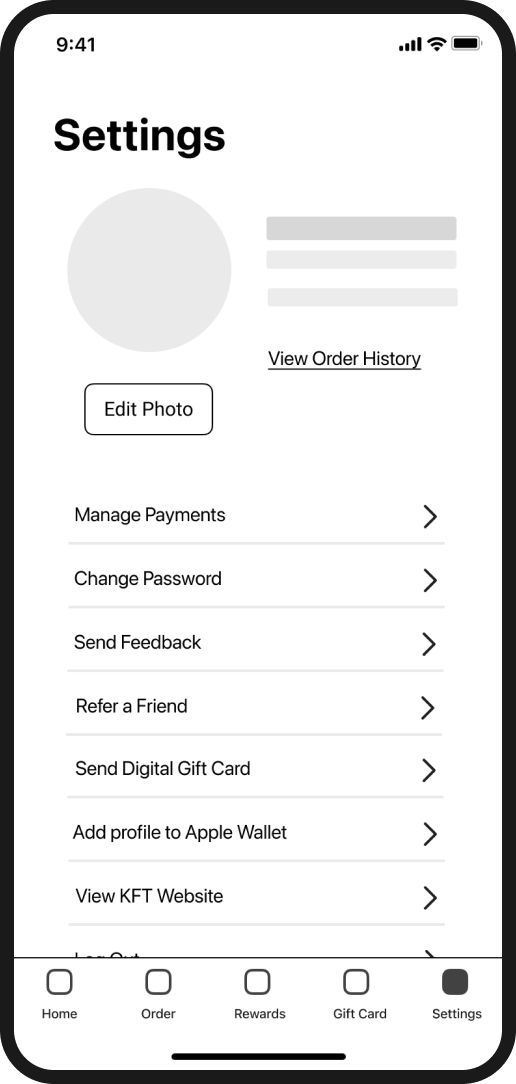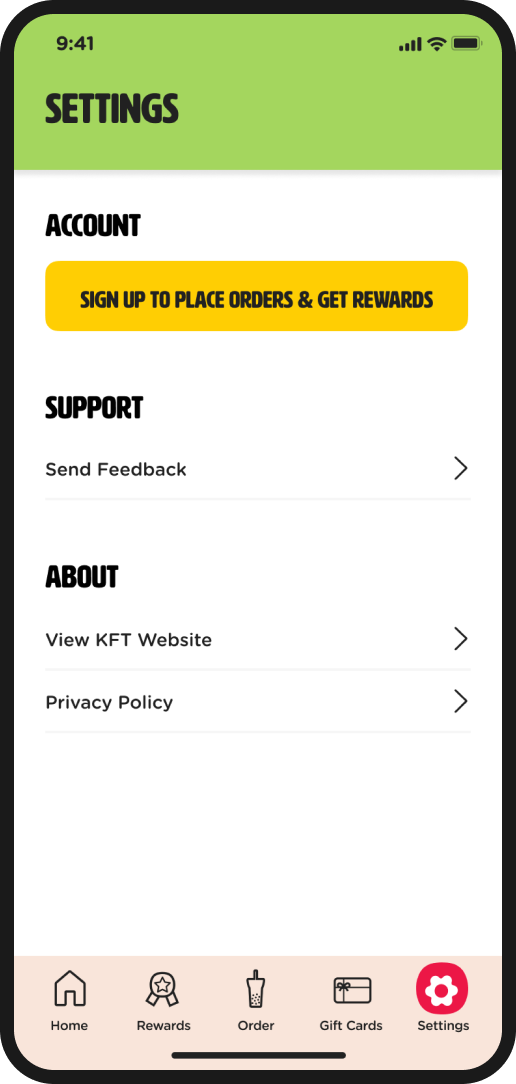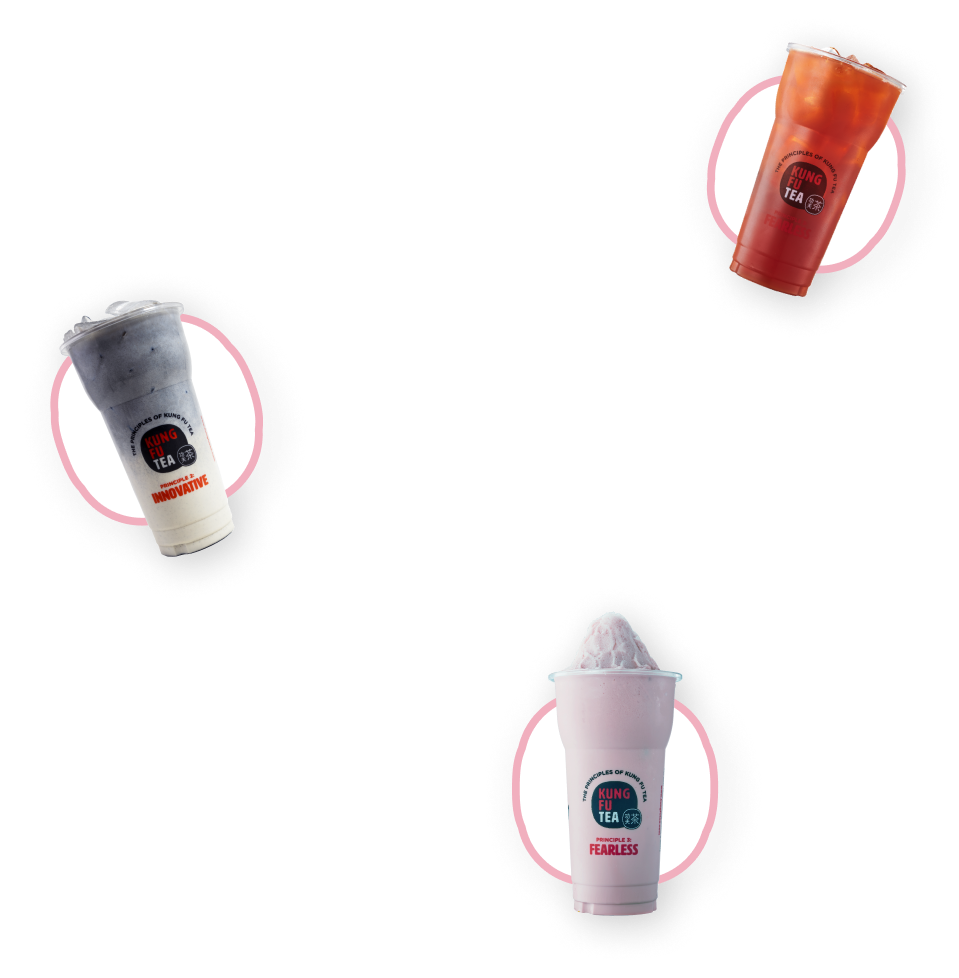 Aside from the surface-level design issues regarding missing interactivity and a lackluster UI layout, the app led to ordering delays, frustrated customers and even created confusion with how in-app points translate into free beverage rewards.
Thanks to user behavior metrics provided by Segment, Mixpanel and Appsflyer, BlueLabel was able to dig under the hood and truly understand what users were craving. It soon became obvious that Kung Fu Tea was in need of a cleaner, more inviting customer experience that allows simplistic ordering with just a couple of taps.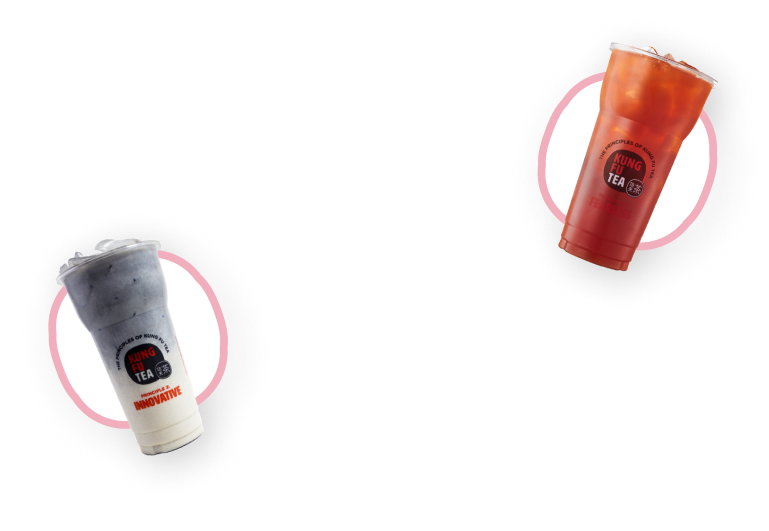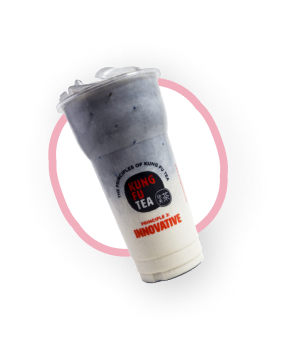 Solution & Process
Becoming the Starbucks of the Bubble Tea Industry
To help ensure that Kung Fu Tea could reach its full potential through this redesign, we followed our tried-and-true process that is a consistent recipe for success, while making some key tweaks to address Kung Fu Tea's specific needs.
1
Understand user experience with a design audit
BlueLabel dove right in. This process began with a complete design audit of their current solution in order to understand the entire user experience and point out "unhappy paths" and scenarios where users could easily become confused and deter them from being able to complete their bubble tea purchase.
One major benefit from having leveraged their older legacy app for so long was that Kung Fu Tea's Marketing team had compiled a list of pain points throughout the years.
Our team leveraged that list as well as the results from our own user testing exercises to help understand the priority and significance of each user pain point.
2
Research the competition to learn how to increase screen time & retention
With the goal of dominating their industry, it was necessary to research the other industry-leading brands that have reached mobile mastery.
Analyzing the digital products of food and beverage companies like Starbucks, Dunkin' and Chipotle gave our team perspective on how to truly win the attention and screen time of Kung Fu Tea's customers.
And thanks to GrubHub's LevelUp tech platform, Kung Fu Tea was able to leverage their API to build the most robust ordering and digital rewards platform the bubble tea community has ever seen.
3
Implement user data and analytics to capture key performance metrics
Additionally, user data and analytics platforms Mixpanel, Segment and Appsflyer were implemented to capture and interpret the app's most insightful performance metrics from customers.
This helped BlueLabel make the most data-driven decisions when overhauling the app's rewards program from a complicated process to one that surprises and delights customers.
4
Make product customization easier
Customization was another core element to this project's success and Kung Fu Tea's growth plans, since their previous app left them with zero power over what the app was promoting.
Thanks to the custom-built CMS we provided their team, they can now upload their own images for toppings, change menus, rearrange the order and appearance of their home screen to better align with their partnerships with A-list brands such as Hershey and Nintendo.
Results
RESULTS
Since the Redesign Launch, Metrics are Bubbling Up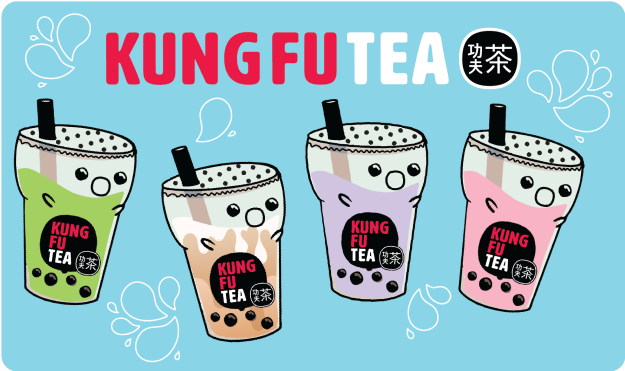 The numbers just don't lie. Shortly after the release, the new Kung Fu Tea app doubled in weekly average users and resulted in 5x engagement in its loyalty program!
After a successful soft-launch that allowed for Kung Fu Tea's most loyal "super customers" to test the app, it was released to the app stores nationwide for all to download.
We've been working closely with their marketing department to continue refining the product and addressing user feedback as it comes in. As is the nature of mobile apps, user feedback & analytics help us understand what is loved and what areas could be improved upon.
There are numerous items on the roadmap for Kung Fu Tea but the future is looking rather bubbly thanks to the newly laid foundation for their first ever custom-built mobile experience.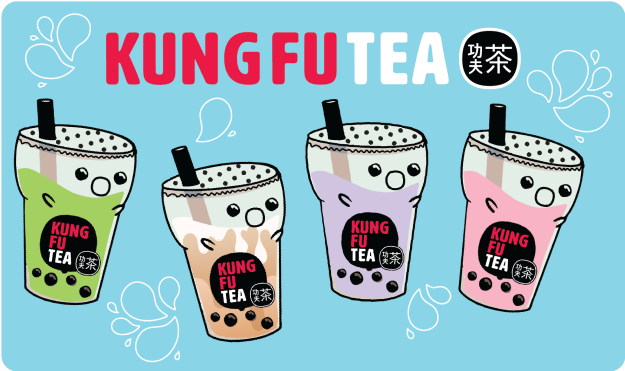 We plan to do much more with our mobile app in the years to come and this is the first step as we continue our own digital transformation. With the decision to launch our own custom mobile app, we'll be able to better tell our story and provide our loyal customers the seamless kind of mobile experience they crave.
Delivering Delicious,
One Bubble Tea at a Time