Angelhack Is Coming To Brooklyn
We all know why we're here reading Idea to Appster, 'cause we love apps, duh. But even more so, we love what goes in to making awesome mobile products, from development to design to everything in between. Well if you've never been to a hackathon or better yet, if you've never been to an Angelhack hackathon, then you're now in luck. And if you have been to an Angelhack then you know why you're so lucky. Angelhack hosts the largest global hackathon in the world, taking place in over 30 cities. So wherever you are, there's a good chance that one isn't too far away. But if you're in the New York area, the one soon to be hosted at digital ad agency Huge, in Dumbo Brooklyn is shaping up to be an awesome kickoff to spring in the New York tech community.
Developers, designers and tech entrepreneurs of all stripes will converge on May 31st to pitch ideas, form teams and of course, get hacking, all through the night. All the while there will be workshops, sponsor breakout sessions, lots of food, swag, and prizes. Speaking of workshops, Chief Editor of this fine blog, Bobby Gill will not only be on the judging panel, but he'll also be conducting an exclusive workshop on app launch strategies, not to be missed. If machine learning is something you find intriguing, Yuksel Baris of Google will be giving a presentation as well.
This season, Angelhack is focusing on the "Whole Developer" concept in which developers, designers and business people are taught how to become more balanced and well-rounded human beings. The focus is on the art of communication, team building and the importance of mindfulness and emotional intelligence. To that, if you stick around Huge late into the night, there will be free massages to relax your body and recharge your batteries for the rush to demo submission when the sun comes up.
Why is this a focus? Well, coders and developers are among the fastest growing professions in the world. While being an incredible coder can help you now, in five years, you'll need a host of soft skills to be more marketable and interesting to employers. You'll need to become a business leader or a manager, which requires a very different skill set.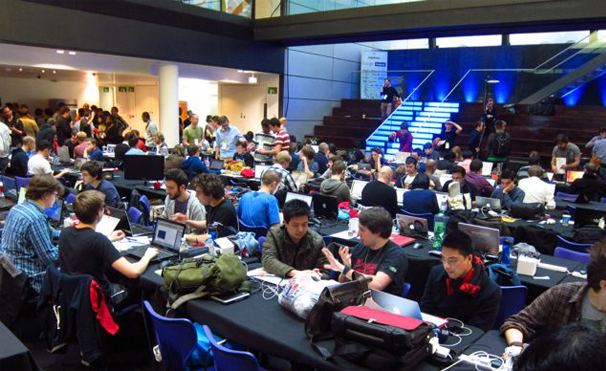 Unfortunately, coders have two stereotypes:  either they're socially awkward shut-ins who code around the clock, or obliviously arrogant "brogrammers" who give the industry a bad name. Creating a company is a different beast than creating a product, something new entrepreneurs – coders turned CEOs – often find out only when they're way in over their heads. Being a Whole Developer will help you avoid falling into success' many pitfalls.
The "Whole Developer" concept will focus on communication, team building, mindfulness. emotional intelligence, work/life balance and social responsibility.
And if Silicon Valley is really what you have your eyes on, Grand Prize winners will be accepted into the Angelhack Hackcelerator program which is a pre accelerator designed to help you whip your hack into shape so you can get accepted into a top accelerator like Y combinator, Tech Stars and other big names. Oh by the way, Appetas, a Hackcelerator graduate was just sold to Google. Just sayinnn.
Last but not least, there are a limited number of free tickets available to ITA readers using the code HackAppster. So hurry up and get your ticket now. We'll see you at the event!
Get the latest from the Blue Label Labs' blog in your inbox