Save Time With An Autoparts Delivery Service App
One of the great gifts of technology in the past twenty years has been ridesharing. Not only is this modern hybrid of private and public transportation great for the environment and the worldwide battle against global warming, but it's also a convenient and cost-effective way to get where you're going without dealing with a crowded subway car or the stress of fighting traffic (at least not as the driver).
Convenience never smelled so sweet.
The next progression in ridesharing has been swapping out the people for goods. With a few taps on your phone, an UberEats driver will appear at your front door with a McDonald's Double Whopper and fries. We've pretty much reached nirvana.
And now, as we continue to reach out and feel around in the darkness of endless possibility, the next advancement has hit us smack dab in the face: autoparts. We know it doesn't sound quite as mouth-watering as a juicy burger, but hear us out.
If you are a car owner, you've experienced the pain of going to your mechanic only to be told that it will be a few days before they receive the part needed to complete the repair. Groan.
Now, there's Tonquin. Designed and developed by your friendly neighborhood mobile app makers here at Blue Label Labs, Tonquin takes the inconvenient wait-times of slow delivery out of the equation so you can get back on the road (and hopefully to the beach). This on-demand solution to speed up the exchange of parts between suppliers, dealers, retailers and repair-facilities has already saved users massive amounts of time and expense thanks to the new user-friendly app.
Gig economy FTW.
Just like your favorite ride-share apps, Tonquin ensures drivers are background-checked and reliable. The app allows users to review orders, manage locations, view driver details, favorite drivers and receive receipts instantly. While it might not be a homescreen app, Tonquin is a mobile app that will come in handy for car-owners. Currently Tonquin is only servicing Central New York but with a growing number of deliveries, there are plans in the works to expand their radius.
Here at Blue Label Labs we are intrigued by the new ideas that you bring to us. We're grateful to be able to turn your world-changing and technology-pushing thoughts into mobile apps that will benefit all who download.
Check out their feature on ABC Local SYR.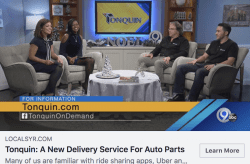 Get the latest from the Blue Label Labs' blog in your inbox