5 Tips For Success On The App Store
5 Tips For Better App Store Success
With the population of mobile apps quickly overtaking their web-based siblings, it's more difficult than ever to get your app noticed and to achieve Apple or Android app store success. App store optimization (ASO) is the most effective–and weirdly enough the most ignored–way to strengthen an app's popularity. Here's a big reason why it's important: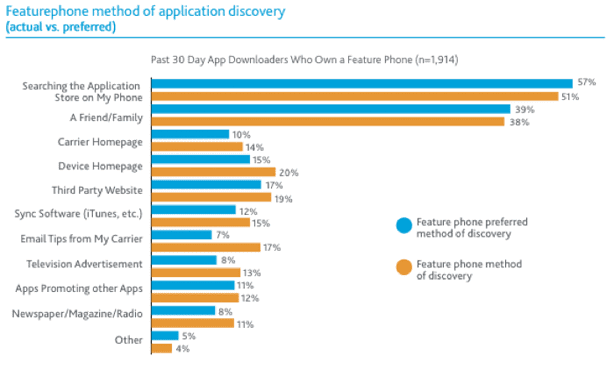 A Nielsen survey discovered that a whopping 51% of feature phone owners found their apps via the application store. 57% prefer it that way. Making sure that your app is visible in the store is four times better than a television ad. And with these four tips, it will cost way less.
1. Improve Customer Service
Getting 5-star app ratings is a necessity for app store visibility. Producing an awesome app will obviously bring high reviews, but great customer service is the true key to maintaining 5-stars in the app store. This is because customer service acts as a filter between an upset customer and the app store no matter what the issue might be. Practically every app uses a customer service tool to bolster their app store optimization.
There are plenty of options to reach your customers better. Helpshift is a great customer service solution made specifically for mobile apps. Buffer is an amazing free outreach tool for keeping users in the loop on social media. Do research on what works for you. Software bugs and other issues with your app are inevitable, but bad ratings don't have to be.
2. Ask for word-of-mouth and app reviews intelligently
For long-lasting and long-term app store success, avoid asking users to share your app the second it loads or before a user has actually done something. Who gives a referral for an app they haven't even tried? The practice of preemptive push notifications is annoying to pretty much everyone and might actually lower what they would have rated. The best time to ask for an app review is after the user has accomplished something: beaten a level, completed a task, or successfully resolved a service issue. Leverage their positivity in that moment when asking users to share their experience. There's no shame in a 3rd party tool for smart ratings and review prompts if you ask users at the right time.
3. Understand your Audience
Most developers make apps with a user market already in mind, but that's not the same as understanding how that market behaves. Using an analytics tool will help you notice patterns that you can use to improve your software and find new leads. Another added benefit is that you can research optimal keywords to use that will help people stumble upon your app more easily. The difference between writing "undead game" and "zombie game" could be thousands of downloads.
Google analytics has a free basic mobile version that does the job nicely. For a slightly-more-than-free upgrade, you can go premium or use those aforementioned customer service tools you researched to gain more data insights on what users struggle with. All these steps will help you achieve greater success in the app store. Don't forget to keep updating these terms as time goes on.
4. Don't Cheat
"Black hat" app store optimization is the act of paying a 3rd party to boost downloads and ratings with bots or other tools. It can cost thousands of dollars depending on the request. Falsifying your stats is not only dishonest, but also increasingly ineffective as app stores are actively pursuing developers 
who try this. Bot programmers will gladly take your money anyway.
Just like increasing your ASO leads to app success, getting banned from the app store for cheating is essentially the death of your app. Invest the money into your customers, analytics, and manpower instead.
5. Prioritize UX
While customer service support when something goes wrong is important to store success for your app, you should also aim to keep users happy with UX. UX stands for user experience, and this can be used to describe anything from the ease at which users can find certain features using a dropdown menu to outstanding visuals.
Pro Tip: Remember to prioritize the visual impact of your app, not just in the app itself but in the visuals you make available to the app store. Of course, most of us know not to judge a book by its cover but the reality is that most of us do. No one will want to download an app from the app store with a drab-looking photo. Make sure you incorporate clean, eye-catching visuals in the thumbnail and the gallery images.
Get the latest from the Blue Label Labs' blog in your inbox