Blue Label Labs Recognized As A Top New York App Developer
We're happy to announce that once again Blue Label Labs has been recognized by Clutch as one of the top app development companies in New York! We're proud of the work we've done to help our clients create and transform their businesses through the products we help them design and build. We're dedicated to making sure our clients receive the highest-quality results and we're humbled by the love our clients have given us that has led to this recognition. Our award winning team of product thinkers, designers, and engineers have unmatched capabilities to bring to life products across multiple different platforms with a cohesive, user-first design philosophy.
One of these satisfied clients is the CEO of Hoppin LLC, a carpooling platform. Through an intensive week long design sprint, we designed the UX and UI for the front end of the company's iOS mobile app, and made sure that they were innovative and user-friendly. The CEO of Hoppin was pleased by our creative, outside-the-box ideas and our experienced team of developers! The Blue Label Labs' process is what sets us apart in the industry and is what helped us bring to life the business Hoppin had in mind.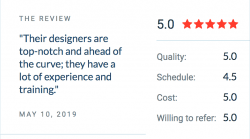 "It was clear by the quality of their work that they cared about the project and our success. They offered new, creative ideas that were a significant improvement on the original rough sketches we provided." – CEO, Hoppin LLC
We also heard from the founding partner and CIO of Frictionless Enterprises, a labor on-demand platform. We designed and implemented a Native iOS app for this company for the purposes of connecting vetted individual consumers to independent work.
Once we finished this project, we worked with the client again to create an Android version and a web portal.
The CIO was impressed by our bold ideas and the high quality of work our team produced!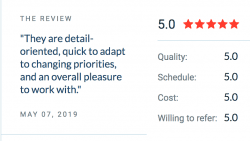 "What makes Blue Label Labs a great company to partner with, is their use of the agile methodology, which enables them to deliver quickly." – CIO, Frictionless Enterprises
We can also be found on Clutch's sister site, The Manifest, as one of the top Android app developers in New York, and on portfolio-sharing platform Visual Objects as a top app development company.
Seeing our clients succeed is the most rewarding part of our job, so seeing these satisfied reviews makes us feel great! We're grateful for each and every business that entrusts us with their product design and development, and we're looking forward to the future.
Contact us for you next project – we'd love to work with you.
Get the latest from the Blue Label Labs' blog in your inbox