My Pick For The Best Android Emulators For Gaming
Since an early age, one of my favorite pastimes has been gaming—while mobile games aren't usually my go-to for a gaming fix, I've found some I like so I did some digging to find the best Android emulator. While small touch screens are great for some people, I find the lack of tactile feedback from a controller or mouse keyboard frustrating and I know many others (especially us "older" Millennials) share my sentiments. 
While you can usually quickly connect hardware to a smart device via a physical or Bluetooth connection and connect to a larger display, there are many advantages to using an emulator on your computer. I'll first explain what an emulator is then we'll take a look at my favorite, simple emulator.
What is an Android emulator and why use one?
In the most general sense, an emulator is a system that emulates another system within or alongside your device. Simply put, an Android emulator acts like a phone or tablet and you can run it on your PC.
For gaming—especially fast-paced games—touchscreen controls just don't cut it. The more power to you if can clean house without buttons but I refuse to learn. Plus, without rooting your device, there aren't a lot of functional (or safe) options to adjust settings in your device to tweak performance. Too, using features like native screencasting or mirroring software like Vysor often result in lag which is the difference between a good K/D spread and using your tablet or phone as a frisbee.
You can tweak the settings in many of the simple, standalone systems allowing for higher frameworks, crisper graphics, and faster play. Some of the more advanced systems like the Android Virtual Device (AVD) console in Android Studio, Android instances run on systems like VirtualBox or full Android platforms like Bliss OS offer the best customization, but they're also the most complicated.
Since I like to pick up and play simpler games, I gravitate towards the easiest system out there: NoxPlayer.
The best Android emulators for PC
There are a few very similar solutions on the market, but NoxPlayer stands above the others for a few different reasons.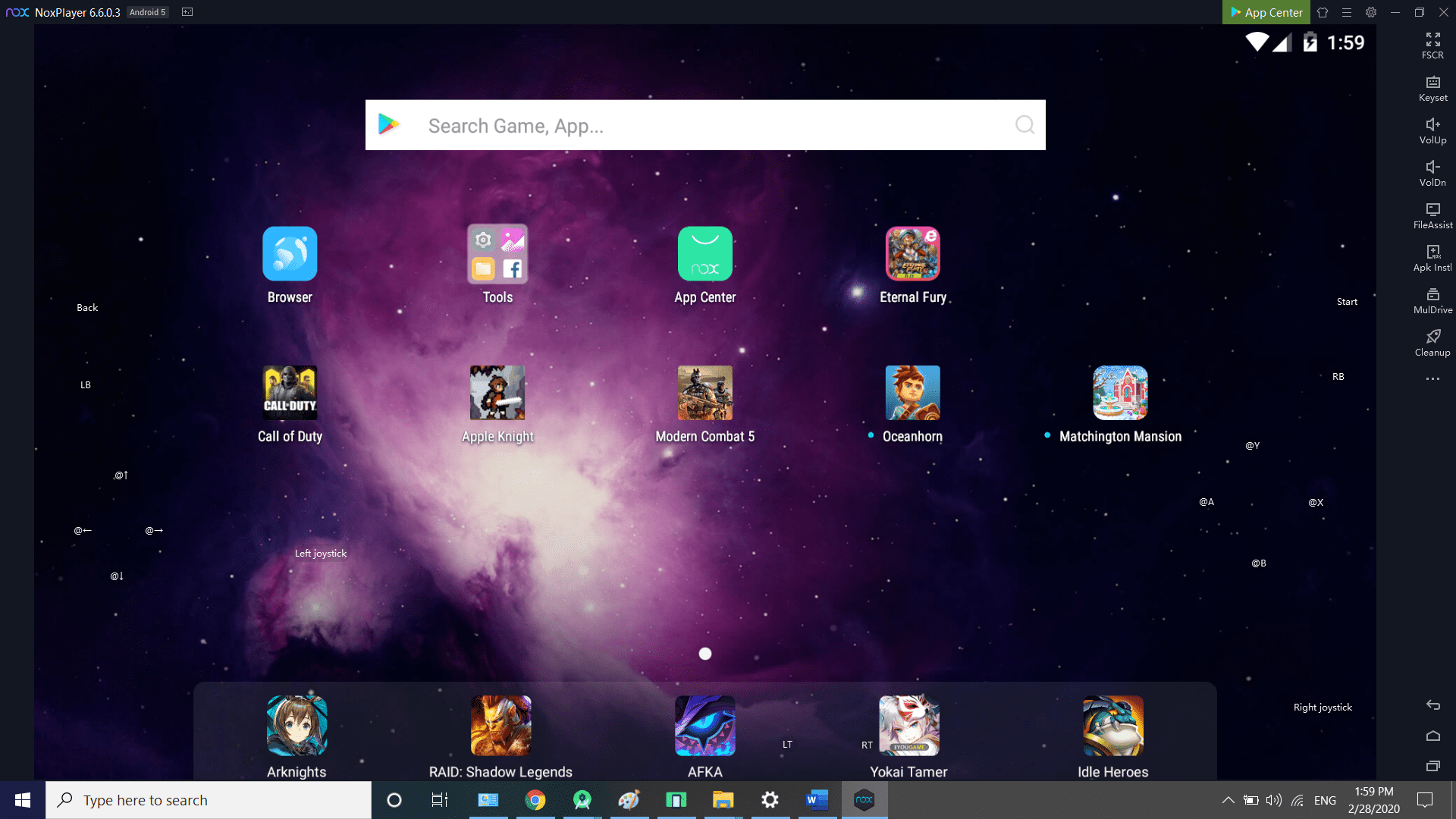 It runs on top either Windows or Mac as a standalone option that doesn't a lot of configuration to enjoy a functioning Android emulator as with Android Studio or Virtual Box, especially the latter. You simply download the installer and can enjoy a functioning system in about five minutes.
The other nice part is that it doesn't require installing another OS to your system which can be problematic if you don't (or can't) use a solution like Boot Camp on Mac. This is a big deal if you like to game at places like work where a lack of productivity due to a gaming habit is frowned upon—with NoxPlayer, you can simply mute, switch to Excel and look busy 😉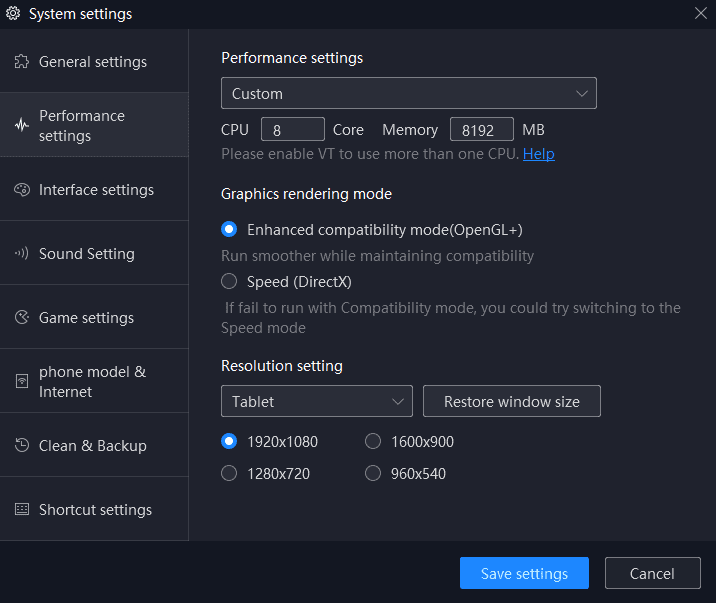 Really, you're best off leaving settings at default since this mostly pulls more power than the system can really use.
You won't find the full Android settings you'd expect by clicking on the gear icon. Instead, you're supplied with specific options geared toward gaming performance such as those which affect video and performance as seen above. Make sure you have VT enabled in your BIOS (or through UEFI) and you can increase the number of virtual processors, usually up to double why your physical machine holds depending on your system. Just note that you're not going to have as noticeable a difference such as when you turn settings "up to 11" on a powerful machine running Steam.
From here, you simply download apps from Google Play as you would with on a physical device. One of the reasons NoxPlayer excels over other similar solutions like BlueStacks or MEmu is the lack of ads and decent peripheral support. The former has a lot of ads (though BlueStacks is admittedly better for controller support) while MEmu pulls some BS by trying to get you to install some random malware defense service, a treacherous move that makes fills me with distrust.
NoxPlayer allows you to map-out keys, plus they include specific, built-in configurations for various popular mobile games. Keyboard functions can be easily tailored to your play style and even better are those prebuilt to easily jump into a game without putting in the minutes needed to create a custom setup.
Controller support is good but not perfect—the same is true for other honorable mentions like Bluestacks and MEmu. For example, the action/platformer, Apple Knight (think Mega Man X in terms of gameplay), works great without messing with settings. However, games like Call of Duty Mobile have small controller issues that are pervasive across all emulators I've tried. Though you can use console controllers with this game directly through an Android phone or tablet, getting it to connect to the emulator running on top of a computer can be tricky with console controllers (i.e. Playstation and Xbox—I use both.)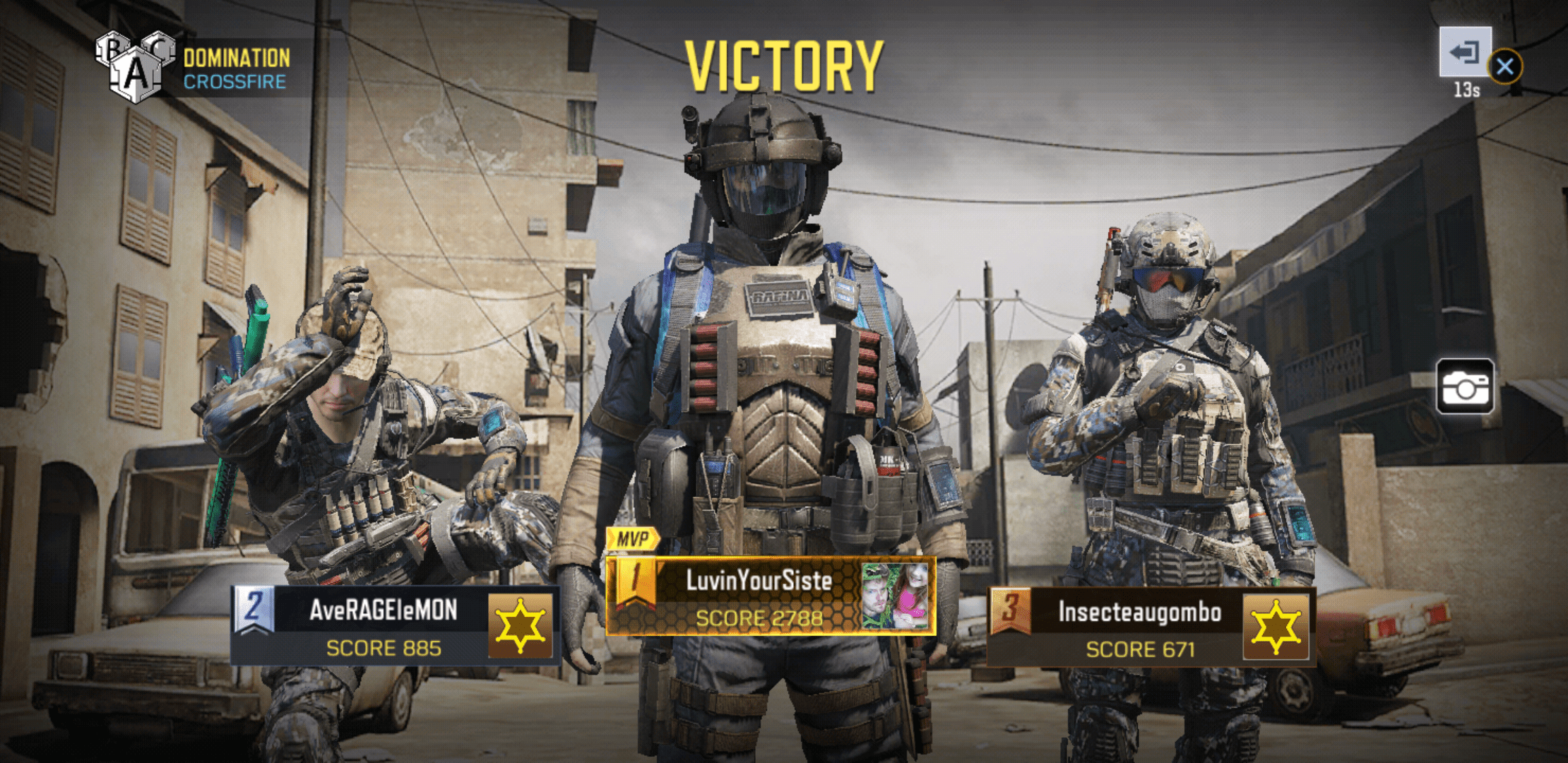 I'm a controller person but not bad with a keyboard.
For the low price of free, NoxPlayer delivers for most games making it my favorite Android emulator. Sure, more advanced systems are ideal for immense customization but for those who like to pick up and play but with better controls, NoxPlayer delivers.
Blue Label Labs builds all kinds of software, games included
Our main focus is business software but we do games too! As part of the process, we'll be heavily testing the software in a sandboxed (i.e. emulated) and real environment to bring your project to life. Get in touch to learn more about our development process.
Get the latest from the Blue Label Labs' blog in your inbox