BLL Featured As A Top React Native Mobile Dev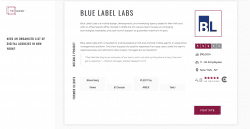 And yes, we know what you may be thinking. What is The Manifest and why is that a big deal?
The Manifest is the sister website of Clutch and serves as a guide that helps companies and individuals find the right business services to execute on a project.
That is why we were elated when The Manifest recently named Blue Label Labs as one of the top 50 developers specializing in React Native mobile app development. According to The Manifest, "React Native is a dynamic framework that provides the opportunity for Android and iOS users to download and use your product. Finding a React Native developer, though, is incredibly challenging. That's why we've created this guide…Use our list as your go-to resource for React Native developers."
While we love to take advantage of an opportunity to pat ourselves on the back for a job well done, or a well-deserved accolade, we'd rather spend the few moments that we have your attention talking about React Native, and why it means so much to us to place fifth on The Manifest's list.
The React Native framework has made significant waves within the developer community and many assert it may represent the future of app development.
For the unfamiliar, React Native is a framework that lets you build mobile applications using Javascript and React, essentially allowing you to build two apps for the price of one.
Prior technologies that allowed for building cross-platform mobile apps presented significant limitations.  Where React Native shines and leaves those other technologies in the dust is that it drives the native UI elements of the host platform using React and JavaScript, making the final product look and feel like a native iOS or Android application.  It also allows the developer to build modular components and integrate them into existing mobile applications.  As a result of its flexibility and simplicity, it's no surprise that React Native has taken the developer world by storm and that everyone is trying to get in on the action. And that is what makes the recognition by The Manifest so much sweeter.
Here at Blue Label Labs we pride ourselves on providing unparalleled technology products to our clients, and we do that thanks to our incredibly talented team and their industry-driving creativity. We don't simply incorporate new technologies and approaches into our unique design approach, we become experts and lead the charge to ensure that we turn our clients' visions into successful realities.  So whether it's our success in using React Native or our use of design sprints in the development process, our commitment to excellence permeates every aspect of our lives here at Blue Label Labs.  And yes, we blush when someone notices, so thanks to The Manifest for turning us red.
Get the latest from the Blue Label Labs' blog in your inbox