5 Ways To Increase Mobile App Revenue
Unless you're a hobbyist or a student, one of the main reasons you'll build an app is to generate revenue – as with any businesses, there are both functional and not-so functional methods to increase mobile app revenue that improve your overall bottom line. Understanding how to accelerate earnings often coincides with creating a better user experience when executed correctly. And no, it's not with ads!
At Blue Label Labs, we've developed copious applications with the underlying motive of making our clients as much money as possible. Here, we're going to explore what we feel are the most viable ways a business can increase its mobile app revenue.
Getting started with building an app
If you already have an app published to public marketplaces that's great but if not, then a good starting point is understanding the cost to build an app. Gaining traction requires an initial investment both to build the app as well as to market to the most viable audiences possible.
A paid app backed by great marketing efforts will begin to churn some revenue right off the bat, even though platforms like Google Play and the Apple App Store will charge a 30% fee. This is simply something that has to be worked around in terms of generating mobile app revenue. Fortunately, there are ways to minimize the impact this fee has on your business as well as certain workarounds to generate additional in-app income.
5 ways to increase mobile app revenue
There are more ways to get paid than by simply slapping a price on your app after publishing it to a public storefront. For years, companies have been using different tactics to gain extra revenue from users, even with free apps. The following are among the most popular methods businesses use to generate mobile app revenue.
1.) Use the freemium model with in-app purchases. The word freemium is a modern colloquial term that we use to describe an app's pricing strategy when offering a base application for free. Typically, these apps will be free but will also include a la carte components for an extra price or there are higher tiers of service offered at an additional cost, both of which we discuss below. This model is perhaps one of the most compelling for effectively establishing a user base as it doesn't require an upfront investment, thus allowing users to "try" basic features before committing to paying for the full software or additional features.
One way we see this model succeed is with games. You allow users to download the game and play a portion for free or in some cases, the entire game. From here, users can pay a one-time IAP to unlock the full game or charge bit-by-bit to unlock everything from items, upgrades, or other features. It just depends on how the game is designed.
This a la carte system requires that businesses use payment systems from Google or Apple which will take a 30% fee for whatever is sold. For some users, this is psychologically more appealing as it allows them to directly control all their microtransactions without further commitment.
2.) Offer in-app subscriptions (IAS). Through Google Play or the App Store, you can securely offer IAS through either platform's respective payment processing system. A good example of this is the Tinder Gold service which allows users to pay every month (or yearly) to unlock the ability to fine-tune settings (like manually adjust your location) plus it provides limited access to other premium features. The nice part is that this pricing strategy can be used with other methods we discuss in this section.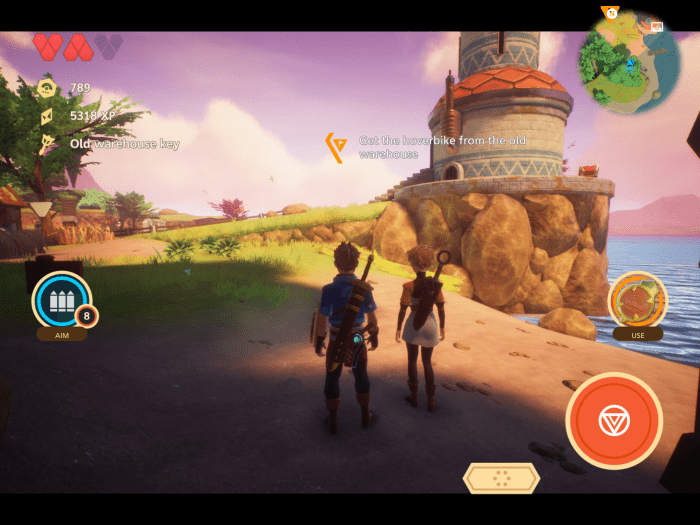 Pictured above is a screenshot from Oceanhorn 2 on iOS. After playing the free demo, you pay a fee of $4.99 a month to use Apple Arcade which gives you full access to this game, plus a couple hundred more.
Another good example is the game in a library, Apple Arcade. When a game is part of this collection, a user simply needs to pay Apple a $4.99 a month fee which gives them access to hundreds of games. Though only drawback here is that the amount kicked back to the game developers is relatively compared to the amount that can be collected by offering an IAS linked directly to an app, even with the 30% commission collected by the marketplaces.
3.) Offer in-app currencies. While this is mostly a gamification component for actual games, it doesn't have to be. In some apps like Papa Johns, you accumulate a kind of currency known as Papa Rewards that users can exchange for free items once a certain amount is obtained.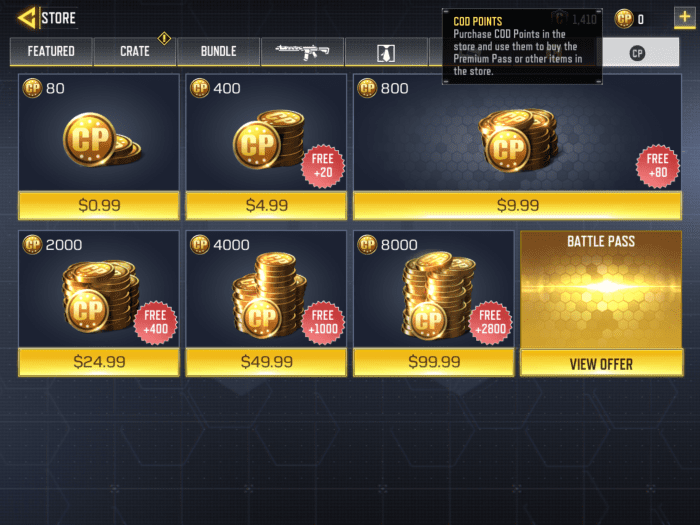 In-app currencies are commonly used in games from major console games to mobile apps. In the example of Call of Duty Mobile (pictured above), there is a currency system you accumulate in-game by grinding which allows you to purchase basic items from the in-game store. To access rarer items such as special guns, character skins, and more you need to purchase the Premium Pass which costs the player $6.99 a month.
The general model for this system works by allowing players to earn through playing the game and completing certain tasks, whatever they might be, or the currency can usually be purchased with real-world money.
Truly, a developer could create a currency around just about any in-app task. To use Tinder as an example again, they could allow you to purchase an extra Boost or other premium feature if the user were to accumulate a currency from completing in-app tasks (e.g getting matches or after swiping left enough times) alongside their current IAP and IAS offerings.
4.) Offer outside subscriptions. This method enables businesses to generate recurring mobile app revenue without using payment services from Google Play or the App Store. A good example of this is Netflix – you can download the app for free but to access content, you need to set up an account and provide a recurring payment method that allows you to access content, so long as your account is current.
This is an ideal method for companies that offer a service that exists outside the app itself – with Netflix, the app is just a portal to the content meaning you're not paying for the software, you're paying for the backend content. We see the same billing strategy used by popular publications such as The New York Times which offers a free app but requires a payment of $1 a week to access their content.
Just keep in mind, moving outside of in-app purchases falls into a grey category on some platforms. This was recently an issue with Basecamp's Hey email service which may require some businesses to rethink how they offer subscription-based services outside of using payment services from Google Play or the App Store. 
As a subset of this point, you can make the app itself exclusive by offering a membership with payments that exist outside of the app store. Here, you'll first require membership to be paid at which point, the app becomes accessible. This saves your business the 30% fee that would normally come along with offering a subscription through either Apple or Google.
5.) Create a customer loyalty program. To expand on the in-app currency point, a loyalty program can go a long way. However, in this case, it mostly pertains to apps for commerce, such as those offered by Dunkin' Donuts or Starbucks.
Here, you're not accumulating points or "currency" by killing monsters or winning races in an app, you accumulate points by making purchases. For eCommerce apps, this increases both customer retention and spending – psychologically, offering free items or services makes people feel like their dollar stretches further. Most of us tend to spend more because we think, "Why not? Part of our order is already free."
We help you make the best decisions for generating revenue through your app
As an agile partner, Blue Label Labs grows with your app by using feedback and data strategy to fine-tune digital products throughout their lifecycle – we can peek into your app and learn how users are engaging to help you refine your monetization strategy. As an agency well-versed in creating revenue streams for our clients, we know how to apply each of the above to maximize our clients' bottom lines. We find the best possible approaches which ensure that apps generate as much revenue as possible. Get in touch with us to learn more about generating mobile app revenue.
Get the latest from the Blue Label Labs' blog in your inbox