[Infographic] How Much Does it Cost to Make an App?
By Sara Angeles on December 27, 2012 / 53 Comments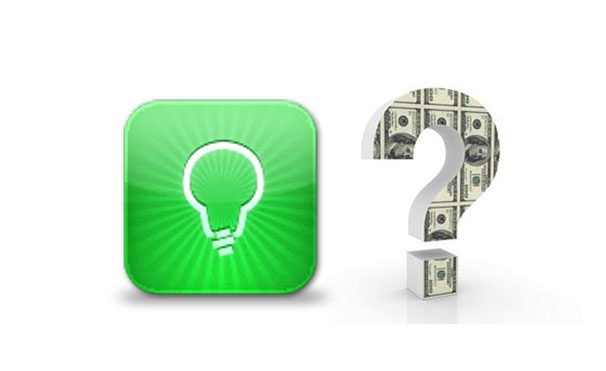 Asking someone how much it costs to build an app is like asking them how much it costs build a house. Before they can give you a good answer, they'll have to know what kind of house you want to build and who you want to build it. Who is your architect and how will he or she design it? Will it be a typical home or will it have solar panels, talking refrigerators, and other super cool state-of-the-art features of a smart home? All of these questions are going to factor into how much it will cost to build that house. The same is true when you decide to build an app.
A bare-bones app costs $1,500 to $5,000. A decent app costs $10,000 – you can just throw in a few graphics and tables here in there and voilà – you're ready for the App Store. Not too bad, right?
But do you really want to make just a "decent" app?
If you're serious about developing an app that actually gives value to its users, expect to spend anywhere from $30,000 to $150,000 for a high-quality product. You will need to invest in hiring a programmer, testing, and additional costs.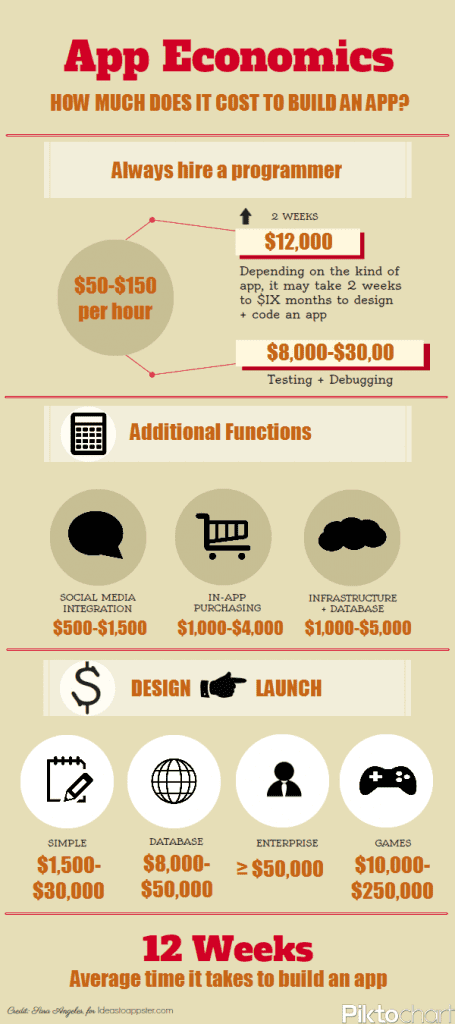 App Design and Development
Unless you're an experienced programmer with mad skillz, app creation is not a do-it-yourself project. You should always hire a programmer to design and code your app.
US-based programmers charge somewhere between $50-$150 an hour, or up to $12,000 for a couple weeks' work. Depending on the infrastructure of an app, it may take several weeks to design the app, and several more to code it. (To offset the costs, you can outsource this to freelance programmers in Europe and Asia, but be sure to do your due diligence to save yourself some nasty headaches!)
You can also consider hiring a mobile development lab or tech firm to design, develop and deploy your app. Note that that all labs are created equal. Some may charge you more for overhead costs and some may charge you less if you provide certain components (e.g., graphics), but smaller, boutique labs probably have the middle ground you're looking for. For example, Bahndr, by New York mobile app developer, Blue Label Labs, is a $30,000 social game built from scratch with completely custom graphics – it could have cost double that had the project been given to a larger shop!
Testing an App
Buggy apps are crappy apps. And users won't be afraid to tell you so. They will leave negative reviews in the App Store, or even go as far as app-bashing on blogs or via social media. To avoid this path of self-destruction (and to spare yourself from watching your app dreams come to a screeching halt before it even begins to come true), you must test your app. Then test it again. And again.
You can do this manually by using multiple devices yourself or by hiring a test team. You can also cast a wide net and release a free beta version (check out testflightapp.com) for feedback from users who know what to look out for. Expect to spend $8,000-$30,000 on testing your app, depending on the app. The more changes you need to make, the more you will need to spend for your programmers to get rid of any bugs and improve usability.
Additional Functions
Launching the app:
$99 on the App Store, $25 to register on Google Play
Infrastructure, servers, and other back-end support:
$100-$200/month
Social media integrations:
$500-$1,500
In-app purchasing:
$1,000-$4,000
Game Center:
$1,000
Some Estimates
Simple app:
Everything is installed in the device
Takes 2-4 weeks to develop
Expected cost: $1,500-$4,000
Example: C-Life (helps you track and manage prescriptions)
Database app:
Data is stored on a server/database
Takes 4-8 weeks to develop
Expected cost: $8,000-$50,000
Example: Mime-Me (a fun, social app based on the game of charades)
Enterprise app:
Business integration; data is stored in device + on a server
Takes 3-6 months to develop
Expected cost: at least $50,000, or $150,000 and up for more complex apps
Examples: Oracle Business Indicators (mobile access to business intelligence and performance), Cisco WebEx Meetings (mobile web conferencing), TripIt (travel organizer)
Games:
Development time depends on type of game
Expected cost: $10,000-$250,000
Some Tips
• Your programmer makes or breaks your app – don't be cheap by hiring the lowest bidder. Research potential programmers' qualifications and credentials. Talk to them and see if they're a good fit for your project and vision. Remember: You get what you pay for. Never cut corners.
• Always allow for wiggle room – set budgets and deadlines, but delays and incidental costs are inevitable. Be sure to prepare for any unforeseeable costs
• Converting an iPhone app for iPad compatibility? Add 25-50% of the original cost.
• Don't forget about marketing – expect to spend $1,000-$3,000 on initial marketing campaigns. No one wants to spend tens of thousands of dollars building an app that no one's ever heard of.
Have you built an app? How much did it cost from design to completion? What other costs should app developers consider?
Get the latest from the Blue Label Labs' blog in your inbox.
More in
Development