Apps are what we do here at Blue Label Labs. Every so often, we like to do a deep dive and discuss the finer (and not so fine points) of the user journey on the platform and talk a little about opportunities and shortcomings we observe.
Introducing DoorDash
The DoorDash platform needs little introduction as most of us have either used it or are familiar with the concept. The idea has been around for some time: offer a turnkey delivery solution for businesses to serve food and deliver items like groceries or pet supplies outside the walls of their establishment via a network of contracted drivers. Though they weren't first on the scene, they're now one of the biggest on the market. The app automates everything from hosting the menu, transmitting the order, collecting payment, as well as everything the drivers need to accept orders then get the order to the customer's door. Food delivery has become an integral part of dining, a staple for ghost kitchens, and quite simply, a nice thing to have, even when viruses aren't running rampant around the globe.
Platforms the app is available on:
iOS, Android, Web (we reviewed the Android version)
Our User Journey
Before we get started, it's important to note that DoorDash exists as multiple connected apps, meaning there's a separate app called DoorDash Order Manager for restaurants (it runs exclusively on Android) and the DoorDash Driver app for Android and iOS, each of which provides specific functions for merchants and delivery drivers, respectively. The DoorDash API can also be integrated into customizable mobile apps, such as we see with Chipotle. Here, we're going to be looking at the customer-facing app to demonstrate the experience it provides for hungry users.
***
After you create an account using your third-party login of choice to set up the account (assuming you're a new user), you're well on your way to food Mecca, at least in the right markets. Depending on your location, you'll typically see a couple of rows of non-restaurants for participating local retailers as you can see below – these components can connect under the right circumstances as you're typically offered a transient option to have your driver stop at, say, a 7-11 along the way to pick up items, so long as you order before a certain time.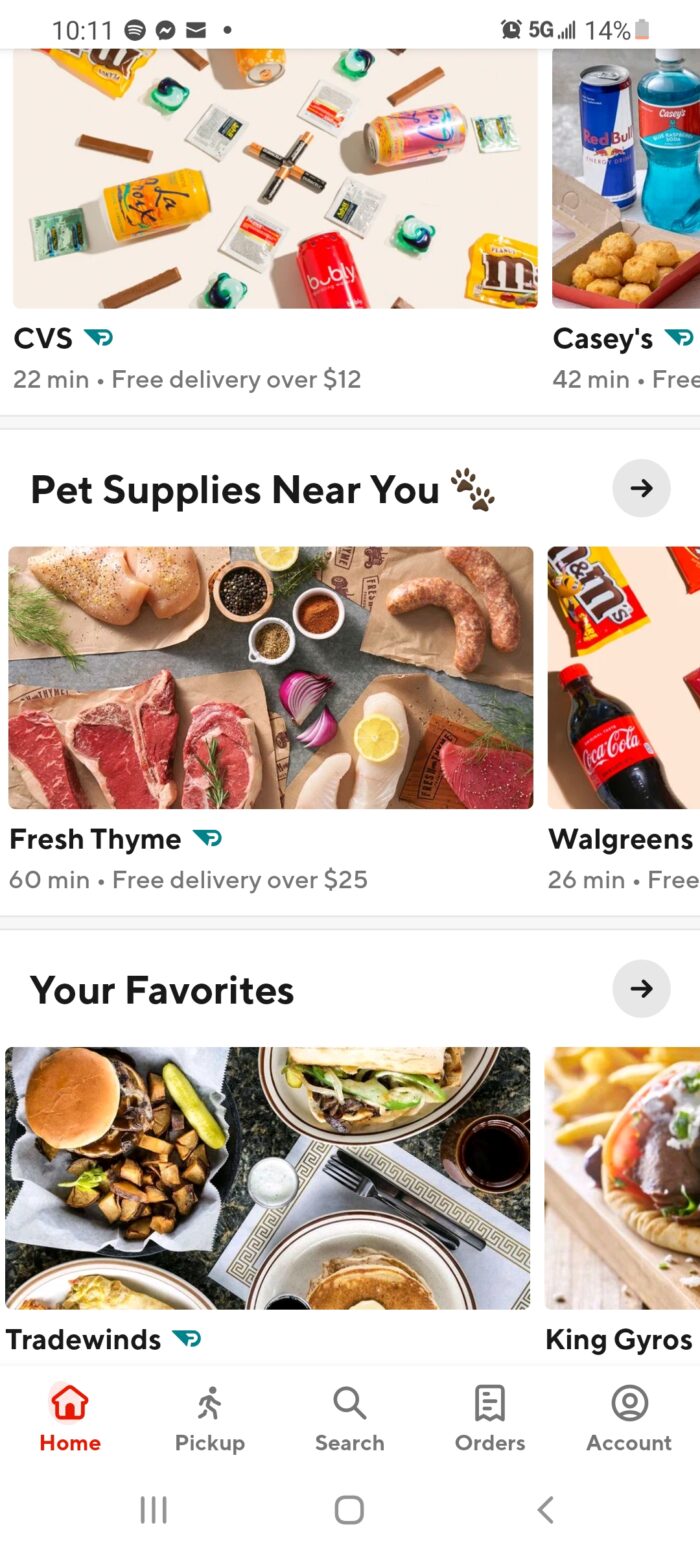 You'll often be greeted with a promotion when opening the app, regardless of whether or not you opted into personalized ads. Bed, Bath, & Beyond is kind of nice, especially when you have fierce brand loyalty to Yankee Candle when you know damn well the candles at Big Lots are a better value.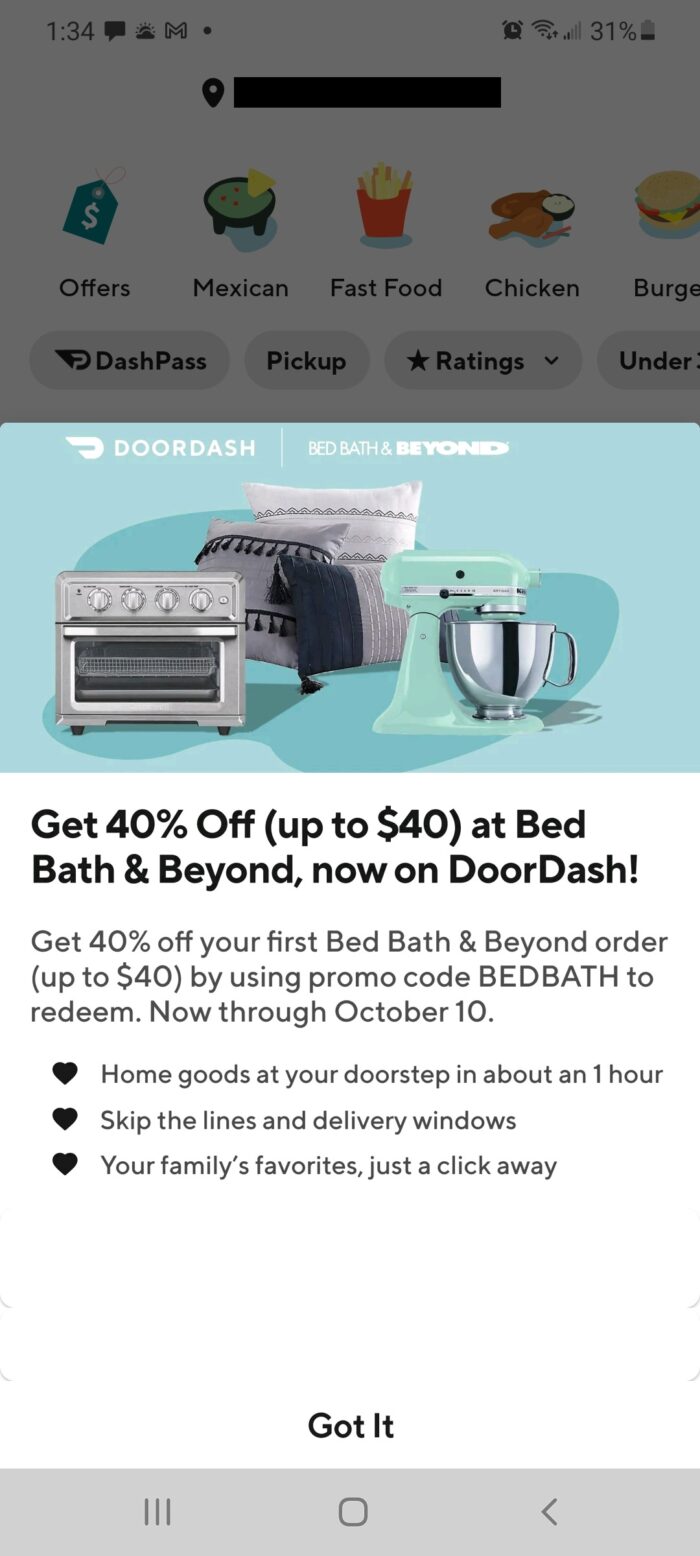 I decided to go with a healthy option and located a nearby CoreLife Eatery. One thing to point out here is that businesses take advantage of an option that allows them to offer discounts for pick-up orders. Despite the hefty discount for pick up, I opted for delivery because convenience was the greater value at the time.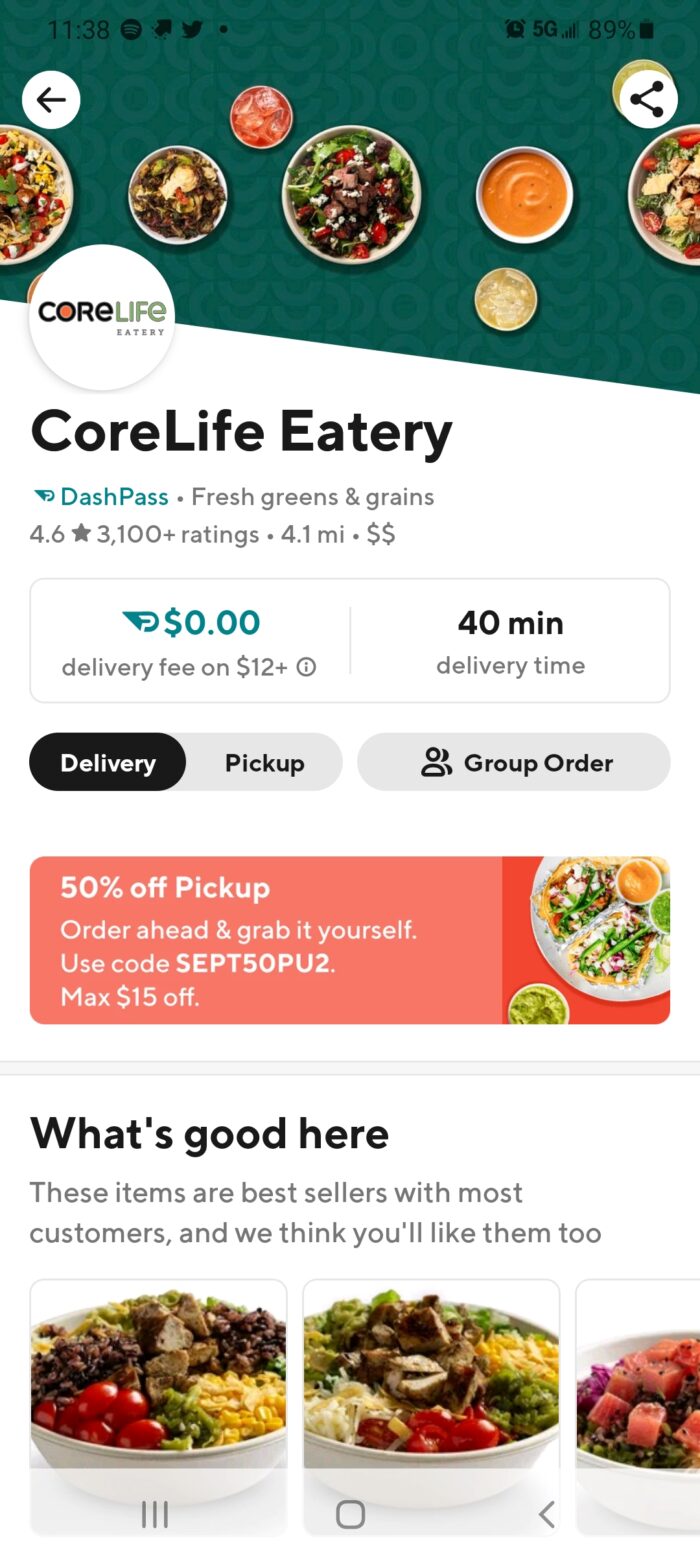 As with most restaurants on Doordash, you scroll down a little to see popular items listed first, followed by other menu items. If you've ordered from an establishment through DoorDash before then one of the first things you'll usually see is an area that shows your past orders.  This makes it easy to reorder items, especially those that you've customized. You can also tweak these items again by selecting new customization options which is helpful when you're looking for the same base item but want to change things up a bit.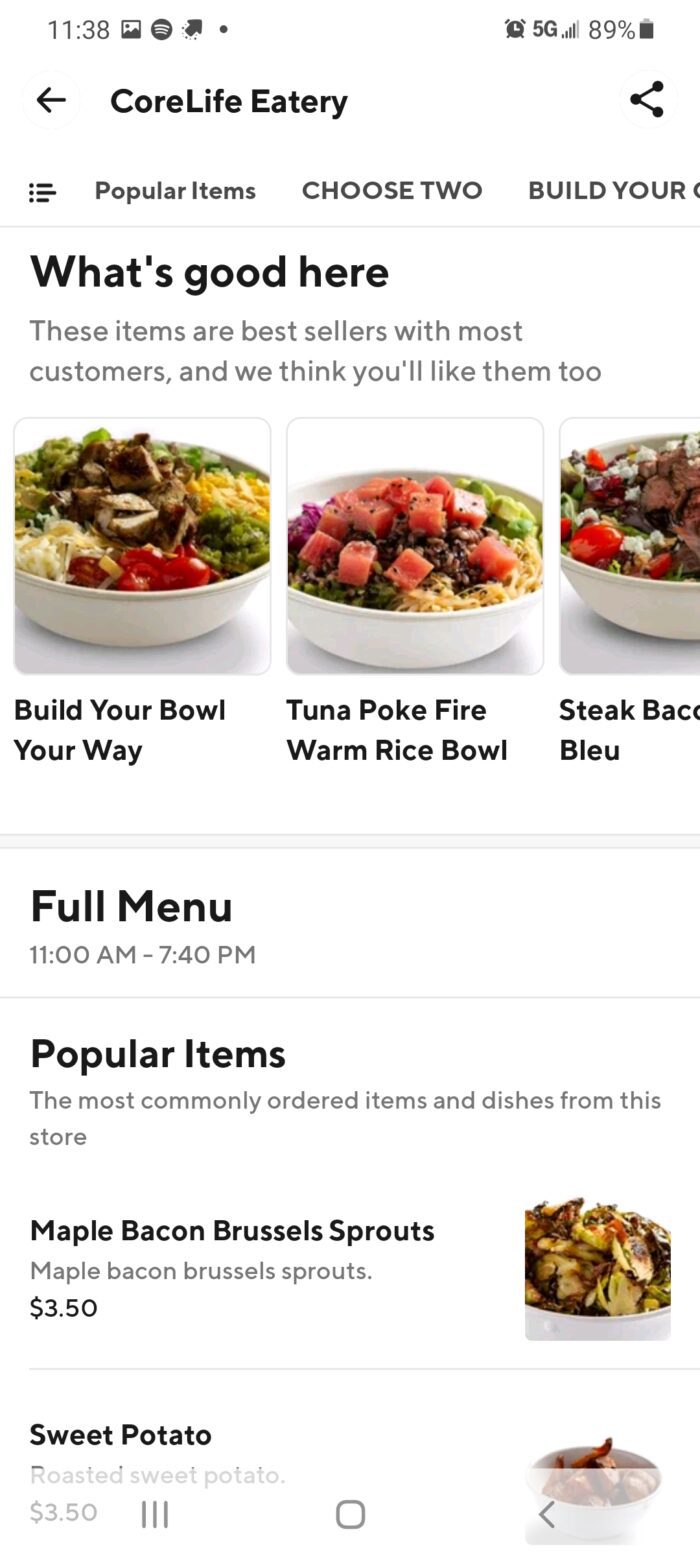 The Tuna Poke Fire Warm Rice Bowl caught my eye so I selected it and went forward with the customization process on the next screen. Because the screenshot is huge, you can click here to open a link to the image on Imgur.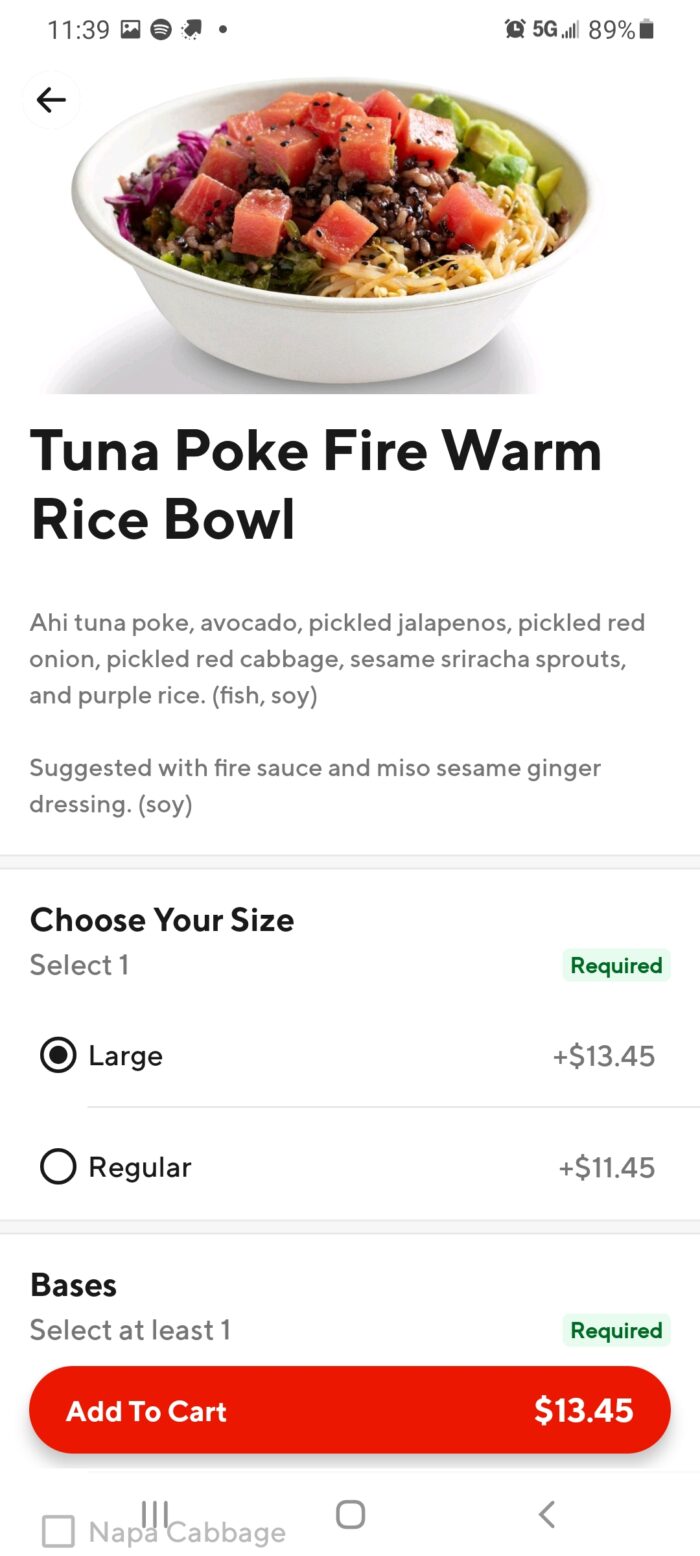 Even though I did minimal customization to my order, you can see that they offer fairly substantial customization for everything but the protein – tuna is in the title, after all. Because of the lack of descriptions (and a fear of peanuts and tree nuts), I chose what sounded safe and tasty then moved forward to the confirmation screen then onto the payment.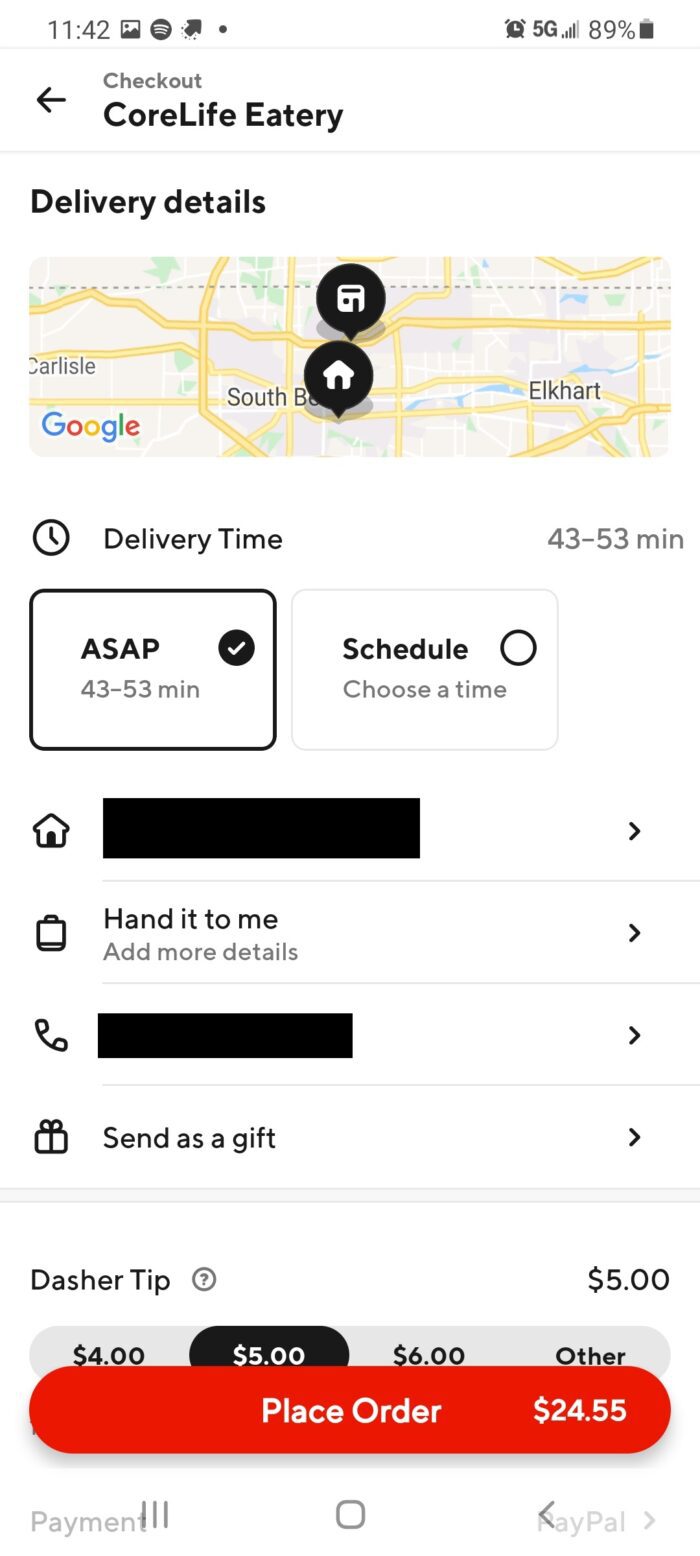 There are a few payment options to choose from, from cards to services like PayPal, Google Pay, and Apple Pay on iOS. Once the "Place Order" button is tapped, the DoorDash platform goes to work by sending the order to the restaurant and listing your delivery on the driver's app. There's an estimated delivery time that varies depending on several factors and if all goes well, your meal will arrive at your door before you succumb to hunger pangs.
What we would consider doing differently
The transaction went smoothly, the food was delivered on time (not always the case with DoorDash), and the food was stellar. From a technical standpoint, everything to make this happen is already well-developed but there are a few things that DoorDash should improve to help users and businesses alike.
CoreLife Eatery is a great example of a business that uses the standalone DoorDash service as well as offer their own app that's available on Android and iOS. Much like DoorDash, all of their items are immensely customizable which is important for most restaurants, save for those that don't allow you to modify orders.
A problem, however, stems from the fact that DoorDash doesn't make it a hard requirement for restaurants to use imagery in order to conduct business through the platform. This makes for a fairly significant issue: food, like anything else, sells better when the customer can see it first. Further, detailed descriptions go a long way in helping a customer make decisions which is a major element of the user journey when ordering through an app. When restaurants don't do this, they're less likely to perform at optimal levels, especially with items that lean heavily on the "freshness" of the product, making it crucial for foods on the healthier end of the spectrum like salads.
We know this because most of us have ordered "the one in the picture" before. And if you're a parent, then you've likely bought a candy bar that was eye level with your child as you waited to check out at a store.
So, if you sell French fries, then go the extra step and plug a picture into DoorDash, or at the very least, tell me about them. Are they waffle fries? Crinkle-cut? Curly? For fries, you're pretty much never going to lose but for other items, more detail is helpful for not just driving sales, but managing expectations as well. If you've ever felt a gripping sadness after ordering macaroni and cheese at a restaurant only to see some out-of-a-box disgrace arrive at your table, then you know what I mean.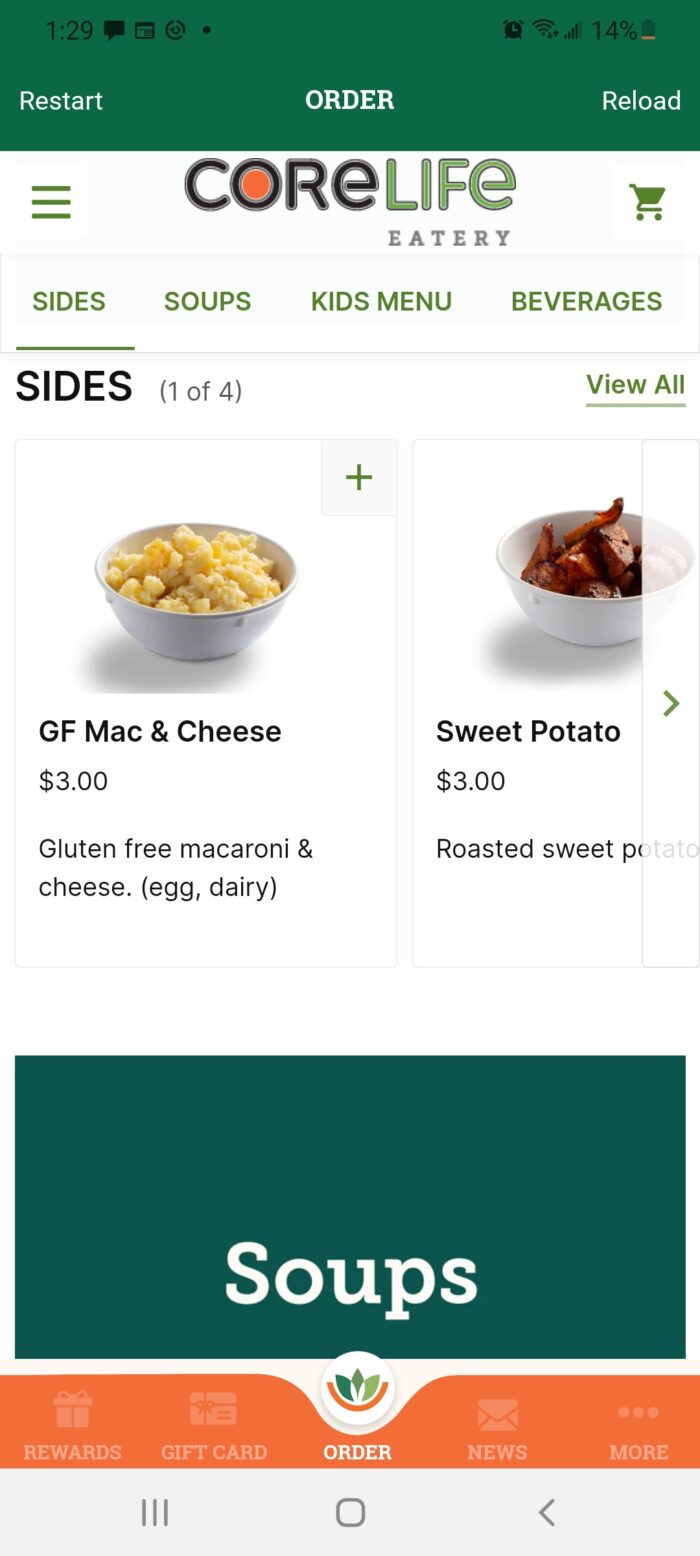 Knowing that it's still made with egg and dairy is useful and seeing a picture is helpful when you have a noodle connoisseur for a child. However, the extra description and imagery for side items are missing from the menu in DoorDash so I'd be less likely to order it.
CoreLife took care to make their standalone app far more visually appealing than what you see on DoorDash. There are a few items that sound appealing but without a bit more description, it can be discouraging for those that are less adventurous or need to be "sold" to try something out of the ordinary. Even though CoreLife will likely never get the same traffic from their standalone as the DoorDash app, they should get a better dollar amount spent for every transaction. Plus, they can leverage loyalty rewards which are major drivers for businesses of all flavors.
This is one of the reasons Chipotle does so well through its app. The Chipotle mobile manages to offer a digital experience that closely parallels the in-store experience by incorporating vivid imagery you'd see while watching staff assemble your order behind the glass. That spoonful of guacamole that costs the same as two avocados? There are a handful of psychological tricks in play but most importantly, seeing hi-res items as you would in the store makes you more likely to select them, especially when you're on the fence. 
With that said, there's nothing too bad about DoorDash, it's just that there's some room for improvement that we'll probably see in time.
What other people are saying
"I prefer Doordash because most minimum orders are only $12, Postmates tries to push you to spend $20 or more and GrubHub is expensive period. The dashers ( most of them are super friendly and I think I only came across one that was a little rude) Customer Service rocks too when it comes to a messed up order or a missing item, they are good about applying credit to your account right away. " – S. Charles – Smith
"Everytime I've used Doordash (embarrassingly quite a LOT) it's been wonderful! The drivers that I've had were the kindest, fastest, and best I've had. The app is amazing for me, no issues or bugs! I love the updates it gives you so you know what's going on with an order. The service in general is just amazing! I'd definitely rate it 11/10!"– Savvy Magee
"Okay so I live in a tiny rural town in ky. Absolutely NOTHING delivers to my house. Not even most pizza places. That's how far out I live lol. When I discovered food dash imagine my surprise to find out they deliver to my address! And not only that but they have OUT STANDING customer service. I get my food in a timely manner, if I order ice cream it comes nice and cold, burritos it's nice and hot. Never a problem." – Ayanna Clark
***
We'd just like to point out that we understand DoorDash isn't perfect. If you're a regular user, you've likely had some kind of issue as well. Just keep that in mind if you decide to read through their vast number of reviews as well as for other on-demand services with many moving parts.
Thoughts on the UI and overall design:
Minus the lack of visuals discussed above, DoorDash is easy to use and its minimalist design just works. I think they could probably mitigate at least some issues if there was a kind of follow-up to confirm your delivery address. I've ordered to multiple addresses and have had issues where I've sent orders to a location. Other than that, it's easy to find your way around and keep tabs on new stores that are joining DoorDash.
How the app makes money
DoorDash, like other popular food delivery apps, appeals to businesses because there's very little upfront cost– most of the money DoorDash makes is through commissions on restaurant sales. Early on, the DoorDash fee was pretty high, coming in around 25% to 30%, which is almost as much Google and Apple charge for in-app purchases. Today, commission rates are as low as 15% as they now offer different tiers of service which allows businesses to pay a lower fee but it passes the cost to customers.
What keeps us coming back
Not having to leave your house is awesome whether it's because you're busy working remotely, wrapped up playing some co-op with a buddy on PlayStation, or simply have a case of the "don't wannas." DoorDash makes it easy to access a large selection of restaurants and a growing number of convenient stores and other retailers. If you're not bothered by paying extra to have someone run an errand for you and also leaving a tip – as a decent person does in the US – DoorDash is a great way to get deliciousness or cat food right to your door.
With that said, it's not hard to find a vast number of complaints from customers on either app's store from everything from minor snafus like missing Taco Bell sauce packets to orders never arriving and more. Though technology is responsible for some mishaps, many stem from the lean structure that ties together a fairly complex system that includes all different kinds of restaurants. Plus, there's the fact that their driving network is almost entirely comprised of independent contractors who work when they please.
However, this issue is present in most on-demand delivery services across the food and retail spaces. And though the model has been under some scrutiny for some time, it's proved to be effective enough for delivery platforms like DoorDash to become wildly successful. Of course, it wouldn't be surprising to some changes, most likely in the form of either reworked contracts that lead to more consistency or more regular employment.