Blue Label At 10: Our Favorite Client Projects Of The Past Decade
In my last post, I revisited some of the more notable products Blue Label Labs has launched over the past decade. Today, I'd like to shine a light at our client services work and explore some of our favorite apps and products that we've built for our clients over our 10 year history. While we might have launched Blue Label with the idea of building our own apps, it's the work we do for our clients as a full service digital product agency that has led to our success has become the most important thing we do. We started our client services work in 2011 with a small prototype meditation app for a fellow business school student and since then we've worked on nearly 300 projects, here are some of our favorites:
BabyMed (2013)
In 2013, we built and launched one of the most notable client projects of our early years, BabyMed. BabyMed is an all in one fertility and pregnancy tracking app and became a market leader in its space with millions of downloads to date and a companion website with hundreds of thousands monthly visitors. From a pregnancy calendar, to a baby kick counter, to an Apple Watch app that helps women track their fertility, BabyMed is still, to this date, unmatched in the breadth and depth of tooling it provides to expecting mothers. While BabyMed has largely stayed the same since 2013, it has aged with a grace and dignity that I can only hope to match as I approach middle age. BabyMed was built iOS 4.0 and has largely remained untouched since its first launch on the app store. While its UI is painfully outdated at this point, I am actually very impressed at how the app has continued to function perfectly and soldier even in the face of annual iOS updates and a constant stream of new iOS device form factors.
HelloSitter (2016)
Fast forward to 2016 and we come to HelloSitter, one of the first on-demand two-sided mobile marketplaces we've built. HelloSitter solves a very real need, allowing parents to request and hire vetted babysitters on short notice. As a parent, HelloSitter is an app that I use regularly and has long since proven its utility to my wife and I as its allowed us to escape on many date nights. It's a great feeling to find myself regularly using an app that we actually built.
Magic Money (2017)
One of the most technically complex and truly ground breaking apps we've built to date is Magic Money, which released in 2017. Initially started as a RFID-based ticketing system for carnivals and fairs, Magic Money has grown to become a fully fledged event management platform. The Magic Money suite of apps consists of a Clover Point-of-Sale self-service ticketing console, an Android agent app, a iOS/Android guest app for purchasing and managing digital tickets, an E-tickets purchasing portal and a fully fledged financial and event management dashboard. Magic Money is that one project that has continued to push us well beyond our technical comfort zone. Over the past half decade working with the Magic Money team, we've integrated the platform to work with a menagerie of card dispensers, bill acceptors, automated admission gates and 3rd party reservation systems (I know far too much about binary serial communication protocols then any millennial should ever have to know). Beyond our technical work, I am very proud of the Magic Money team's success as they have grown to become the ticketing system used by many of the largest events in the countries like the Iowa State Fair, Crabtree Amusements and the California State Fair.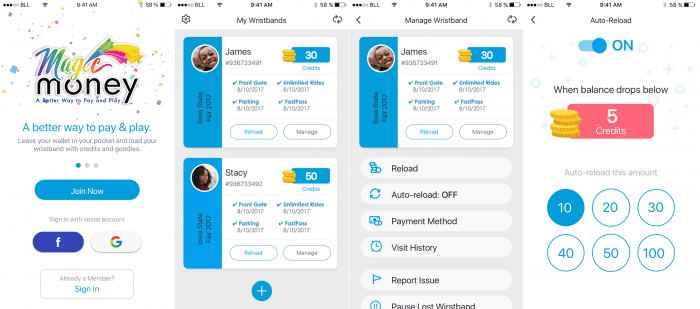 MLBPA (2018)
In 2018, we worked with the MLBPA to re-design and develop an entirely new version of their players app. Through the app, MLBPA players are able to access to all the latest Players Association announcements, news, updates, collective bargaining information and licensing frameworks. While I may be more of a hockey fan myself, there is something satisfying knowing that almost all professional baseball players use an app that we designed and built.
Hyer (2019)
While HelloSitter was our first foray into on-demand marketplaces, it is certainly not our last. By far our most successful on-demand platform we've built to date is Hyer, a two-sided labor marketplace for on-demand and seasonal workforces. Released in early 2019, Hyer enables enterprises to quickly and efficiently scale up their workforces by providing a pool of vetted labor that can be identified, contracted and paid all through the app. Hyer has achieved tremendous success thus far as it is now used across a number of major retailers across the country for their on-demand labor force needs.
inHouse (2020)
In early 2020, we worked with the New York-based private members club inHouse to design and develop their concierge app. While not nearly as big a brand names some of the other apps, our work on inHouse was undoubtedly some of our best work, as our design prowess came together with our technical excellence to produce an app that was nothing short of extraordinary. Don't just take my word for it, inHouse was nominated for 2 Webby Awards (one for best Food & Drink app and the other as an honoree for its AI-powered chatbot). Our work on inHouse showed how far we had grown as a company as it was a tour de force of design and engineering. Sadly, while the platform was lauded and loved by all who used it, inHouse fell victim to the COVID crisis of 2020. I still have hope though that, in time, inHouse will rise again.
Coast-to-Coast Radio (2020)
I have always been a big fan of George Nooryi and his paranormal radio program Coast-to-Coast Radio. I can't tell you how many nights I would completely freak myself out listening to his radio program while driving along dark, twisting roads home from university. I never thought that 20 years later I would help creep out a whole new generation of people through the Coast-to-Coast radio app.
bopdrop (2020)
Finally, we come to bopdrop, the music discovery app we built in 2020 that, from day one, raced to the top of the app store and has never looked back. Bopdrop makes it easy for people to discover and share music with each other while integrating directly into users' Spotify and Apple Music accounts. Beyond being a tremendous viral success, bopdrop has also received critical acclaim as it was a 2021 Webby honoree in the Best Apps in Entertainment category. Now I am not quite sure what a 'bop' is, or why you would drop one, but the success of bopdrop tells me this is something that a lot of you out there are doing.
XXXXX (2021-?)
When I think back to the very first apps we used built for our first clients back in 2011, I find it hard to square that those toy apps that were our first projects have grown to the scale and complexity of the stuff we build today. We started our client services work with the same spirit of innovation and drive to push technology to its limits that we founded the company with. While we could have very well built our agency just churning out cookie cutter marketing websites, template-based apps in a single vertical, we've always eschewed this path even if it meant a tougher climb. Everybody on our team is an innovator at heart, and we want to work on the next new thing, even if it means pushing us out of our comfort zones into new verticals, technologies and form factors. Every year the apps we build are larger and more impressive than the ones that came the year before and I often wonder what could we possibly do to top what we build each year, but we always do. While the apps of 2020 might seem right now to be at the cutting edge of design and technology, I can't wait to show you guys what we've got in the cooker for 2021.