Launching bopdrop: How We Got 2,000 Downloads On Our First Day
For some of us, music is life – bopdrop is a new music app (download it here) built by Blue Label Labs that aims to expand user's listening experiences by providing a social platform that links with Spotify, enabling users to find new music based on the people they follow as well as their user-defined listening preferences. You can think of bopdrop as "Instagram for music." Beyond being a great idea and equally slick looking app, what sets the bopdrop story apart is its successful launch strategy, that started from its very early beta, that saw it launch to over 2,000 organic downloads on its first day driven purely through word of mouth marketing. 
While some might scoff at 2,000 downloads on a single day being worthy of celebration, in truth, unless you are spending tons of money on marketing or a viral unicorn, 2,000 downloads is an excellent showing for an initial launch and far surpasses what most apps do. In this post, we take a closer look at the bopdrop app and then outline the marketing tactics used by the bopdrop and Blue Label teams to power its launch day success.
The bopdrop music app
If you're a Spotify fan, you're aware of all the cool things it does. It's done a remarkable job at bringing a myriad of artists and their works together in one music app where finding a song, artist, or genre is just a few taps away.
The bopdrop app expands on the music experience of Spotify by offering a platform where users can discover new music based on the users their following as well as artists and genres. After creating an account, users can search for other users to follow much like any other social platform.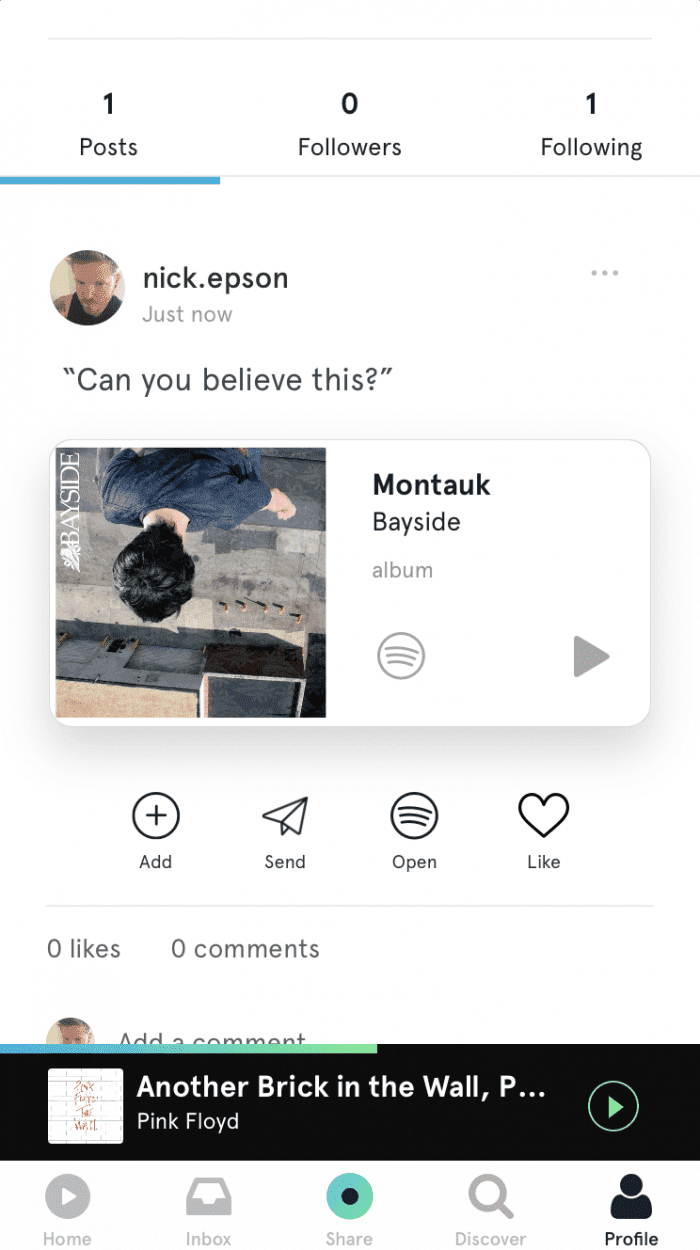 User posts show up in a timeline that has a familiar feeling UI – from here, you can listen to snippets of songs posted by users and add them to your Spotify or use the sharing feature to another user. By selecting the "Add" icon, the song you selected is added to a Spotify playlist that bopdrop creates, appropriately named "bopdrop." Every day, a user can post one song to the platform as well as add a custom caption.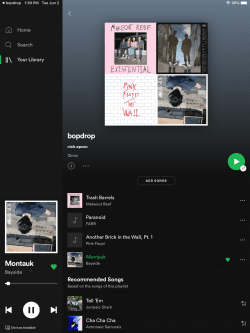 In a lot of ways, it functions similarly to Instagram – users scroll through a familiar-feeling timeline to explore content and have the ability to contribute their own content which may also appear in other user's feeds.
bopdrop: from idea to action
The founder of bopdrop, Matt Krause, was working as a financial professional for some years but had always felt that a certain something was missing. Though his career brought a degree of success, it lacked the kind of fulfillment that's commonplace when a job does little to engage your real calling. Eventually realizing that he wanted to do something that involved his real passion, music, he decided to engage his entrepreneurial spirit, quit his job, and set out to put his professional skills to better use.
Before starting his new venture, Matt had already identified that something was missing from the market. You can find new music by browsing through a music app like Spotify and Apple Music or use platforms like Facebook and Twitter where friends might occasionally share songs but nothing to date has successfully integrated social networks specifically around music.
From here, he set out to build something new that would resonate with other music lovers. To top it off, the marketing model was one of the leanest models we've ever seen that's yielded a successful product launch.
How the Bopdrop music app acquired 2000 users on launch day
Recognizing that this could satisfy his desire as well as fill a hole in the current market, Matt got the ball rolling on the bopdrop music app with Blue Label Labs. He already knew what he wanted so we were able to initiate the launch marketing strategy beginning on the first day of our Design Sprint. Before we even began wireframing, the strategy to build demand and a following got underway while the product was in beta, well before it ever hit the app store.
Though a little atypical, we were able to start the beta very early in the design process and build a very minimal skeleton of the app that would suffice as the MVP. As part of a true "MVP development approach" we were able to collect user feedback from the beta to drive further, directed development rather begin with a waterfall approach that tends to require backpedaling to accommodate early feedback.
Matt had a good social network in place that he mobilized in phases to cultivate demand for his music app. The beta strategy paralleled that of Gmail from 2004 where people couldn't just whimsically ask to be part of the beta test group – every user had to be invited as the number of beta testers was heavily restricted to accommodate each phase of testing. We started with 2 then expanded in small increments for each phase (e.g. up to 4, then 16, and so on) until we eventually reached 500. 
This strategy worked remarkably well as most of the network was already connected in some way, meaning early test groups were able to use the product with one of the biggest elements already intact. By using friends and existing connections, the social element was already there which allowed users to jump in rather than fumble through finding friends or people to follow like when first starting with a new social media account. This also allowed word to further spread about the platform which garnered interest from other users which helped leverage the platform at launch.
The app launched on the app store last month after being in beta for just 4 months. By the time the app was launched, almost all features evolving from beta feedback were successfully integrated into the app. The day the app launched it got 2000 downloads, cracking the top 200 free apps on the app store, without any traditional marketing or app store hacking. Because of strong engagement with the beta test group, user advocates developed as a result and helped further spread the word about the app to new users.
It's important to acknowledge the lean marketing model used to generate attention. This allowed the company to save a substantial amount of money which was shifted into the development end to ultimately create a well-rounded product for the initial launch. bopdrop represents an excellent model of a successful product launch with a unique marketing approach which is incredibly rare in the app development space.
We're not life coaches but we do know how to help our customers break into the app market using just about any available tactic on the market. The founder of bopdrop was incredibly well prepared and motivated to succeed with his product, despite lacking the deep pockets that are typically needed to fund the pricey marketing end of the process.
Blue Label Labs makes products for the modern user
It takes more than one bee to make honey – Blue Label Labs is a hive of creative problem solvers who work together to deliver results that delight. Feel free to touch base with us and learn more about how we can transform your idea into an impactful digital product and then help you launch it.
Get the latest from the Blue Label Labs' blog in your inbox