BLL Named Top NYC Mobile App Dev Company
At Blue Label Labs, we specialize in helping our wide range of clients expand their ideas and then lead them through the full development process. Our New York based team has numerous years of technical experience in developing and designing industry leading, innovative mobile applications, which is why we are excited to announce that we have recently been featured as a Top NYC Mobile App Development Company by Clutch, a ratings and review platform out of Washington, D.C., in their annual research.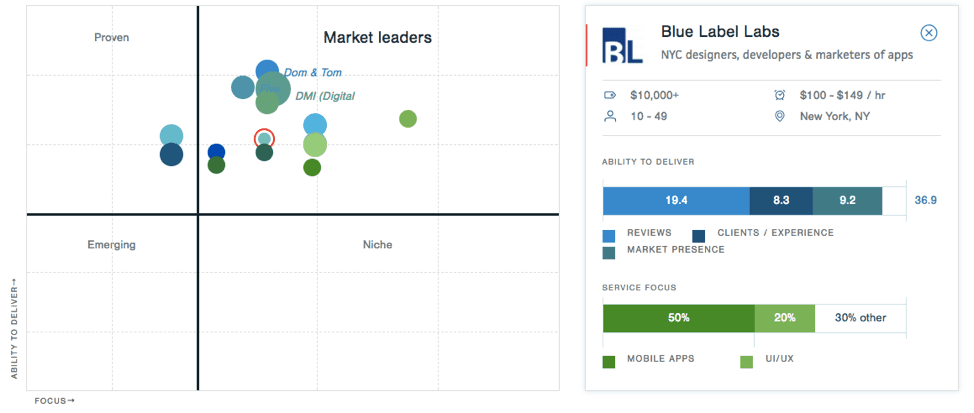 Clutch is a ratings and reviews firm covering companies in New York City and around the world. Their work examines thousands of companies based on their market presence, their previous work experience, and their proven ability to deliver excellence to their clients. Perhaps most importantly, the Clutch team speaks directly with current and past clients to conduct reviews to hear first-hand how each firm performs.
We want to thank our wonderful clients for continuing to provide positive reviews on our Clutch profile. The following are some excerpts from our most recent five-star reviews:
"I was satisfied as a customer, and the interaction enabled me to understand better how the software field works. I would continue working with Blue Label Labs, and I would recommend them to anyone else." – Head of Office, Global Organization
"I judge everything by results, and I love the app that we produced. It's what I pictured in my head, and they delivered that product on time and on budget." – Dave Demsky, Vice President at BridgeEdU
"They were able to help us get the product to market in a way that we were proud of. They were open-minded and creative in coming up with the right cost effective solution to meet my objectives." – Founder, App Startup
We are proud to be featured among so many of the top NYC mobile app development companies, and we look forward to improving our rank and being included again next year!
Get the latest from the Blue Label Labs' blog in your inbox