Hot Apps Secret, Jelly And Yahoo Screen: Fad Or For Real?
There are now hundreds of thousands of apps in the app store. And that's just Apple. And that's not including all of the under performing apps that have vanished from the store since it opened in 2007 or successful apps that got sold for millions only to be broken apart and adopted by mega corporations. Seemingly every day we discover something new that makes our eyes open wide and immediately reach for our phone to download. But after the hype and that initial rush of curiosity dies down, some apps stay for the long haul and some get deleted, or worse, end up on the Techcrunch startup deadpool page. In this next installment of our series Fad or For Real, we'll take a look at three hot apps and predict whether or not they have what it takes to build a brand that lasts or they'll just be another fallen name in tech wasteland. Of course, we'll only be looking at apps that are stand alone products and not extensions of larger brands.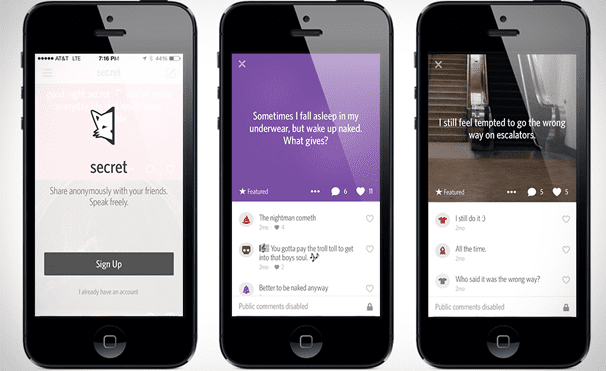 Secret
Most in the tech scene have heard of Secret by now. It's no secret (sorry I had too). Riding the coattails of the new anonymity trend in social networking, first made popular by Whisper, Secret aims to carve out their piece of the pie coming from a somewhat different angle. Whereas Whisper is about making a confession of sorts and accompanying a photo with it, in a meme type style, Secret is more about gossip and personal thought, with no visual distraction other than bold colors and type. Also, Secrets come from anonymous friends or friends of friends and are presented in an Instagram like feed with most of the familiar social media accoutriements such as likes and comments.
Vedict: Fad
Like Whisper, the ultimate question here is where is the long term value for the user? Sure, in a niche community like tech startups/Silicon Valley, it's fun to hear people vent and talk shit about the likes of Dave Morin (founder of Path) or other recognizable names and companies. But then what? And what's that ultimately worth other than a quick hit of fleeting entertainment, sure to steadily diminish over time? Yes, there's a certain level of stickiness that comes from trying to figure out which of your friends said what, but over the long term, who cares really? Not enough to build a flourishing scalable ecosystem in my opinion. Nothing you see on Secret is verifiable in any way so it pretty much just amounts to cotton candy like gossip. Yes, it can be entertaining and tap into certain things that are inherently human, but like any other form of entertainment it comes down to content. Can users of Secret and more specifically the fraction of people that regularly post, provide enough juicy stuff that it stays fun years down the road? Not likely. One out of every twenty posts searching for that one good nugget isn't enough. And how do you monetize it? That's a whole nother discussion but advertising might not cut it in this type of environment, unless there is massive scale.
Jelly
Ok Biz Stone, being a founding member of Twitter, you've got a built in hype machine that got me to download your app, but your app didn't get me to stick with it long. For those not in the know, Jelly's goal is to help users find answers to their questions in real time by crowdsourcing opinions from their social networks. It's part Quora, part Snapchat and part a bunch of other apps not worth mentioning. Users snap a photo, ask a question and get answers from the community, more importantly connections from their social networks.
Verdict: Fad
There's a difference between an interesting idea and a viable business. For there to be a viable business, clear value has to be melded with a user experience and overall design that is just right. Users need to immediately think of Jelly as the answer to their problem of the moment and have that problem answered consistently for them to keep coming back. The app store is just too crowded otherwise. Heck, two thirds of the apps on my phone I never even open, and that's stuff I've actually downloaded. I give Jelly credit for pushing the "questions and answers" idea forward. They are nobly trying to seize an opportunity that companies like Quora aren't, who still haven't found the right product mix on mobile. It's a tough nut to crack and if they can, to the victors go the spoils. But although this is just version one and an experiment if you will, Jelly needs to go back to the drawing board. Experiment failed. There's just too much clutter that you don't care about, leading to a tiring and overall negative experience in which after a few times of not finding value you're simply bored.
Yahoo Screen
If you like watching professional quality video programming on an impeccably designed user interface for mobile, Yahoo really knocks it out of the box with Screen. Marissa Mayer came into Yahoo with more than a few things on her agenda. For one, improve the quality of Yahoo's suite of mobile products across the board, with updates to existing products and new innovations. At the same time, double down on video when it comes to selling ads and with original programming. So far, so good.
Verdict: For Real
Unlike the television, which traditionally has been the central place to gather around to watch long form content, mobile has long been searching for an experience that replicates that feel while also form fitted to the mobile experience. Youtube comes close, but there is a lot of clutter to sift through, while others come at it from different angles. Screen offers a sleek interface with a fair amount of channels from name content providers such as Buzzfeed, Wired, Comedy Central and exclusive access to the most recent episodes of SNL, broken down clip by clip. The user experience on Screen hits the nail on the head, making watching high quality video content on mobile the most cable tv like experience you'll find in the app store. Screen is not just an app, it's a platform and one that is setting a standard in the space.
Get the latest from the Blue Label Labs' blog in your inbox