7 Insights to Improve App Subscriptions With Analytics & Data-Driven Design
Data-driven design is a mandatory requirement for digital products in the media and entertainment space to meet customer expectations. 
We joined forces with Amplitude to talk about this demanding landscape and highlight challenges to demonstrate specific ways data needs to drive digital design and development.
Here, we're going to recap some stats and discuss some of the most important points we covered in our presentation.
But if you prefer to watch the webinar in full, you find it here:
Webinar recap: how analytics & data-driven design can improve subscriptions
Iterative development is the name of the game and it starts well before we start coding and should continue through the lifecycle of a product, especially in the media space. 
1. Plan to integrate & use analytics stacks from the beginning
We use the tried-and-true Design Sprint to kick off projects for the many benefits it provides businesses.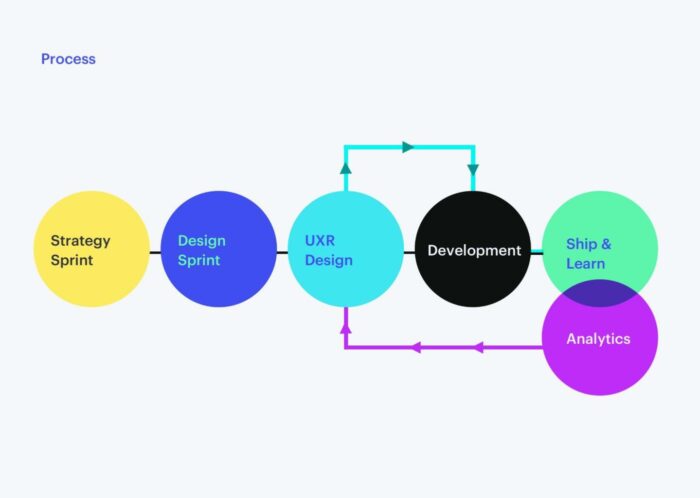 The Design Sprint is powerful process for businesses which you can learn more about here. Quite simply, it's the definitive way to figure out where to begin.
2. Relevant media stats that paint a picture of the market
Media and entertainment products certainly received a boon from the pandemic but the more important part is what we learned along the way.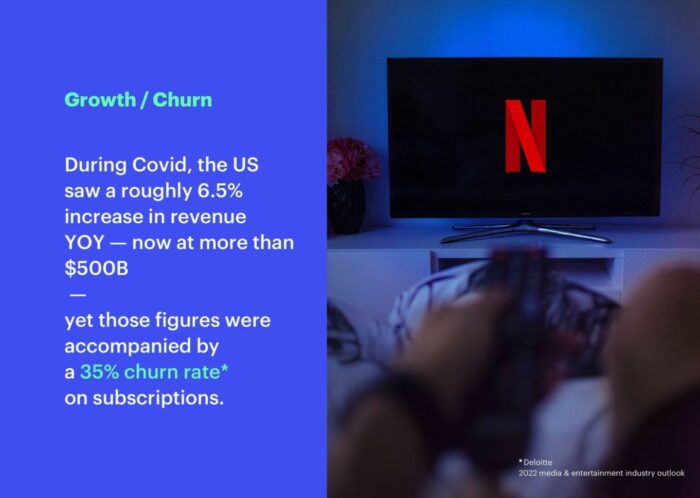 The market value for streaming services soared but it also came with a glaring churn of 35%. Despite overall gains, a third of the market was playing digital musical chairs between streaming services.
Some other great data emerged as well such as a Salesforce report that states 70% of businesses rely on connected experiences. 
Data presented by Clickz tells us that those exercising advanced personalization see a $20 return for every $1 spent.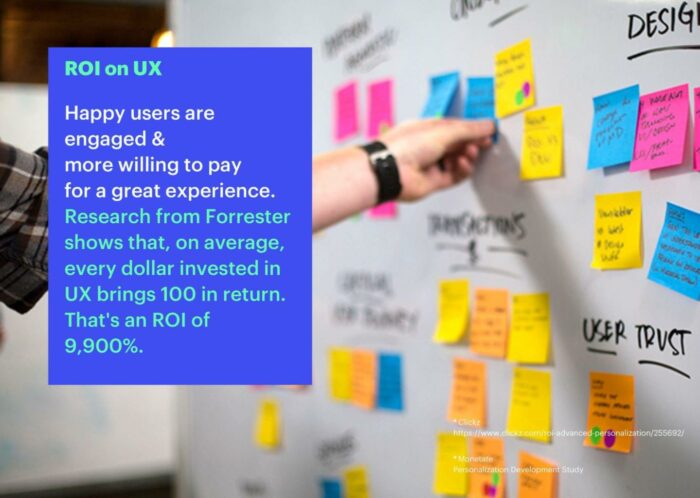 Finally, a Forrester report shows that every dollar invested in UX yields a $100 return.
This tells a few truths about the market but also reveals a certain fickleness to the modern consumer – while there are some static truths to keep in mind, the reality is that building a product the market will love requires something significantly more dynamic.
3. The risk of churn is real
There are a few harsh realities for products in this space that you need to acknowledge and accept such as the ever-present risk of churn.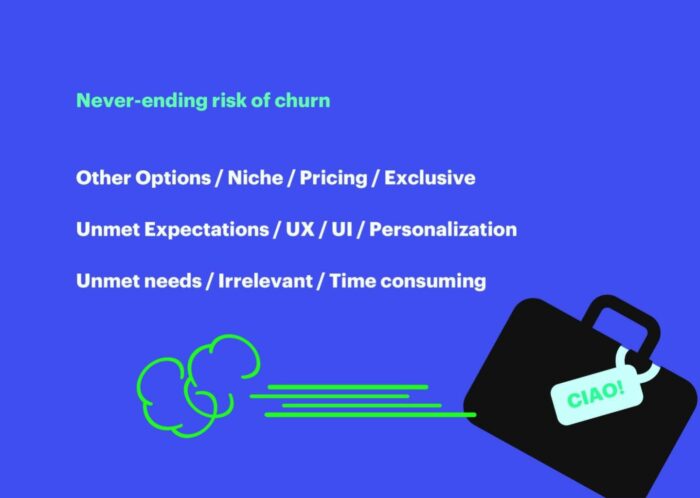 The competition is thick and there are all kinds of reasons that your users can and will leave, even when you're giving it your all.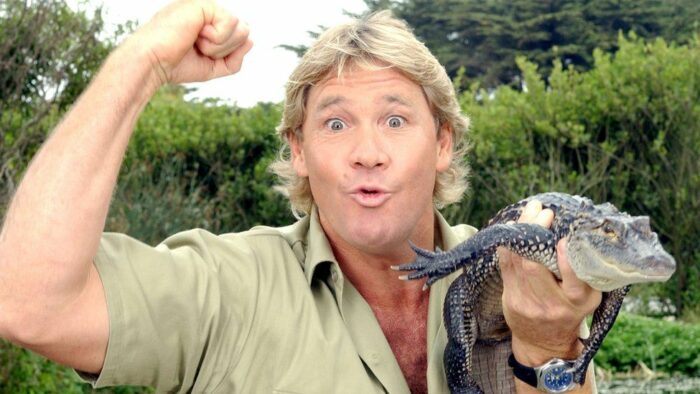 Source: BBC
Nothing is universally loved, minus the late Steve Irwin, and the competition will always be there. As such, it's critical to have a foundation for learning and understanding the big picture.
Realities will emerge due to the complexities surrounding these products both in terms of the technology that drives them and the people using them. 
You can't control everything which is why it's paramount to understand as much as you possibly can through data-driven design in areas where your actions can influence behavior just as it's important to understand when to yield.
Like subduing a crocodile, you can't just waltz up to the beast if you enjoy having all of your bones – you need to fully dial into the situation to know what moves you and the croc each have available at any given time.
4. Be more strategic with data & AI by using Amplitude
Media and entertainment apps are constantly subjected to a breadth of different influences which is where data collection and interpretation come into play.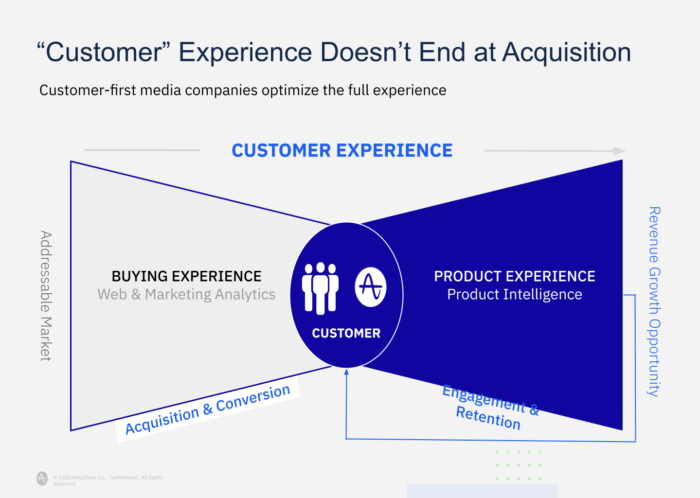 Analytics need to be front-and-center in digital products from the very beginning and leaned on throughout a product's lifecycle.
Past your marketing and sales funnels is the customer experience which is a composite of multiple factors, many that you can control and others you simply can't.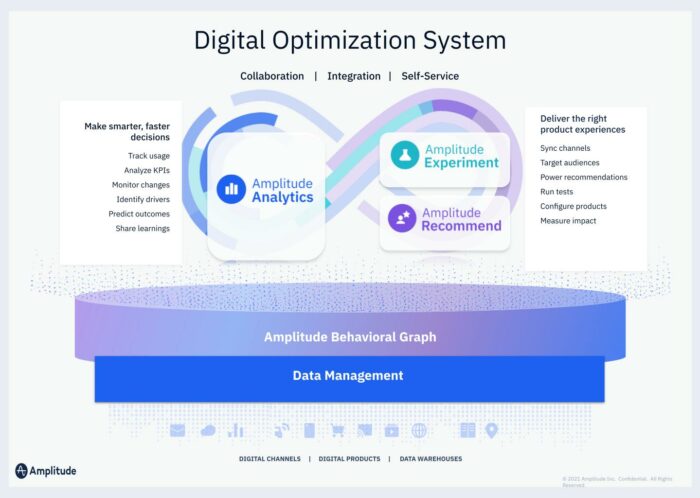 Building on a point introduced by Ashkan earlier in the presentation, this is where further testing comes into play, especially when you deliver to a variety of endpoints (e.g., phones, TVs, etc.) 
People use everything differently which is why tailoring your service specific to how it's used at each endpoint will usually increase engagement and thus, stickiness.
Personalization is also a major contributor to success in this space. Products like Amplitude Recommend put data-driven design to use in the form of "suggested content" which helps nudge people to choose content that will keep their attention, hence reducing the risk of churn.
5. Creating hyper-individualized journeys is complex & requires a lot of data
Good data from all right places is the cornerstone for effective personalization.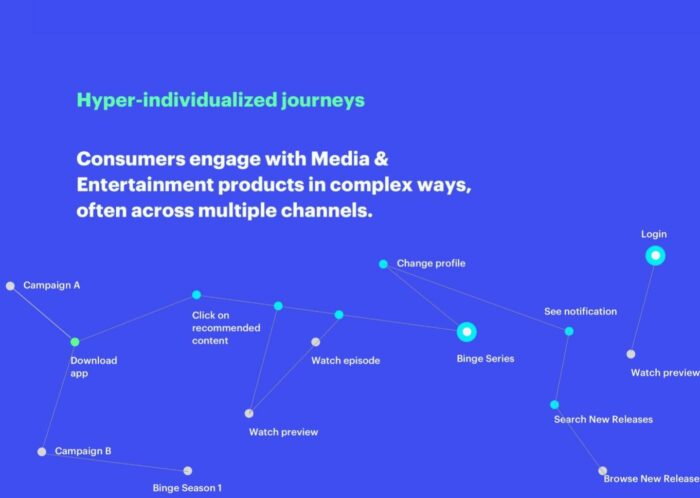 As you can probably see, understanding your customer throughout their journey goes much deeper than which marketing campaign they entered from. Plus, there are a variety of different forces that affect each user, and sometimes awkwardly so. 
Are there strange mechanics in play because of account sharing? Yes. 
Will a sensitive topic or political viewpoint expressed in a piece of content cause some people to cancel? You bet. 
Do some people go full hipster and decide to get rid of streaming services to invest in vinyl? Occasionally, yeah.
You can't – and shouldn't – pry into people's lives beyond the app. This is why we use tools like behavioral analytics to define and capture multiple points of data ("events") over time. Plus, you can always reach out to get feedback directly like with a survey or simply by staying on top of app store reviews.
6. Using behavioral analytics & personalization to drive subscription retention
Products like those from Amplitude provide a few specific functions that make this possible in the media and entertainment space.
For starters, one thing their service provides is the ability to identify and test new or different processes with cohorts quickly and easily.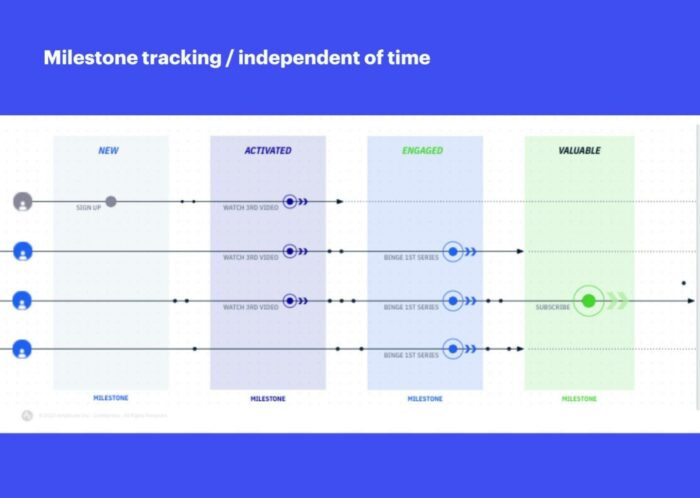 Delivering hyper-personalization is an ongoing process and must rely on much more than just a few commonalities shared with seemingly similar users. 
Add to that the fact that milestones can change in significance over time and will have different meanings for every occurrence in the customer journey.
By understanding relevant data to customers, you can better nudge customers to do things they're most likely to do, like explore and enjoy existing content or spend money for a new (i.e., better) tier of content.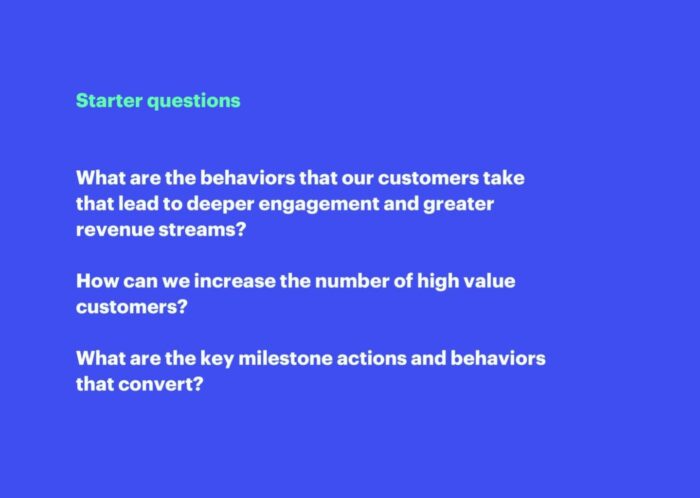 This data can be applied to everything from new feature development, recommendations, timely notifications, plus content creation and delivery.
Though you'll need to uncover and address questions specific to your unique challenges, the questions above can serve as a baseline to get started.
7. Media & entertainment products need to change like the users they engage
Data can reveal some interesting phenomena about user psychology that can either help or work against you.
The webinar is wrapped up with an example from Netflix which used to offer a 5-star rating system that they ultimately deprecated after discovering users respond better to their thumbs up or down system.
In turn, users generate more valuable data about their likes and dislikes which allows Netflix to optimize its personalization efforts for each profile.
Blue Label Labs knows how to put data to use
Learning is the center of what we do and should be a staple for digital products, especially those in the media and entertainment space.
To learn more or to discuss a project you have on your mind, get in touch!
Get the latest from the Blue Label Labs' blog in your inbox