5 Tips To Manage Your App Store Reviews
Responding to user reviews your app generates on the app stores, among other places, is a necessary part of owning a digital product and knowing how to respond appropriately will allow you to better connect with your users. 
We're going to recap and expand upon responding to reviews in the app stores, discuss the value of using additional feedback collecting tools, and touch on some tips to get the most out of your reviews.
Why you should respond to reviews on the app stores
We've covered some of the mechanics for responding to user reviews on the app stores. 
It's a built-in process part of hosting an app on either store and a popular method to sing praises or voice grievances so it's important that you give people who take time to review your app attention.
There are all kinds of different ways to go about – some choose to respond to everything, others screen to hit those where users ask questions, while certain companies stick to fielding the bad reviews. 
How you approach it is up to you but you'll get better results when you engage with your users, both for the people you directly interact with and those snooping through your reviews.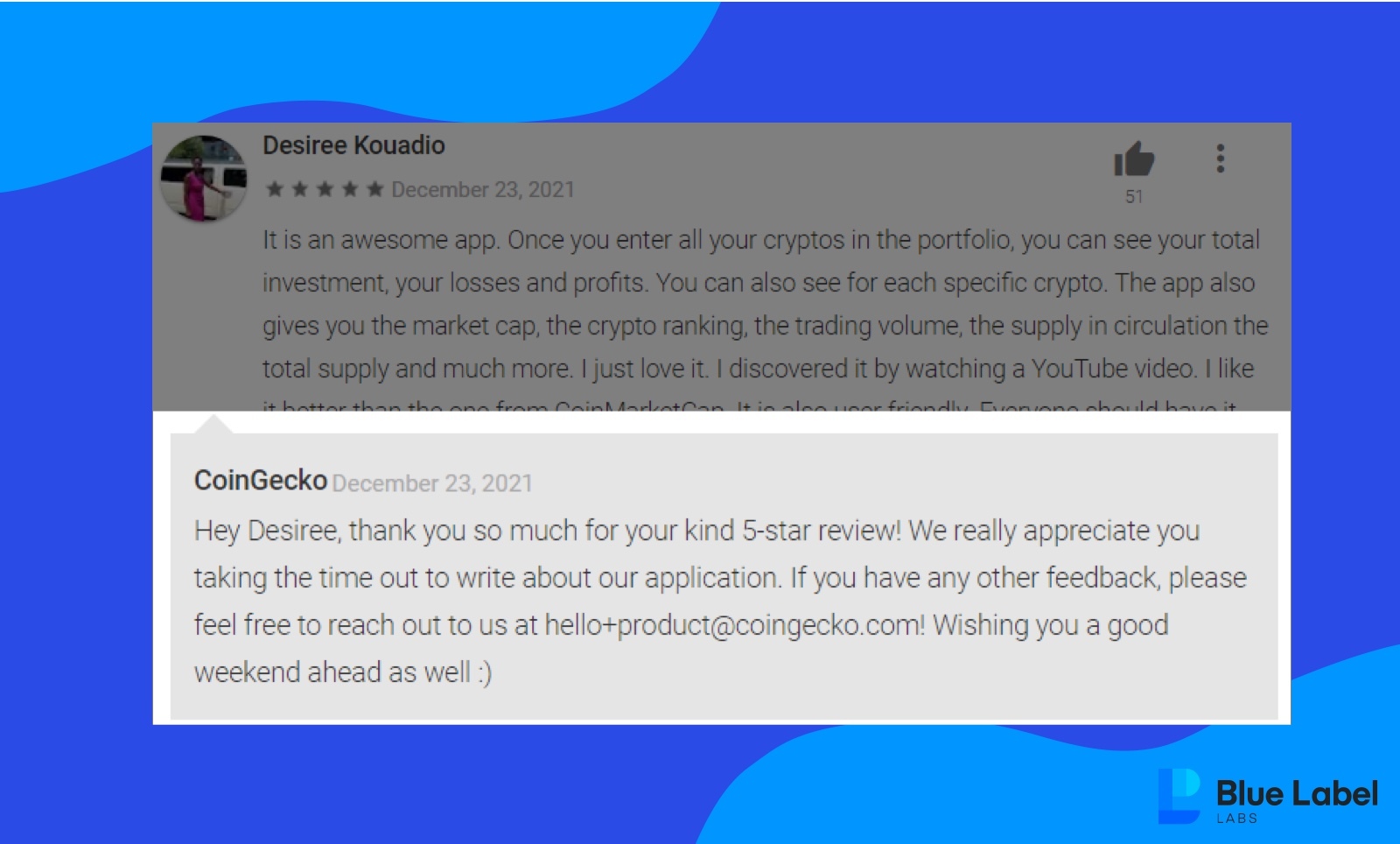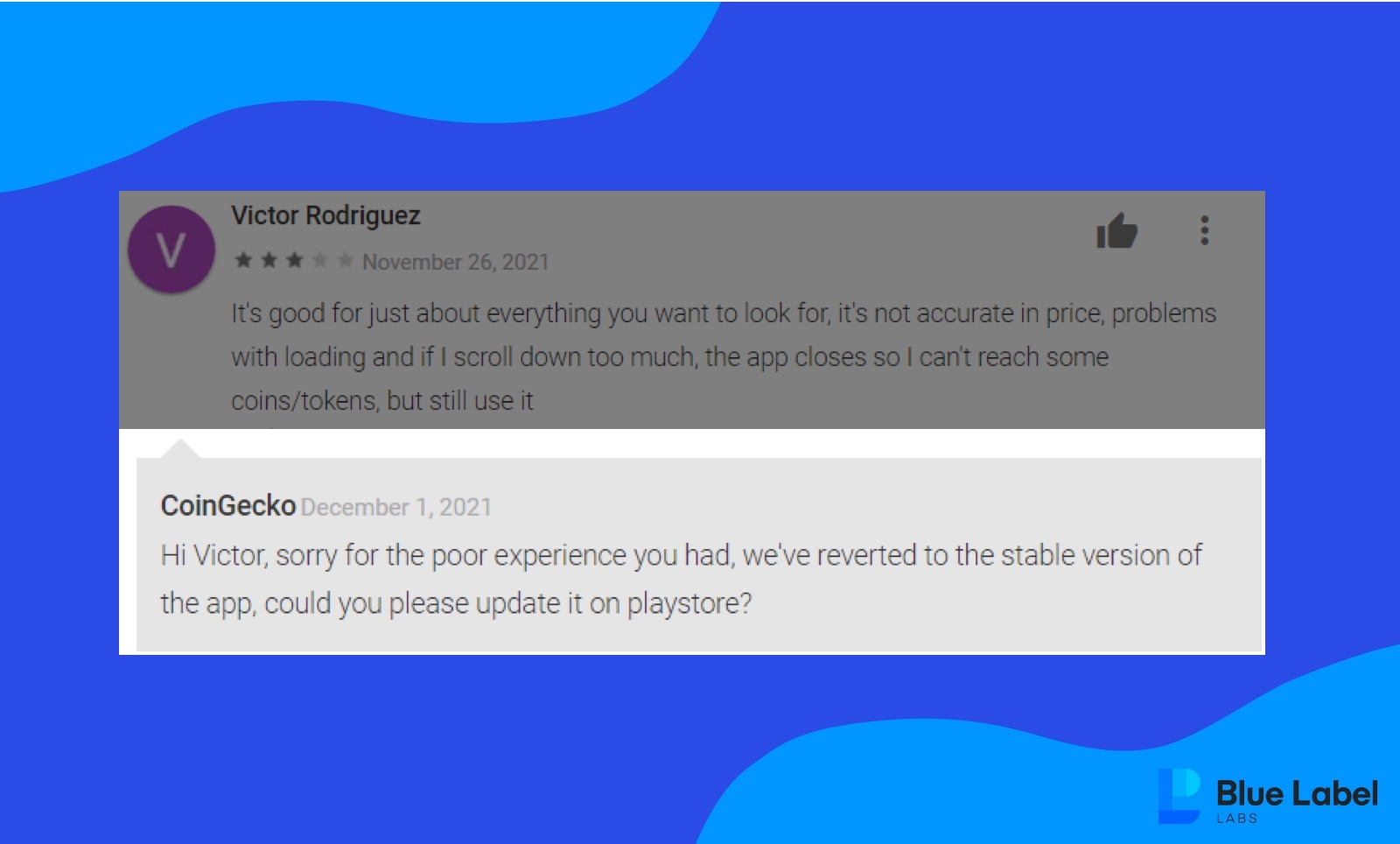 The crypto information platform, CoinGecko, does a great of managing their reviews on Google Play by responding to both the good and not so good reviews that come their way with unique responses. 
They're highly rated by over 100K users and it should be pretty clear to anyone who takes a moment to skim the reviews that they're paying attention.
Be both thoughtful but casual and stick to the point. This is often the first (and last) store for prospects to decide as to whether or not to download your app.
Depending on the size of your user base and team, managing reviews can be a lot easier through services like Sensor Tower or Appbot for the tools they provide. Both can provide powerful analytics for analyzing the market (as well as your own product) which is a crucial part of any serious app store optimization (ASO) endeavor.
Collect additional feedback to better understand your product
While app store reviews are helpful to understand sentiment, they're not a comprehensive solution. 
Additional feedback collection tools like the Appacts tool that allows users to make comments on the fly by shaking their device (a common gesture used by tools of this kind.)
After all, it's nice to be able to unironically shake your device when upset to immediately gain access to a console where you can "let 'em have it."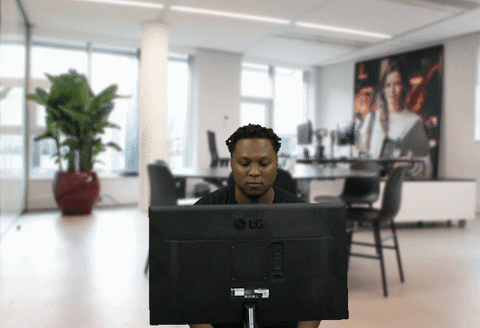 Source: Giphy
But in all seriousness, it's useful to incorporate these tools, especially in your early days such as after launching your MVP. 
While it will serve as a catch all for every little complaint as many issues you will find are beyond your control, such like a user's device losing internet connection and problems of that nature, it will help you find pesky bugs and other issues running amok in your product.
Fortunately, this is where AI comes in as analyzing batches of feedback through intelligent systems allows you to quickly find commonalities and pinpoint problematic areas. Ideally, you should keep such a solution in your product indefinitely as once your stable releases will often start to garner more thoughtful feedback which can lead to design changes for the better (or worse, if you don't test your ideas properly!)
Other review mechanisms will require attention as well, for example, should you operate a digital store that offers something akin to an Amazon review system. 
Bear in mind that there are some subtleties to how users view the style of review feature so make sure to review how user perception and behavior can vary between different kinds of review or reaction tools.
Advice & tips for effectively managing a few different kinds of user reviews
Some people feel apprehension about leaving yourself open which is normal when you put a piece of yourself out there, whether it's a poem you wrote or an app. 
Poignant, accurate critiques can sting but the silver lining is that you'll hopefully learn from mistakes. Keep the following in mind to get the most out of your reviews.
Don't stuff your public-facing reviews with fakes
It's one thing when you ask friends to throw you a bone and review your app but a full-blown fake review effort is often picked up by more observant users.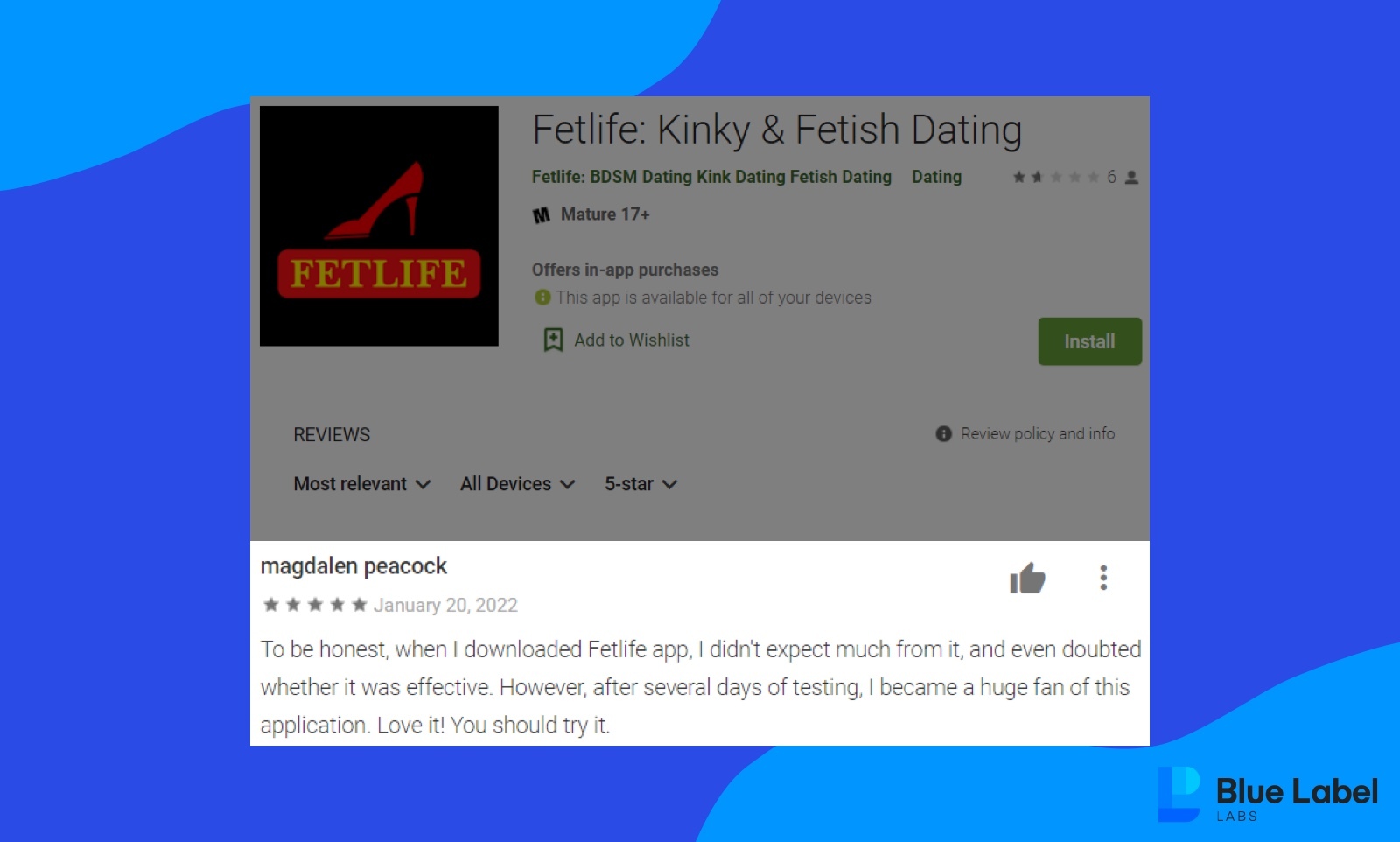 Aside from being ethically irresponsible, it's fiscally unsound as the whole point is to learn from your user responses – if you have to do this, you're likely ignoring much larger issues like significant problems with quality and some point, it's not going to matter how many BS 5-star reviews you had your Fiverr copywriter create. 
Though not all are as obvious as the one above, savvy users will look for patterns such as a recurring cadence that you see here among nuances you'll typically see in low-quality fakes.
It's not always a deal breaker, but it's not a good look.
Instead, you can offer incentives to complete reviews like discounts and or other perks. Just make sure you're not incentivizing good reviews more so than bad reviews as again, the whole point is to learn.
Don't feed the trolls, at least on the app stores
If you were ever a teenager, then you probably remember that there are some humans whose sole purpose is to spread misery and hate. These people will occasionally comment on your app and talk about how it's a total unusable trash that's ruining their life. Your best bet in these situations is just to be polite and offer to help – if they accept, that's great, but there's not much else you can do if not.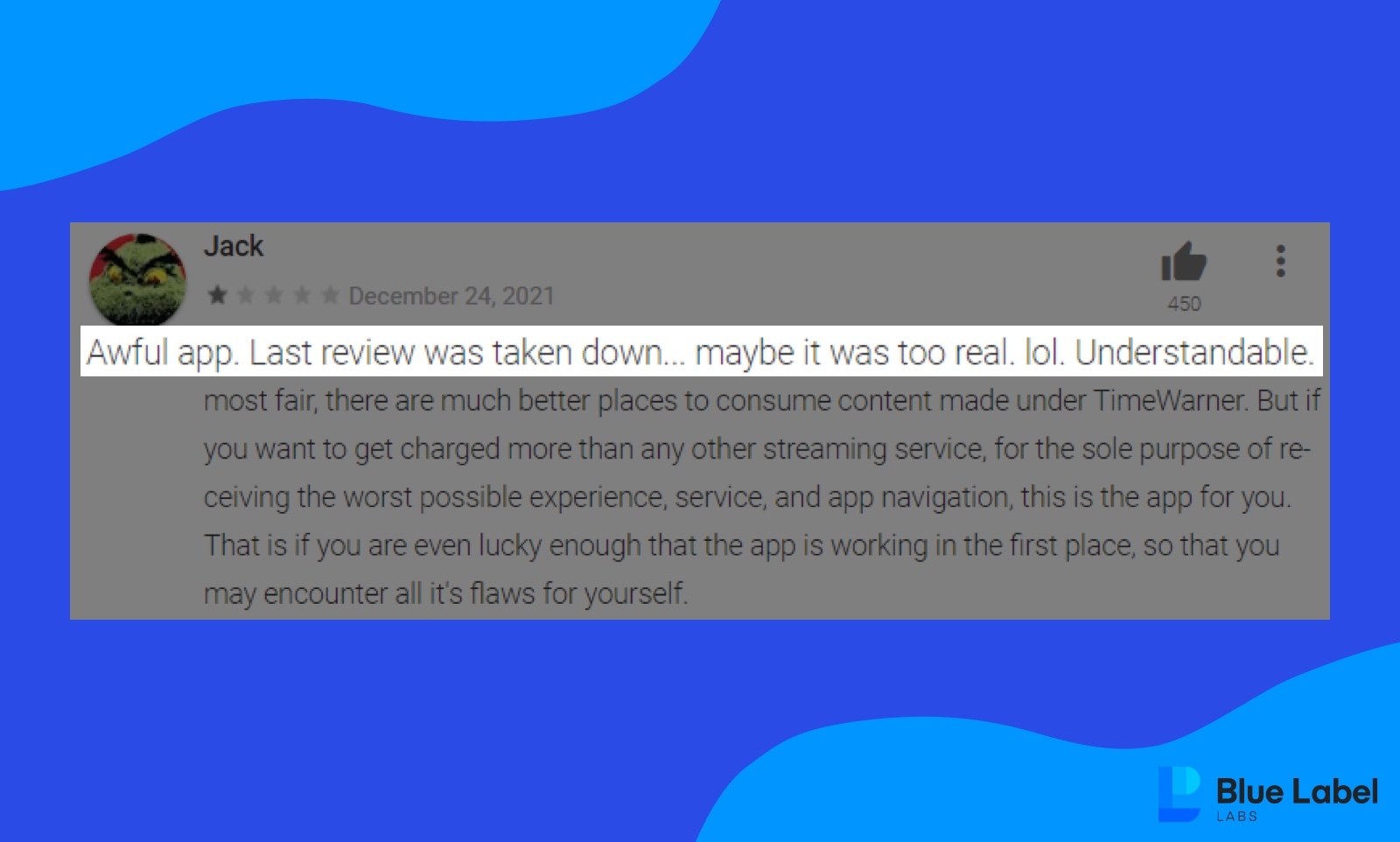 Those who are just being bullies (i.e., not those you accidentally ripped off – please help these people if that's the case) will eventually get bored and find some outlet for their frustrations.
Offer a two-way review system for two-side marketplaces
If you offer a two-way marketplace like Upwork pictured above or Uber Eats, having two-way reviews gives each set of users a tool to evaluate their prospects.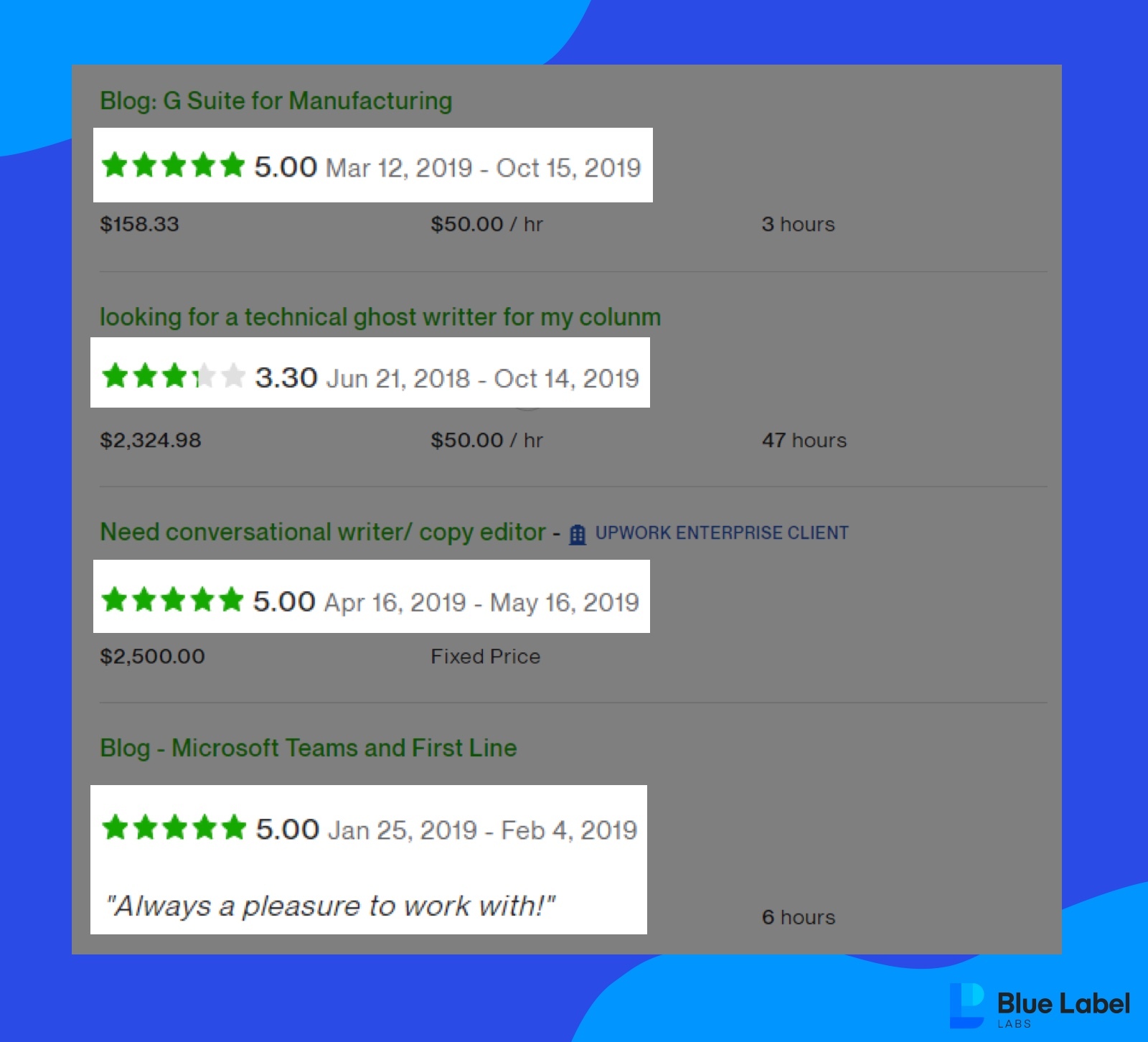 For example, this allows Uber drivers to take note of people who are regularly reported as being disrespectful, those who can't hold their tequila, or even those who are potentially threatening. Of course, this can be abused but it helps drivers avoid potential issues with those who are consistently problematic such as the truly horrible people who tip bait delivery drivers.
Here's to hoping that DoorDash will someday recognize this fact and implement this feature for their workforce!
Blue Label Labs builds products that keep businesses informed
Every product is different but feedback is universally useful.
It's important to consider (and test!) the various options available for digital products to find the best fit and of course, take full advantage of everything the solution has to offer.
If you're looking to build a product or have questions, get in touch to speak with someone from our team.