Loyalty programs help retailers increase margins – and win customers' hearts
If executed properly, loyalty programs can be a highly effective way for retailers to improve customer retention and increase margins. 
Modern loyalty programs go beyond a simple "spend and get" approach, incentivizing every action of loyal customers with targeted and meaningful rewards. The new approach rewards customers not based on their "spend" but based on their "engagement."
In this article, we look at some best practices from brands that have integrated hyper-personalization, gamification and omnichannel strategies into their loyalty programs to drive better results. 
How do loyalty programs increase margins?
Research by Motista shows the impact of increased loyalty — not only on increasing margins — but also increasing the number of referred customers. 
The research shows customers with an emotional relationship with a brand have a 306% higher customer lifetime value (CLV) and will recommend the business at a rate of 71%, which is significantly higher rather than the average rate of 45%.
Generally, loyal customers help retailers increase margins in two ways:
Increasing spending amount

: The more a customer stays with you, the more opportunities you'll have to gain their trust for placing bigger orders.

Research

shows loyal customers spend %31 more, on average, compared to new customers. 

Increasing repeat purchases

: Loyalty programs can encourage your existing customers to welcome repeating their positive experiences with you. A customer that feels loyal to a brand is much more likely to become a frequent shopper. 
Having realized the potential of loyalty schemes to increase margins, the question is who exactly in a retail business is responsible for creating customer loyalty.
A loyalty program will lead to optimal results only if the entire company acquires a customer loyalty mindset. 
According to Cristina Ziliani and Marco Ieva, this mindset involves three main components:
 Achieving an ongoing commitment towards the creation of experiences at each touchpoint

Understanding that customer journey across pre-purchase, purchase and post-purchase stages should be considered in daily decision-making

Cooperating with partners to align different touchpoints that the customer encounters in the same shopping situation
Loyalty in action – Best practices
Customers are increasingly demanding — they seek out personalized and exciting experiences. 
Using loyalty is a fantastic way to get access to valuable zero-party data while giving users the rich, interactive experience they crave. However, these programs need to go beyond a simple points redemption system to prove impactful.
Personalized loyalty 
When it comes to getting the most out of your loyalty program, personalization is a key piece of the puzzle. On average, 71% of consumers express some level of frustration when their shopping experience is impersonal. 

For your loyalty program to stay ahead of the competition, a key differentiator are hyper-personalization incentives tailored to the specific needs and preferences of your target segment. 
The Body Shop's loyalty program, Love Your Body, uses customer data to offer their members a meaningful experience. 
In addition to birthday vouchers emailed to loyal customers on their birthday, The Body Shop offers exclusive bundles that are tailored to the very specific skin type — as well as shopping habits — of a customer.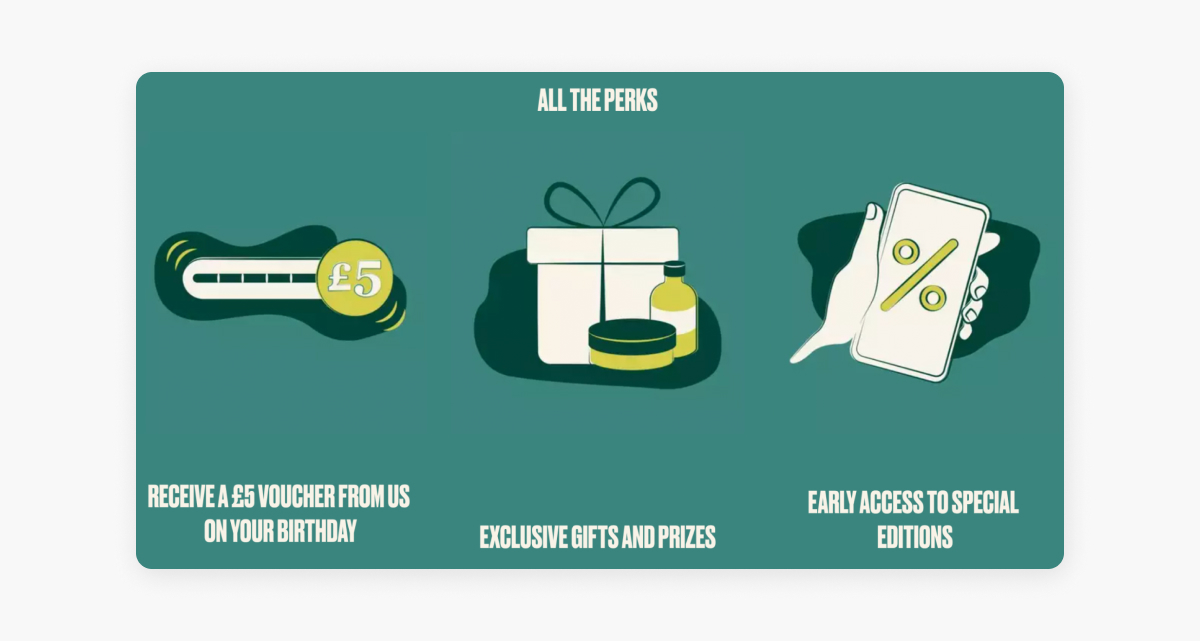 Gamified loyalty
Adding a gamified element to your loyalty program is a super effective way to drive customer engagement and increase margins. Gamification is a game-changer if it operates coherently with other components of your promotion scheme. 
When you think of a highly effective loyalty program, Starbucks ($SBUX) is certainly one of the first that comes to mind. 
The brand's loyalty program, My Rewards, is an engaging platform hosted on the Starbucks app. Each time a customer interacts with the app or makes a purchase, they receive stars which represent their loyalty points.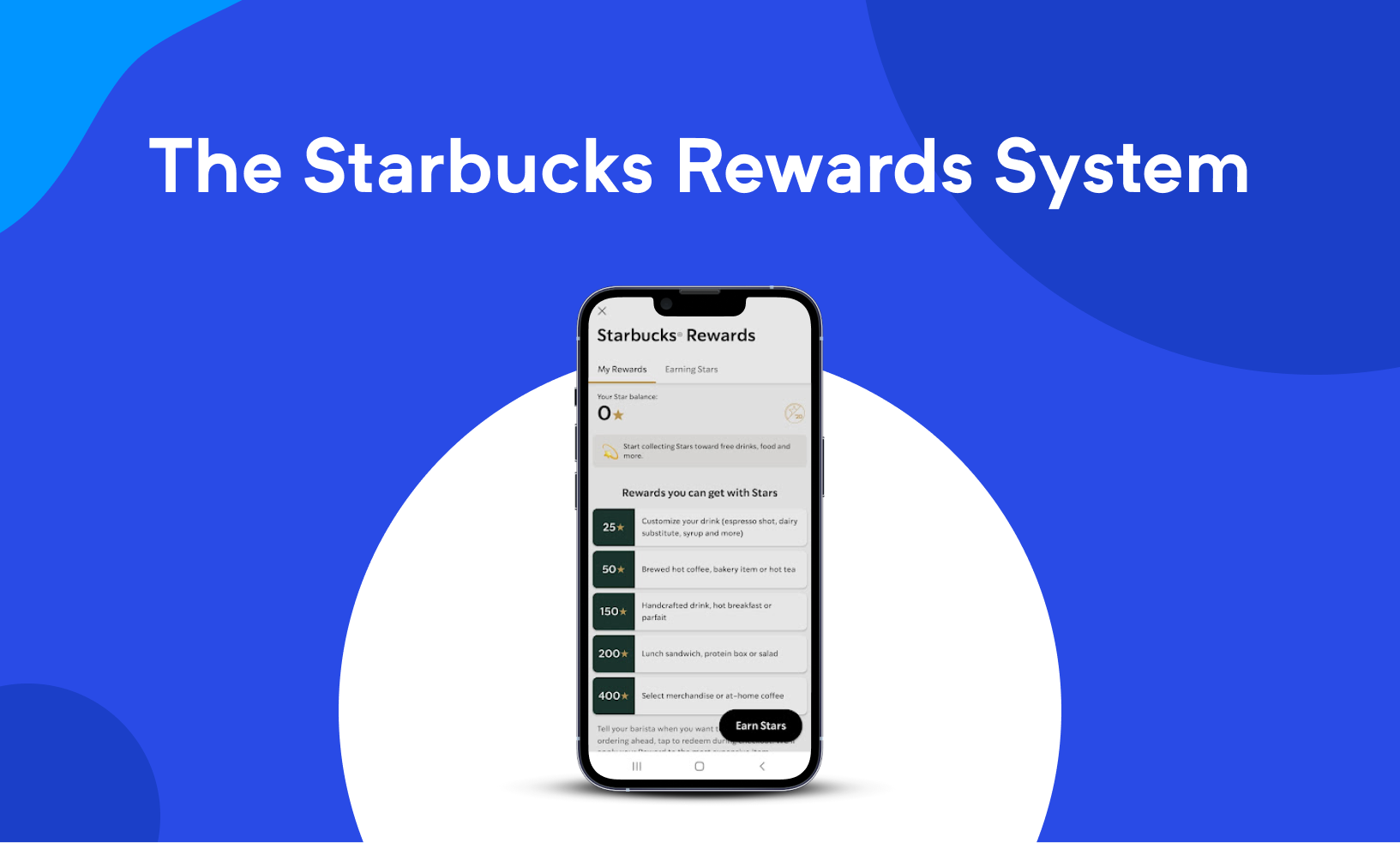 The Starbucks app is one of the best in the QSR space from every angle – learn why in Blue Label Labs' article here. 
The members can play in-app games. The level that they start the games depends on the number of their stars. If they finish the game successfully, they'll be able to select their awards from a list of perks including a birthday gift or a free cup of coffee. 
Starbucks's loyalty scheme is so successful, it has deposits of around $1 billion – more than 85% of US banks. 
Omnichannel loyalty
To enhance the experience of your loyal customers, you need to enable them to use their loyalty points or rewards seamlessly across your sales channels. 
Such an omnichannel, seamless experience nudges your loyal customers towards increasing their interaction with your brand in terms of the redemption rate of their acquired points.
80% of shoppers use their phones while in-store, meaning a well designed mobile app can move the needle across digital and physical retail.
Footasylum has supercharged their loyalty program with omnichannel points. A leading retailer of fashion streetwear and sportswear, they've enabled their loyal customers to get points that could be converted to money off future purchases, plus some money-can't-buy benefits.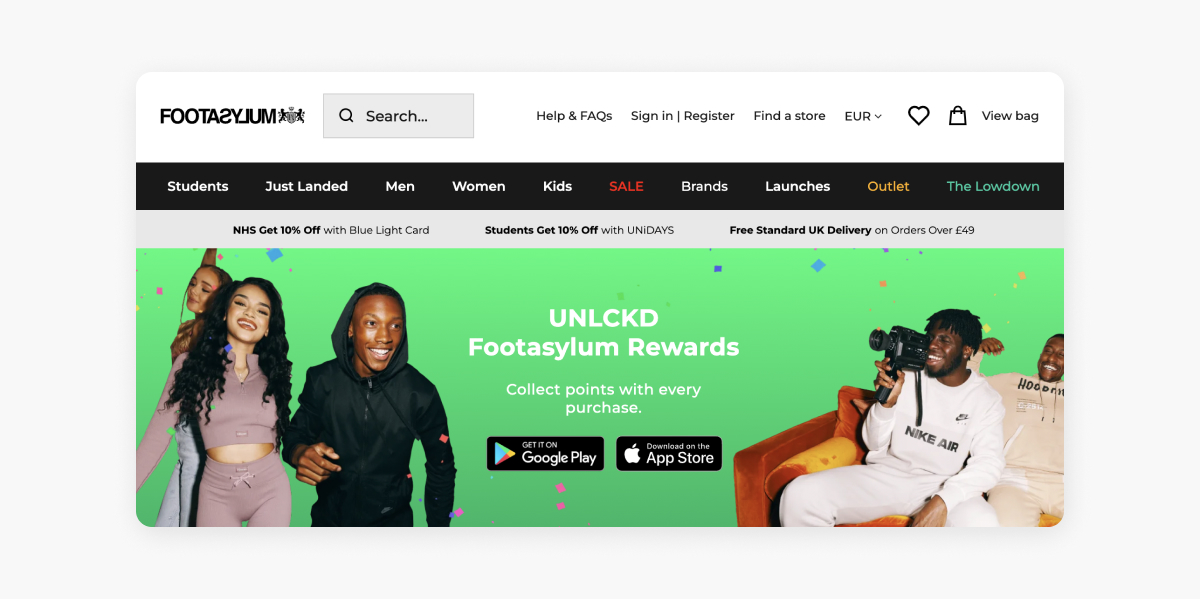 The users of the loyalty scheme can gain points online and redeem them in the stores, or the other way round – a frictionless shopping experience with a brand. 
Final thoughts
Loyalty schemes are ideal mechanisms for retailers to maintain their margins while showing care to customers' concerns – especially during inflationary periods.
Walmart, for example, has launched a loyalty program for Walmart+ members in the form of gasoline discounts. The giant retailer has announced loyal members will receive an immediate discount of up to 10 cents on every gallon of fuel they purchase at participating stations (Exxon and Mobil, Walmart and Murphy and Sam's Club).
For more on how to build the best loyalty program for your retail business, check out Talon.One's guide, The Definitive Guide to Customer Loyalty. 
About Talon.One
Talon.One is an API-first Promotion Engine, which can integrate with any system that is capable of accepting an API call. 
To push this idea of integration, make things easier for our clients and build a more collaborative ecosystem, we partner with exceptional technology companies to build deeper relationships. 
It's for this reason that we are delighted to partner with Blue Label Labs.
Talon.One offers a wide range of customizable promotional solutions including coupons, discounts, referrals, geofencing, bundling and loyalty programs. 
To learn more about Talon.One feel free to book a demo with our team — or learn more about our partnership with Blue Label Labs here.
Writer details: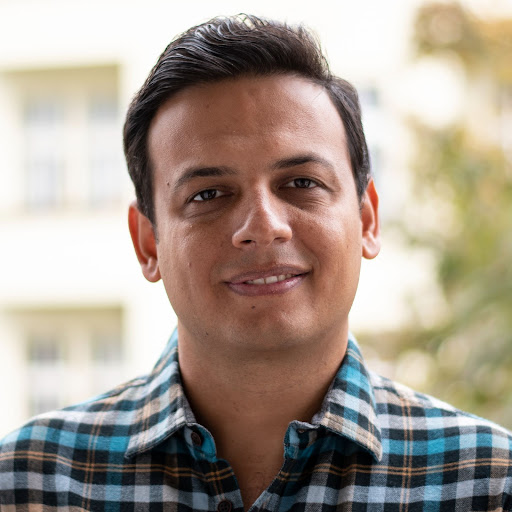 Reza Javanian 
Reza Javanian is an editorial content writer at Talon.One. He has several years of experience in writing content about various marketing and sales topics. Reza has a PhD in English language and literature from the university of Tehran, Iran.