Digital commerce for business isn't some fad that will soon phase out of existence – a 2018 Forrester report reveals that smartphones alone were responsible for more than $1 trillion in sales.
This number will only continue to rise!
Modern mobile applications and web storefronts provide accessible endpoints for consumers to engage with content or eCommerce platforms virtually anywhere. Businesses with mobile eCommerce apps are far more likely to achieve sales or find qualified leads to leverage sales efforts.
BlueLabel is an experienced eCommerce application development company that understands how consumers interact with content and commerce tools on the web and through mobile apps.
Our solutions are designed with user experience (UX) and security in mind – we build modern, practical apps for eCommerce on top of proven platforms like Magento, Shopify, WooCommerce, and Clover that process millions of dollars of revenue each year.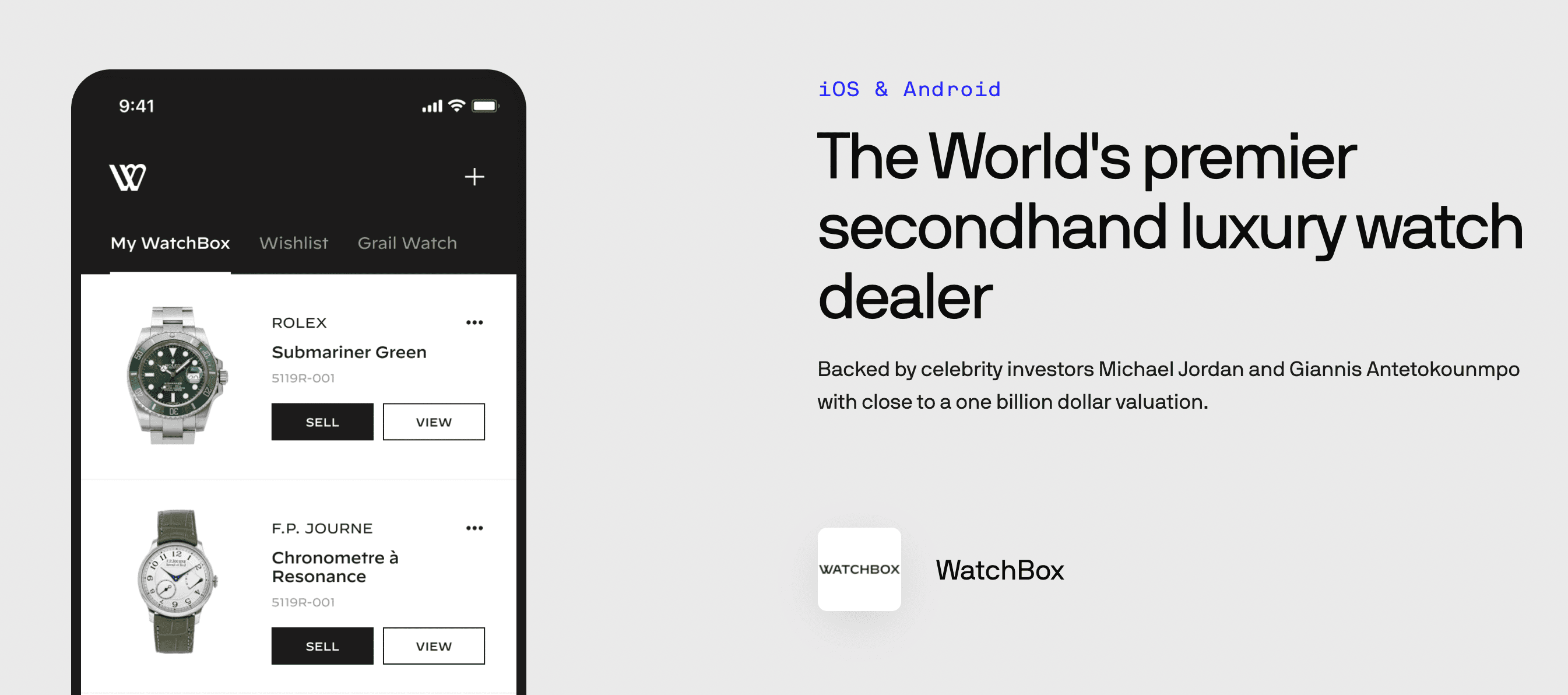 Table of contents
1. What You Need to Know About Designing E-Commerce Applications
The multitude of platforms on the market and custom design possibilities afford businesses vast options for tailored eCommerce app development. The challenge is finding the best solution for your needs.
Businesses with an existing eCommerce system may be best served by creating a custom app from the ground up. In other cases, digital stores benefit the most from tweaking an out-of-the-box solution. When using a pre-built system such as Shopify, WooCommerce or another popular platform, it might be best to leverage these platforms' capabilities in an app.
Solving the complexities of eCommerce means considering the business roadmap to determine the most functional solution for a given budget. A "from-scratch" eCommerce app development design could be ideal – in other cases, leveraging established platforms is the best route.
At BlueLabel, we understand the challenges of delivering effective eCommerce apps. We assess your existing system or strategy for a new platform to determine the best design for your needs.
From here, we create the best eCommerce application for your setup to increase customer engagement.
2. Integrate across platforms
Developing a cross-platform eCommerce solution provides customers greater mobility in accessing content, products, or services available through an online store and other apps offered by your business. By taking advantage of an analytics system, data will reveal how to leverage popular products to maximize sales.
Increasing the sales efficiency for customers while incorporating data analytics allows your business to deliver personalized content that optimizes the customer journey.
Weaving systems together to build a seamless experience for the customer builds awareness, leading to more purchases and, ultimately, customer loyalty.

3. Leverage the newest technologies
As technology rapidly evolves, partnering with an experienced eCommerce app development company can allow businesses to keep up with modern tools and strategies, keeping them ahead of the competition.
Modern examples include:
Headless commerce solutions
Large digital stores benefit from headless CMS systems that enable delivery to multiple IoT endpoints, whether wearable tech, mobile apps, and other smart devices. Headless eCommerce apps running on these smart devices broaden the number of available endpoints, which increases sales.
On-demand marketplaces
If you've ever called an Uber or Lyft for a ride, you realize the value of these modern tools that connect independent service providers to customers in mere moments. BlueLabels' eCommerce application development services parallel this model.
We have developed platforms, including Hello Sitter and Hyer that instantly connect customers to providers.
Hyer is a platform that provides access to a vetted labor pool, featuring tools that allow companies to easily search, book, and pay an on-demand workforce.
We partnered with Hyer to transform their concepts from a series of Powerpoint slides into an on-demand, 2-sided marketplace connecting large retailers to the gig workforce.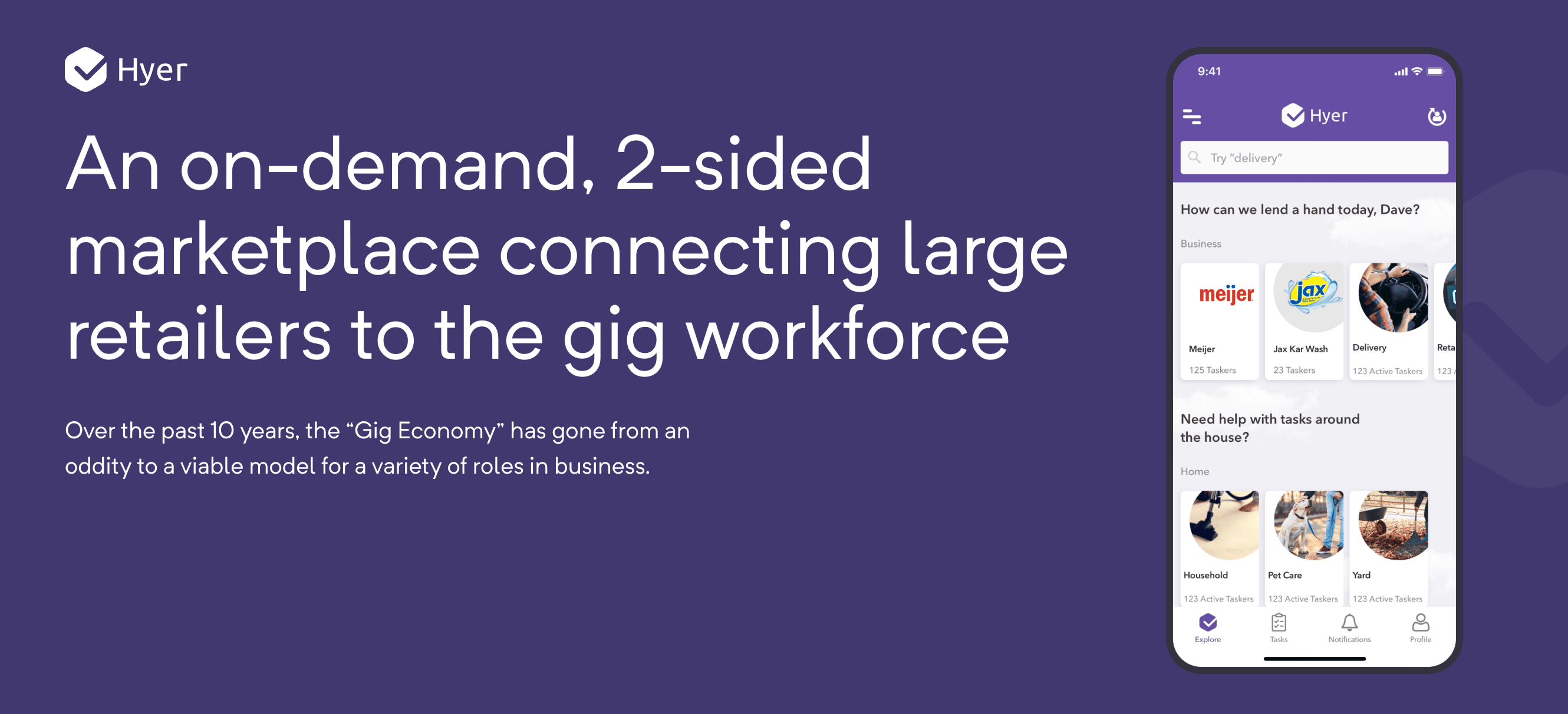 Leverage established platforms
Well-established platforms like Magento, Shopify, Clover and others are ideal for many digital storefronts. It is often less expensive to develop supplemental apps and tools, plus the intuitive design makes it easier for content authors and editors to interact with content on the backend.
BlueLabel designed and developed the BLUbeem™ app, a faster and more efficient digital solution to cash payments. Brink's clients can now digitize their cash through the same Brink's Box they are accustomed to, with an improved digital interface.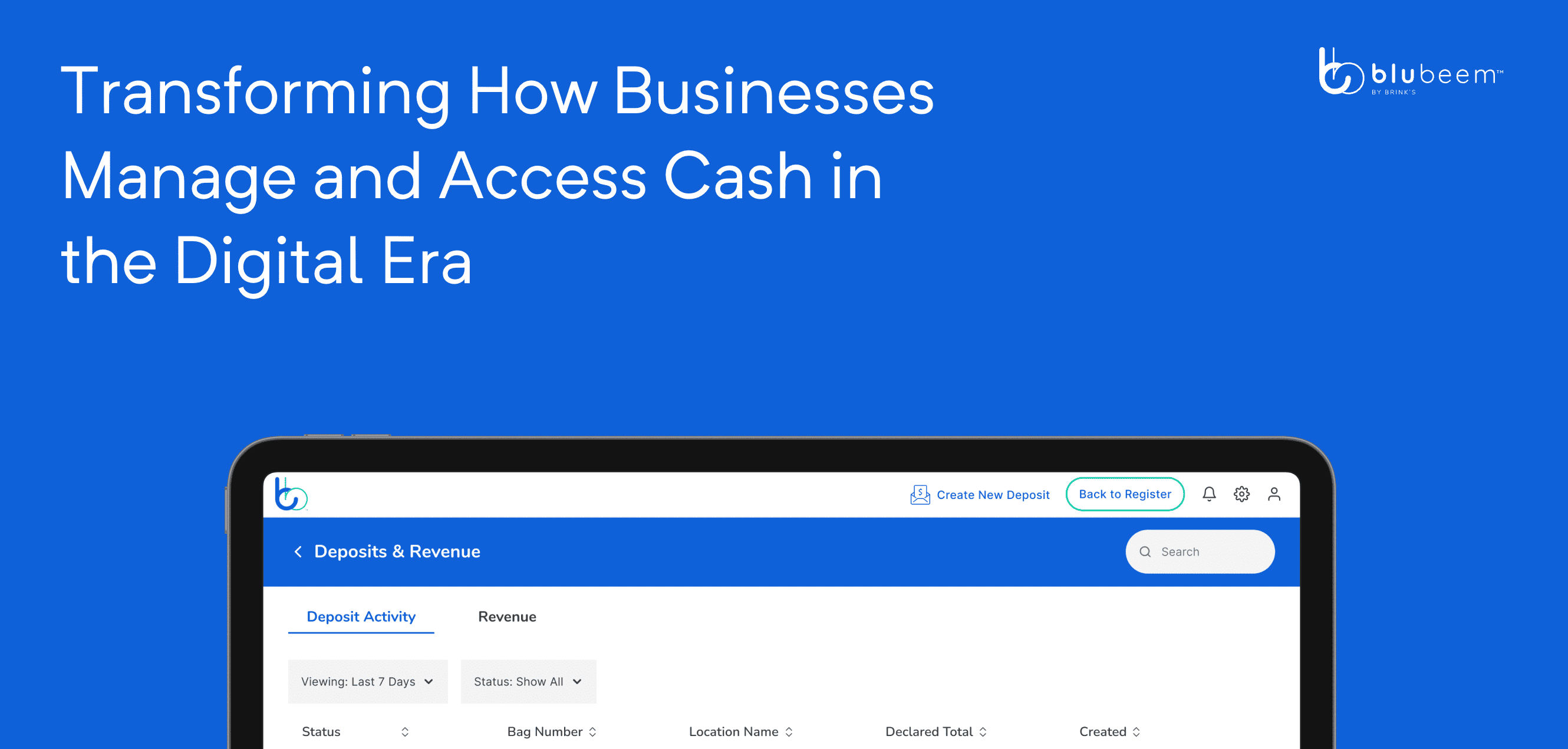 Secure payments
Meeting data compliance, such as PCI DSS, is critical to maintaining the safety of customer information. Payment gateways like Stripe, Braintree, Authorize.NET, CardConnect, PayPal and more can be implemented to protect transactions. These tools, as well as platform-based payment solutions like Apple Pay and Google Pay for iOS and Android, help streamline the payment process.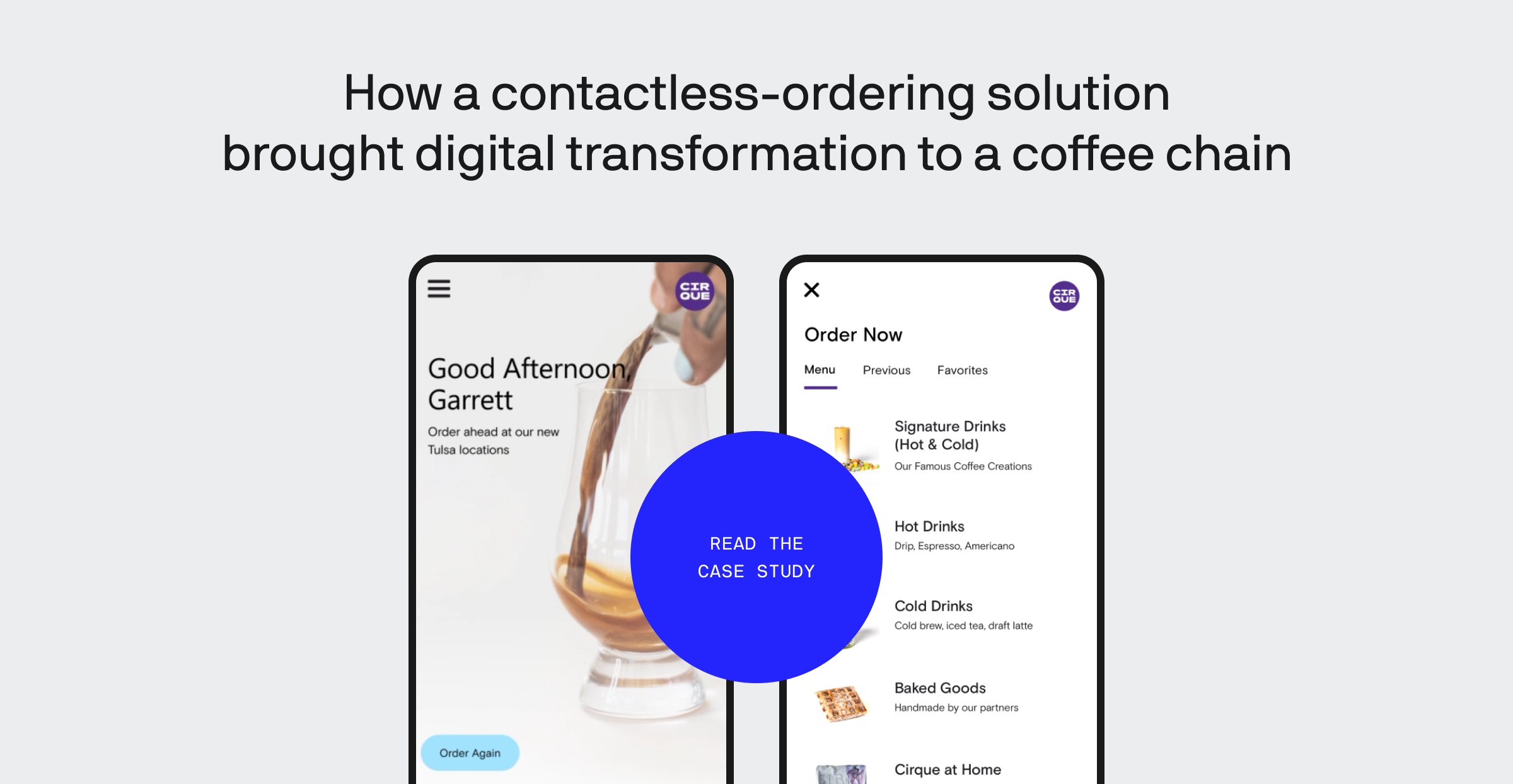 When the coffee chain, Cirque Coffee, looked to launch cashless, drive-thru cafes, they trusted BlueLabel and our Clover app development team to engineer the technology that enables customers to order and pay for their drinks through their phones, as well as the cafe systems, built on Clover, used by their staff to fulfill those orders.
Artificial Intelligence (AI)
 Various machine learning tools are making their way into many software solutions and are now part of our eCommerce application development process. These machine learning (ML) systems offer a variety of blossoming capabilities from improving personalization, automating processes, increasing security, and much more!
Sidewalk Labs and BlueLabel teamed up to create the Delve platform. By harnessing the power of AI, Delve merges a variety of design, financial planning and engineering tools to defragment the urban planning process, saving time and costs.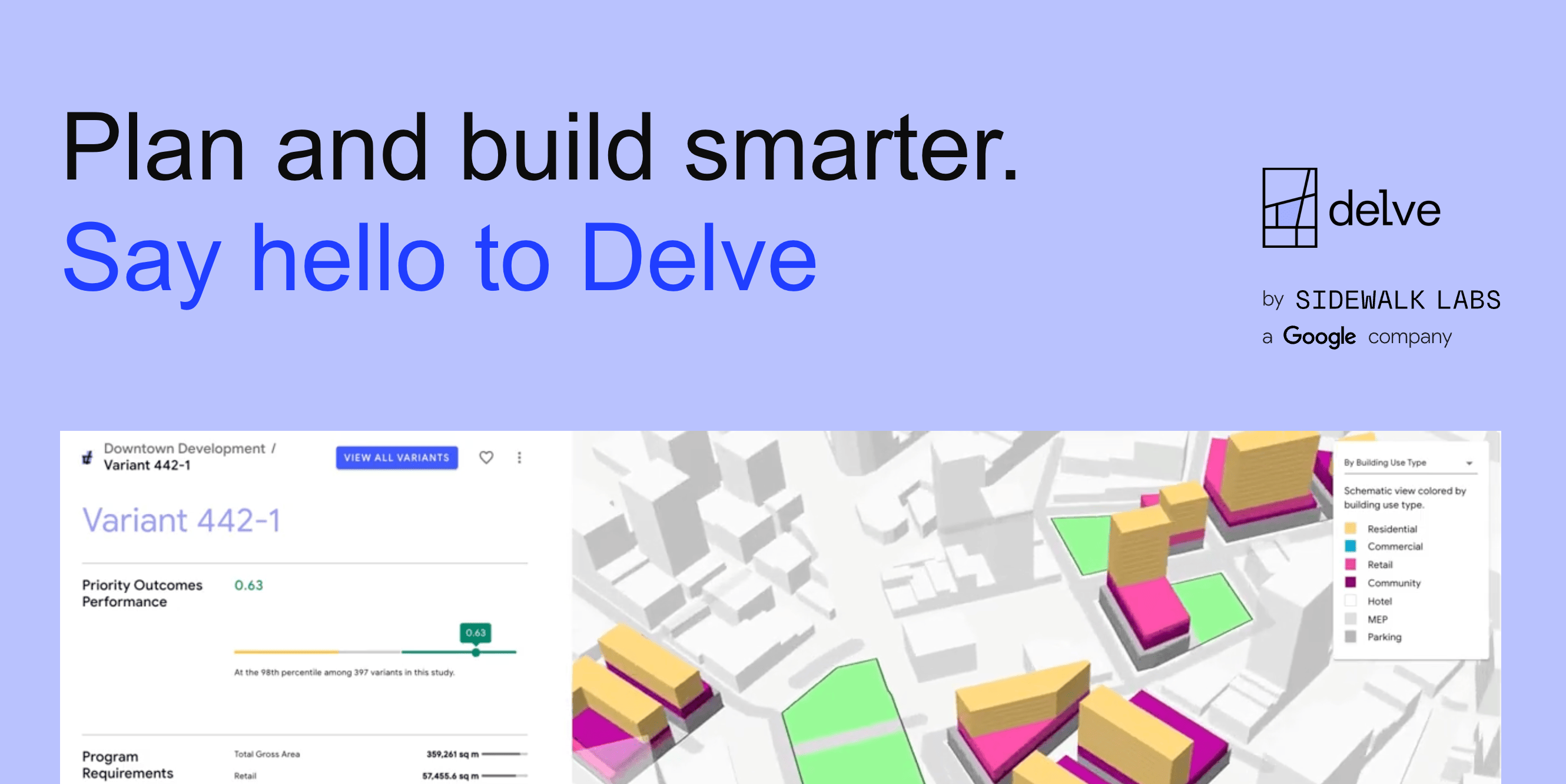 4. Choosing a Platform
Modern apps are not simply limited to smartphones – other IoT devices like smart TVs, wearable tech, appliances, toys, and more are all viable options for eCommerce delivery. With a plethora of options available, it can feel overwhelming. Choosing the best eCommerce platform and payment provider is key to a successful digital business.
By looking at the nature of the products or services your business offers, BlueLabel can help you determine the best endpoints to target and the right tools for the job, whether it's just one or a mixture of custom and established platforms.
With our eCommerce app development services, you can integrate just about any payment gateway you like, and we can help you decide the best option for your business.
5. Optimize the Customer Journey with BlueLabel
We are an experienced team of multi-disciplined developers located in NYC. Our eCommerce application development staff has the ability to review your existing systems and look at your future strategy. We help you decide the best options for your development needs and build outstanding e-commerce apps and platforms.
Get in touch with us to learn how we can improve your eCommerce efforts with modern apps for any device.