World Class iPhone App Designers and Developers
We are an award-winning team of iPhone app product strategists, designers and developers recognized globally as experts in leveraging the power of Apple's iOS platform to build stunning products that are both engaging and monetizable. With 10 years of experience and over 200 products shipped to the iTunes app store, designing and building iPhone apps that unlock the potential of Apple's iOS platform is in our DNA. However, what we do goes far beyond just app design and development, we are product strategists that work with our clients to build sustainable, long-term businesses that leverage the iPhone platform for maximum effect.
Find out how we can bring your product to life on the iPhone, contact us here.
Who We Are
Blue Label Labs is a best-in-class iPhone app design and development agency that specializes in bringing our client's ideas to life in the form of beautifully crafted, thoughtfully designed, revenue-generating products. Headquartered in New York City, our team of over 65 product thinkers are committed to helping our clients take their businesses to the next level by unlocking the potential of Apple's iOS platform. We are recognized experts in iPhone development and have capabilities that span across industries and verticals: from mobile on-demand marketplaces, to HIPAA compliant patient management systems to live-streaming video networks.
How We Work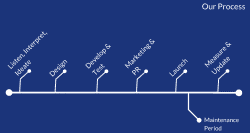 At the Cutting Edge of iOS Development
The iOS platform spans across much more than just apps for the iPhone and iPad, it offers powerful set of capabilities that include Apple TV, Apple Watch and its HomeKit devices. Our team lives and breathes iOS, with many of our engineers having over 10 years of experience building a range of products dating back to the original iPhone 3s in 2008.  We have fundamental understanding of how the iOS operating system works and our engineers are able to unlock the full potential of the platform to overcome even the toughest technical challenges. In 2014, our engineers adapted and built the patented speech recognition algorithm that is at the heart of the successful PromptSmart iPhone app. In 2017, our team of engineers and designers built the LastSeat travel booking service for iPhone, which leverages a custom-built real-time bidding engine for airline reservations. In 2018, we integrated 4 separate data sources to create the patented dish recommendation engine that powers the HowUdish iOS app. Our team of world class designers and engineers take pride in tackling the most difficult technical challenges and bringing them to life on the iPhone, if you can dream it, we can build it.