App Rundown: Centr, At-Home Workouts By Chris Hemsworth
We love apps here at Blue Label Labs – much like how game or movie reviews break down and examine these pieces of entertainment, this series will aim to do the same for mobile apps. Welcome to this month's Lab Review 🙂
Introducing Centr:
The app we looked at this month is Centr which is founded by the well-known Australian actor, Chris Hemsworth. Playing the role of Thor in Marvel's cinematic universe – the self-proclaimed "strongest Avenger" – he manages to convincingly fill these shoes, largely because fitness and wellness are truly a part of his lifestyle. While we're not here to focus on the actor, this is important because there's a high degree of authenticity that's captured throughout the app, from the quality of the product to the messaging throughout.
Platforms the app is available on:
iOS, Android, Web (we reviewed the iOS version)
Our User Journey:
First, you'll need to make an account to get started which is short and sweet. From here, you'll begin the user journey with a series of questions that allow the app to personalize content around your goals, preferred diet, and reported skill level.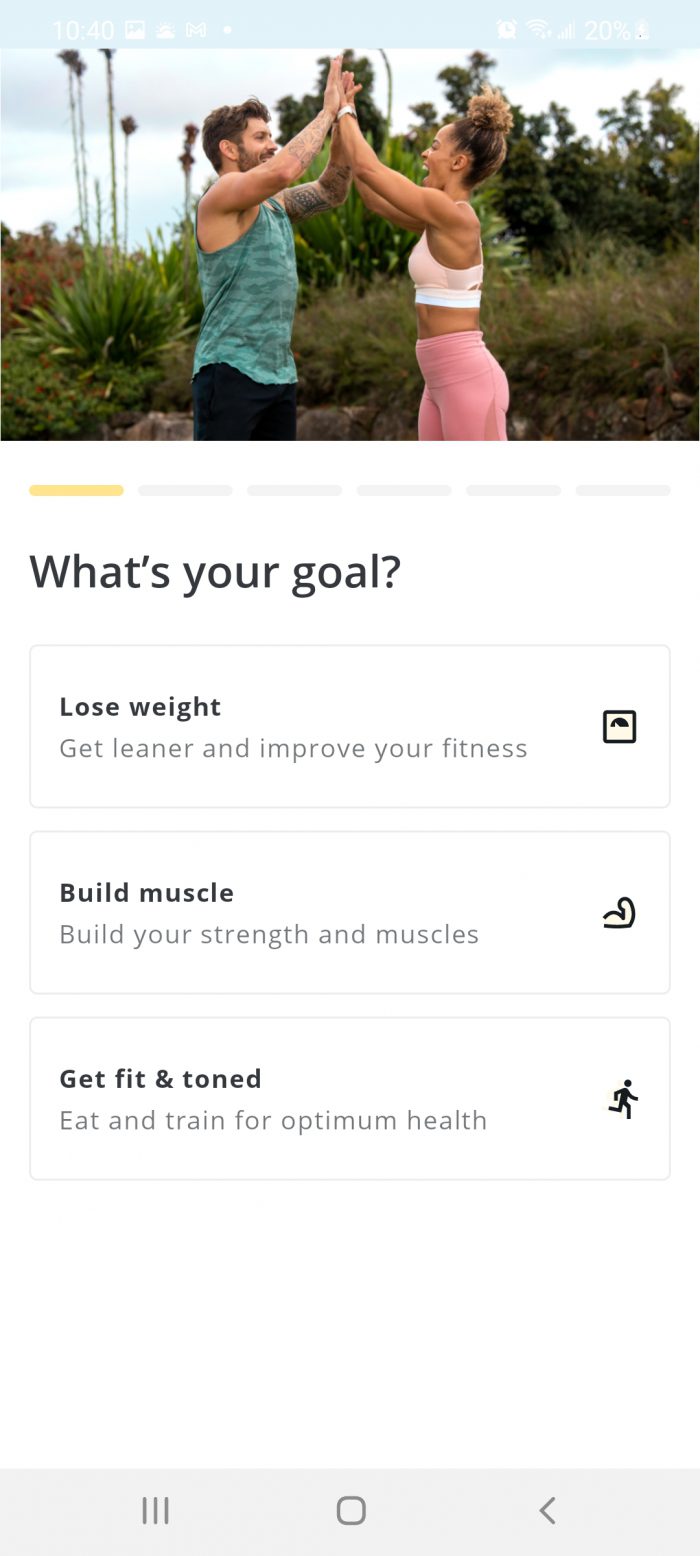 Once you've completed the preliminary steps, you'll be taken to the "Planner" section of the app which is effectively the main screen. Because I chose "Intermediate" when asked about my current relationship with fitness and no restrictions on my diet (there's a variety of options that include pescatarian, vegetarian, vegan, etc.) it populates two workout recordings, lead by the decorated Hollywood fitness coach and former boxer, Michael Olajide Jr.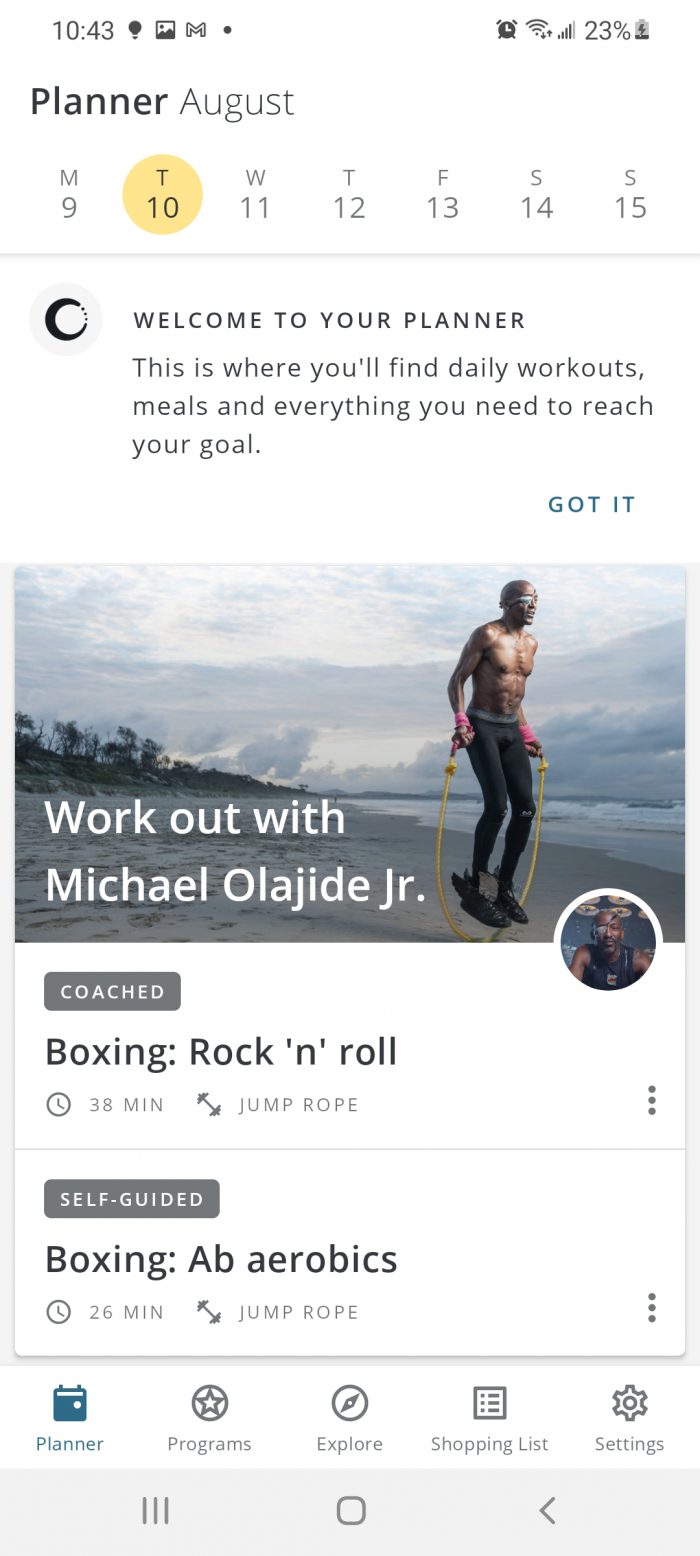 When you select a workout from anywhere in the app, each routine is further broken down with helpful content that details what you'll be doing throughout each phase. This might seem like overkill to most but from an accessibility angle, this is helpful for those with certain disabilities who may find that a workout transitions to something that they won't be able to do. As someone who has several injuries that can flare up during intense workouts (or moving groceries from a shopping cart to the trunk of the car), I realize how discouraging it can be to have to quit in the middle of something or risk aggravating an old injury. You'll also be able to access a logbook (more on this later) to plugin your weight and reps – once a workout is complete, you can take a selfie and even share it to social media.
After all, did you even work out if you don't share a sweat-drenched pic to Facebook?
By scrolling down in the "Planner" section, you can find links to additional content as meal options for breakfast, lunch, and dinner. Moving to the next tab called "Programs" allows you to further browse other workouts – the nice part here is that everything is well-indexed as meta elements are visible such as "Build Muscle" and "Gym Equipment" which you can see below.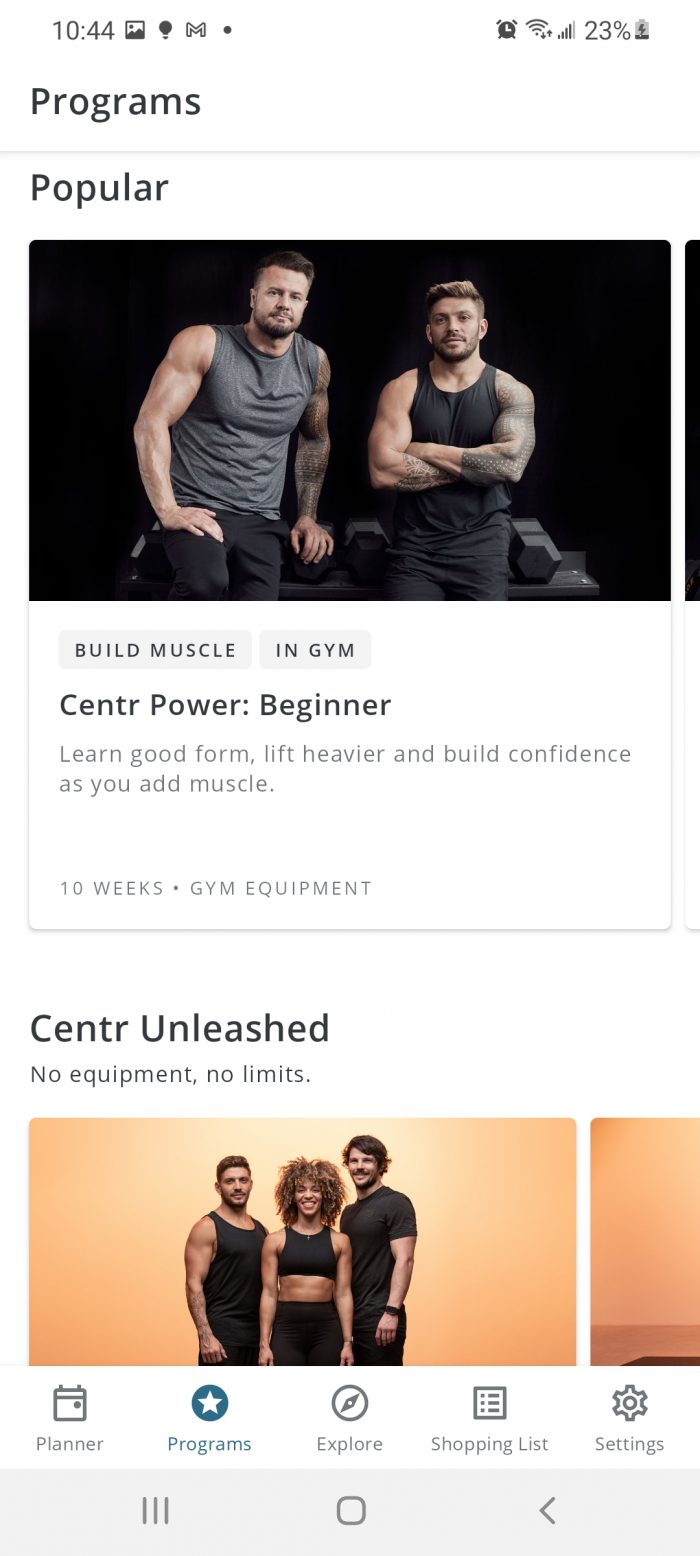 Next, you'll want to check out the "Explore" section which provides quick-access links to workouts, the meal-planning features, and select live content. Finding other workout content is self-explanatory here and throughout the app but it's here that you'll be able to find meals that compliment your health and fitness journey. By tapping on something tasty, you'll be taken to a page that details the ingredients and cooking instructions.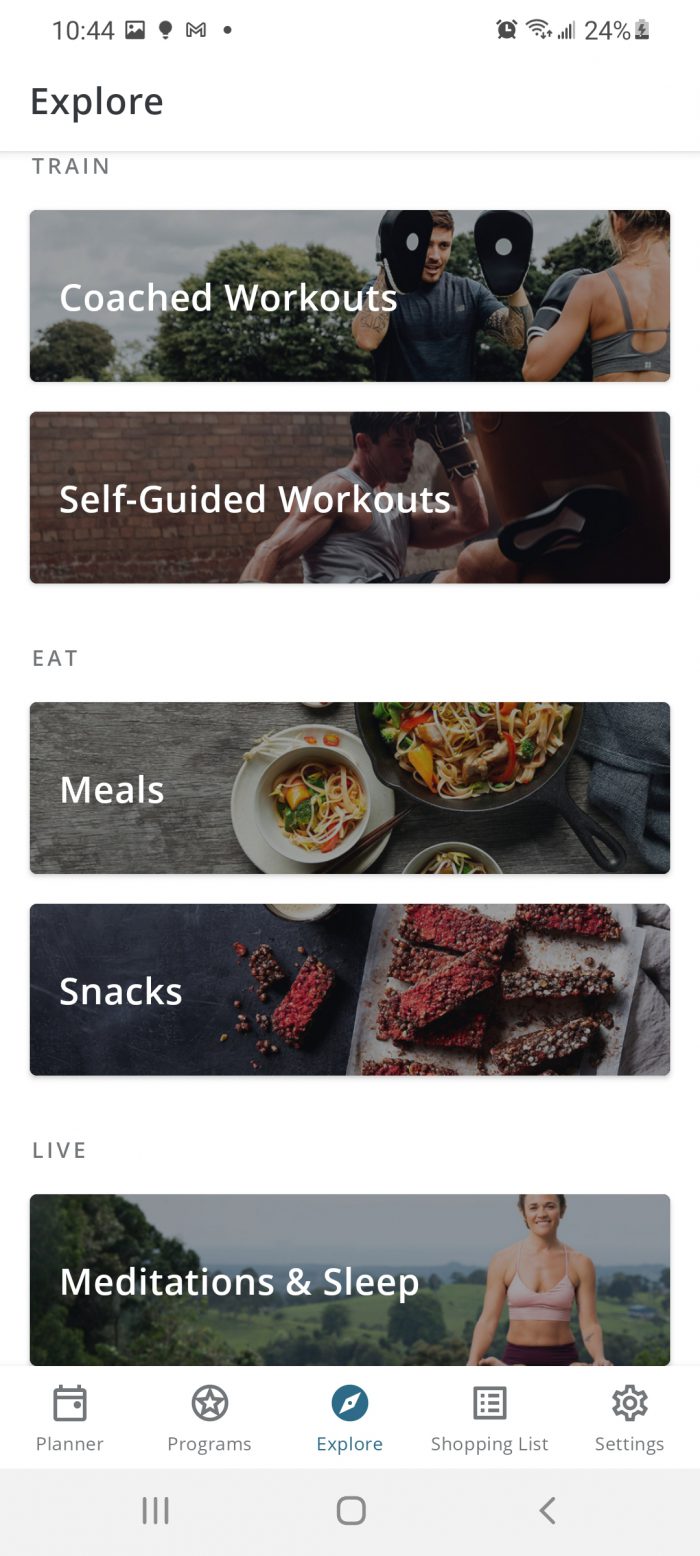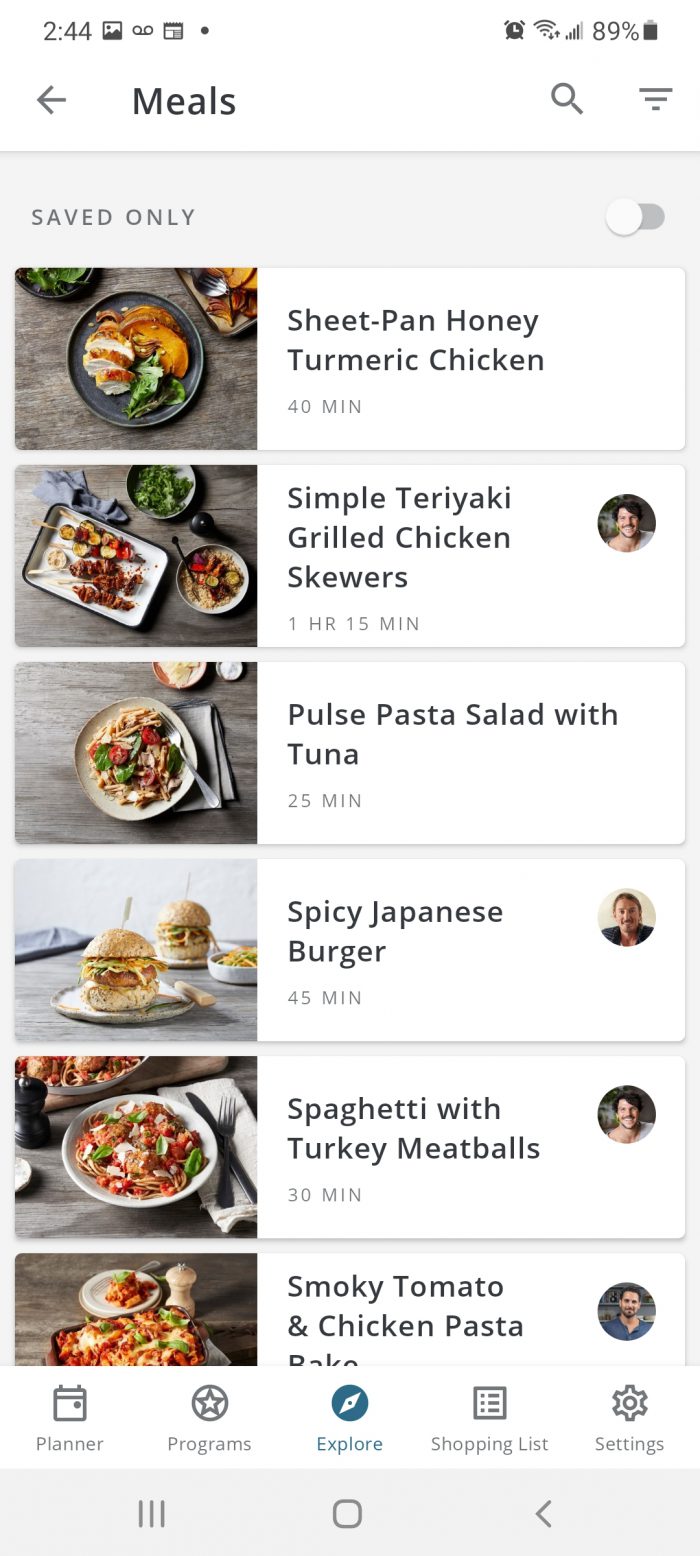 Items can be easily saved by tapping the flag icon in the top right corner which allows you to easily access them again from the "Meals" or "Snacks" area using the filter option to show saved items. You'll also be able to add ingredients to the "Shopping List" in the next section which creates an instance and list of all the ingredients for any given item which you can easily change according to the number of servings desired.
What we would consider doing differently:
After doing one of the workouts (at least in spirit, from my desk) and taking some time to digest all the content, I find very little to be critical about, which is a rarity. Everything from onboarding to the layout is smooth and even though I didn't go too deep into the content, I feel the variety and quality of the workouts and food options are more than sufficient to please a good chunk of users.
The one thing here that's a bit of a double-edged sword is that it very tactfully conveys the idea that being healthy is about lifestyle and dedication. If you're looking for routines with labels like "get ripped fast" you won't find them because, well, there isn't some trick or shortcut except enduring the pain of longer, more intense workouts at a greater frequency. 
It lacks any sort of well-developed gamification component or psychological hand-holding which would likely help with keeping users on board who are always just about to quit. Though it's refreshing that it doesn't beat you down with cheeky 'you got this' messaging dopey gym bro quotes, some individuals truly find comfort with motivators of this flavor.
The other thing that I can see some people having beef with is the lack of front-and-center allergen information. As someone with a nut allergy, I manage just fine by looking at ingredient lists or simply steering clear of items that start with "almond-crusted." However, we all know someone with an allergy that's also a centerpiece of their identity – it's probably only a matter of time before an individual who fits the bill makes a complaint as the app doesn't have a built-in feature to substitute features around allergens.
Finally, the one real complaint I have is that even though it seems to have the foundation for both workout reminder notifications and a logbook, neither of these features seem to be functional just yet. Even though you can connect to Google Fit, you can't add any hard data to Centr itself nor is there a 'logbook section' that you can easily access to review your past workouts.
What some other people are saying about the app:
"I signed up just for the workouts. What I got was so much more! First off, the workouts are amazing! There are world class trainers ready to help you reach your goals, no matter what your fitness level. You want strength training? How about yoga or Pilates? Do you just want an incredibly sweaty, fat burning workout? They've got it all here. The trainers are super helpful and even answer questions on social media and post frequent videos to help the members out…" – Mommato6
"This app is the best exercise app I've ever used! With price points at less than most gym memberships, you get guided workouts and a meal plan. The guided workouts also come with short video tutorials on how to do the workout and offers low impact alternatives. Furthermore, the app encourages you to go at your own pace and do what is comfortable. I've recommended this to friends who are turned off by gym membership and personal trainer prices who still desire a more structured workout regimen." – Haley R.
"As an exercise avoider even I enjoy these workouts. Ashley Joi is my favourite and I feel really good after her workouts, also felt great after the 6 week beginner program. Nothing will force you to exercise but if you want something to fit in a busy lifestyle, this is it." – Olivia M.
Thoughts on UI and overall design:
The UI is straightforward enough that just about anyone who regularly uses mobile apps (i.e., most of us) should be able to figure it out and find everything Centr has to offer with ease. The only thing that had me stumped was finding saved meals which isn't immediately obvious as it's in the filter menu.
How the app makes money:
Centr is offered as a subscription which we touched on above. Right now, the first week is free, then users have the option of either paying monthly at $29.99, in three-month segments at $59.99, or for a full year at $119.99. Considering the price points found throughout the market and the quality of this app, it's a steal if you pay for a year upfront.
What keeps us coming back:
After a "let's get healthy" phase at the end of last year that had me in the gym just about every morning until mid-spring when I had lost a little over 30 pounds of covid weight, I'm still burnt out. I was considering a Peloton to get back into a routine of working out on a more regular basis but, I'm now leaning toward Centr because it's more economical and has better variety than a $3000 bike.
Because of the high-quality content throughout, I feel this app has the potential to successfully transform the lives of committed users. It's brimming with variety for every level of fitness and each day is different – Centr objectively has everything you need to improve or maintain your body and eat better, both of which are instrumental to your physical and mental health. Though the logbook needs to be fleshed out and there's a need for an internal interface to set reminders for the notification portion to work appropriately, this app is off to a great start.
You might also like