A Deep-dive Review of the MasterClass App
MasterClass is a streaming app with an educational focus that provides lessons from world-class talent on a variety of topics. With instructors like Martin Scorsese, Natalie Portman, and Steve Martin it's an attractive package but, the question remains: does it live up to presence? 
In the following, we provide a comprehensive review of MasterClass 'sUX to highlight what the platform does well and areas we feel could use some improvement.
Platforms where the app is available:
iOS, Android, Web (we reviewed on an iPad)
Our user journey through the MasterClass app
Once you've installed the app on your preferred platform, you'll be asked to create an account or, you can explore the app (as seen below) to check out the content and instructors before you buy-in. 
On iOS, where they seem to release content before other platforms, you'll be introduced to a specific category of more interactive content called "Sessions" which we'll cover after the on-demand class portion.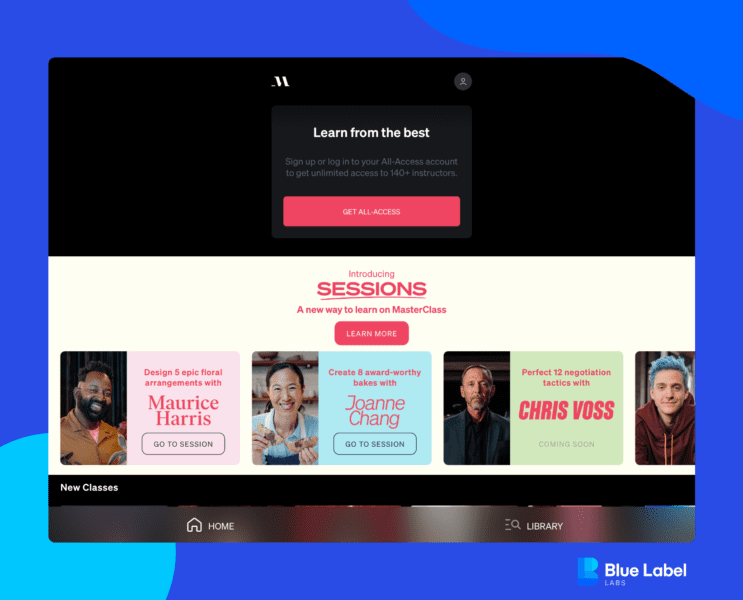 To get started, you'll need to create an account which can be easily done with a third-party login like Sign in with Apple which I used for this review. After you've selected the plan you'd like, you'll be ready to start watching content and participating in their more interactive Session content which is typically top center on the home screen.  
As seen below, past the Sessions section you'll see lessons that you're currently watching followed by content categories – past that, you'll see various on-demand lessons listed in a somewhat YouTube-style format where individual lessons can be found to the right of each series introductory page that's found on the left side of each series' row.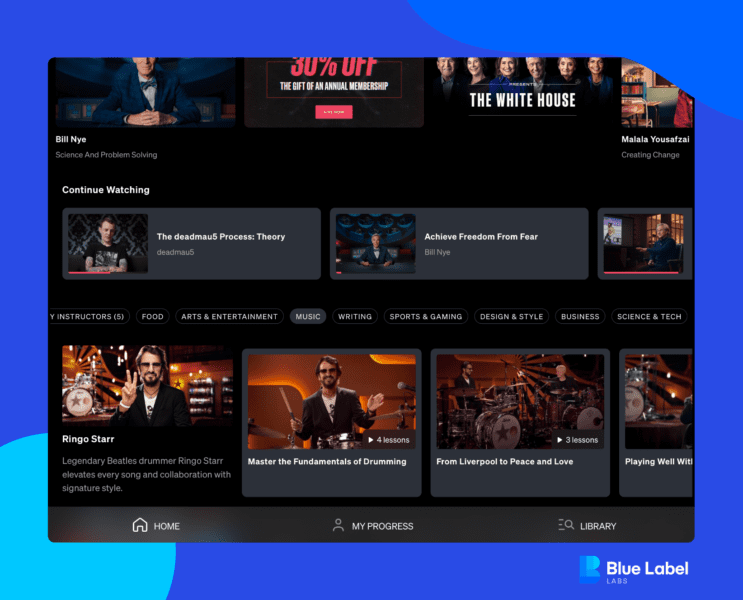 MasterClass On-Demand Classes
The first "class" I watched was from well-known graphic designer, David Carson – when you select from the "main" tile on the left of the lesson's row, you'll be taken to a splash page where you can either dive in, watch a trailer, add the lesson series to "My List" (i.e., a bookmarking feature) which will store them in the "My Progress" section that's accessible from the home screen, or go to the Overview where you can find a summary of what the class intends to teach.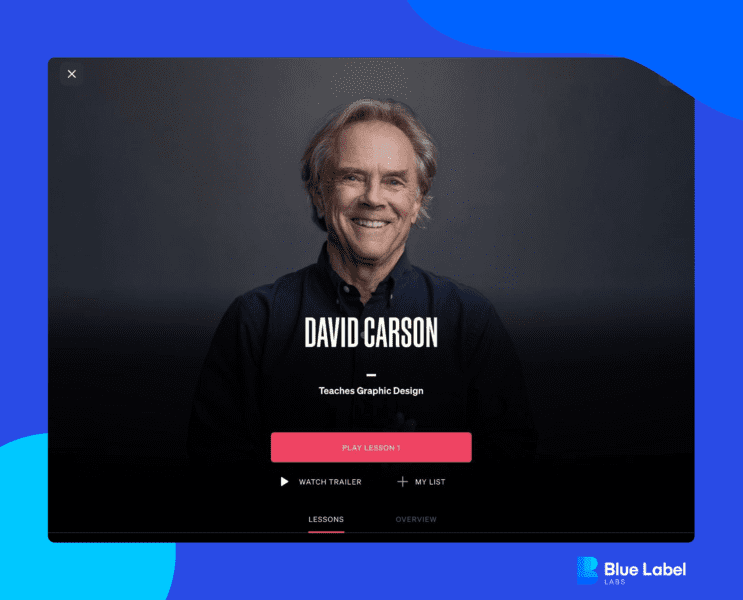 To get a bit more detail about what an individual lesson intends to teach, tapping on the Lessons will reveal each video along with a more detailed description. Once you've selected a video, you'll be taken to a page with a familiar layout. 
Here, you can bookmark individual lessons rather than an entire course.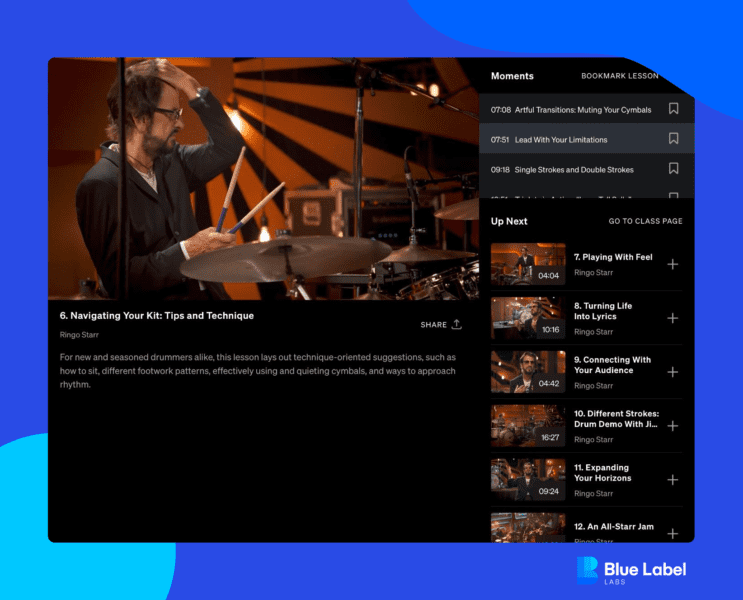 MasterClass Sessions
Unlike the regular on-demand videos, the Sessions classes often have around a month's worth of content that provides a more class-like experience, including activities that need to be (or are supposed to be) completed within certain time frames depending on the lesson) as well as additional content like high-quality written guides. Knowing very little about floral arrangements, I burned through some of the content featuring instructor Maurice Harris.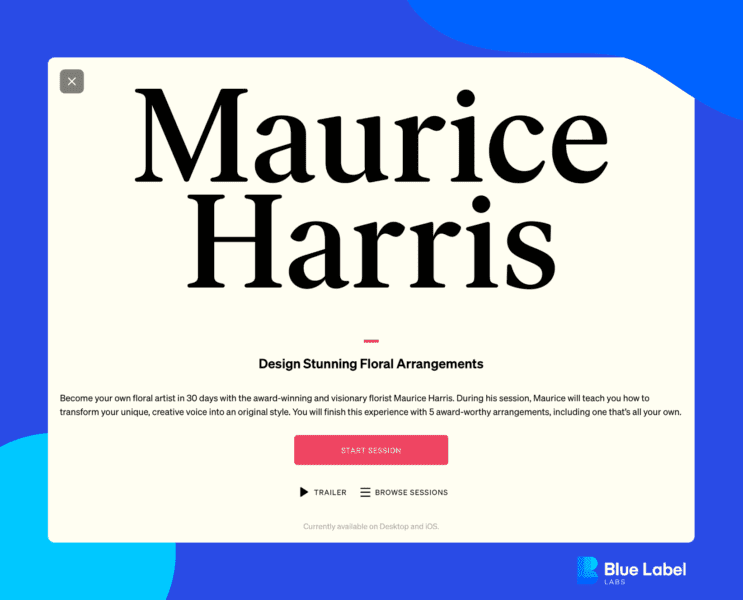 Here, completing lessons and the passage of time will unlock additional lessons as you progress. Though I wasn't able to complete a full session in the 5 days I've used the app, I interacted with a variety of different activities and supplementary content. 
As you can see below, as part of an activity to share and interact with the user community, I used a screenshot with a quasi-intelligent caption that represents what I'll be using for inspiration to build my floral arrangement.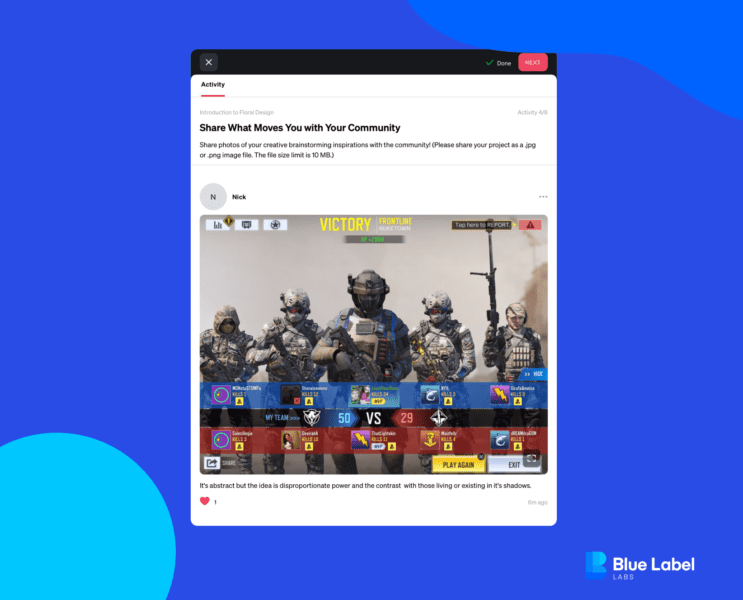 Other activities can include interacting with other users (think if you've ever taken a modern online class with one of the many schools that use Canvas) in a community setting, reviewing written material, completing checklists for assignments as seen below, and much more. 
When you've finished a lesson (or even if you haven't), you'll tap the "Mark Done" button to mark your progress. Note that you can always go back to a completed lesson so long as your subscription is still active.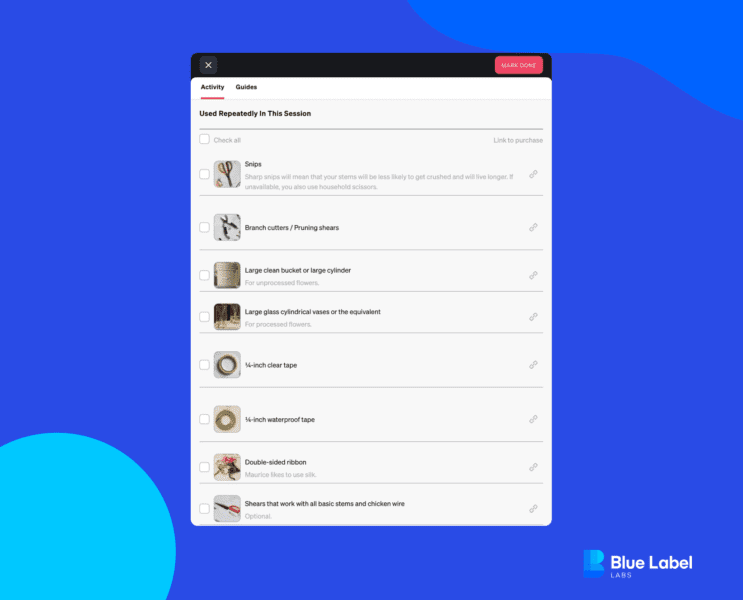 What we would consider doing differently
From a design standpoint, MasterClass clearly has had a white-glove treatment or two since its release in 2015. Everything about the app is Hollywood from the high-quality videos and recognizable talent to the layout and interface.
From a technical perspective, there's virtually nothing to complain about – everything from navigation to interacting with elements is smooth and responsive. They stuck with a familiar, refined layout that does everything you would expect it would do.
My one huge beef is mostly that most of the regular on-demand content is very surface level and every lecture is very anecdotal with very little practical instruction. Between the four series I watched (Bill Nye Teaches Science and Problem-Solving, David Carson Teaches Graphic Design, deadmau5 Teaches Electronic Music Production, and Ringo Starr Teaches Drumming & Creative Collaboration), everything felt more like being in a class a whimsical but seasoned professor who likes to go off on tangents and tell entertaining stories. 
Some of it feels disconnected – for example, David Carson covers the "glam rock" of graphic design as he reflects on these elaborate, eccentric projects from his past which makes it feel more like a hype video for a graphic design profession produced by some for-profit school. Then there's deadmau5 who explains in detail about how his creative process involves sleep deprivation and emotionally disconnecting from the music. Both are entertaining and motivating but not necessarily dense with practical information.
Because the lowest-priced plan you can buy is $179.99 for a year of MasterClass access (there are no month-to-month payment options) and the fact that everything is very high-level, there's a kind of malalignment with how they market and who would honestly benefit from all MasterClass has to offer.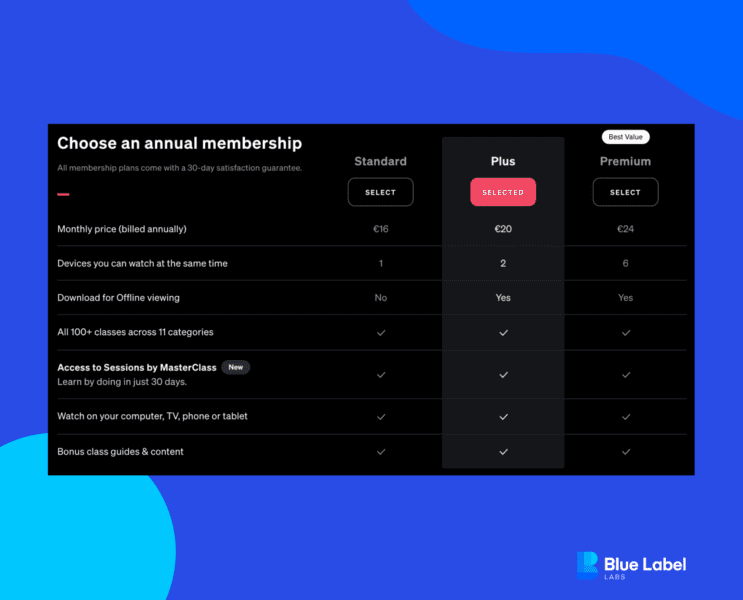 While the instructors do provide some knowledge on the subjects they discuss, there's a lot of fluff and you ultimately walk away with a handful of high-level tips from my experience.
MasterClass's pricing structure makes it a lot like the old analogy that jabs fun at object-oriented programming – you wanted the banana, but you also got the monkey holding the banana and the jungle where the monkey lives. 
As such, it feels that very few single individuals would really benefit from MasterClass beyond being entertained, and upon inspecting the comments on Google Play and the App Store, several other users seem to share this sentiment.
If we'd change anything, we'd likely explore a freemium model with month-to-month and a la carte pricing. That way users who want to learn a couple of things won't feel ripped off because they had to pay for content they don't care about. That way if you want Cheetohs and just Cheetohs, you won't need to buy the whole variety pack of chips, so to speak.
Finally, the Sessions are great, even though I chose a topic to review that doesn't interest me. In the future, we'll circle back to this for a bit deeper look into how this portion works once it's been more thoroughly researched.
What other people are saying about MasterClass
Even though MasterClass doesn't offer much in the way of real instruction outside of the Sessions content, it is entertaining and the production quality is second to none. It's no surprise that users love it as you can from its ratings on the App Store and Google Play as seen below.
App Store

Google Play

For more user perspective, be sure to check out MasterClass on either platform to learn more about what users are saying.
Thoughts on the UI and overall design
The MasterClass app is, well, masterful in design and execution. It delivers a familiar interface that works great and compliments the high-quality content offered on the platform. There are plenty of shortcuts that eliminate most tedious navigation – basically, nothing is ever far out of reach as it's a breeze to flip through content when you're looking for something else to jump into.
How the app makes money
This is the most problematic part of the app as it's a subscription that's billed annually, starting at $179.99 a year for streaming to one device. It's like any other on-demand streaming service where there's usually way more content than you can possibly consume so as long as you look at it through this lens, then you'll see it's priced competitively with just about every popular streaming service.
What keeps us coming back
Aside from the fact that I have a year subscription so "I might as well," I do see a lot of potential value in using MasterClass throughout my subscription term. 
First, I plan to use some of the content to supplement my daughter's education as I know that the right lesson should be very engaging for her. Beyond that, there is an upcoming class on building a streaming channel I'm interested in taking seriously and evaluating the outcomes.
Despite not loving the regular on-demand content, there is a ton of potential in the Sessions that would be great to see evolve in time. It will be neat to see this segment of the app fill out with more content since it's still quite new at the moment. In time, MasterClass could even implement interactive streaming solutions that could open doors for real-time instruction.
Just like Netflix, Hulu, and other streaming services, there's a lot of content and not everything will be for everyone. Because entertaining content is continually released on MasterClass, it should provide ongoing value to most users throughout their subscription.
Looking for more reviews like this? Subscribe to our monthly newsletter.
You might also like