Favorite Apps of the Blue Label Team
At Blue Label Labs, most of us use our phones constantly for pleasure and work – being a digital product agency, it shouldn't come as much of a surprise that we have strong opinions on the best apps for business. We use several core apps for business as a requirement but many choose to use our own apps for both for work and to kill time.
Without further adieu, let's jump in and explore our team members' favorite apps to use for business and fun.
About the Blue Label Labs "best apps for business" survey
We used the SurveyMonkey as a way to input and organize questions we collected about our team's app preferences. We asked for 5 primary apps that our team prefers but also included another 5 for honorable mentions. We even asked about some that are loathed, but we'll save that info for another day!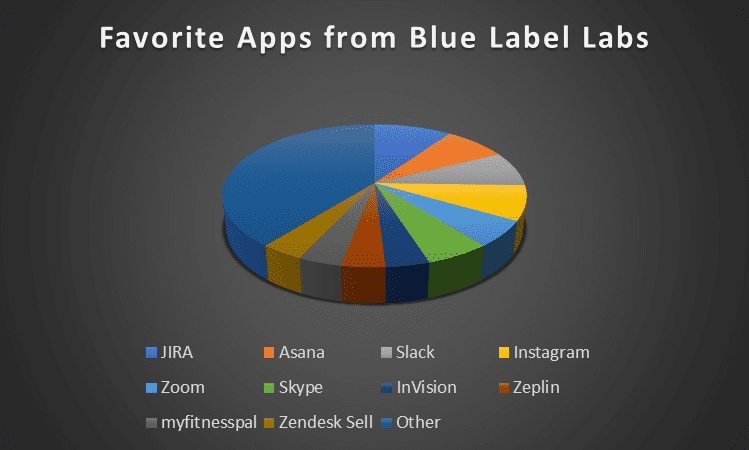 As you can see, there were a ton of responses with items ranging all over the place, including our core business apps and many that qualify as either entertainment or those used for convenience. Those that have been "pulled" from the chart we'll discuss below as well as a handful of the honorable mentions.
Blue Label Labs picks for best apps for business
Some apps are fun, some make our lives easy to use, and others are simply a necessity. Let's look at our core apps first.
Asana. Thankfully, our team doesn't hate Asana is this is one of the primary apps we use to keep track of our workflow. If you follow the link, you'll see this and a few others (i.e. Miro, InVision, Zeplin, and JIRA) covered in greater detail. To sum up Asana, this tool gives the power to create powerful roadmaps for the many projects we tackle – users can easily see where other collaborators are in this turbocharged to-do list. Users can open and closeout tasks as well as bring in others when additional expertise is needed for a project component.
InVision. This is another app we covered in the link just above. InVision is a wireframing solution that allows our UX designers to create a mockup similar to the final product. While we do use other mockup and prototyping tools as it depends on the designer, this is one of the most well-known and best-liked tools on the market because it's relatively simple for the task of everything from mocking up an app to building a prototype which is used during the test day of a Design Sprint.
JIRA. Yet another core tool we use – this platform is our preferred system for issue tracking and resolution. Essentially, JIRA is a ticketing service that prioritizes and categorizes bugs we inevitably encounter in the projects we develop. The one thing we'd like to mention is that there is a bit of contempt around this particular software as some users on our team, as well as outsiders, report some undesirable operation. The web-based app is intuitive but kind of clunky so most of us prefer to use the app which is well built.
Zeplin. Pun intentional, this app helps our designers rock a little harder. Graphics designed in Sketch, Illustrator, Inkscape or any other solution will lack the ability to tell our devs and UX designers what action elements are supposed to perform if any. Many graphics are used as links that help users navigate while others are simply there for aesthetic purposes. Zeplin provides clarity by removing the guesswork that often coincides with graphical elements
Slack and Zoom. We use both of these platforms to communicate with our team members, contractors, and clients. Slack is one of the de-facto messaging and collaboration platforms of the business world, competing with few other solutions except Microsoft Teams. Users can easily index information based on the channel using indexing controlled by hashtags. It's also possible to break communication into different segments such as various channels, private messages, or create threads on message instances within a channel.
Zoom has some of the same features but lacks the ability to really categorize information in a chat. We mostly use Zoom as a conference calling solution as it is economical and enables us to converse with people anywhere in the world there is a solid Internet connection. Too, their mobile app is solid and makes it easy for those who aren't in the ideal setting to use the web app from a computer.
Blue Label Labs honorable mentions
If you refer to the chart above, you'll see there are a lot more than described above. So let's do a quick rundown of some of the best.
MyFitnessPal. While there are a lot of fitness apps on the market, MyFitnessPal is a family of integrated apps that offer a comprehensive service for healthy lifestyles rather than focus on one component of health. Some of our team members use the activity trackers to calculate steps, jogging parameters and other information as part of their daily routine. 
Citizen. This interesting app is one of co-founder and CEO Bobby Gill's favorite apps to pass time. Using the Citizen app while in active areas of operation reveals crimes in real-time and also allows users with the app in the vicinity to live stream from their device. Living in New York, it provides voyeuristic consumption of emergent situations which can be very exciting to watch and sometimes, plain hysterical. When you see a link like "Police responding to man being slapped across the face" you know you're in for a treat.
Real Racing 3. As a driving enthusiast, co-founder and COO Jordan Gurrieri, enjoys apps that improve his favorite pass time of driving as well as games that kill time. Real Racing 3 is basically the mobile counterpart of great console games like Forza or Gran Turismo – it works with the accelerometer in your device to deliver a fun driving experience using real cars and physics.
Skype. In addition to Slack and Zoom, some of us like to use Skype. It's one of the most widely recognized platforms and usually "open" (i.e. not blocked by government-controlled ISPs) which makes it ideal for messaging and calling in certain scenarios.
Zendesk Sell. Working with the Zendesk CRM, Zendesk Sell provides a multitude of functions to interact with data retained by the system. Users can pull information from other integrations that help churn conversions from conversations with leads, prospects and existing clientele. Unlike a lot of software on the market, it's relatively easy to use compared to other complex CRM tools on the market.
Headspace and Calm. Mindfulness and mental health are highly topical in the business realm at the moment. It's important that we keep ourselves mentally and physically healthy – both Headspace and Calm are designed to help users "breathe," relax and sleep better. In either app, you can set up schedules for meditation or simply login and use one of the features to take it down a notch.
Blue Label Labs knows our apps
It's only natural that we've developed strong opinions on the apps we use and those we vehemently despise – or ignore! Feel free to reach out to learn more about our app development services.