Oladayo Olagunju, Questions For iOS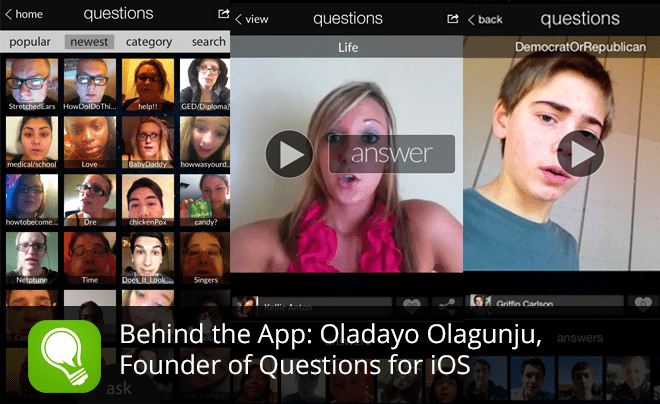 With all of the apps currently on the market, it might seem like anyone can make it. But, as Oladayo Olagunju, Founder of nyoombl, an up and coming start up that created video app, Questions, explains, it takes passion, dedication and a whole lots of smarts.
A graduate of the esteemed Stanford University's School of Business, Olagunju is a triple major, excelling in Computer Science, Electrical Engineering and Economics, so there's no more proof needed that this man is one smart cookie.
But for Olagunju, it's not even his proven educational background that gives him an insight into the app world, or even a career that's seen him complete a year long stint at one of the world's leading tech companies, Samsung, it's actually his own interest and dedication to the field which sets him, and his company, apart.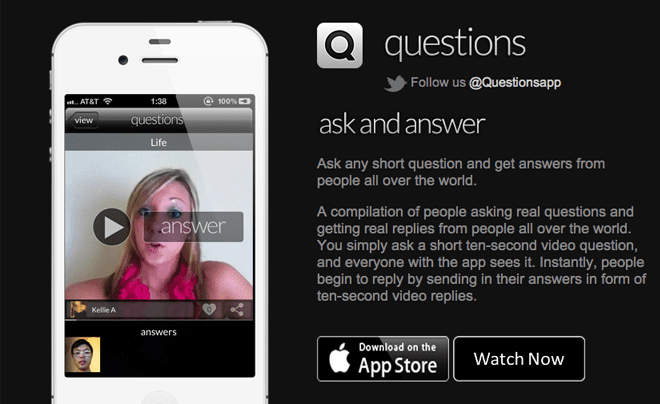 Nyoombl is the tech start up behind Questions, an iOS app that lets users upload 10 second video clips asking questions, to receive 10 second video clips back from users all across the world to get the answer. When asked for the inspiration behind Questions, Olagunju told me that "it is actually the result of an evolution of another product", explaining that "[the team] started out creating a website, nyoombl.com, that is a hybrid of Skype and Youtube" which "allows any two people to have a video chat regardless of their location, while also allowing them to broadcast themselves for others to watch live — or they may choose to record it for later." From then on, nyoombl challenged other start ups' strategies. Where others would push on, determined to make something work as originally designed, Olagunju and the team were determined to make something even better than what they started with, going off of the statistics that "became obvious [to nyoombl] that people were spending more aggregate time on the mobile devices than on their desktops or laptop computers."
But even then, Olagunju explains that the knowledge of your market is nothing without a passion for improving it, as he told me that "It is so hard, to change the world. So hard that if you do not LOVE it yourself, even you would quit. That is why one must do what one really really loves." Also saying that "The other way is to recognize that if you do not have an emotional connectedness to what you are doing, then you won't last at it. So, you need to be a victim of the problem you are trying to solve. And you need to do it not because the market is big. No. But because you really want that solution for yourself, first."
And this is something that Olagunju was keen to embed into the very fibre of Questions, stressing that "[the nyoombl team wants] to empower people — in a fun way not just some formal rubbish form or norm —  to have conversations beyond geographical boundaries and we want them to be able to do this anywhere they find themselves, be it in a cab, in a coffee shop, at lunch in the school cafeteria, or at home."
So, not only being ahead of the curb, with consumers' love of selfies being a market that Questions began to cater to in 2012, the start up behind it is even determined to make it a useful cornerstone of the video market.
With a dedicated team who love what they're doing, a highly intelligent CEO and Founder and with a business model that equates to forming "something equally beautiful and world changing", to "serve all [of their] user's needs", the biggest question I'd like answered is 'how soon will we Questions take over?' because it's certainly in a position to do just that.
Questions is available for free now on iOS, with the team planning on an Android release at some point in the future.
Get the latest from the Blue Label Labs' blog in your inbox