Behind The Apps: Bruce Morrison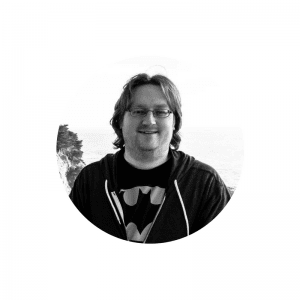 [Editor's Note: You may not know it, but there's an incredible team of really cool, very awesome, entrepreneurial-driven creators, technologists, developers and visionaries behind the apps that get created here at Blue Label Labs. As a part of an on-going installment, we will be periodically featuring some of the exceptional talent beyond the #Slack channels of Blue Label Labs team.]
When you come to Blue Label Labs with your app idea, whether you have a five-page document with organized thoughts or have your idea sketched out on a napkin, we help make that idea a reality. That's because we have Bruce Morrison on our team. Bruce is the guy who deciphers what you're looking to create and decides on how to make your app idea a reality.
Bruce is Blue Label Labs' Solutions Architect and he's the guy that thinks about how your app will work before he brings it to the developer's drawing board. He has a unique skill and brings a unique level of experience to the Blue Label Labs team and his skills were not something just learned overnight.
Here's a little known fact about Bruce: He was part of a team that was invited by Apple to it's iPhone beta program. Yup, Bruce started in mobile the day the first iPhone came out. His team had just finished an Xbox 360 game and everyone received an iPhone as a project completion bonus. That afternoon his entire team started brainstorming all the things they could build for the iPhone. We asked Bruce about that very day.
When and how did you get started in the mobile app development space or mobile industry?
In the beta program my team and I brainstormed what a game could look like, how you could control it, and what types of games would work. A few months later we started using the unofficial SDK. We had working prototype of games before everyone else. The day the app store launched I had 4 titles ready to go.
What brought you to Blue Label Labs?
The company I was working for was moving the team from San Francisco to Los Angeles. Not wanting to move to LA, I ended up consulting for a few different firms. A friend of a friend introduced me to Blue Label Labs to consult on design and project management on a complex teleprompter system. It was a perfect fit from the start. I appreciated Blue Label Labs' approach to design, and how they managed projects. There was a very personal feel to the work, a sense of pride for the work.
What tip would you give any startup or brand wanting to create an app from scratch?
Start simple and just get something out there. So many hours and dollars are wasted on perfecting an app only to find that users don't care. Get a bare-bones version in the store right away. Push out updates frequently in the beginning, worry about losing your ratings and reviews later. Don't panic about losing your first customers. Experiment on them and make radical changes based on their feedback. All to often, new startups look at successful apps and want to build the same type of app, forgetting how successful apps slowly evolved over time. It took Instagram forever to come to Android. You don't need to be on both platforms on day one. Build, tear down, review and start over as often as you can.
Who do you think is going to dominate the Virtual Reality/Augmented Reality landscape?
The real winners are going to be the companies that turn VR into just another display. Something you just plug in, like a TV. Right now it's way too fractured. Too many people want to own the ecosystem.
What do you think about Google's release of their Allo Messaging app?
Google's approach to messaging is scary. There's no concern for privacy. Allo is a good app, but it's just one of several messaging apps Google will release and abandon a year later. Apple has the advantage: one messaging app pre-built into every phone. The stand alone 3rd party apps will do just fine but Apple will eat away at them with better privacy and fun features like Stickers and predictive emoji.
What 3 apps on your phone do you use the most?
Tweetbot (for delivering hot takes to the world), iMessage (for keeping up with friends and Destiny players), BBTAN (I am so addicted to this game, it is brilliant in its simplicity)
Lastly, how many apps do you currently have downloaded on your phone in total?
125 Apps, 9 Messages Apps
Cover Photo by Mimi Thian on Unsplash
Get the latest from the Blue Label Labs' blog in your inbox