BLL Ranked A Top Mobile App Dev Of New York
Top Agency a B2B (business-to-business) research and review platform, recently published their list of leading mobile app development companies in New York featuring Blue Label Labs among the top ten.
Blue Label Labs has been working as a top mobile app development company in New York since 2011. In these six successful years, Blue Label Labs has established a wide client base and developed over 120 great mobile apps. Our ranking among the top ten mobile app development companies in New York is a testimony of our success and an acclamation of our valuable clientèle who have trusted us with their projects.
Our expertise is self-evident through the variety of utilitarian and user-friendly apps that we have developed. Our far-ranging portfolio includes apps for transportation, education, social interaction, media, financial services, gaming, retail and real estate. Apps developed by Blue Label Labs are known for their optimal user experience and seamless functionality.
It is our expertise and dedication to customer satisfaction that has earned us recognition through the years. We have received accolades from CNN Money, Fox Business, and Bloomberg. Having our name featured on the list of best developers of 2017 is a feather in our already glittering cap.
Why TopAgency's Analysis Ranked Us
TopAgency's main objective is to build a strong platform where service seekers can find ideal IT service providers for their needs. Their analysts began testing each company on basic criteria, including market presence, client base, customer satisfaction rate and ROI.
Selected companies were then further analyzed on basis of technical expertise, supported platforms, orientation towards innovation, sectors served, and then again on the prominence of developed apps as well as client and user reviews.
Through this stringent processing, Blue Label Labs was able to establish its excellence in mobile app development services.
Below is the blurb that TopAgency provided with our ranking.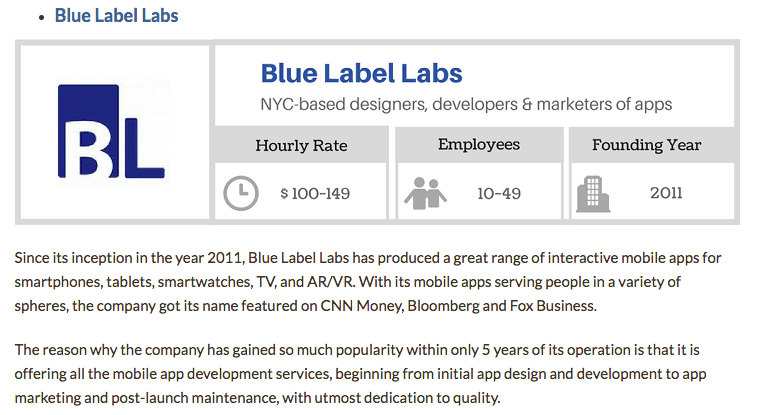 What's Next for Blue Label Labs
This is just the beginning. We are prepared to set new heights of achievement by keeping our customers and their users abreast with the latest technological updates. Our portfolio is in a progressive mode, and our new apps will raise the expectation of what mobile apps can achieve.
Get the latest from the Blue Label Labs' blog in your inbox