The State of Apps in Media & Entertainment [2022 Trends]
Over the past decade, consumers all over the world have "cut the cord" in favor of app-based entertainment – if you Google it, you'll see that cable still exists but the vast majority of us no longer rely on TV for network broadcasting for entertainment and information.
Current metrics of the industry show us what's working in the market and give us a foundation to plan for the future. 
Here, we're going to break down some of the key takeaways of current trends as identified by Amplitude which we'll be covering in greater depth in our upcoming webinar next fortnight on data-driven design. 
Click here to register for our free upcoming webinar "How to Design and Develop for Optimization in Media and Entertainment" with Amplitude on April 21st, 2022 at 11 AM PST.
Recap on digital trends in media & entertainment
Currently, the average household subscribes to four streaming services and spends a total of $47 a month.
To most people reading this, this number shouldn't come as much of a surprise. But let's unpack this and look a little further.
In the last decade, we've seen the "cut-the-cord" trend continue as we have with virtually everything else throughout – people will opt for more convenient, faster solutions, especially when they're the right price. 
With the rise of streaming services, less-capable cable network systems that were once found in 80% of homes by the end of the 1990s have declined significantly.
In 2020, cable subscribers shrank to a mere 76.1 million subscribers which include all major cable and satellite providers. Funny enough, it also includes 7.9 million subscribers who get cable service digitally through a service like Hulu + Live TV.
At this time, the global streaming market was also valued at $50.11 billion but cable, which was still hanging until 2015 with 76% percent of homes subscribing service, has shrunk even further: as of 2021, Pew Research reports that 56% of Americans now subscribe to cable.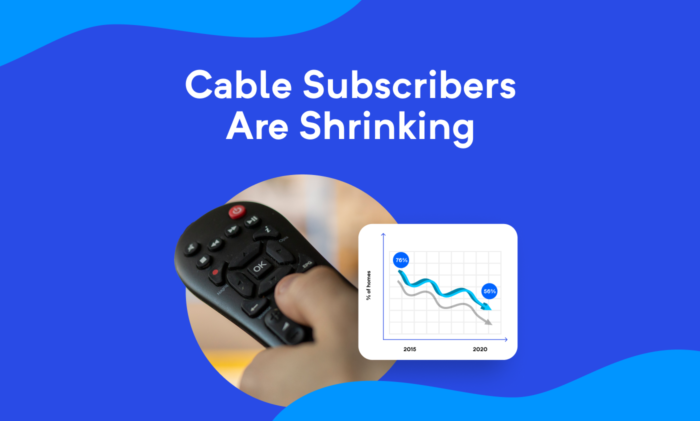 This aligns with growing trends to the overall growth in subscription pay models that have grown 437% over the last decade. Apps that offer microtransactions that allow customers to pay for what they need as in-app purchases (IAP) have become the preferred method for consumers to make purchases.
At least in most cases – note that there have been some select instances with companies experiencing some friction when switching to these models for long-standing franchises. 
Recently, we've seen drama surrounding this matter in mainstream game titles but we've also seen this happen with productivity software like Office which recently caused Microsoft to bring back one-time purchases for the Microsoft Office suite.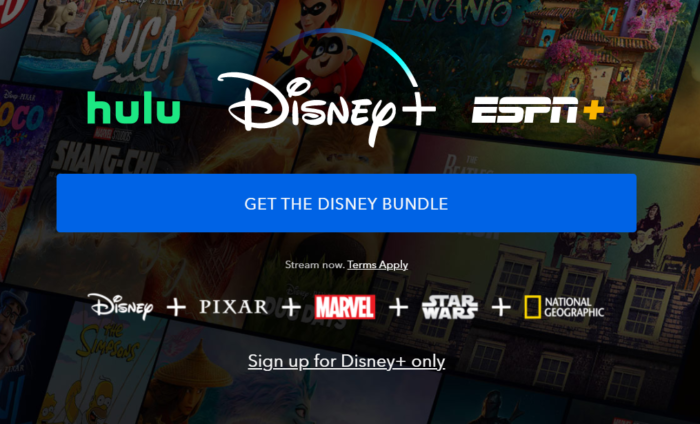 Source: Disney Plus
Finally, we have media giants like Disney that recently purchased several IPs, 21st Century Fox, and a majority of Hulu. 
AT&T also acquired Time Warner then there's Comcast which acquired Sky and launched Peacock.
Trends to watch in 2022
Aside from seeing whatever magic Jon Favreau has in store for the Star Wars universe, there will be some other trends to watch closely. 
We'll discuss some of them in our free upcoming webinar "How to Design and Develop for Optimization in Media and Entertainment" with Amplitude on April 21st, 2022 at 11 AM PST.
1. The number of "live" services and features will continue to grow
Even with a handful of streaming apps that, with their powers combined, offer ample entertainment and all at a price that's less than what most cable companies charge for their lowest tier of service, cable is nowhere dead just yet.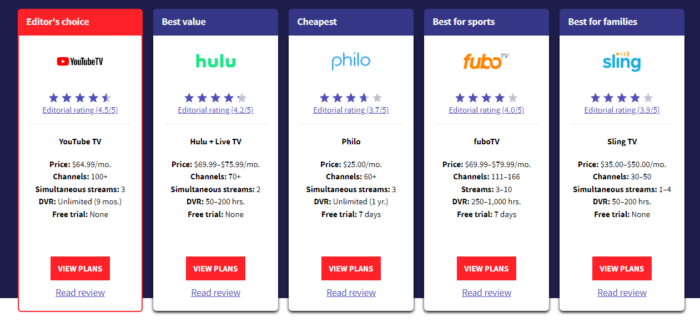 Source: CableTV.com
Consider that virtually every US household has a fixed broadband subscription (that's 120.53 million out of 128.45 million total US households) and mobile Internet robust enough to stream is essentially everywhere around you (except Southern Michigan.)
If you look at the numbers for dwindling cable numbers and wonder why the numbers aren't even lower, know there are multiple forces at work but it's largely because of the lack of "live" capabilities from most platforms, at least until recently.
These shrinking numbers in standard cable subscriptions are slowly starting to trickle into apps of their own digital formats as there are certain elements like the "ritual" and experience of watching regular TV. 
Of course, those of us that enjoy the "regular TV format" because it's a familiar, comfortable experience will eventually fade away, but the love for live broadcasts will remain.
It's one thing to catch something on YouTube after the fact but a whole other thing to watch what will become iconic events unfold on live TV whether it's a wardrobe malfunction or a show-stopping tantrum from a movie star.
2. Augmenting live performances with virtual performances
For some, there's nothing quite like going to a music festival and camping or all the shenanigans you can get into at shows in your local scene. 
But wild concerts, and even the tame ones, aren't for everyone. 
Virtual concerts have allowed musicians and other performers to still deliver live experiences using platforms like Twitch, YouTube, and custom solutions (among others) to connect with their audience and generate revenue.
You shouldn't always do something just because the Biebs does it but there are some exceptions.
Even when most of the world isn't sequestered in their homes due to a global pandemic, virtual concerts will continue to coexist alongside their life counterparts as they've proven useful at connecting fans with their favorite performers even when they're on the other side of the world.
Not to mention, there are plenty of people that really don't like public spaces. 
Comedian Tom Segura says he thinks, "The meaning of life is, '%#$& this place. Let's go home,'" which likely resonates with all the folks who love that working from home is now a thing everywhere because they rarely need to wear pants.
3. More sports streaming, especially with soccer
Watching soccer games played around the world while living in the US has historically been a challenge until the last couple of years. 
Around a decade ago, you could find streams on the web if you looked hard enough but outside of the World Cup, the "official" way to watch your favorite games was through an expensive cable package.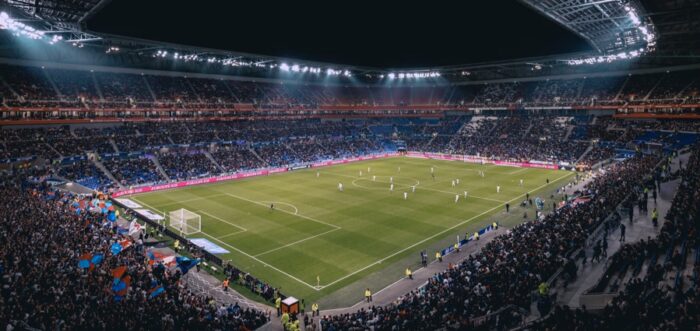 Source: Thomas Serer on Unsplash
In recent times, we've seen several streaming services like sports-centric platforms such as ESPN+ and FuboTV emerge but moreover, several platforms now offer add-ons for sports streaming that vastly expand the visibility of the sport. 
This makes it ideal for the average fan as there are now a ton of options available on the web and via apps that safely deliver a slew of non-mainstream sports to viewers around the US.
3. Consider these four elements to maximize the UX in media & entertainment apps
Now that we've had the chance to see several apps in action between those we've developed here and others on the market, we know which features tend to have the greatest (i.e., best) impact on the UX. 
Some of the best features and concepts right now are as follows.
Personalization and personalized recommendations
Across the board, personalization helps to better connect with customers.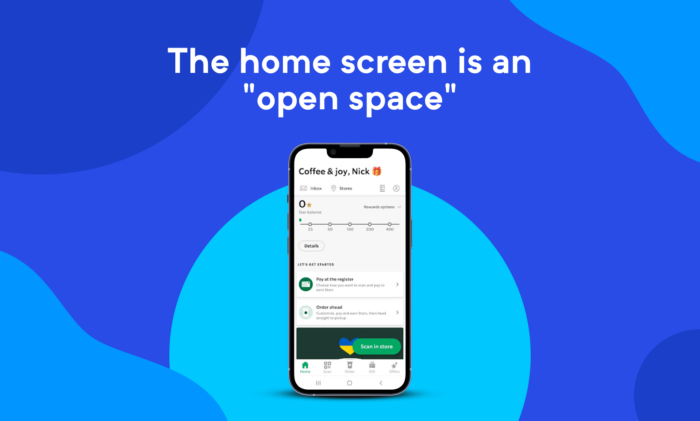 Starbucks nails the mobile experience – read more about it in our analysis of the Starbucks app here.
To truly tailor an experience for users in media, a smart recommendation system will help to increase screen time with your product.
We've seen how well this works with Amazon and with media, the same principle applies. 
This is why it's important to implement a solid behavioral analytics system that can help you identify both large trends for the overall audience as well as more acute trends, down to algorithms that can make unique recommendations based on an individual user's patterns.
You've likely experienced a situation where a personal recommendation from an app would "make sense" but misses the mark for you personally. 
As you can imagine, it's an ever-evolving challenge which is why data collection and analysis should be an instrumental part of your recommendation engine.
You need to rely on your own analytics
Watching the rest of the market and further analyzing data outside your own organization is helpful to gain broader insights but you still need an analytics stack to collect and analyze data on your specific product. 
Its importance extends beyond the role it plays for personalized recommendations as the platform(s) used in your analytics stack will essentially coalesce to serve as this all-knowing entity for your digital product.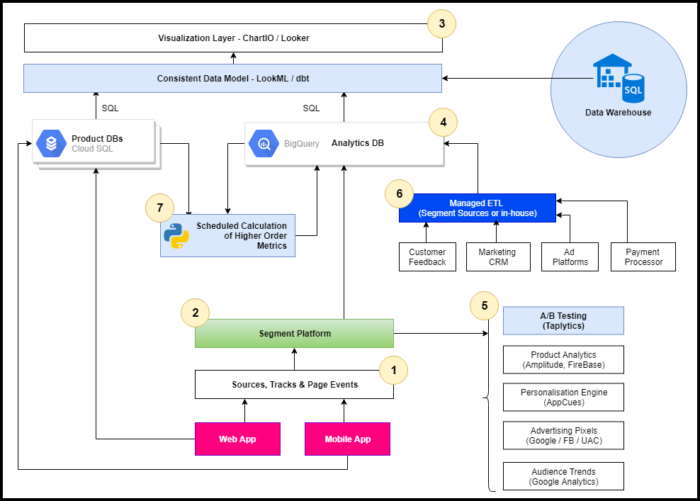 Source: Kaustav Mitra on Medium
Every product will have a different architecture so the above is more of a hypothetical from a Medium user's blog – the takeaway is that you'll have multiple pieces to analyze from your front-end app to back-end databases.
Unlike being a helicopter parent, you'll want your analytics services to watch like a hawk to help understand everything through the complexities inherent to a piece of software. 
Analytics help developers better understand issues, allowing them to resolve issues quicker plus, these services provide a ton of insight into the overall UX.
Unique content is good but you need to test early and often
The market appears to be mixed when it comes to consuming new entertainment content. 
Though you'll occasionally have some who are near impossible to sell on new content, almost everyone will consume new content if you dangle the carrot.
With that said, you need to test your content with your target audience. It should go without saying, if you're going for comedy, people should probably show some kind of physical display of delight.
Source: Cult of Mac
Just as important as testing your content is testing the structure and delivery. 
Not to beat a dead horse, but Quibi crashed and burned after over a billion USD in funding. On paper, the idea sounded great: deliver bite-sized micro episodes of original content with big talent.
Unfortunately, they didn't really test enough to see what kind of staying power they would have in real market conditions and way overspent on something they should do iteratively as they collected and analyzed feedback.
The thing is, it still could have failed but it wouldn't have been to the tune of $1.8 billion.
A/B test to efficiently learn how to optimize your designs
Another place you'll want to put your analytics to work is with A/B testing processes, when applicable.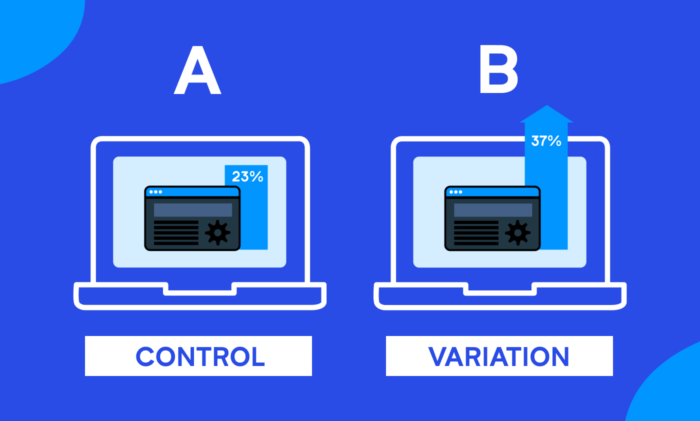 Sometimes, you'll see a common denominator among suggestions in user feedback. In other cases, one of your designers will have this "great idea" they want to test.
Trying out different variations and seeing what works against your control is one of the most efficient ways to figure out how to deliver a better experience through design. Too, it can also help businesses decide between different designs without bias. 
Blue Label Labs knows how to deliver an exceptional experience for media & entertainment
Our experiences have reinforced our beliefs in the value of data. With the current demand for highly-engaging experiences in media and entertainment, nailing the design, architecture, and doing your homework is more important than ever.
If you want to learn more on how to design and develop for the media and entertainment industry, you can click here to sign up for our free, upcoming webinar, done in partnership with Amplitude, on April 21st, 2022 at 11 AM PST.