Comparison of Top Mobile Ad Networks
By Johnson Lu on February 28, 2014 / 1 Comment
Looking to monetize or promote your app? With so many choices for mobile ad networks, it can be hard to pick one. Each app is different and you may prefer certain features over others. To help you decide, we've compiled a comparison of the top mobile ad networks to show their strengths, weaknesses and differences.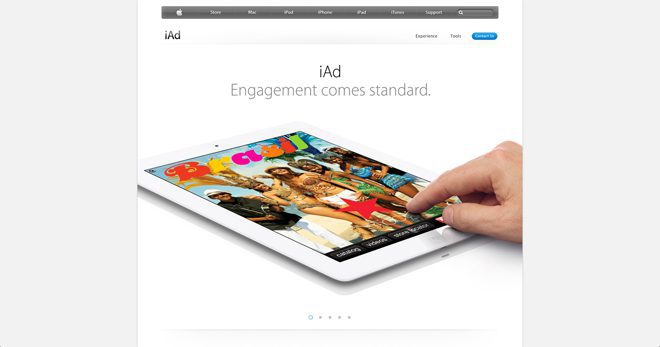 iAd is Apple's official mobile ad network. If you plan on exclusively marketing to the iOS audience, then iAd will be a good choice for you. iAd provides an inbuilt easy-to-use producer to help you create your very own ads. Using a simple drag-and-drop system you can produce an ad in a relatively short amount of time to help promote your app.
The iAd Workbench is another feature included within the software package that allows you to create campaigns to promote your own apps as an advertiser. The iTunes Store integration makes this ad network advantageous when using it for iOS apps. iAd Workbench comes complete with tracking and analytics tools.
Iad's mobile ad network is perfect for those who favor ease-of-use over advanced features.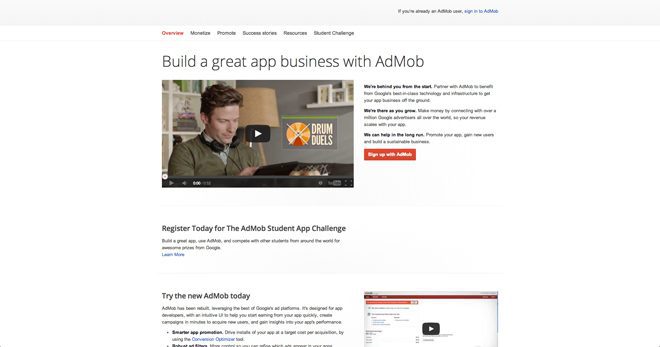 AdMob is Google's official mobile ad network. Grow your business with AdMob's ad network, connecting you with over a million Google Advertisers. Promote your app through the extensive Google ad network (over 300,000 apps), with the option of cross-promoting for free with AdMob house ads. Accurate analytics and tracking tools enables you to track your campaigns and gives you the information you need to make smarter decisions.
Maximize your earnings with AdMob Mediation by showing ads from multiple ad networks. AdMob also gives out payments in local currency so you don't have to run currency conversions. Refine your selection of ads and protect your brand with the AdMob ad filter.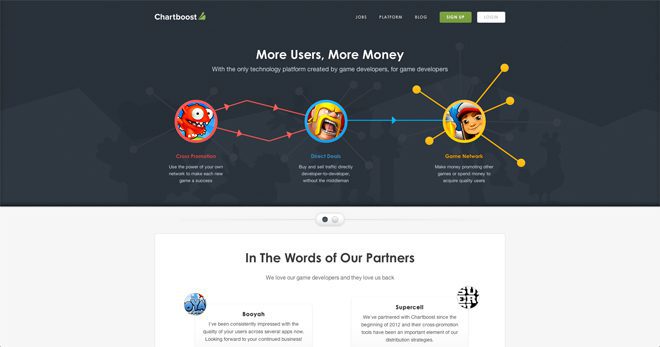 Chartboost is a mobile ad network run specifically for game developers. Their aim is to provide game developers with the technology and tools to make money and build a business. Chartboost prides themselves on providing a transparent and robust mobile ad network. They give extra care to ensuring that user experience is not interrupted for ads, allowing for seamless integration into your app. The Chartboost SDK is incredibly lightweight, coming in at 10 lines of code and only taking 1 hour to implement.
The Chartboost platform gives developers the option of cutting the middleman, or letting Chartboost process the payments for a 10% cut. Direct deals between developers also presents unique opportunities that may not exist on other mobile ad networks. Chartboost currently offers virtual store features in their beta program. Real-time updating, accurate store analytics and a customizable storefront means the Chartboost store platform opens a lot of business opportunities for game developers.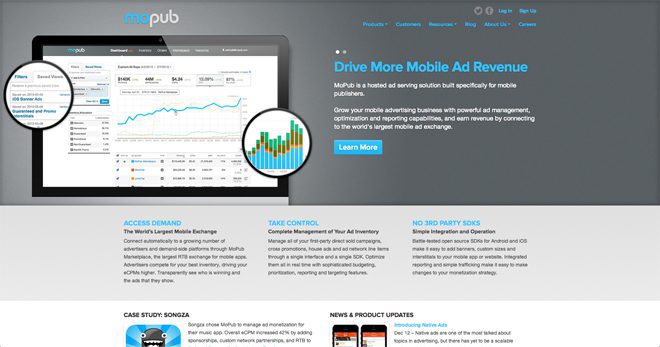 MoPub offers a more complex mobile ad network experience for those that like to micromanage their campaigns on a deeper level. MoPub gives you the tools to manage every detail about your app advertising. Developers can bid for ads on the MoPub marketplace and obtain exclusive deals from the private marketplace. MoPub's deep control features also allow for ad network mediation, giving you the infrastructure to display ads from multiple mobile ad networks.
Rich media and MoPub's native ad feature preserves the original feel and experience of your app while serving certified ads from major vendors. If you are a developer that would like the flexibility and depth of micromanaging every detail of your advertising campaigns, then you will enjoy using MoPub.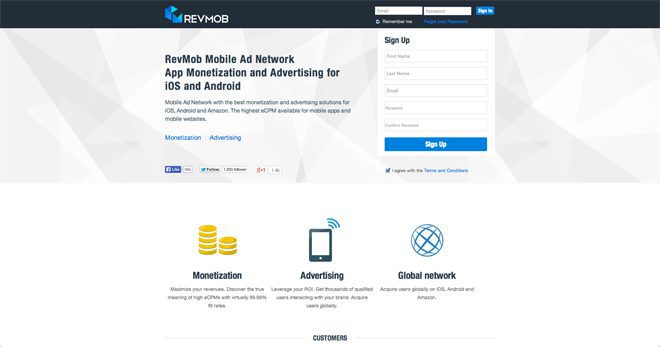 RevMob is a self-service mobile ad network that claims to serve the highest eCPM campaigns (99.9% fill-rates). Available for Android, iOS and Amazon, RevMob supports 16 known engines. Advanced targeting, simple setup and global reach makes RevMob a great choice for advertisers looking to promote their app.
Highly engaging ads in four different units: fullscreen, banner, popup and link introduces multiple strategies and placements for your ads. Setting up RevMob is extremely easy, all the hard work is done for you and all you need is two lines of code to start monetizing your app.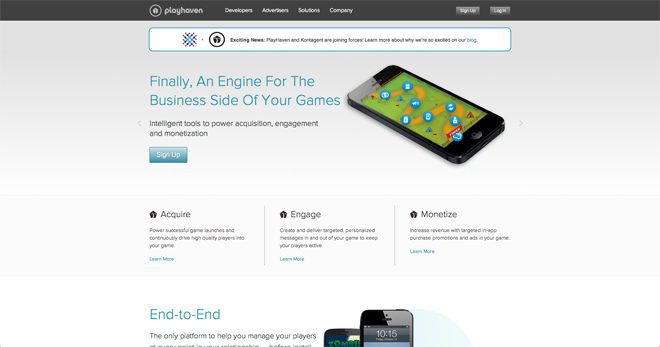 PlayHaven is another mobile ad network developed specifically for game apps. Offering end-to-end support, giving you control of all ad implementation from pre-installation, in-app to after users have left. PlayHaven provides SDK kits for iOS, Android, Unity, Adobe Air, Marmalade and Corona. Create and optimize ad campaigns in real-time with PlayHaven's flexible dashboard. Increase player engagement through power targeting, flexible placements of ads and virtual goods.
Which Mobile Ad Network Should I Use?
Just as different apps require different technologies, there are several different options for mobile ad networks. While the bottomline of these networks is to serve advertisements, they all differ from one another and offer different packages. Read through what each mobile ad network has to offer and then select the one that suits your needs the most.
Get the latest from the Blue Label Labs' blog in your inbox.
More in
Development