Waze: App That Combines Crowdsourcing With GPS Navigation
Israeli travel map app, Waze, was created in 2013. Initially exciting, it has been growing steadily and accrued 130 million users in 2019. In an era that sees increasing distrust around news and institutions, crowdsourcing apps that utilize information directly from users are growing in popularity. For instance, Citizen provides real-time crime updates and an up-to-date crime map of the city to its users. 
Waze is unique in that it combines real world trip data from all of its users to create highly efficient routing algorithms that are constantly updated and save you loads of time. With their service you're notified of police, accidents, road hazards, and traffic jams – all user-generated in real time. Waze rewards you with points, coupons, and exclusive features like "moods". This encourages you to become an active contributor to the community, which improves its GPS routing for everyone involved and making it one of the best map apps.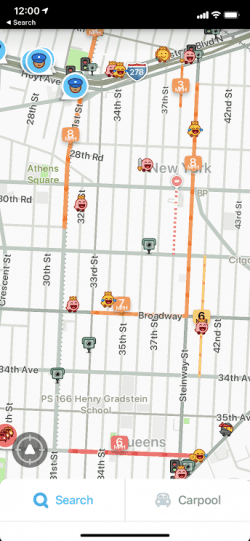 If you select the exclamation point on the bottom right of the Waze interface, you'll see nine icons with which you can report the various road hazards like accidents and heavy traffic. Throughout your navigation you'll also see a number of alerts in your surrounding area, in addition to incoming voice-enabled notifications.  As you approach the area yourself, you can confirm or deny the claim, indicating when an area "clears up" so to speak.
There were a few things we'd preferred to have seen included however.  For example, Waze doesn't display the current speed limit for the road you're on, and it won't provide any lane assistance either. We did run into a couple of ETA gaffes as well, sometimes arriving at our destination way before schedule or 20 minutes after. But these errors were few and far in between, so it could have easily been attributed to a simple software glitch of some kind. iPhone app developers find these to be an easy fix.
Waze also includes a text to speech support system that prompts you where to go when on route. It's not the best out there but it gets the job done. Although the app voices the names of major streets and highways, it generally left out most street names, preferring to mention the distance to the turn or which direction to go instead. This can be a little inconvenient when one highway exit splits into two, or when you're approaching a crowded intersection and have little time to maneuver.
Overall, this GPS app delivers one of the best navigation tools that also involves you with your community. Introducing a crowdsourcing engine to the app was a golden idea that we see filling the gaps that most GPS systems today now lack. There is still quite a bit of improvement to be made, but one can't help but remember that at the end of the day, it's all free!
Vincent Clarke is a blogger for USB Memory Direct, a leader in the promotional usb drives industry. As someone who works in marketing, he enjoys learning and blogging about new, creative, and effective internet marketing techniques.
Get the latest from the Blue Label Labs' blog in your inbox
You might also like