Why We're Turning Our App Launch Into A World Tour
Three weeks ago I announced that we were launching our latest app, Word Hack, in Canada. Since then, we've slowly expanded the release of Word Hack from Canada to New Zealand last week and to Australia this week.
This might sound like an odd way to bring an app to market, but our progressive release of Word Hack across the English speaking world is part of our strategy to not only gain momentum, but to also test our marketing and get feedback from users in these countries before we bring Word Hack back home to the USA for a big American release.
Here are a couple things we've learned from our world tour launch.
Lesson 1: The game is too hard!
In the three weeks of the Word Hack World Tour, we've learned a lot from the people who have downloaded it.   By far the biggest piece of feedback we've heard from our early adopters (mainly through the Helpshift feedback plugin)  is that the game is just too hard.
The goal of each puzzle in Word Hack to guess the word within the time limit and using a limited number of incorrect guesses. The Flurry instrumentation in our app tells us that so far only 26% of all puzzles started have been solved correctly which is far below our design goal of ~50%.
If the brainiacs of Canada are having trouble with Word Hack then that certainly doesn't bode well for the game in the USA. So in hopes of lowering the frustration level of Word Hack, we've made some tweaks to the game ahead of the United Kingdom release of Word Hack,  which includes easier puzzles and more forgiving rules for incorrect guesses.
Lesson 2: Sex sells apps.
Aside from the gameplay, the staged release of Word Hack has given us the chance to run a few different Facebook mobile advertising campaigns.
Overall, we've been impressed with the reach and effectiveness of the Facebook mobile app installs ads (especially in Canada) which has had an average Cost-Per-Install (CPI) of $0.85.
In the first week after the Word Hack Canadian launch we ran a campaign with ads that looked like this: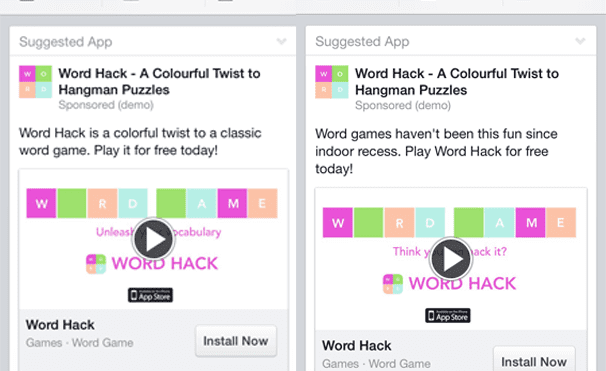 These ads yielded a respectable 1.027% Click-Through Rate. Last week we decided to spice things up and replace our visuals with stock photos of attractive women smiling at their smartphones: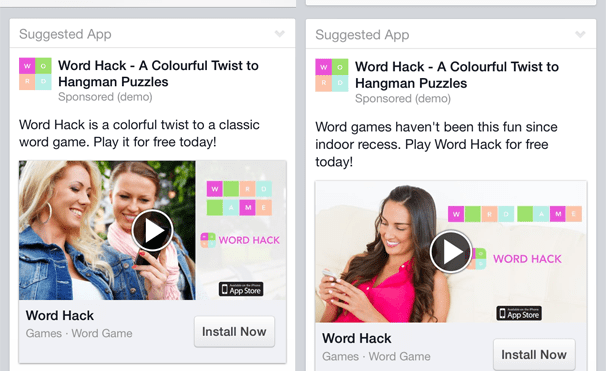 The result? 3.0% CTR and 50% more installs!
At the risk of pointing to the obvious: sex sells…even when it comes to apps!
Looking back, our decision to slowly launch Word Hack across various English markets appears to be paying off. We've gotten excellent feedback that's allowed us to iterate our app based on what we heard which will (hopefully) better position the app for success when we do a big US launch.
Further, the global tour of Word Hack is giving us the chance to test a few different marketing strategies with real audiences and gauge there effectiveness.
The US launch of Word Hack is scheduled for June 4, stay tuned over the next couple of weeks as we share the results of the Word Hack World Tour.  For those of you in the UK, you're up next!
Word Hack releases in the UK app store next week on May 7!
For those of you in Canada, Australia and New Zealand, you can download Word Hack here. Everyone else can sign up here to be kept abreast of when Word Hack finds its way to your country.
Get the latest from the Blue Label Labs' blog in your inbox