A Look at the Bloomberg News App for Mobile
As one of the most recognizable names in media, Bloomberg delivers an array of global news for businesses spanning multiple industries with a heavy focus on finance through the Bloomberg news app. Their mobile apps for iOS and Google Play that Blue Label Labs helped design and develop provide access to news articles and real-time stock information as well as connects users to other services like Bloomberg TV and Bloomberg Radio. Here, we're going to explore some of the key features of the app and discuss the UX along the way.
Why use the Bloomberg news app?
While there are a lot of reputable news outlets on the market, Bloomberg does a great job at upholding journalistic integrity and avoids a lot of fluff media coverage. Politically, they're mostly in the center, leaning just to the left along with others like the AP, The Atlantic, TIME, and others. Their staff coverage (opinion pieces excluded) is accessible to just about everyone, except maybe the radicals on either side of the spectrum.
From a finance perspective, their comprehensive coverage of all markets provides substantial insights into a breadth of relevant matters. As far as the app is concerned, it's easy to navigate so users can breeze between sections on written content, financial data (i.e stocks prices, currency exchange rates, lending rates, etc.), and live or pre-recorded media.
For a media outlet, they're a little on the pricey side when stacked against their competitors. Currently, you'll pay around $300 for a full-year subscription when paid upfront or $34.99 monthly. New users often get a deal on the price so if you're on the fence about buying a subscription, a discount will let you get your feet wet before committing. As a subscriber, you'll see minimal ads and zero sponsored click-bait garbage. The biggest distractions you'll encounter when reading an article are occasional, high-quality links peppered throughout some pieces of content.
Navigating the app
After installing the app, you'll be prompted to sign in with your credentials or set up a new account. Bloomberg Anywhere users who have access to Bloomberg Terminal can access the app using their account using a supported device's biometric fingerprint scanner or with the help of B-Unit, where required. Those who choose not to subscribe will still be able to explore the app but will only be able to access a limited amount of content before being prompted to sign up with their email or supported third-party logins like Sign in with Apple.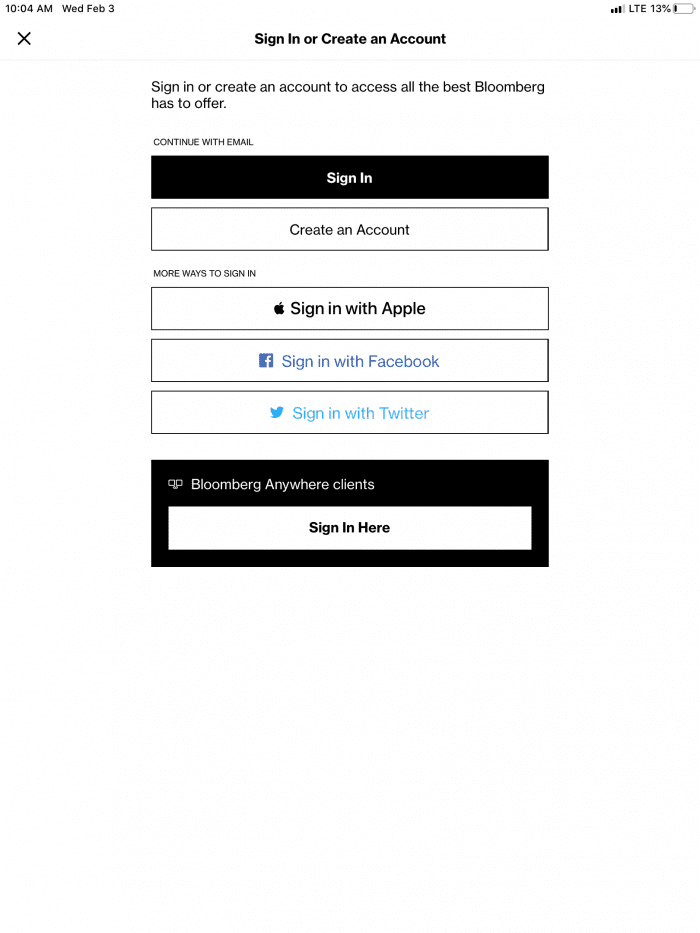 Home screen
Opening the app brings you to the home screen which immediately populates top business stories as well as leading stock indexes like Dow Jones, S&P 500, and NASDAQ. As you scroll down, you'll encounter a range of articles on trending stories from a variety of industries as well as links to topic categories. At the top of the screen, you'll find a link to the search feature which will bring up matching content as you type. Just above the tab bar at the very bottom, you'll find shortcuts to featured live video and audio broadcasts from Bloomberg TV (BTV) and Bloomberg Radio.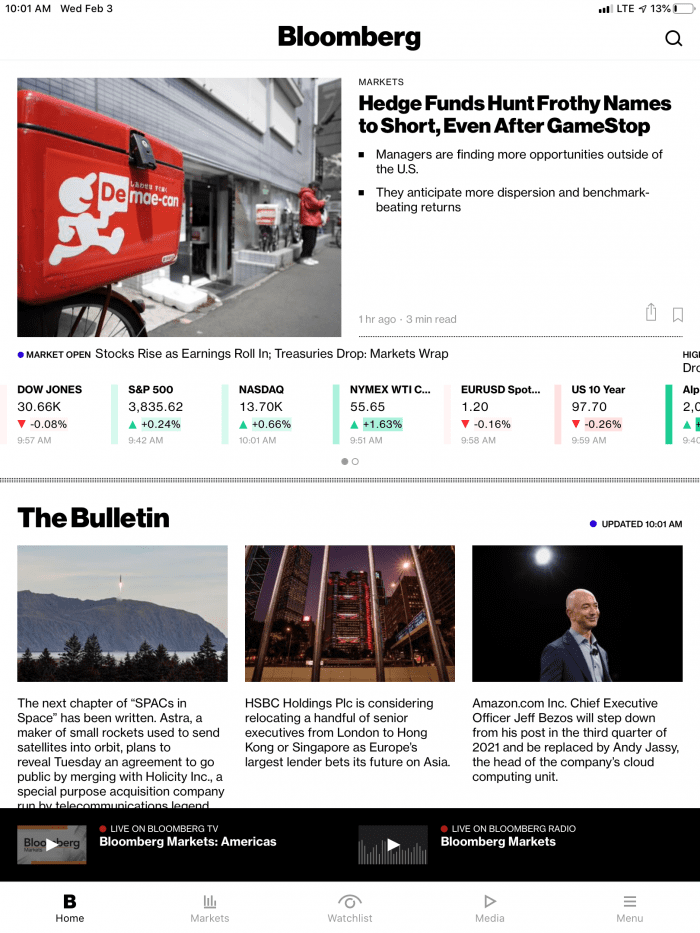 A couple of neat features that you'll notice on some of the news article cards are stock prices and a button to listen to articles aloud. By tapping on the "Listen" icon that sometimes appears for select articles, a text-to-speech (TTS) service will read the content to you.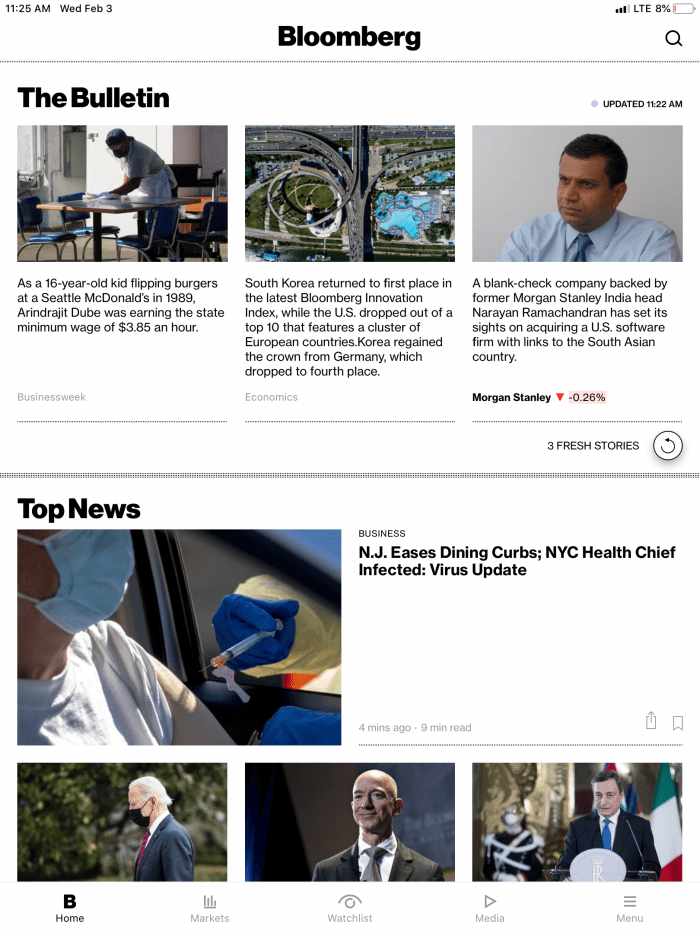 Markets
The Markets area does exactly what you expect it should – by navigating to this portion of the Bloomberg news app, you'll be exposed to a short section of market news followed by summaries of "favorites" for the financial categories seen at the top of the page. Entering any of the categories at the top allows you to browse select companies as well as change your favorites that appear in the overview section.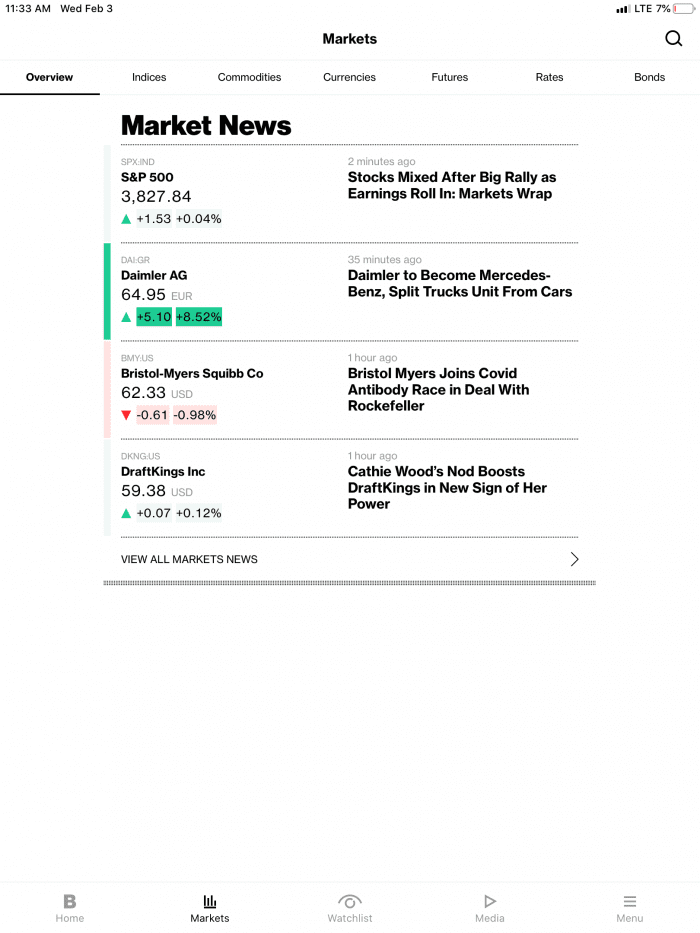 One thing to note is that this area is somewhat limited with regards to the information you can find and how much you can customize each view, unlike the Watchlist. To find information on a specific index, you can enter the index symbol in the search feature that's found at the top of most areas in the app. 
Watchlist
Tying in with the Market section, you can use the Watchlist area to create custom arrangements of stocks and indexes. By default, you're given a pre-built list that you can modify with stocks you prefer to track. You can also create a new list by tapping the button at the top for a max of two watchlists. Also, you can add items to any of your Watchlists by entering a symbol in the search bar and tapping the icon appearing to the right of the dropdown item that reads "Watch."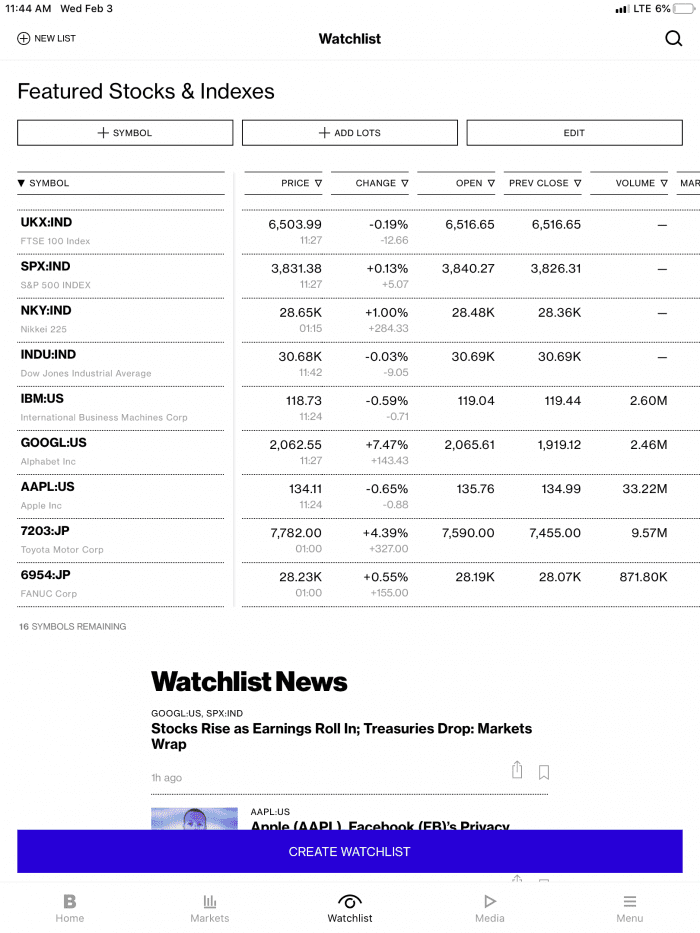 As you can see, the real-time information for each entry is displayed in a row to the right of the column that lists each symbol and business name. You can also scroll to see more data for each entry. Beneath the list, you'll see a list of news stories that align with the businesses you follow.
Media
When you enter this section of the Bloomberg news app, you'll notice that it's broken into two primary categories for Video and Audio. The top of the page will present the featured broadcast of the moment from BTV which is typically a live program. By switching to audio, you'll find unique content along with some overlap of video content as some programs are transposed to audio format.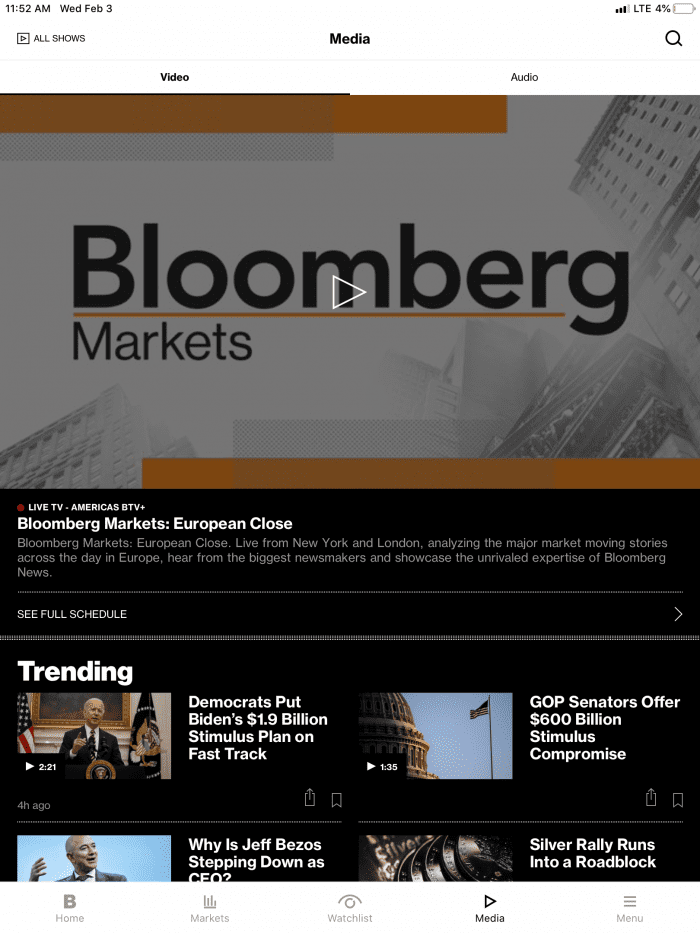 Tapping on the "All Shows" link in the upper lefthand corner provides access to lists of additional content arranged by program type. There are sections for TV, Series, Podcasts, and Radio, all of which are listed in alphabetical order. Selecting any of the entries will take you to a new screen where you can browse programs by date.
Menu
This section functions by arranging all subcategories from other areas of the app in a simple list format. For example, you'll notice the News section links to news topic categories you would find in that area of the app while Markets provides links to Indices, Commodities, Currencies, and so on.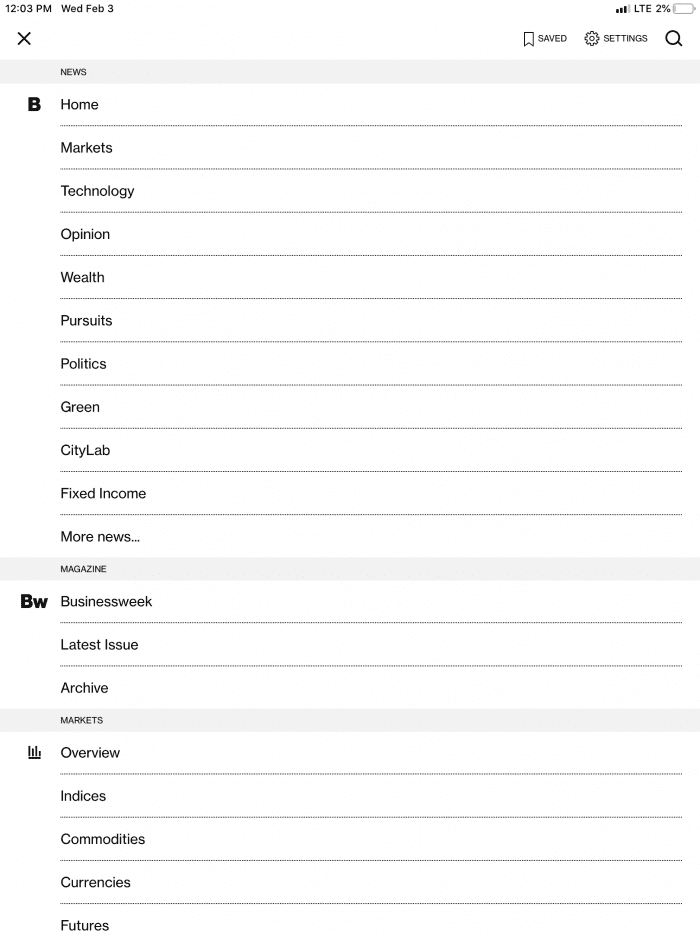 This is also where you can access your settings by tapping the corresponding link in the upper right-hand corner. This area lets you manage your subscription and tweak settings related to your region and set default station preferences for TV and Radio.
Our team drives business success by building sophisticated apps
We capture the essence of your business in the platforms we build – our designs intend to captivate audiences and drive your business toward its goals. While we shine our brightest when taking an idea from start to finish and beyond, we're also more than willing to augment existing teams with our talent by connecting business with our designers, developers, managers, and more, just as we did with the Bloomberg News app. Feel free to reach out to us to learn more about how we can help your business achieve its goals.
You might also like