Qualtrics Tickets: Improving CX For Mobile
Blue Label Labs is thrilled to announce their latest app launch  Qualtrics Tickets (Beta), which empowers businesses to track, manage, and act on every customer issue to resolution.
Qualtrics, based in Salt Lake City, is one of the preeminent Customer Success companies, powering over 8,000 of the word's leading brands and 99 of the top 100 business schools.
Blue Label Labs developed and designed the Qualtrics app in under 10 weeks, which is no small feat for an app that supports 13 different languages and is the backbone of the most admired Customer Experience programs across the globe.
Customer Experience (Cx) has become a critical pillar in nearly every corporation's strategy, and here's why: Companies lose more than $83 billion annually due to attrition caused by poor customer interactions. Managing the Customer Experience and improving the customer journey are critical components to realizing more revenue and keeping your existing customers happy.
With the Ticket's app, Qualtrics customers will be able to manage their Cx programs on the go, and in real-time.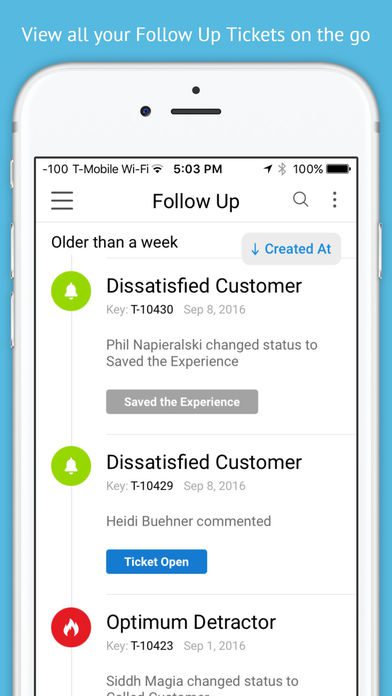 Cx? Meet Ux
In developing the app, Blue Label Labs incorporated their renowned User Experience design to make managing Customer Experience a breeze. With a simple tap, the app allows users to:
–  Close the loop and ensure that customer issues get resolved quickly
–  Automate follow-up actions with customers and triage incidents effectively
–  Ensure that the most important customers get to the top of the list
–  Make changes and adjustments to your Cx monitoring program on the fly
Mobility Takes Customer Experience to the Next Level
With the new Tickets App, Qualtrics is staying one step ahead of the competition and adding value to the companies they serve by allowing employees to engage with customers as easily as possible, wherever they may be.
With far and away the widest selection of feedback channels and integrations, Tickets gives you the ability to converse with clients or prospects anywhere.
*App is only available for  Qualtrics Customers*
[/vc_column_text][/vc_column][/vc_row][vc_row][vc_column][vc_btn title="Stay in the Loop- Receive our monthly Updates!" color="warning" size="lg" align="center" css=".vc_custom_1495039679096{background-color: #ffffff !important;}" link="url:https%3A%2F%2Fwww.bluelabellabs.com%2Fideatoappster%2Fsubscribe%2F|title:Subscribe|"][/vc_column][/vc_row]
Get the latest from the Blue Label Labs' blog in your inbox