App Rundown: Matt Rudkin Weather App On Android & iOS
A reliable weather app is nice to have as it's something that invariably affects every one of us, especially those of us who are on the move or who have a role in life that requires being outdoors. 
Here, we're going to pick apart the new Matt Rudkin Weather app and talk about some of the features we see in this digital product's MVP that can be useful in other enterprises.
Introducing Matt Rudkin Weather
The weather can make or break certain occasions by complimenting the "perfect" day or deep freezing your vehicle overnight so knowing what's around the corner is essential.
This weather app is unique in the sense that it comes from Matt Rudkin, a former Chief Meteorologist for the WSBT news station in Northern Indiana turned digital entrepreneur, rather than a large organization which is the norm for most products. 
His app recently hit the market and contains some examples that other hopeful entrepreneurs could potentially adapt (or at least learn from) for their own, upcoming products.
Platforms the app is available on:
iOS & Android (we reviewed on an Android phone and iPad)
Our User Journey
Before we begin, we want to drive home the fact that the Matt Rudkin Weather app is a great example of a true MVP: he left his position to be a kind of "freelance weatherman" where this data-driven app plays a central role.
It's not as glamorous as something you would see from a major brand but it's a good first release from a sole entrepreneur who had to connect several dots to make this happen.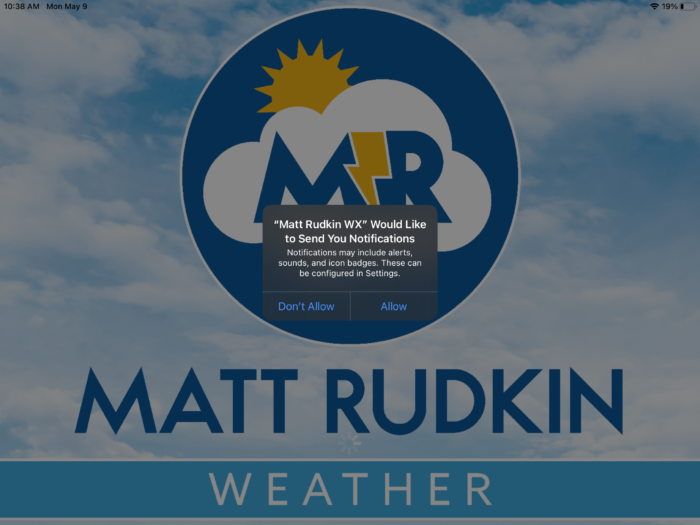 Once the app is downloaded from your device's store, it's only a few taps from being ready to go. After opening the app, you'll need to configure a few permissions like location and notification preferences which will store locally with the app – at this time, the app doesn't make use of user accounts.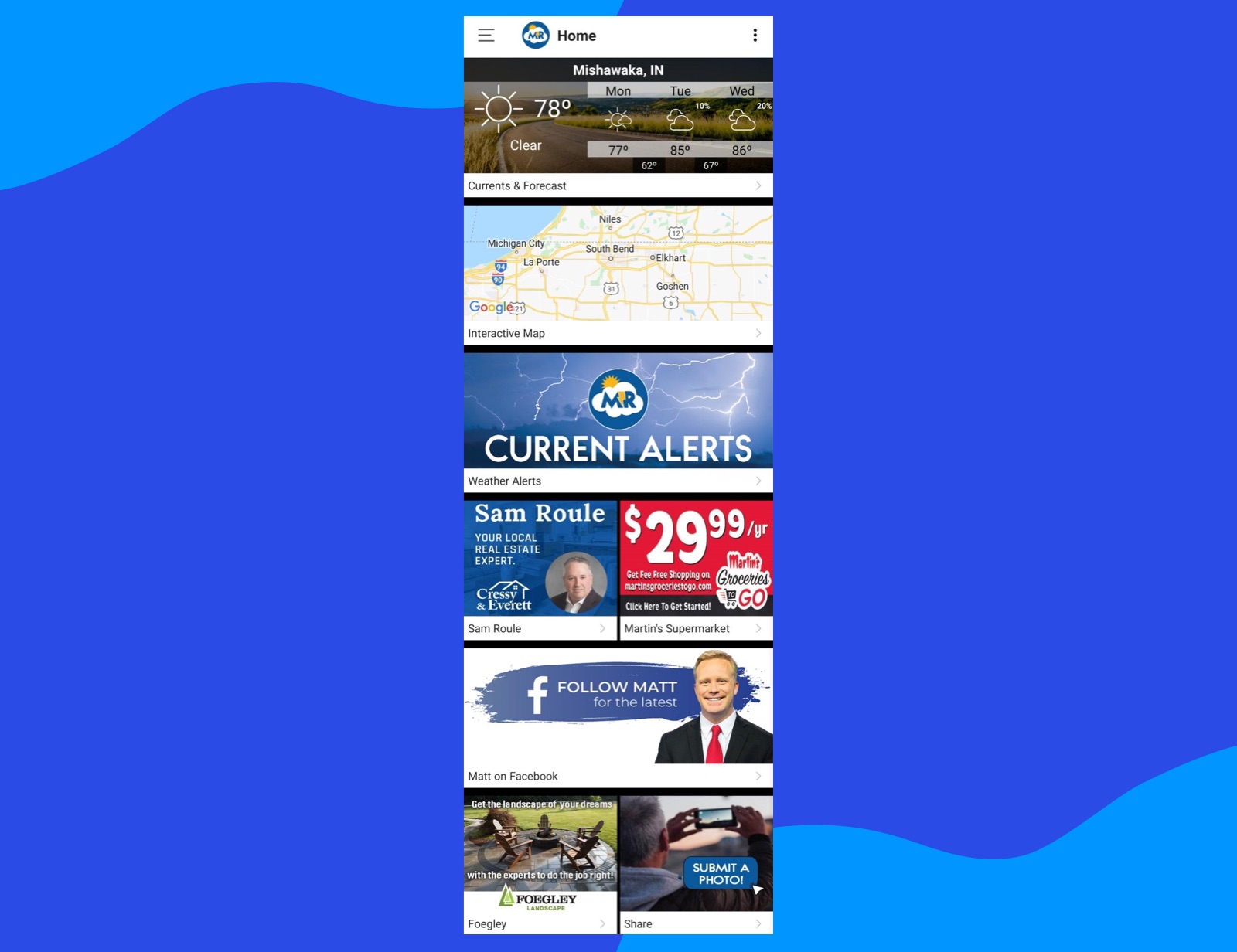 The home screen provides a simplistic layout with links to various resources and links to affiliate advertisements. Current weather information is displayed at the top, and by tapping here users will be directed to a detailed weather page as seen below.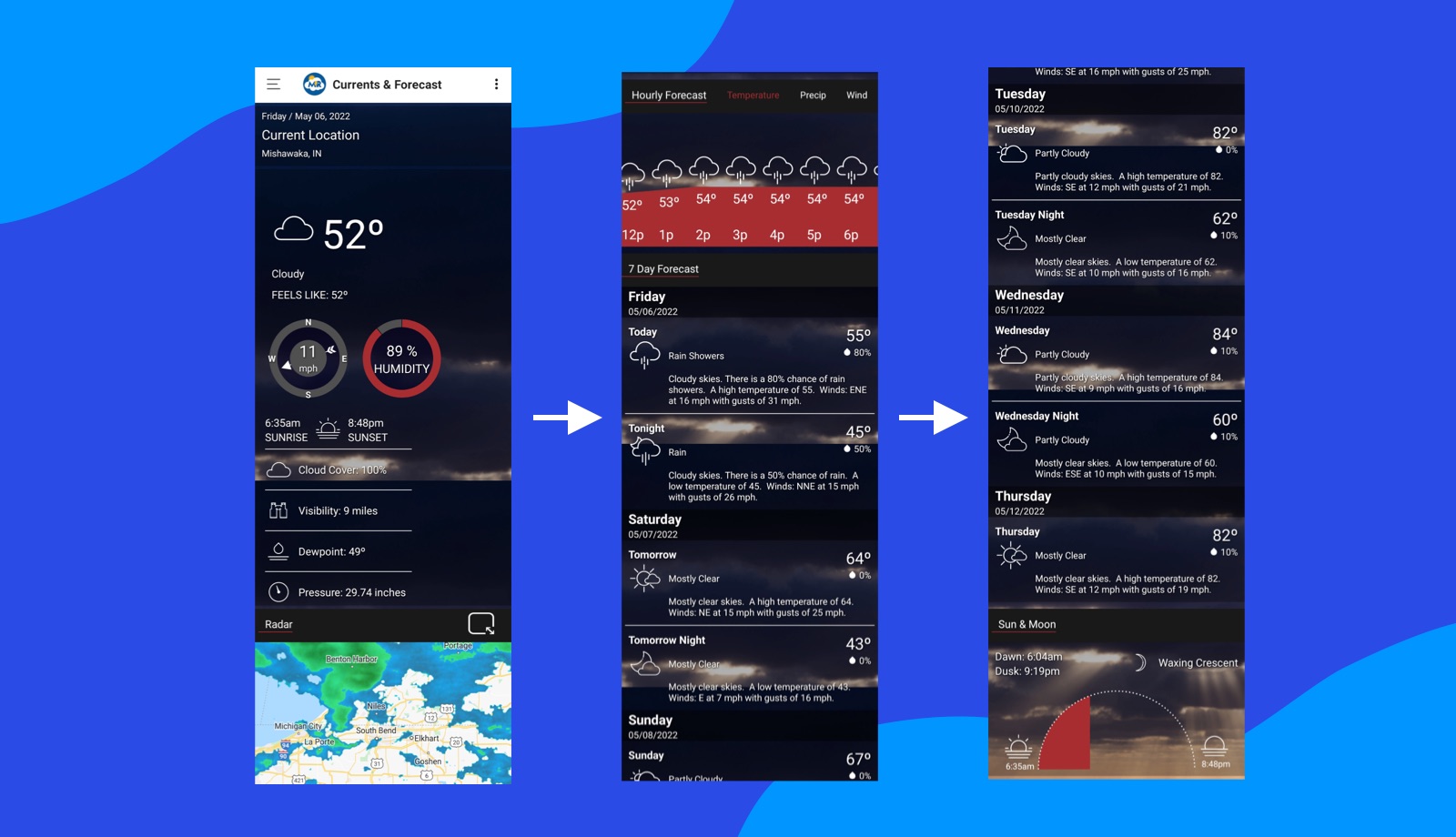 By scrolling down, you can get a bird's eye view of major weather events and projected temperatures throughout the week for your current area. The app can also remember other locations defined in an area found in the kebab menu which is helpful if you divide your time between two places or have an upcoming trip in the works.
Other than that, users can find additional resources such as links to the Matt Rudkin Facebook page (his most active social media) as well as a tool to securely and anonymously upload weather-related photos.
Last but not least is the Interactive Map which provides a familiar, real-time view of storm systems. Not surprisingly, there are a ton of different tools and overlays that can allow users to dive deep into local weather conditions.
One major takeaway from the Matt Rudkin weather app
Normally, we'd jump right in and discuss what we'd consider doing differently but instead, we're going to first call attention to the kind of ads used, which is somewhat unique.
You don't always have to use big ad networks and collect whatever pittance they throw your way for being part of the problem. Instead, working directly with organizations you know and trust can allow you to craft an effective, custom solution that's less invasive when compared to those that rely on objectively problematic tracking technologies that are still prolific on the Internet despite last year's big movement.
The idea here is to cultivate a potentially prosperous relationship built on transparency which is the foundation for trust. The (mostly) inherent trustworthiness of this model can be leveraged in time to help gain the trust of potential users in the future, especially those who are averse to sharing even the most innocuous details about themselves.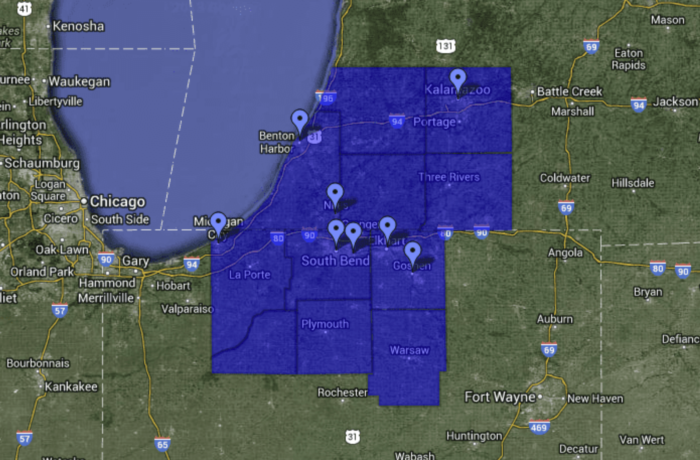 The Michiana area has unique weather quirks called "Lake Effect" which turns parameters in weather physics to 11.
Personally knowing the target audience for this first iteration of the app, I feel this is certainly key for the average user in Northern Indiana and Southern Michigan. Working with a few genuinely likable organizations in your area is a great way to build synergy and keep it contained (i.e., controllable) while you begin growing and learning about your audience.
What we would consider doing differently 
Going back to the part where we acknowledged this is an MVP from a solo entrepreneur, we're going to focus on a couple of features and toss in some hypotheticals.
The case for a "watered-down" interactive map. 
The interactive map is fun to use but the utility of this feature could have missed the mark with early test users. For example, being able to see storm vectors makes sense if you're a follower of Matt Rudkin as you know he loves to geek on all the science that goes into the weather but it likely isn't incredibly useful for the average user.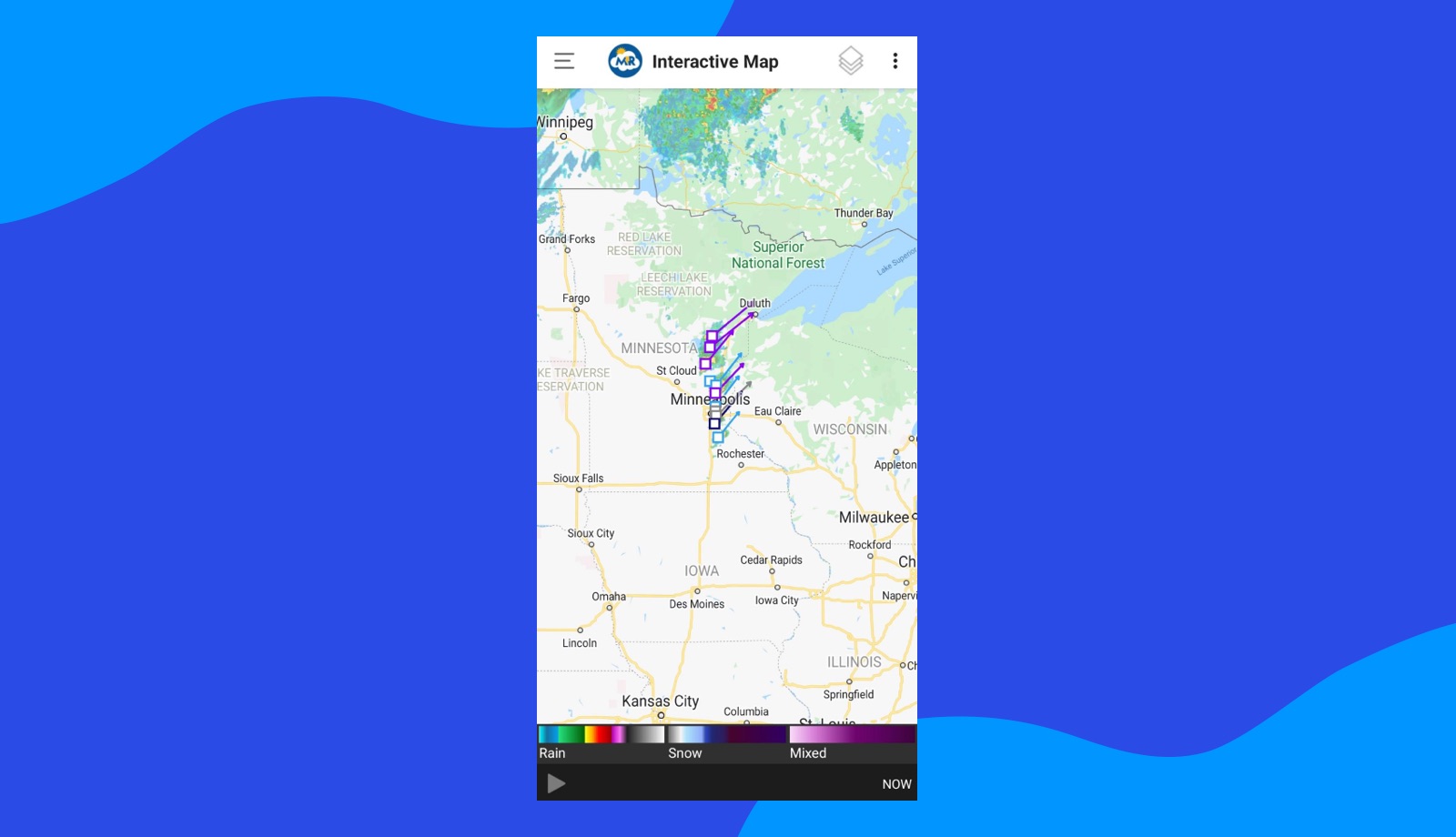 Most likely, this overlay function is built into whatever 3rd party integration is used to create the radar; however, this is one area that would have been downplayed for the MVP unless it happened to be a unanimous hit with every test user.
Rollout with user account features. 
Though it's entirely possible to add user accounts and everything you need to securely authenticate down the road, it's usually much easier to include this function in the MVP.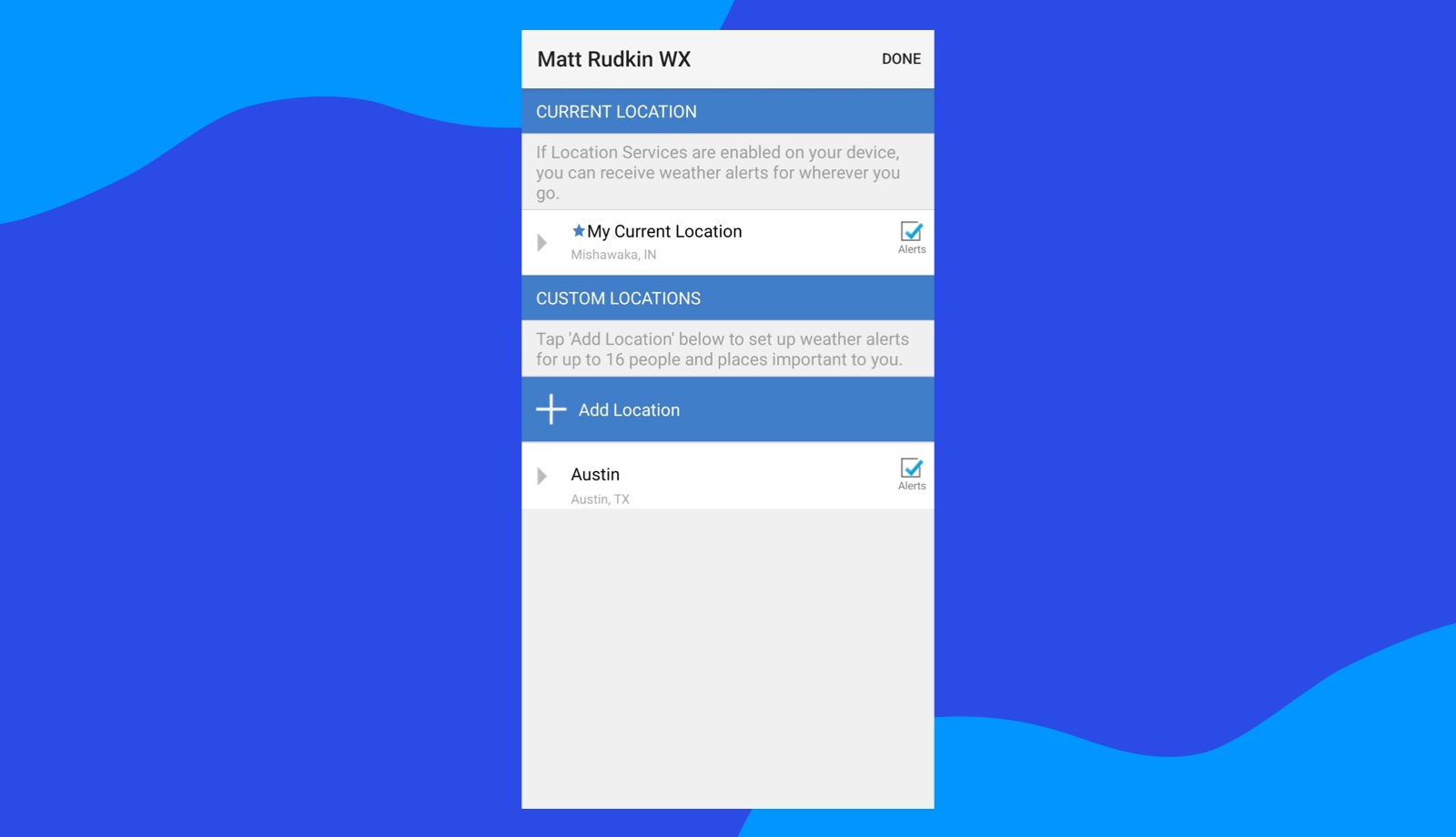 Nothing but display preferences and locations are saved by the app so it's not necessary for the app at this time. However, having it in place from the start eliminates the shock that many users will inevitably experience after the product is retrofitted to include this process.
Aside from these features, the app seems to be a true hybrid which would explain why it looks exactly the same on both Android and iOS as well as lacks native controls. 
This is something we would usually avoid as platforms like React Native allow us to make products that just aren't possible with frameworks that primarily rely on WebView. With that said, this style has one significant perk that allows teams to deliver these kinds of apps to the market (and on multiple platforms) quicker than native solutions.
What other people are saying about the Matt Rudkin Weather app
The app has a lot of hometown love on the app stores – here are a couple that adequately reflect the experience:
"This app is PERFECT! It is so customizable, accurate, gives you a TON of features, tons of information, and it's free!" – cnj9009
"Great app! Easy to find what I'm looking for." – Amy Underwood
Thoughts on the overall UI and design
The Matt Rudkin app UI has a few obvious areas for improvement down the road. 
For example, the imagery is all static which makes links to affiliates or the Matt Rudkin Facebook page look less than ideal on some formats (like the iPad) where a couple of the ads have that "local classified" look.
Overall, the layout feels like a good start as other elements can be tweaked in time to give it a more modern look. 
Design is also something that should be governed, at least to a degree, by the scientific method – by not sinking too much time or money into this aspect upfront, it can help you better focus on the meat of the deliverables instead of some "best dressed" award.
How the app makes money
Unless the app is doing something wild and nefarious beneath the surface, the app most likely simply makes money through individual terms with each affiliate. 
Here, there's some kind of payout from each click that leads to a sale but in time, it could grow to provide additional premium features that lead to more revenue streams.
What keeps us coming back
It's refreshing to see something like this come from somewhere besides a well-funded organization. 
This app is a business but also a passion project so it will be fun to follow along and see how this product evolves in time.
Enter your email for a 100% chance to get a once-a-month roundup of our best content