Overview Of Android Auto And Apple CarPlay In 2021
Our vehicles have come a long way in the past decade – mechanical and electrical components aside, Android Auto and Apple CarPlay aim to make driving more enjoyable and safer. In 22 states, using a smart device while driving is considered illegal so it's a good time to look at the new capabilities of Android Auto and Apple CarPlay.
Since the cell phone has become a staple technology for people the world over, distracted driving claims the lives of thousands every year, not to mention the numerous non-fatal accidents that occur because people can't seem to help but look at their devices while on the road. Despite laws in place and simple common sense, we can't seem to keep our hands off our devices so developers for Google and Apple have stepped up to address this crisis. Today, the capabilities of these platforms minimize distractions more than ever by providing hands-free interfacing that allows us to more safely engage with our technology.
Supplementing your vehicle with smart devices
Android Auto and Apple CarPlay are systems that link with properly equipped vehicles and smart devices to place a refined version of your smart device and compatible apps on your vehicle's display. Too, you can use either app on the device and mount it to your dashboard if your vehicle doesn't have compatible equipment. Virtually every app that's compatible with either system offers unique interfacing, enabling users to interact with the system using hands-free controls such as voice control or built-in controls on the dash or steering wheel.
Both platforms act as a kind of mirroring system that transposes either system to the vehicle's display or changes the display on the device itself. With either system, the OS layout is modified to include only compatible applications and further, each compatible app has (or should have) a custom interface for interacting with select features, hands-free.
A slew of apps for Android and iOS are specifically designed to work with a refined interface while your phone is linked to the vehicle's system. This is critical when developing certain apps for either platform as it reduces the likelihood that an individual would use regular controls on the phone which require looking away from the roadway.
We kept this in mind as we developed the Rush Limbaugh app for iOS. Users with Apple CarPlay can interact with the app, hands-free when their device is linked to their vehicle.
Ideally, we hope that other app development companies will continue to follow suit in furnishing their apps with the capability to connect to compatible vehicles. Driving is among the most dangerous tasks that many of us do daily so every little bit helps!
New features to Android Auto and Apple CarPlay
Every year or so, each platform is upgraded with improved features along with new tools for developing apps in CarPlay and Android Auto. Both systems were initially designed to help users access core features of their respective devices to handle functions like fielding and making calls, texting, using navigation functions, and more.
Over time, the platforms were expanded to accommodate third-party applications – developers can build a variation of their app such that when connected to a compatible vehicle, a refined version of the app is accessible through the vehicle console. Here, interacting with the main feature sets in apps becomes possible with voice commands and the vehicle's built-in controllers.
Android Auto. With recent updates to the platform comes a few new features to the Android Auto system when using certain applications. The site 9to5Google does a great job at keeping up to date with Android Auto and other Google-related facts – here, we'll condense the facts they've provided with the newest iteration of the platform.
Last year, Android Auto received a major overhaul that gives the system a dark theme populated with large icons for each compatible app as you can see in the video. If you were to develop an Android Auto compatible app, it would appear in the navigation screen, enabling quick access to the app through touch or Google Assistant.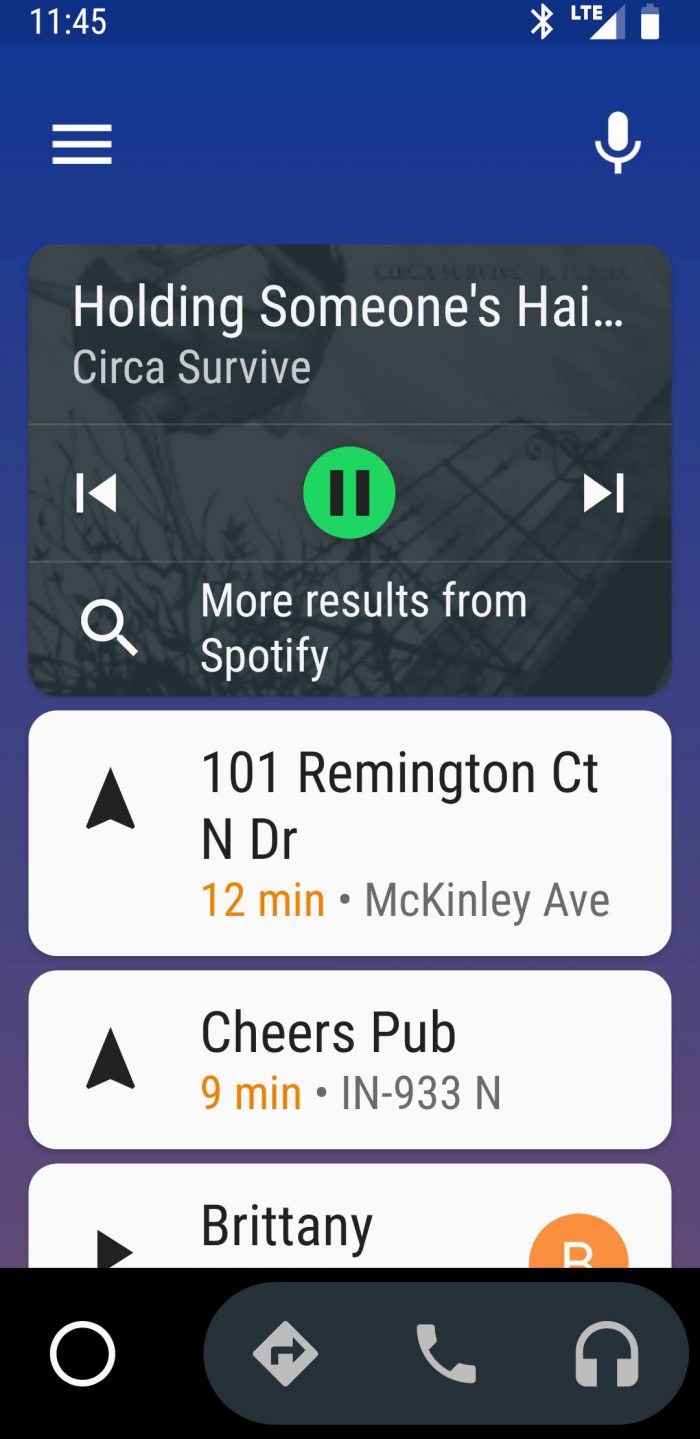 Today, Google Assistant is perhaps the most convenient way to interface with Andoird Auto as it has been designed to not only complete system tasks, users can directly interface with certain in-app functions. Users simply need to need to set default apps for the assistant reference or ask for them by name when issuing a voice command to easily interface face an app. As seen above, I'm using the Andoird Auto app directly on my phone where I simply asking it to play a certain song and it pulls it up on Spotify.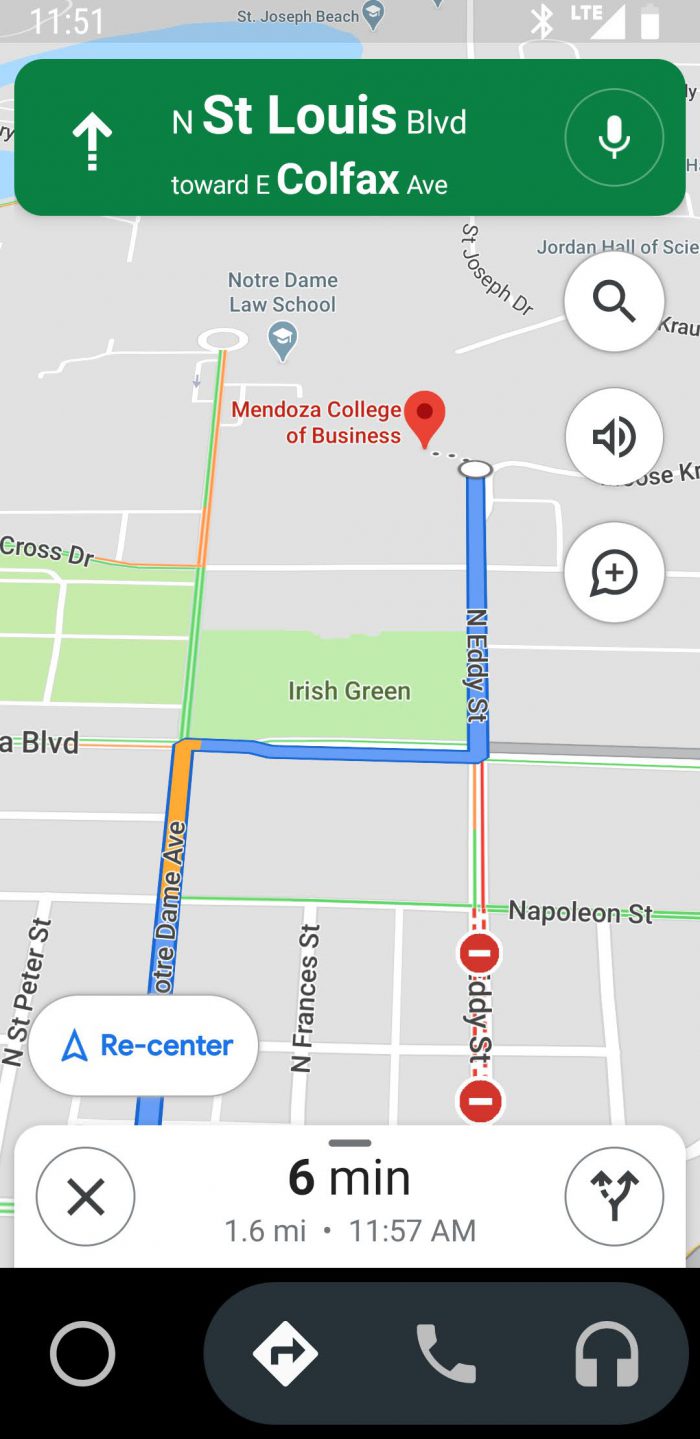 Some of the other new features include a new icon style for places when using Google Maps for navigation. The map populates with icons for various prominent locations as well as includes indicators for road construction. It also makes use of a status bar during navigation that's easy to read and doesn't obstruct the map.
Developers now have a better toolset to further hone their apps for Android Auto and improve the UX, namely by making use of Google Assistant. You can extend the use of your app both on and off the road by "training" this service to specifically link voice commands to certain functions that allow your users to have a truly hands-free experience.
Apple CarPlay. Much like Android Auto, connected iOS devices using CarPlay will appear in modulated format when the service is engaged.
Unlike Android Auto, CarPlay didn't get as much of an overhaul to the underlying system with a couple of exceptions. With CarPlay running on iOS 14, users now have the option of changing their wallpaper to something more custom rather than the light or dark themes that were possible up until iOS 13.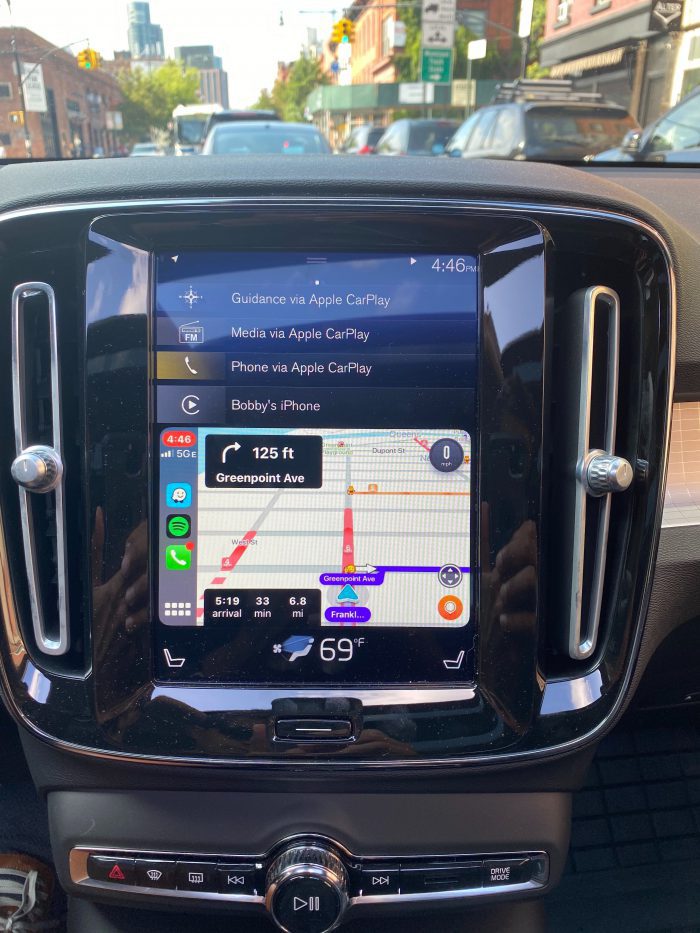 One of the more selective updates that should excite some users is the digital key feature for certain vehicles. You can create a digital key to operate with CarPlay and even share it with other drivers for a novel key-free experience.
Perhaps the most important update to the system is the update to how users interact with Siri while using CarPlay. Instead of taking over the whole screen, Siri appears as a small overlay that doesn't obstruct the underlying interface. Most importantly, developers will have access to better tools that, like Google Assistant, enable the creation of tailored, in-app functions when using Siri. Over time, users will be able to interface with more components of an app as developers build in a "Siri friendly" code to existing and new applications.
Blue Label Labs builds custom experiences with mobile apps
Talk is cheap unless you're referring to speech commands that operate your smart device and keep you safe while driving. Blue Label Labs epicenter is solution architecture – everything from the big picture to granular details is captured in our design and output so we are excited to take advantage of these new tools to refine apps for use on the road. You can reach out to us and learn more about our development process or discuss your idea for an "on-the-road app" today!
Get the latest from the Blue Label Labs' blog in your inbox
You might also like