Our SVP of Technology, Amy Czuchlewski, Discusses the Importance of Women & Mentoring Kids in Tech
Amy Czuchlewski, our SVP of Technology, recently spoke with Marketscale where she recapped some "happy accidents" that defined her career and shared some important insights on the tech field, from her take on leadership to advice for women in tech.
As a woman leader in tech with a colorful background and a lot of successes, she's gained some wisdom and cultivated a perspective that we're going to highlight here.
You can read the original article from Marketscale here.
More women should enter the tech field
Truly, there is a significant shortage of tech talent in a handful of areas like digital product development – though more people have been entering these fields, talent growth hasn't kept up with insatiable consumer demand.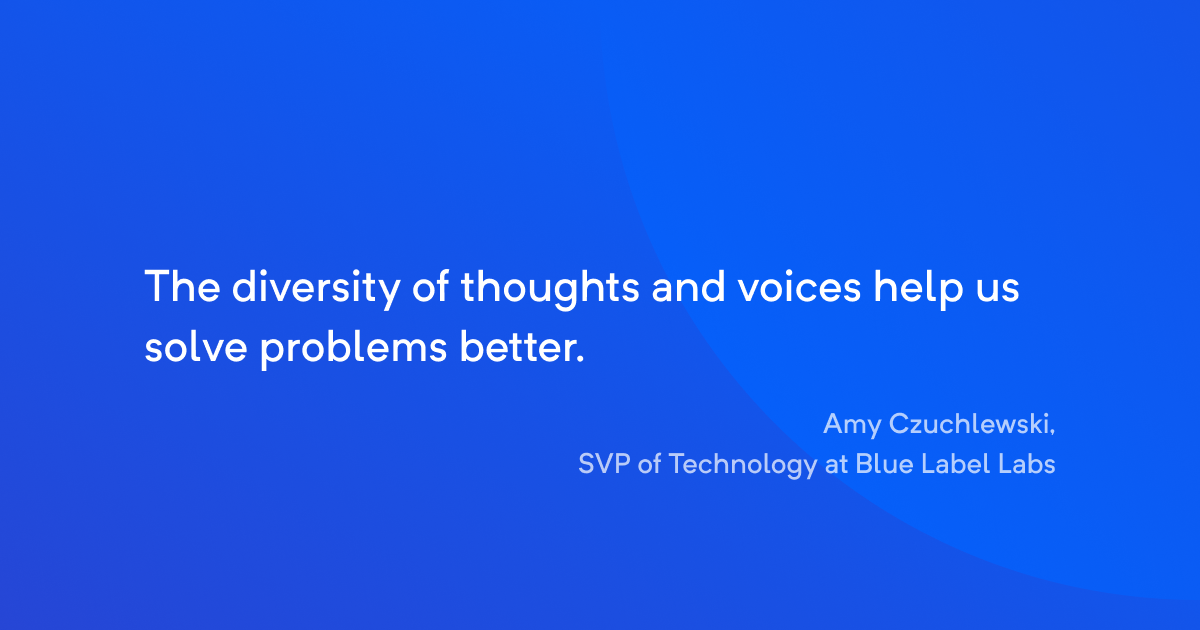 Because we have this tech talent shortage, why not fill these roles with women?
This is a value that we embrace here at Blue Label Labs. Having people from around the world from all walks of life, gender identities, and cultures helps us by providing multiple sets of eyes that all contribute with unique perspectives.
More women coming into tech would not only help solve the talent shortage, but it would also help provide technology teams all over with more perspective (and fewer overlooked solutions) you typically get from less diverse groups.
Especially when building digital products for broad audiences, you can't go wrong with having a melting pot of people all working together to solve problems.
Get kids involved in technology
Technology can be intimidating when you're not close to family or others in your social group working in the field.
Not everyone has mentors in the science and tech areas which is something that's critical to the development of not just women in tech, but the younger crowd as well. Technology offers rewarding careers for those who like to solve problems which is why it's important to inspire kids to cultivate these skills from a young age.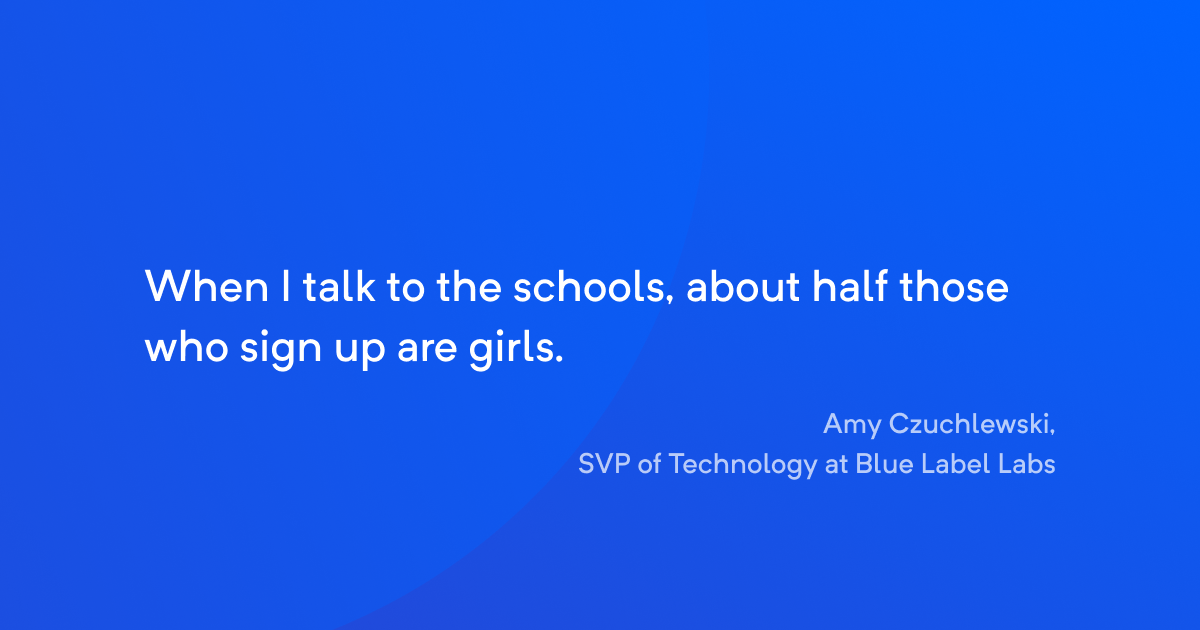 Amy serves on the board at Bold Idea, a non-profit located in Dallas, where she networks with schools to integrate their program that teaches kids to code. She notes that when she gets to present to schools, about half that sign up are girls.
For children, seeing something relatable – like little girls who see an engaging woman – helps give them the push to at least try something new.
For the rest of us, this means being supportive and helping nurture these talents when there is an interest.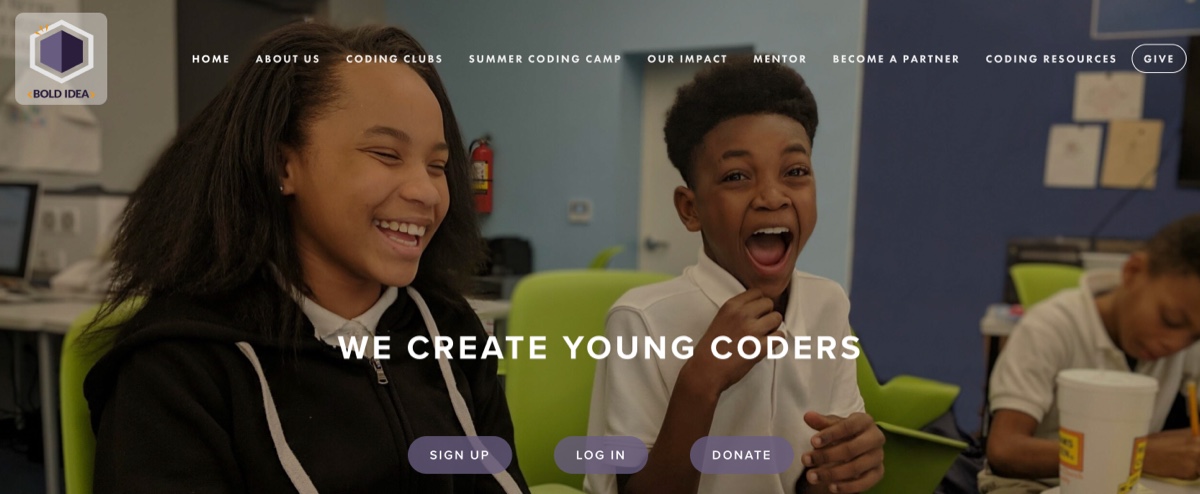 Getting ahead in tech as a woman means taking a couple of different actions
It's easy to become stagnant in many environments and it's not always that the organization or the people are bad, but you don't feel like you're growing.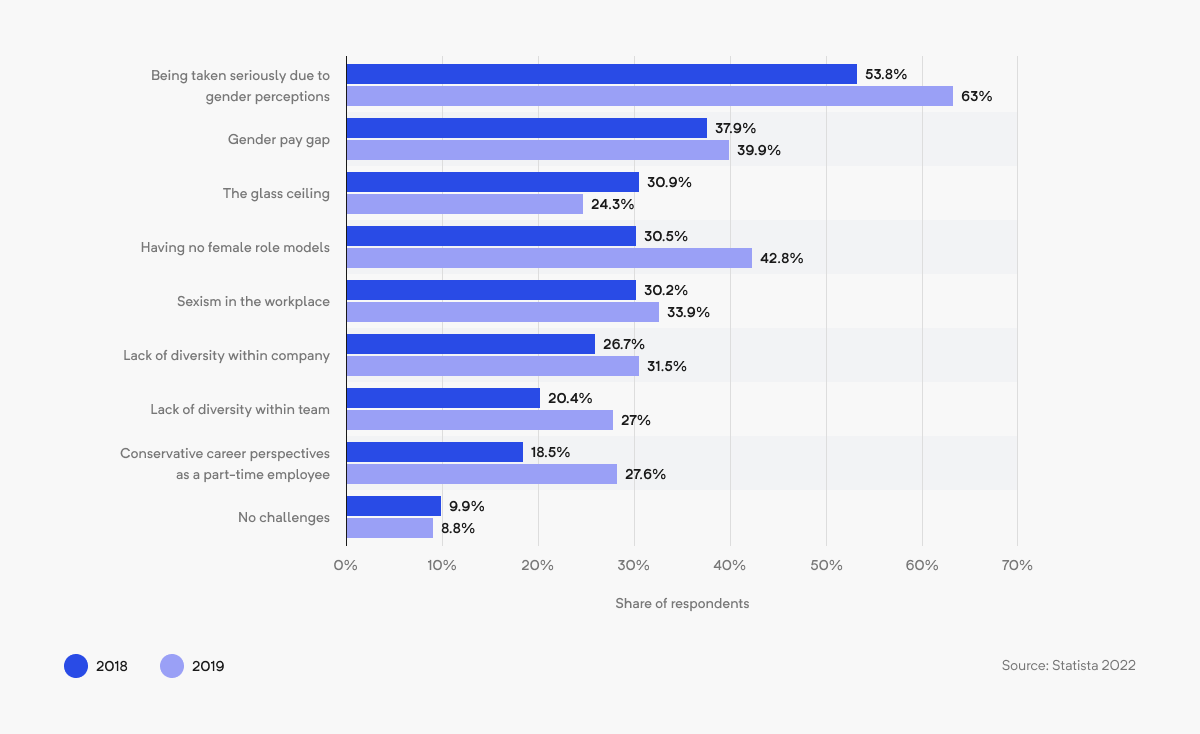 Women also report that the biggest issue they face in technology is being taken seriously due to gender perceptions.
Unfortunately, even though it's 2022, there are still plenty of issues to be found around the world – cultural changes at the societal level take forever bet there are some important "bottom up" techniques that women can use to keep their careers fulfilling.
Make yourself visible.
There are several ways that you can position yourself to be more visible in not just your workplace but in your field.
The benefits of networking in tech (not the configuring routing tables kind of networking) with other people are helpful to give yourself some mobility in an organization and possibly further.
Take on tasks that will literally get you in front of other people where you can demonstrate your competence. Small things like speaking up at meetings and sharing your knowledge is a great starting points that can help you move upwards into other roles like leadership more quickly.
This not only helps as a confidence booster but it can get the dynamics of a team out in the open. If you're working with shitty, sexist people that won't budge on their beliefs, use the tech shortage to your advantage and find a better environment.
Also, we are currently hiring 😊
Seek opportunities to keep growing.
At Blue Label Labs, we're provided with all kinds of resources we can use to advance ourselves but not every tech company offers the same deal.
By reaching out to other leaders in most companies, you should be able to find anything from new responsibilities to take on to other opportunities. Perhaps one of the best ways you can grow yourself is by becoming a mentor.
Even when working in an organization that's not a great fit, a good way to make the most of your time is by working closely with people to pass on your knowledge.
Teaching has its own set of rewards as it's really a two-way street in a clever disguise. You might learn something and better yet, make a lasting impression on someone for the better.
Plus, the more experience you gain mentoring at your current position, the better equipped you'll be for whatever comes your way down the road, happy accidents or not!