From Captaining a Team to Twitch Streaming: A Day in the Life of a Product Manager
Bringing a product to life is a team effort, and like all group activities, great leadership from our product managers (PMs) helps put together plays that move the ball down the court as we work together to help companies innovate.
Our PM, Kayla Brizo, has led successful projects during the last two-plus years she's been with Blue Label. 
Here, Kayla gives us a peek at a day in her life as a PM, and what life outside of work looks like, too.
How would you summarize what you do?
KB: "I'm the captain of the team. Whether it is a project team or the product management team, as the lead product manager, I am the captain in the huddle with my teammates all helping to lead us all to success."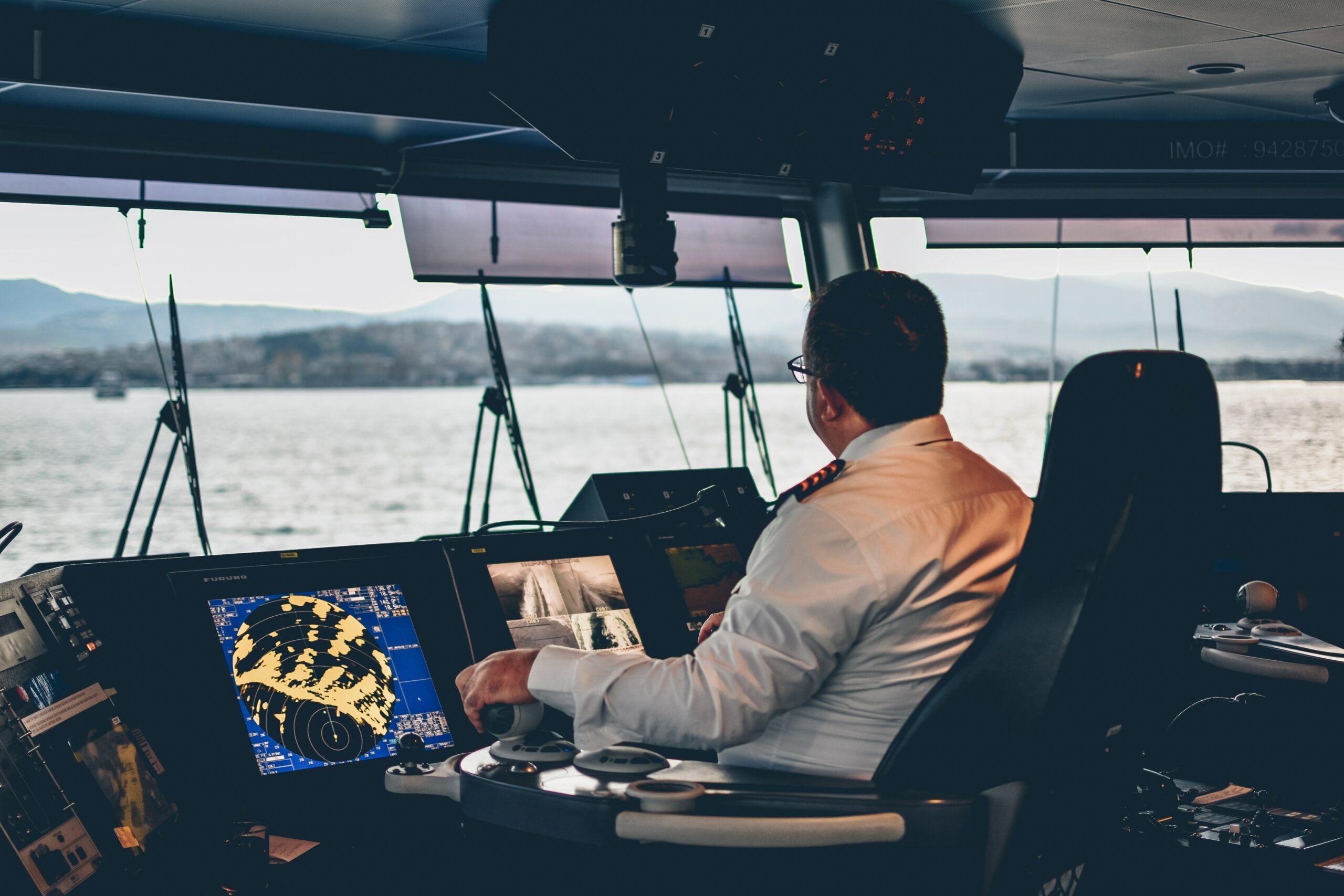 Similar, but the uniform and hours are much more flexible here. | Source: Ibrahim Boran on Pexels
KB: "When working on a project, this means collaborating closely with clients to solidify their vision into a marketable application, guiding UX and UI decisions to make sure that we are designing features that are technically feasible, and diving in with the engineering team to understand the API and database structure so that we can be sure we're building something that can grow with the product as it evolves over time." 
This is a major part of how we engage with most projects. The idea is to build something sustainable that can continue growing with well-supported technologies, not something that's going to need a major piece of tech replaced a few years down the road.
KB: "My role within the product team at Blue Label as the lead product manager is to help the other product managers on the team with any questions they may have, whether it's about processes or how to approach a problem, in addition to putting together a framework and templates that we can all utilize to ensure successful engagements with our clients."
How do you begin most of your days?
KB: "My day often begins with checking my phone for any Slack messages, then I move to my email inbox and calendar to check when my first meeting of the day is. If I've got enough time before needing to start work or respond to messages, I'll catch up on the latest news via Reddit."
Reddit is the front page of the Internet, after all. Whatever topic you can think of (and probably can't even imagine)If it's a relevant topic, real people are discussing it there.  
What responsibility demands the most of your time?
KB: "It is really important to me that everyone around me have what they need to be successful, so I spend most of my time making sure that the engineering team has everything they need to successfully execute the task of building a platform for our client(s) and making sure that my teammates have everything they need to be successful and happy in their roles."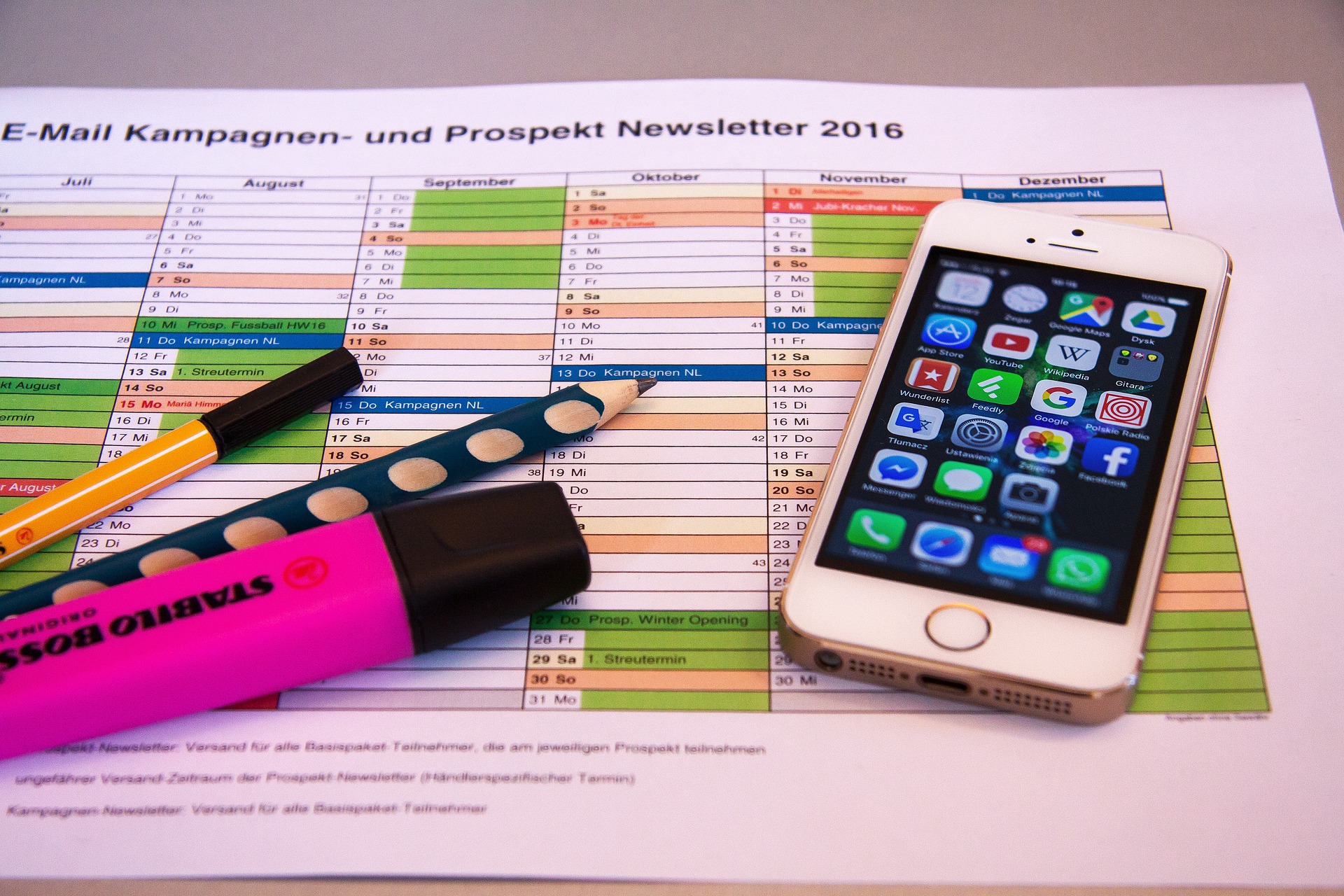 We all have different schedules in different time zones that we need to make work – some projects need a little creativity to make sure goals are met without anyone feeling too overwhelmed. | Source: stux on Pixabay
KB: "That can look like anything from spending an hour working with someone to find balance in their schedule so that they don't feel so overwhelmed or writing documentation and conducting meetings where I go over the process for writing a Jira ticket or launching a product. 
I am available for whatever my team needs because it is important to me that everyone is able to feel successful and enjoys their time at work as much as possible."
How is your role at Blue Label different from past roles?
KB: "In my previous role, I worked primarily on internal tools and product development processes. While working on processes has remained the same, my role at Blue Label focuses on building products that integrate systems that we may not fully control.
It has made for an exciting challenge and given me a chance to dive deep into platforms that I was unfamiliar with before. I absolutely love to learn new things and solve the questions that come with the unknown, so getting to experience many different approaches to gathering and displaying user data has been a treat."
Systems have to work in harmony with everything else, such as behavioral analytics systems that help businesses understand the granular details of how a user engages with everything during their journey.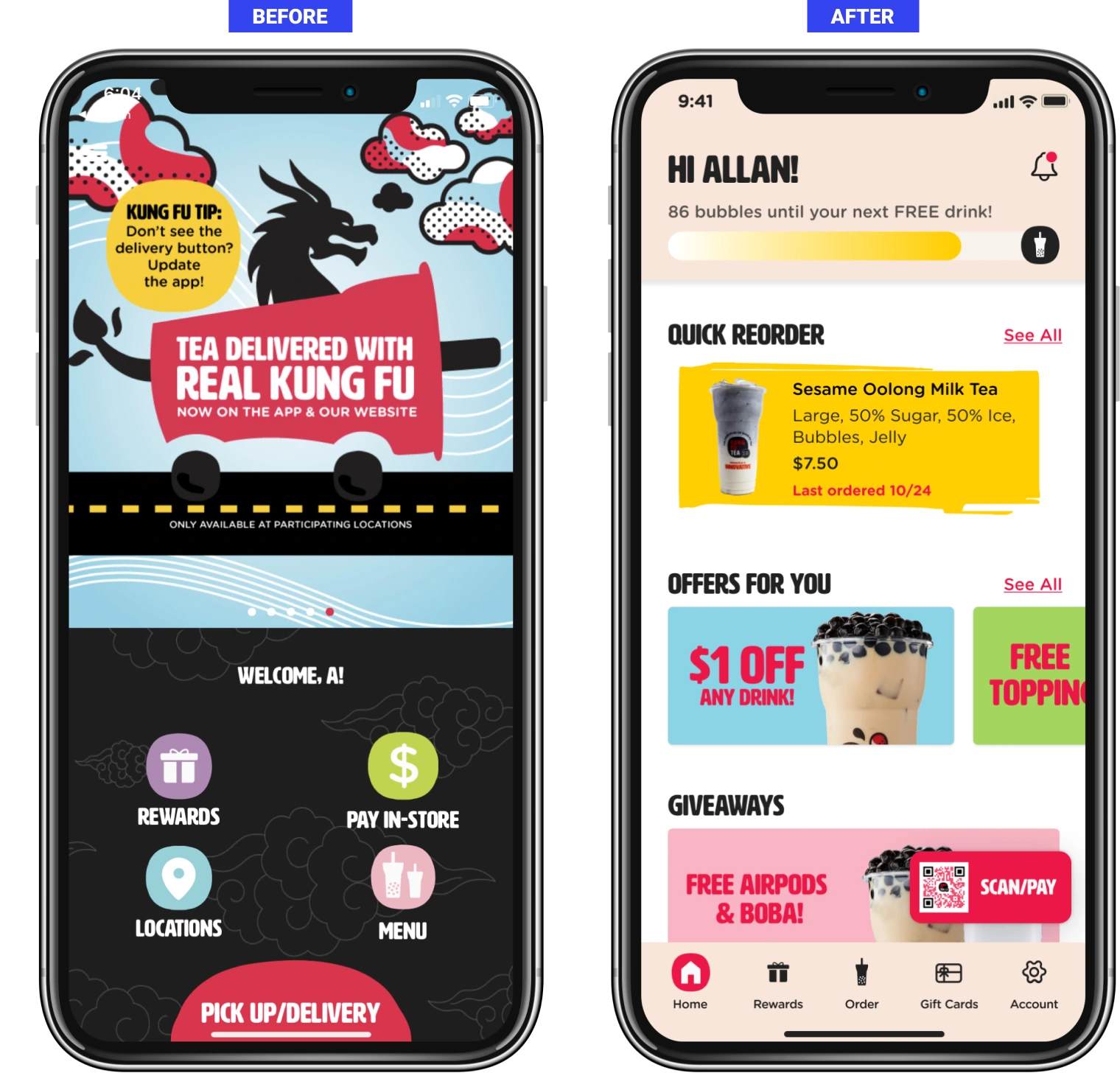 If you're a fan, you likely realized the app got a whole lot better this year.
LevelUp, which was used to build the loyalty program for Kung Fu Tea, is another example of a third-party system that needs to be integrated such that it plays nicely with everything else.
What project would you say has been the most challenging and why?
"KB: Kung Fu Tea was the most challenging project I have worked on and successfully launched so far. We had to understand how the customer interacts with their current application and how LevelUp handles said interactions. Since we were building a new customer experience and front-end application directly on top of the LevelUp platform, it required learning how the customer and business interact and how the business interacts with the platform."

There's a lot of change between accommodating seasonal goodness and everything else, meaning it's all the more vital Kayla and her teams are precise. | Source. Kung Fu Tea
KB: "It is always a challenge dealing with monetary transactions, especially on the level that KFT operates; it was crucial to make sure that people could purchase their favorite boba drinks and enjoy doing so."
What project has been the most fun and why?
KB: "Grublr is one of my favorite products I've built out of the dozens I've worked on throughout my career. It's an application that helps people discover new restaurants and decide where to eat."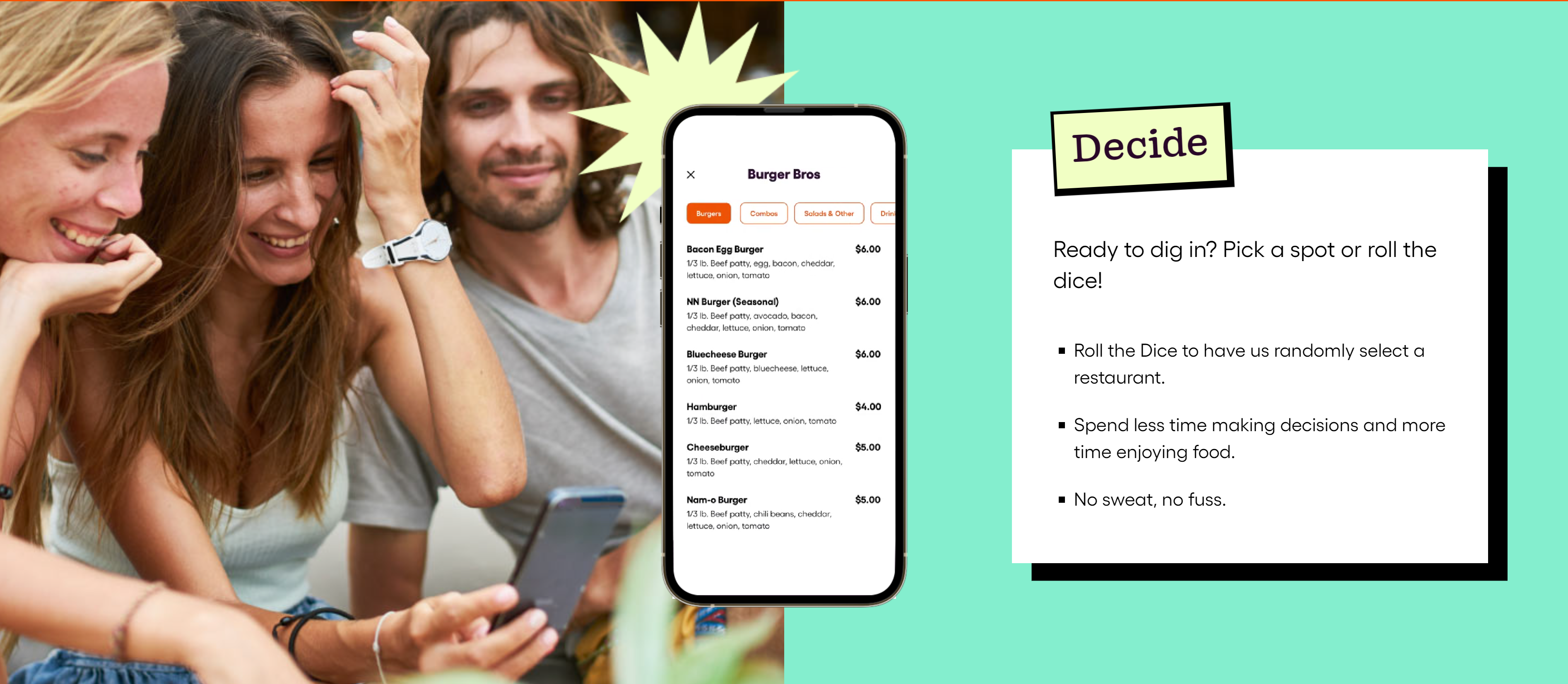 Grublr is an excellent way to find great dining options in unfamiliar territory. You can even make a game out of it when you can't decide! | Source: Grublr
KB: "I worked closely with Nick and Zach, the founders of Grublr, to take their concept from something they had been merely imagining to a fully functional application with thousands of users. 
We began by utilizing a Design Sprint, where we spent a week working full-time to explore the concept, test out different scenarios, and gather early feedback from potential customers to ensure that the idea would be successful."

A bird's eye view of the Design Sprint.
KB: "There were definitely speedbumps along the way with data sources and functionality – still, in the end, we completed all of the objectives we set during the Design Sprint and launched the application. They quickly gained over 2000 users within the first few months of release and have since ventured into additional markets with nationwide expansion and expanded functionality on the roadmap. 
This was one of, if not the most, fun projects that I've gotten to work onbecause the client and I were able to develop a solid relationship of trust. They never shied away from the hard truth and weren't afraid to put in the work of researching and planning for the future or even deviating from earlier plans when needed. It was incredibly rewarding to see them take my advice to heart, develop it into their own, and most importantly, be successful in implementing that advice."
What are your most important contributions to the projects you work on?
KB: "I come to projects with over a decade of experience in building products of all shapes and sizes – from zero to millions of users, rehabilitating existing platforms, and everything in between.
There are very few scenarios that I haven't seen in one form or another, and being able to apply past experiences to new situations is invaluable in helping us avoid some of the roadblocks or challenges that can happen with application development. It is often like having a crystal ball: applying my past experiences provides insight into some of the issues we could encounter in the future. 
Additionally, being a born and raised New Yorker, I have no problem offering clients my honest feedback and advice. The transparency that I offer on projects is crucial to their success."
What do you do for fun outside of work?
KB: "Outside of work, I stream on Twitch where I play nearly everything and DJ sometimes."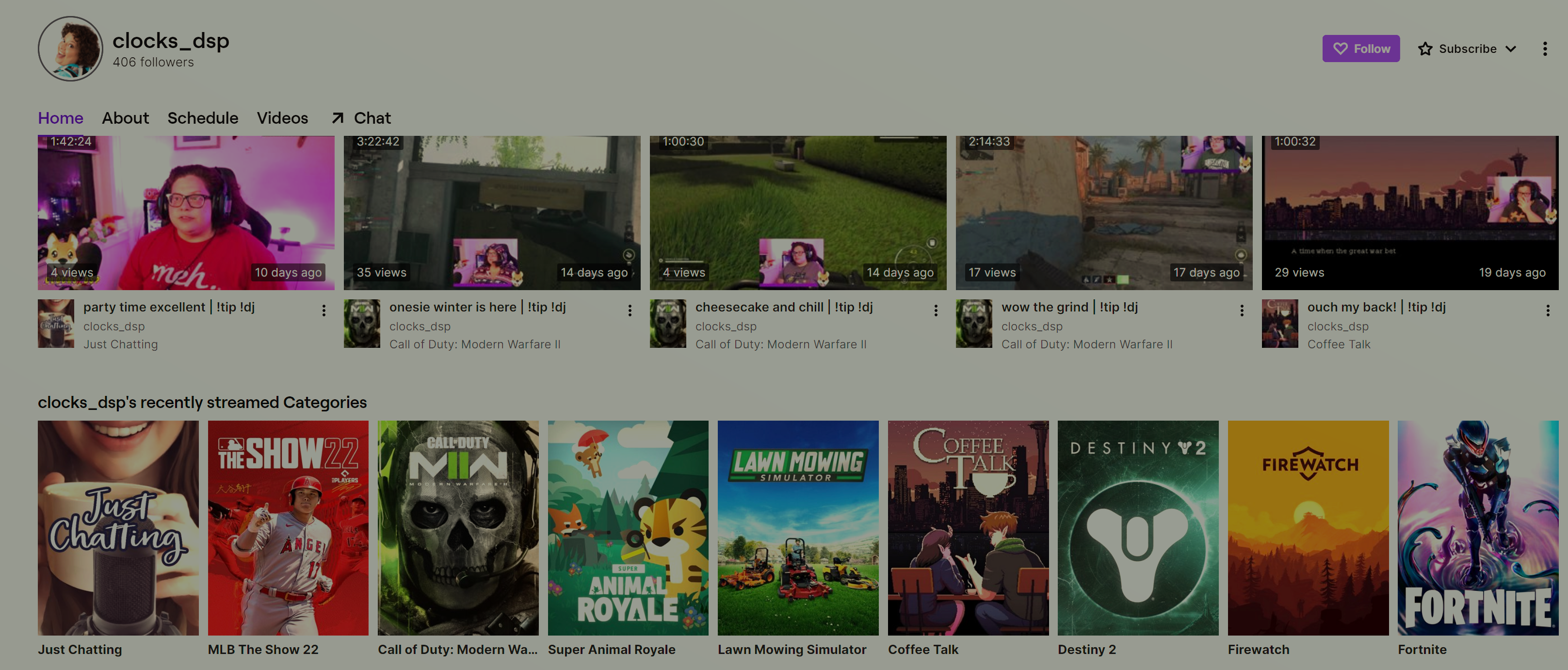 There's a little bit of everything here, like Lawn Mowing simulator, which helps many a New Yorker when they get an itch to do some yard work. | Source: Twitch
KB: "My stream is known for the stories I tell about my adventures around the world – I share my vast knowledge of many different topics as I entertain. It's been a fantastic outlet over the years, especially working remotely since I am an extrovert and benefit from interacting with other people."
I started streaming on Twitch when I began doing Extra Life, an annual fundraiser that benefits Children's Miracle Network hospitals. For the last seven years, I have done a 24-hour (or more) live stream to help my local children's hospital here in New York–and as of 2022 have raised over $15,000! 
In late 2020 I decided to start taking streaming more seriously. I applied the same approach that I use to building successful products and, as a result, became a Twitch affiliate roughly six months later, allowing me to grow my audience by an average of 5 viewers a night. While it might not sound like many people for a crowded space like Twitch where there are always thousands of creators to choose from, it is always an honor that people choose to spend their time on Twitch with me! 
Together we've mowed over a hundred lawns, power-washed homes, celebrated felling challenging opponents at the Lighthouse, drank dozens of Chug Splashes, trekked our way across Verdansk, dated attack helicopters, and danced the night away, all while I learned how to mix songs and make new mashups. It's given me a chance to create a digital scrapbook of all the hijinks and victories, the hard moments, and the joyous ones. 
I wouldn't trade it for anything!"
Looking for a New Challenge? Get in Touch
We're a growing company that's regularly on the hunt for top talent to join our crew.
Want to make an impact with us? If you're interested in joining an award-winning team, check out our careers page.
BlueLabel is hiring
We are looking for exceptional people to join our exceptional team and build great things together.
join our team