Key Features of Today's 4 Best App Prototyping Platforms
An app prototyping platform is an instrumental part of creating an engaging product – the prototype you'll create during a Design Sprint unearths a ton of data through user testing about the products we eventually build.
Here, we're going to explain exactly what these platforms do and then highlight some of the key features for top players in the market.
What is an app prototyping platform?
While there are plenty of programs out there to create and edit graphical assets used in digital product design, prototyping is a more specific process. Platforms in this category include tools that allow users to breathe life into designs without any "real" coding.
A prototype simulates functionality by appearing and moving roughly the same way the team plans to build the actual app with prebuilt features for everything from transitions between screens, animations, overlays, interactions (e.g., how a button might change or play a noise when pressed), and more.
It makes the process of explaining a prototype from users, stakeholders, and random people you meet in public much less intense.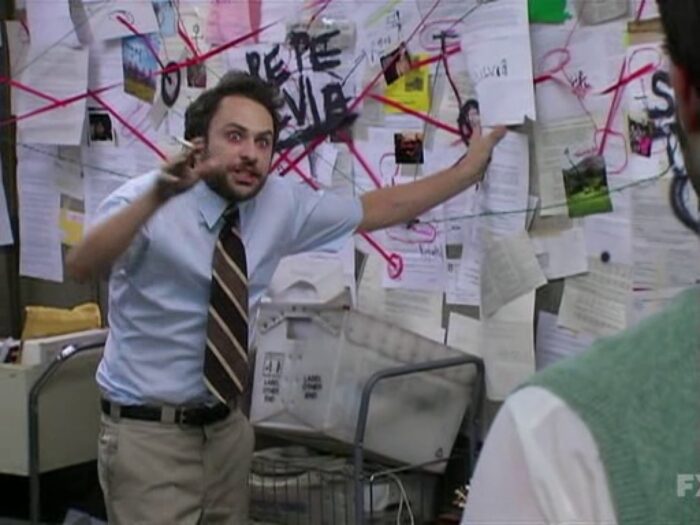 Source: Know Your Meme
Remember the science fair from elementary school? You came up with an idea, checked off the boxes as you ran through the scientific method while exhausting your parent's printer ink, and with the aid of a tri-fold piece of cardboard and construction paper, presented your results.
This is basically the same thing except with more peer review. 
While you might very well be spot on with all your hypotheses, you can't truly be sure until you've tested it. The feedback you gather will allow you to fine-tune your MVP and test other ideas with your beta users – if all goes well, you'll have a good foundation to build upon after launch.
Keep in mind, sometimes "cool ideas" that put a seemingly fun spin on an existing formula and "unnecessary innovation" don't always test well with users. It can be hard to hear, especially when you envisioned people fawning over your idea. Just remember that test users are giving objective feedback and when the consensus is that something is a miss, accept that you need to try something else.
An overview of today's most popular app prototyping platforms
If you're working with a team that is already comfortable with a solution, your best bet is to stick with their solution, with some exceptions.
For example, many simply use PowerPoint to create or plugin their mockups to demonstrate how a product is supposed to flow and hope the viewers' imagination fills in the rest. 
We even offered a simple PowerPoint-based solution years ago called Windows8Templates however, it's since been deprecated as modern app prototyping platforms have set the bar quite high, though it's not bad for an accessible mockup solution.
InVision was first to the party
The first product on most lists (including this one) is InVision, and not just because it's just some agreed-upon rule among those who create web content. InVision was first to the market and has set the bar for everything that's followed. 
Though some products have differentiated themselves since coming to the market, you'll typically see InVision influence throughout most products.
Source: InVision
InVision came out in 2011 and quickly replaced the likes of Adobe Flash and PowerPoint with tools that allow users to create the illusion of functionality without any code. 
InVision works hand-in-hand with platforms like Sketch, Photoshop, or other imported (and compatible) designs by allowing users to add functionality like the ability to toggle a switch, scroll in a certain direction, interact with an element like an overlay or a dummy transaction as seen above, and much more.
The platform also includes feedback back features for authorized guests to leave feedback, similar to Microsoft Word or Google Docs. They also offer other parallel solutions such as Freehand to collaborate in real-time with other users, a Sketch plug-in called Craft Manager, and other services, all of which aid the prototyping process.
To learn more and see if you might want to try InVision (which is free to use until you publish), watch the video below. Note that once you install InVision on a PC or Mac, the homepage will have links to tutorials and other educational resources.
Figma transformed over years into a powerful app prototyping platform
Figma started off as an editor for vector images in 2012 then went through a series of funding and additional development before it was officially launched as a collaborative design solution that now has rich prototyping features.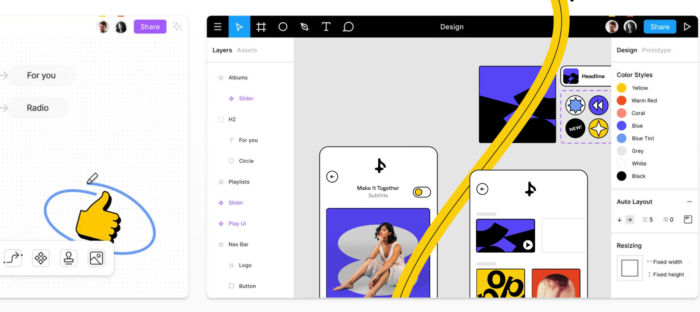 Source: Figma
Unlike InVision, Figma offers a more integrated experience with design and prototyping tools all in one place but you're free to import custom designs as well. It's inherently collaborative as the prototyping and design portions cater to multi-user setups where creators can chat and interact in real time.
Figma makes it easy to publish prototypes for review once they're ready, allowing users to mirror the prototype to the iPhone or Android app or publish the product to the web. 
Like InVision, it's free to use (including the design and most collaboration tools) but free to publish for a limited number of projects.
If Figma sounds like it might be right for your needs, check out this video below to learn a little more.
ProtoPie offers a unique set of tools for creating detailed microtransactions
Former Google designer Tony Kim began developing this app prototyping platform in 2014 and officially launched it in 2017 where it first caught on in Vietnam, then eventually, the rest of the world.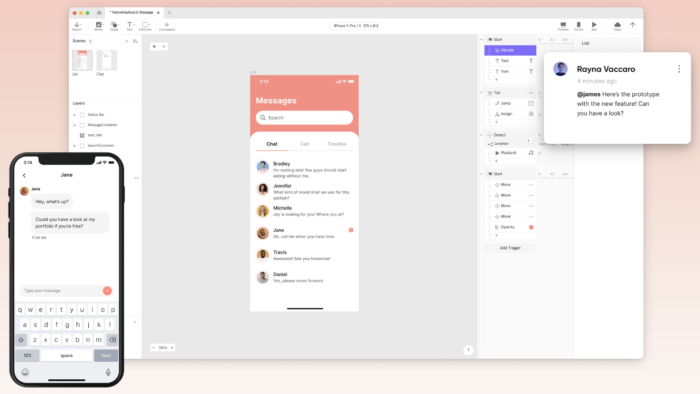 Source: ProtoPie
ProtoPie works directly with designs from Adobe XD, Sketch, and even Figma to provide a more intricate set of tools for creating microtransactions and more in-depth logic. 
It's geared towards those attempting to demonstrate unique functionality so it can be overkill for most projects as the goal is typically to make as refined a prototype as possible.
If you're looking for something with more technical capabilities, ProtoPie is worth a try. The basic tier is only $11 a month per person which is great for those looking to kick the tires. 
To see a bit more of what you can do with ProtoPie, watch the video below.
Proto.io makes prototyping easy with a drag-and-drop interface
The first incarnation Proto.io came to the market in 2011 as an Apple-focused solution that has since evolved into a kind of prototyping platform for mobile devices and the web.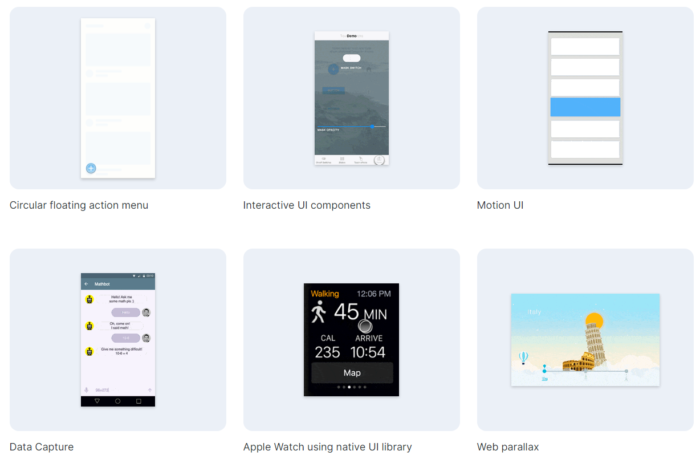 Source: Proto.io
Normally, we denounce most no-code or low code solutions when it comes to building your production but for prototypes, it's a different story. 
Like Figma, Proto.io is cloud-based and collaboration-centric but it features an integrated design and prototyping that's drag-and-drop in nature. This makes it one of the best solutions from a learning curve standpoint as it makes designing a simple app using their stock design and logic libraries a breeze.
They offer a free trial and their lowest tier is only $24 a month for a single user and unlimited reviewers. To see it in action, watch the video below.
We take care of your prototyping building needs
Depending on your design aptitude, any of the above solutions will allow you to build a prototype that gets your point across. 
Our team members usually prefer InVision or Figma but really, the best one is what feels right in the hands of those building the prototype.
To learn more or discuss your idea for a project, get in touch with us today.
Get our monthly newsletter on mobile app development and design