Webby Awards 2021: Blue Label Labs Recognized For Two Awards
Imagine, if you will, the delight we experienced when we were notified that not one, but two of our products were reviewed and accepted to be part of Webby Awards 2021 or Webby Awards XXV. We take pride in all the products that we develop but some stand out by exceeding our expectations in one or more ways. This year, two products we designed and developed have earned spots on the platform, with JAXJOX receiving a nomination and bopdrop an honoree mention. This means there's an opportunity to win!
Last year, the product that we developed for inHouse also landed us two spots in the Webby Awards, one as a nominee in the Food & Drink and also in AI thanks to the platform's chatbot, Pepper, where it was recognized as an honoree. Even though the Food Network Kitchen app would take home the gold, we're still thrilled to have been a part of the event.
While some endeavors went on hiatus last year, others thrived – with fitness moving into the home with more engaging products than ever before, JAXJOX seeded itself into the market at a key time. As more users were streaming than ever before, services like Spotify would see more attention with the likes of video streaming services. This fact, along with a few other factors, allowed bopdrop to become an instant success on iOS.
Please take a minute to visit the Webby site and vote for JAXJOX to win a Webby!
In case you missed any of our past content on either subject, we're going to give you a birds-eye view of each product to explain why they were selected as products we would submit to be part of the Webby Awards.
JAXJOX: leading the way in digital home fitness
The good people at JAXJOX recognized that there was an emerging opportunity for new, highly connected fitness devices. To compete with the likes of Peloton, they came to Blue Label Labs to build a digital product that would serve as the centerpiece for their fitness solutions.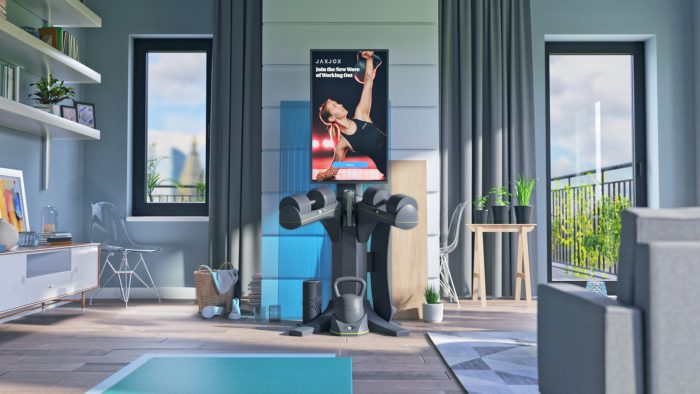 Our experiences with wearables and connected devices positioned us to be efficient at quickly mastering the tools we'd need to build a feature-rich system that both efficiently captures and analyzes data with an AI-powered system as well as provides on-demand access to live and recorded fitness sessions.
As a gleaming example of digital transformation in this new era of home fitness, JAXJOX capably interfaces with components such as the DumbellConnect where data is fed back to the app where it's recorded and digested through an ML engine. We managed to build something that would make a big splash in a highly visibly, ultra-competitive market – considering the substantial amount of cutting-edge technology and development techniques that went into this product, we felt it had a great shot at being considered for a chance to win a Webby.
Turns out, we were right!
bopdrop: how devoted founder achieved success chasing his vision
It's every entrepreneur's dream to be able to offer something that becomes successful, especially when there is a strong emotional connection. Matt Krause was able to experience both by seeking us out to build his music discovery platform, bodrop.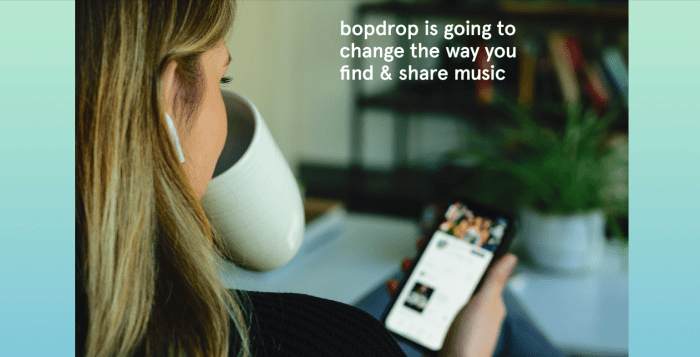 This iOS app uses Spotify (and now, Apple Music) to provide a social media-like experience for users to connect and share or view posts that connect to streams. It also features a recommendation engine that learns user tastes to promote new music.
During the development phase, Matt was already hard at work spreading the gospel of his up-and-coming product to his network and beyond. Ultimately, bopdrop would score 2000 downloads on its first day of being published to the App Store. It would even break Apple's list of the 'top free apps' where it would gain even more attention which was huge, especially considering the somewhat unconventional marketing style. Given the success of bopdrop that elegantly improves on existing services to give users new listening experiences through digital networking and ML, we presented it to the folks at Webby who kindly placed it as an honoree.
We build apps that are recognized for "high honors" on the web 
Blue Label Labs aims to please our clients and of course, their users. We hope that everyone we serve receives some recognition – believe us when we say that we'll go to bat for your product to earn its rightful accolades! Follow the links in the first section to vote for JAXJOX and bopdrop – as always, get in touch with Blue Label Labs to discuss your idea for a product.