Start An App Business The "Easy" Way: Buy One!
There are two kinds of entrepreneurs: those who want to manage new ventures from start to finish, and those who want to take over existing ones. If you're the latter and have a brilliant idea for an app, the app industry has a place for you.
In the past, creating apps for business ventures (such as developing apps for B2C businesses) used to require actually building the app yourself or hiring experts, and launching your product on an app store. For instance, if you wanted to create the next Uber, you'd coordinate with on-demand app developers to turn your idea into a reality. 
It's worth noting that's still a valid method if you're wondering how to start an app business. However, it's also important to understand that starting an app business these days doesn't necessarily need to involve developing a completely new app. Today, the barriers of entry are much lower for those who want to run an app-based business but don't quite have the time, patience, or desire to start from scratch. With app brokeraging and ready-made app marketplaces, app entrepreneurs can launch an app without having to actually build one.
Do you want to know how to buy an app instead of hiring developers to create your app? This guide explains the basics of how to start an app business by purchasing an app that already exists. Consider this method if you want to get in on the app business but understandably don't want to take the risks involved in coming up with an untested idea.
How to Buy Ready-Made Apps
You can buy ready-made apps at app brokerage sites like Fliptopia (formerly Apptopia, which now primarily serves to offer app owners and developers information about their apps' performance in relation to competitors), Sell My App, and Appslit.
Fliptopia, launched in 2012, has remained one of the most popular app trading marketplaces despite the business changing somewhat over the years. Whereas other sites allow developers to sell app licenses, source codes, and other components of an app, Fliptopia sells ready-made app packages complete with exclusive rights and source code. Thus, it offers a very convenient solution to anyone wondering about the cost of making an app. Prices are simply based on the existing product, so budgeting for buying an app is extremely simple.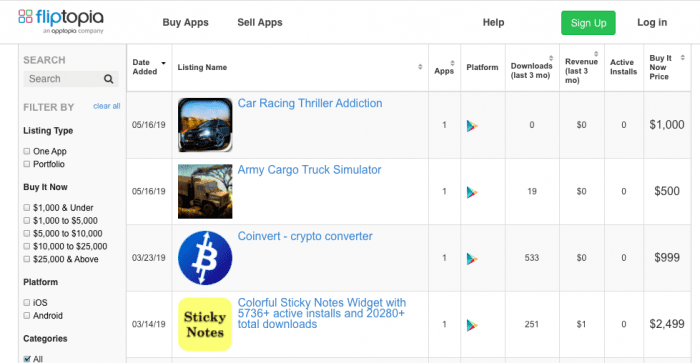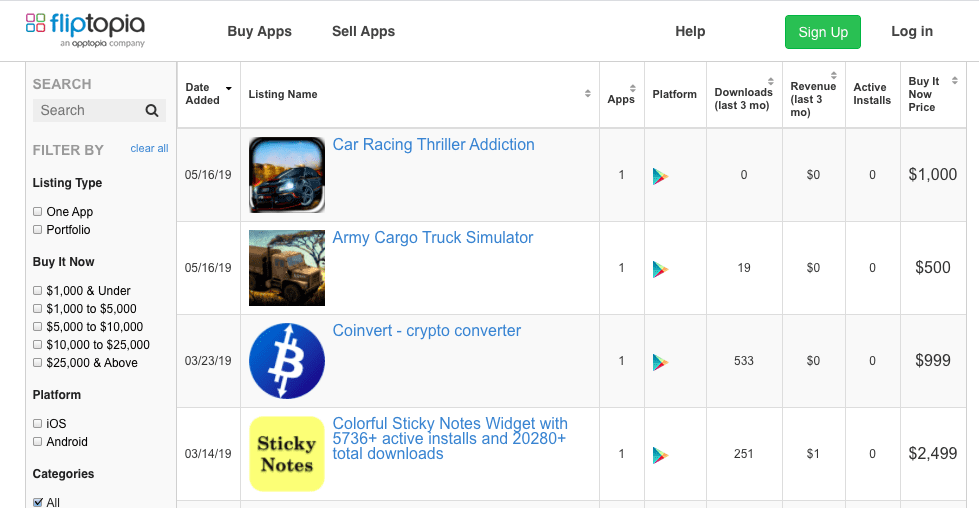 Fliptopia Facts
The cost of an app on Fliptopia varies depending on a wide range of factors. To better understand how to buy an app on this platform, see recently sold apps and final selling prices here.
Types of apps sold: Everything from gaming and social to business, productivity, and utility apps. Also, niche apps and specialty app categories like lifestyle, education, health, medicine, entertainment/sports, reference, and more.
Who are the buyers?
App entrepreneurs

who want to launch an app ASAP or test-drive how to start an app business without making a huge investment developing apps from scratch

App entrepreneurs who want to "flip" apps by buying cheap and improving, repackaging, and reselling apps on app stores

Those who want to grow their portfolio or publishing company (e.g.,

JMT apps

)

App developers who wish to incorporate parts of an app into another app (for example,

OneLouder's Powow messaging app and DrawChat

)
Who are the sellers?
App developers who love making apps, but aren't experienced entrepreneurs or prefer not to manage the "business" side of starting an app business (e.g., marketing and number-crunching)

App developers who make more money building/selling ready-made apps vs.

developing custom apps

Appsters who want to cash out or need an exit strategy for unloading underperforming apps

Innovators who love to build, but want others to grow their masterpiece
What are the advantages of buying apps?
Takes less time. Because you're skipping the development stage and don't have to build the app from the ground up, you can start an app business as soon as you have the rights. It's even faster if it's an app already being sold on an app store as you will likely only transfer rights and hit the ground running.

Lower cost. Depending on the app, it may cost significantly less to buy a ready-made app than to build one from scratch since you don't have to hire a developer or an entire team to design + develop the app.

Traction. Many of the apps being sold on Fliptopia and similar sites are currently on an app store and thus already have a large following or some sort of traction. For instance, on Fliptopia, you could purchase a

Coloring Pepa Pig

app for $1,900. The result? You'd be the proud owner of an app that's available on both iOS and Android devices and has been downloaded nearly 37,000 times in the past three months.

Revamp, repackage, and resell. See something you don't like or feel could be better? Change it. You can tweak the app and improve it prior to release. See your idea already made into an app that's listed at a fairly cheap price? With hundreds of apps being sold for under $2,500, you've got the perfect blueprint to recreate it as you please. Either way, knowing how to buy an app gives you a starting point instead of nothing at all.
What are the disadvantages of buying ready-made apps?
Must familiarize self with app. You must familiarize yourself with an app if you plan on purchasing it and turning it into a success. If it's not an app you can currently download from an app store, this will take a little bit of time and playing around after you've purchased it. If you're lucky, starting an app business will be seamless and you'll love it from the get-go. Worst case scenario is that you'll spend a day or two wanting to pull all your hair out discovering all the coding and UI flaws the hard way.

Must familiarize developers with app. If you decide to tweak or improve the app, you'll have to go through the development process and

find developers

who understand the app and

can get the job done

. When it comes to improving others' works and understanding some key factors in how to start an app business, some developers are better than others (read: some developers are more costly [in time and money] than others).

Debugging hell. Like above, if the app hasn't been fully tested (if at all) you're stuck with the task of finding/working with developers who can

fix problems

instead of making them worse. This could be a breeze – or it could be a complete nightmare. Luckily, some app owners disclose bugs in their listings, but you'll never know if you'll run into unknown problems until

after

you've purchased the rights.

Metrics? What metrics? Flitopia is an industry favorite in that potential app buyers get insider stats, such as monthly profits, download numbers, app rankings, and trend analysis. That's great for buying already successful apps, but what about newer apps or apps that don't have any concrete numbers, such as those in the lower price range?
Jonathan Blum says it best:
"Good apps might appear to perform poorly because they are relatively new or because they've been marketed poorly. Others might be legitimate fixer-uppers. Ultimately, buyers have to rely on their best business sense before taking out a flyer on an app."
The app industry is more than about app development and app stores. App entrepreneurs exploring how to start an app business don't just have the option of developing apps. They can skip the development process, too, and just buy an app. With app brokerage sites like Apptopia, appsters can take ideas and turn them into apps – without ever building one.
Get the latest from the Blue Label Labs' blog in your inbox